Who is a Lawyer?
Discourage litigation. Persuade your neighbor to compromise whenever you can. As a peacemaker, the lawyer has a superior opportunity of being a good man. There will still be enough business ~ Abraham Lincoln
A lawyer career involves the practice of law. A lawyer job requires to inhibit skills and involves practical applications of abstract legal theories and knowledge to solve specialised individual problems or to facilitate the interests of those who hire lawyers to perform legal services. Individuals in the lawyer career path defend their clients' cases and make arguments on their behalf in both criminal and civil proceedings. Both the governmental and commercial sectors are available to employees for lawyers. Additionally, lawyers may advise and assist clients on how they should handle their legal issues. The individual in law career in India is considered one of the most sought-after careers. People have different motives to opt for a career as a lawyer, several do it for fame and money. Other individuals opt for a law career to help out innocents. A lawyer career job description could be as a professional who practices law and is obliged to uphold it while protecting the legal rights of their clients. Here, in this article, we will discuss is lawyer a good career in India, how to become a lawyer, lawyer course, lawyer types, lawyer career salary, and what to study to become a lawyer.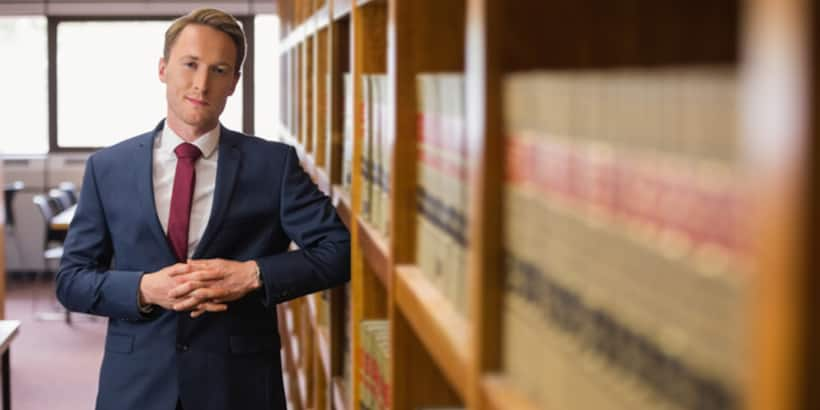 Lawyer in a Nutshell
The individual in a lawyer career in India gives legal advice to people, state and central government, corporate houses and anyone who needs help in legal matters. Individuals in the lawyer career path prepare documents and interpret laws, regulations, and rulings. Preparing documents like wills, deeds, contracts, lawsuits, and appeals, are also an important aspect of a lawyer job. Individuals in the lawyer career path vary widely across different legal jurisdictions.
Quick Facts for Lawyer
Average Salary in India

₹90540.17

Suitable for

Male, Female, Others

Career as a lawyer suits everyone who is responsible enough to handle legal tasks and is curious enough to reach the depth of the truth of the matter. A lawyer job requires compassion, empathy, insights, knowledge, logic, and skills must all combine. And skills do not seek gender catalogue. Anyone with appropriate skills and the zeal to excel in the field of law can choose a career as lawyer.

Any special needs

Yes

Law is a field that promotes equality of opportunity for both attorneys, would-be-attorneys, and clients with disabilities. Anyone with strong communication, analytical, and critical thinking ability to opt for career as a lawyer. There are no restrictions to study law and opt for a lawyer career. Anyone with special needs can also become a lawyer. Lawyers job require to be mentally skilled, and hence people with a physical disability can choose a career as a lawyer.
Table of Contents for Lawyer
What is the role of Lawyer?
A lawyer job includes a range of activities to do, from working as an adviser by helping their clients with legal matters to preparing documents on legal issues or doing research on the same. Individuals in the lawyer career path are primarily responsible for helping their clients navigate the legal bog. A majority of the individuals in the lawyer career in India work involves research. The individual in a lawyer career in India can practice as a criminal or corporate lawyer. Individuals in the criminal lawyer career look into only civil cases such as divorce and labour laws while several other lawyers practice international law.
Protecting intellectual property
There are various forms of intellectual properties such as patents, trademarks, industrial designs, franchising, copyrights, distribution, trade secrets must be formally registered with government agencies to receive maximum protection under the law. A lawyer job includes counsel their clients on establishing and protecting intellectual capital.
Legal advice
As advisors, a lawyer counsels their clients about their legal rights and accountability and suggest courses of action in professional and personal matters. All solicitors research the intent of laws and judicial decisions and apply the laws to the specific circumstances that their clients face. A lawyer might provide legal advice to clients for good consideration, even if no lawsuit is contemplated or is in progress.
Conselling Clients
One of the most important and the primary job of a lawyer is to build and manage relationships with the clients. A lawyer work responsibilities include interviewing clients to know him or her personally. Next, a lawyer is required to discover the facts of the client's case and then clarify what the client wants to accomplish. After knowing the client's expectations, a lawyer shapes the client's expectations as to what can be accomplished. The next thing a lawyer is obliged to do is to develop various claims or defenses for the client. And lastly, the lawyer explains one's fees to the client.
Advocacy
Legislators create government agencies to carry out laws and regulate the functions of the government. A lawyer that practices administrative law might never see a courtroom. A lawyer belonging to administrative law might spend the vast majority of their practice filling legal documents and arguing to judges in a formal setting. Few administrative lawyers interact a lot with people, while rest spend most of their time drafting documents. Administrative lawyers are both private and public solicitors. Public solicitors work within a wide range of disciplines within a government agency.
Private solicitors might work for a government agency on a contract basis rather than as an employee. They might also practice law on behalf of private clients.
Research and Drafting
One of the most crucial work responsibilities of lawyers is to carry out in depth research. He or she reviews earlier representations of laws and history of judicial decisions. A lawyer uses precedents to support his or her case. A lawyer researches through various sources such as law libraries, public documents, computer databases and internet. In addition to this, one is also responsible for drafting legal papers and preparing for a legal verbal argument.
Representing Clients
A lawyer also serves as an advocate in court. He or she is responsible for speaking on behalf of his or her client and present supporting evidence. A lawyer counsels his or her clients on legal rights and obligations. He or she can interpret laws, apply laws to specific situations and draft new laws. A lawyer job includes representing one of the parties in a criminal or civil trial by presenting evidence and arguing in support of his or her client.


Types of a Lawyer
In this article, we will discuss the various lawyer types and also lawyer career information.
Criminal Lawyer: A criminal lawyer is an attorney responsible for defending individuals who have been accused of committing a crime. Criminal lawyers conduct research, analyse the case, and represent their findings in court.
Civil Litigation Lawyer: A civil litigation lawyer also known as a litigator, or trial lawyer is responsible for representing plaintiffs and defendants in civil lawsuits. Civil litigation lawyers manage all phases of litigation from investigation, pleadings, and discovery through the pre-trial, trial, settlement, and appeal process.
Legal Analyst: A legal analyst is a law specialist who supports or aids individual lawyers. A legal analyst's job is to conduct legal research, assemble legal research, maintain databases and tracking systems, and track, organize, assess, and file documents.
Document Drafting Lawyer: A document drafting lawyer is a professional who deals in criminal, and civil litigation and other legal proceedings. He or she also draws up legal proceedings and gives his or her advice to the clients on legal transactions.
Public Defender: A lawyer employed by the government is known as a public defender. Those who can not afford to hire lawyers are represented by public defenders in court. A public defender does not charge fees from his or her clients.
Legal Journalist: A legal journalist is a professional journalist who researches, collects information and reports information to the general public in a variety of media. However, they focus specifically on reporting matters pertaining to the law.
Legal Advisor: As a legal advisor one is expected to provide legal assistance, carry out various legal activities and complete them. A legal advisor is also expected to create different types of legal documents and advise clients on all important legal issues.
International Arbitrator: An International Arbitrator is a lawyer who specialises in foreign laws. He or she provides assistance to clients in pursuing their claims, preparing their pleadings and arguing on merits before arbitrators. International Arbitrators possess an understanding of foreign cultures as their work involves the study of foreign laws. An International Arbitrator is responsible for advocating on behalf of his or her client on matters of dispute considered under a foreign applicable law.
Government Lawyer: Government lawyers advise clients about legal matters and represent clients before courts and in legal proceedings. A government lawyer job responsibilities include drafting legal documents, researching legal issues, arguing before courts and negotiating.
Judge: One can also opt for a senior role as a judge in a lawyer career. A judge conducts a courtroom, hearing evidence, making decisions on motions, instructing juries and making rulings. They are responsible for assuring the law is followed and carried out in every case. A judge's job involves reading through court documents and researching legal issues.
What is the workplace/work environment of Lawyer like?
A lawyer workplace varies depending on his or her role and responsibilities. There are several types of lawyers such as attorneys, solicitors, environment lawyers, corporate lawyers and various other types of lawyers. The majority of attorneys work in private practice focusing on criminal and civil law. Individuals in the lawyer career path can meet their clients at homes, prisons, or hospitals. They experience a lot of stress sometimes, because of a case being tried in court. Individuals in the lawyer career path are required to stay up to date about recent judicial decisions and new laws.
Does Lawyer require travelling?
Likely
Traveling is subjective in the lawyer career. It depends on their work schedule and field of work. Usually, lawyers require traveling as they are expected to meet their clients at various locations like home, prison, or hospitals. The role of a lawyer may often require traveling to various locations such as courtrooms or meeting locations.
Employment Shifts
Full Time, Part Time, Hourly Basis
A lawyer career provides part-time, full-time and hourly basis working opportunities. He or she may counsel clients on legal matters and advice them on an hourly basis. A lawyer may work full-time as a legal officer or adviser in a firm. A lawyer may also work part-time involved in drafting legal documents. Individuals in the lawyer career path may carry out research work from home. On-call work is least likely to happen in this career in normal circumstances. Nowadays, a lawyer can also advocate court proceedings from home through the internet and technology, amidst pandemics. Important court proceedings are being carried out through virtual meets on the internet, laptops and smartphones, amidst COVID-19.
Employment Nature
Contractual, Permanent
There are several types of lawyers and their nature of employment often depends on their law specialisations. Lawyers can find both contractual and permanent jobs as per their requirements and skills. Individuals in the lawyer career path work for government agencies. Some of them work as prosecutors or public defenders. Many individuals in the lawyer career in India work for non-profit organizations. All of these fields offer lawyer jobs on both contractual and permanent basis.
Work Place
Office, Court Room, Court, Law Firm
A lawyer workplace varies depending on his or her work responsibilities area of specialisations. A lawyer workplace includes offices, courtrooms, law firms and courts.
Presence in Geographical Area
Semi-urban, Urban
Law has its reach in every corner of India. Hence, there is an undeniable need for lawyers in almost every part of the country. However, the big organizations and law firms are situated in cities like New Delhi, Bengaluru, Hyderabad, Lucknow, Kolkata, Mumbai, and Chennai. All of these cities secure attractive jobs in law firms offering proper training along with a well-structured stipend. Big organizations like Luthra & Luthra, Khaitan & Co are situated in these cities and they offer a wide range of opportunities to the law graduates as well as law students.
Time Pressure
Likely
Law professionals are more likely to face time pressure. Lawyer experience a lot of stress sometimes, because of a case being tried in court. Individuals in the lawyer career in India are required to stay up to date about recent judicial decisions and new laws. These factors increase time pressure in a lawyer career in India. During court proceedings, a lawyer is required to represent facts and appropriate arguments on behalf of a client in front of a judge. Such proceedings put frequent time pressure on lawyers to come up with valid arguments in court.
Overtime Details
Almost 37 per cent of lawyers work for more than 50 hours per week. Individuals in the lawyer career path work hours vary depending on his or her workplace and work responsibilities.
Weekly Hours of Work
Min 50 Hours
Individuals in the lawyer career path work according to their work schedule and the work responsibilities they have been assigned. Lawyers working on salaries usually have set work schedules. The working hours of attorneys in the private sector will vary, depending on how much research they conduct and how many clients they have to meet. Almost 37 per cent of lawyers work for more than 50 hours per week.
What are the skills and qualities required to become a/an Lawyer?
If you are wondering how to become a lawyer, then apart from the required lawyer course one should possess some skill sets. We have mentioned below the major law skills.
Communication Skills: Not only lawyers must be verbally articulate and hold excellent command of written communication skills, but they should also be good listeners. The role of a lawyer in a court proceeding is to argue convincingly in the courtroom before the jury and judges, possessing good speaking skills are important. Written and speaking skills can be easily learned during the classroom period while completing graduation by taking part in activities for instance mooting, or general public speaking. In addition to speaking, lawyers must be able to write, persuasively, and concisely, as they are required to produce multiple legal documents.
Judgment Skills: Individuals in the lawyer career in India must possess the ability to draw reasonable, logical conclusions or assumptions from the limited information provided to them. Individuals in the lawyer career path must be able to consider these judgments critically so that he/she can anticipate potential areas of weakness in their argument that must be reinforced against. Correspondingly, a lawyer must be able to spot points of weakness in an opposition's argument. Assertiveness is also a part of the judgment. Individuals in the lawyer career path have to face situations where there will be a lot of important judgment calls to make and little time for concluding right or wrong.
Analytical Skills: While studying and practising law, a law student must be able to absorb large quantities of information, and then filter it into something meaningful, manageable, and logical. At times, there will be more than one method or precedent applicable to resolve a situation. Therefore, as a lawyer, one must possess strong evaluative skills to choose which is most applicable or suitable.
Research Skills: Individuals in the lawyer career path are required to perform extensive research work into relevant facts. To win an argument of any sort, one must be sure about the facts one is stating. No argument, especially legal, can be won without indisputable facts. You must consider before evolving yourself to fit into the role of a lawyer you are required to research quickly and effectively to understand clients, and their requirements to prepare legal strategies. Preparing legal schemes requires a lawyer to absorb and comprehend large amounts of information, and then filter them down into something useful.
People Skills: Studying law is not a recapitulating practice. Irrespective of how well a law student does academically, at the end of the day, a lawyer works with people, on behalf of people, and the decisions that are made affect people's lives. Individuals in the lawyer career in India must be presentable, influential, and able to read others. This allows a lawyer to determine the jury's reactions and the honesty of witnesses. Being personable allows a lawyer to decide upon the best proposition to take to achieve the desired outcome: either client taking a lawyer's advice or reaching a favourable surmounting with the opposition.
Perseverance: When working on a case, a lawyer must have the perseverance to complete the work necessary to drive it to a successful finish. "Perseverance is not a long race, it is several short races one after the other." Even while studying law, one is required to put in a lot of perseverance and commitment which is even before one starts with the actual practice of law.
Creativity: The most successful lawyers are not only analytical and logical, but they also display a great deal of creativity in their problem-solving. The best approach is not always the most obvious and to circumvent one's challenger, it is often necessary to think outside the box.
Popular Online Law Courses and Certifications
Which certifications and internships can be helpful in becoming Lawyer?
We have provided below a list of certification courses for aspiring individuals who want to opt for a career as lawyer. These courses help in acquiring skills and knowledge for a legal career.
Internship Availability
Yes
Various companies offer law internships to students enrolled in lawyer course, such as BA LLB or LLM programmes who want to learn the actual work process and gain experience in the field of law. Companies such as Luthra & Luthra, Economic Law Practice, and Khaitan & Co. offer internships to law students. They also offer full-time jobs to those who complete the internships from these companies themselves. The position of an intern exposes future lawyers to the practical aspects of working in the legal profession. Internship programmes aim to give law students an idea of what it is like to work at law firms, while also allowing the firms to evaluate the intellect, and work ethics of students.
Career Path Progression for Lawyer
A lawyer's career progression has several job roles. After a certain period, a lawyer gets promoted to a senior role depending on his or her skills. A law student has to first take up the role of a law summer associate or law intern. After acquiring an experience for several months, he or she becomes ready to take up the role of a junior associate attorney. A junior associate attorney is promoted to senior associate attorney.
Law Firm Summer Associate: Being a law firm summer associate is the first most and crucial step for law students in having a successful career as a lawyer. The position of a summer associate exposes future lawyers to the practical aspects of working in the legal profession. Summer associate programs aim to give law students an idea of what it's like to work at various law firms, while also allowing the firms to evaluate the intellect, work ethic, and cultural fit of the students to determine if they want to hire them for permanent positions after they graduate from law school.
Junior Associate Attorney: Junior associates are the lawyers responsible for gathering information for legal cases and assisting senior attorneys in lawyer career path. They are responsible for facilitating the research process and interviewing key individuals before proceeding in court. They help with the complete court and administrative paperwork. Some of the main roles and responsibilities of junior associates include litigating in court, presenting statements, negotiating with clients and opposition, helping form contracts and define specific terms before signing them, reviewing agreements and changing drafts before consulting with senior attorneys, associate attorneys work well in a team environment, and work well with minimum supervision.
Senior Associate Attorney: Senior associates are the attorneys that manage litigation cases and resolve legal disputes on behalf of clients by developing agreements, negotiating contracts, setting claims and advocating for clients in court. They can work in a wide range of departments, from divorce to corporate law to civil rights, to criminal law. They work under the supervision of more experienced colleagues, often providing support and assistance, such as performing legal research for particular cases. The major roles and responsibilities of a senior associate include providing legal support, maintaining client relationships, and preparing reports.
Law Firm Partner: A law firm partner runs the daily administrative services of a law firm. He or she directly supervises the law firm's legal and technical support teams. A law firm partner is responsible for coordinating new cases that are assigned to his or her team. The major duties of a law firm partner include facilitating the everyday administrative operations in law firms, supervising support staff, developing and implementing office initiatives and ensuring that the law office remains compliant with state, federal and local regulations.
Law Firm Managing Partner: A managing partner is someone responsible for managing its people and focusing their efforts on serving clients. The job duties of a law firm managing partner are to accomplish law firm human resource strategies by determining law firm structure. He or she establishes law firm organisational strategies by contributing opinions and substantiation to the firm's strategic thinking and direction. A managing partner is also responsible for establishing law firm operational strategies by evaluating trends. Individuals in the lawyer career path establish law firm financial strategies by forecasting and anticipating requirements and trends. A managing partner generates revenues by attracting and pleasing clients and enhancing the law firm's reputation by doing anything and everything legally, ethically, and morally appropriate to assist the firm in helping existing and potential clients.
Of counsel Attorney: Of counsel, an attorney is an attorney who provides advice, guidance, and representation for clients including individuals, corporations, and organisations. The responsibility of a legal counsel can depend on their area of practice, the several core duties that tend to carry over are providing legal guidance, representing clients, conducting legal research, drafting legal correspondence, and ensuring compliance.
What is the job outlook for Lawyer?
Many corporations recruit their legal division, which means a lawyer would be a full-time employee of that organisation, rather than a law firm. There are also many vacancies for lawyers in government positions, which range from prosecutors, who file lawsuits and charge parties on behalf of the government, to public defence solicitors, who represent parties who cannot afford their attorney. In addition to this, government counsels work as lawyers in the executive and legislative branches of government, writing and interpreting laws, writing legal reviews and arguing civil and criminal cases for the government.
Demand for lawyers is expected to continue as individuals, businesses, and all levels of government require legal services in many areas. Law graduates have umpteen opportunities in the relevant field that they choose to specialise in order to pursue a career as a lawyer. Lawyer salary depends on the lawyer career in India. They must possess relevant skills and desire to work with full perseverance and enthusiasm. Many large corporations are increasing their in-house legal departments to cut costs. For many organisations, the high cost of hiring outside counsel lawyers and their support staff makes it more reasonable to shift work to their in-house legal department. This shift will generate the demand for lawyers in a variety of settings, such as the financial and insurance industries, consulting industries, and healthcare providers.
Student Also Liked:
Frequently Asked Questions for Lawyer
Que. What do lawyers do?
Ans.
A lawyer has a range of activities to do, from working as advisers by helping their clients with legal matters to preparing documents on legal issues or doing research on the same; lawyers help their clients navigate the legal bog.
Que. What qualifications are needed to be a lawyer?
Ans.
A minimum of L.L.B. (Bachelor of Legislative Law) with 50 per cent aggregate marks in qualifying examination is required to opt for a career as a lawyer. 5 to 10 per cent relaxation for reserved categories candidate.
Que. What are the different types of lawyers?
Ans.
There are various types of lawyers depending on their area of specialisation, work place, roles and responsibilities. Such as public interest lawyers, government lawyers, private sector lawyers, trial lawyers, immigration lawyers, estate planning lawyers, personal injury lawyers and toxic tort lawyers. Apart from these, there are also legal advisors and international arbitrators.
Que. Whom do lawyers work with?
Ans.
For someone who is pursuing a career as lawyer, he or she often oversee work of support staff, such as paralegals and legal assistants and legal secretaries. Lawyers job include performing various duties depending on the firm they work in. If the lawyers are working in a firm they are often known as associates and do legal work for individuals or businesses.
Que. What is the scope of career as a corporate lawyer?
Ans.
A career as a corporate lawyer is one of the finest career in India. A corporate lawyer is a crucial person to an organisation. He or she consucts all business activities in a legal way. A corporate lawyer can provide services to multiple organisations. He or she can also work full time on permanent basis with a single orgainisation. A career as corporate lawyer requires providing assistance to the companies and business firms on matters of employee contract, taxation, employee relations, labour and employment laws.
You might also be interested in
Questions related to Lawyer
Showing 88 out of 88 Questions
The question have been saved in answer later, you can access it from your profile anytime.
Access now
Report Question
Select your reason of reporting