Who is a Engineer?
All knowledge that ends in words will die as quickly as it came to life, with the exception of the written word: which is its mechanical part~ Leonardo da Vinci
Do you ever looked around yourself and felt how much humans have evolved? The ease to do almost everything and the kind of comfort one can have at any place. Well, an engineer has a huge hand in making all of that possible and this is why engineering is important. An Engineer is in charge of creating and developing products, services, systems, and techniques. An Engineer job includes working in a variety of industries, such as mechanical, civil, and information technology.
From our smartphones to the highway we take some or the other field of engineering has contributed to making our lives easier. If you are someone who loves the concept of science and wants to apply, construct, design, and maintain your creation then being an engineer is the right career choice for you. In simple words, a career as an engineer is a field where an individual uses science, technology, and maths in order to solve problems.
A Mechanical engineer addresses society's needs and problems and tries to make a common person's life easier on several different levels. Hence, a career as an engineer has gained importance in society over the past few decades. Read further to know how to become an Engineer in India or how to become an engineer after 12th.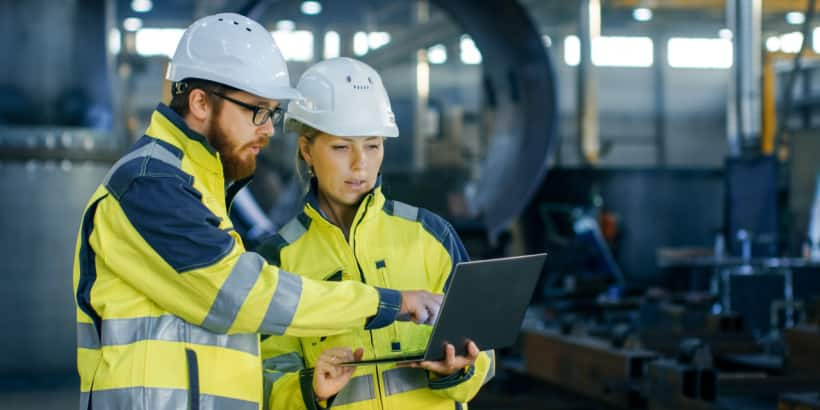 Engineer in a Nutshell
Are you thinking what is an Engineer? An engineer is a technical professional. He or she is responsible for the supervision of designing, manufacturing as well as building processes and other technical staff. The role of the engineer is to research design and develop equipment, devices, and other components of a machine, building, or even software. During one's career as an engineer, a Mechanical engineer works with other engineers for the successful completion of the project. Here, in this article, we have discussed the types of an engineer, engineer salary in India, engineer vacancies and how to become an Engineer,
Quick Facts for Engineer
Industry

Technology

Average Salary in India

₹35000

Suitable for

Male, Female

In order to make one's career as an engineer, everyone can aim to become one regardless of his or her gender. Whether an individual is male, female, or belongs to any other gender, he or she can opt for this career. It requires passion and determination to touch the milestone in the career. Any individual possessing an interest in developing and repairing machinery, technology, infrastructure, or other systems can make his or her career as an engineer.
Table of Contents for Engineer
What is the role of Engineer?
A career as an engineer involves work like designing machines, constructing buildings, and overseeing public works. A career as an engineer is about dealing with the needs of the community and its problems on many other levels. To a large extent, a mechanical engineer monitors the flow of pollutants through the soil to clean up oil spills, abandoned industrial areas, and other biohazards.
At the galactic level, an engineer's job includes designing a spacecraft to explore other planets. At the atomic level, one increases data storage which focuses on the rotation of electrons in atoms. Clean drinking water, safe food storage, and environmental protection are also under the umbrella of engineering.
Identifying problems
The engineer job description includes identifying problems for example a machinery system. He or she analyses mechanical and thermal devices to solve a specific problem arising in the proper functioning of the machine. An engineer investigates the failure of equipment or difficulties. He or she diagnoses faulty operations to recommend remedies. One has to carry out similar functions in case of a problem arising in an electronic product, software, or an expressway.
Types of a Engineer
Here, we will discuss different types of an engineer, Engineer career options or engineering careers in this section.
Electrical Engineer: Electrical engineer designs and constructs innovative electrical systems, tests equipment and discovers solutions to electrical problems and devices. In general, electrical engineering deals with large-scale electrical systems such as motor control and power transmission. Throughout his or her career, an engineer's job includes working on a number of innovations, including the design of household appliances, electrical power stations, building and satellite communications cables, and lighting.
Mechanical Engineer: A Mechanical engineer is a technical professional. He or she is responsible for the supervision of manufacturing processes and other technical staff. A Mechanical Engineer researches the design and develops equipment, devices and other components of a machine. The engineer's job includes working with other engineers for the successful completion of the project. A mechanical engineer is required to travel to the manufacturing site or customer offices to test the device and improve its efficiency.
Electrical Power Engineer: Electrical power engineer is a professional who primarily focuses on researching and working on ways to effectively harness electrical energy for various purposes. Through electrical power engineering research, he or she finds ways to make electrical reactors safe and efficient.
Energy Performance Engineer: Energy performance engineer is a professional involved with the production of energy through natural resources, such as extraction of oil and gas, or renewable or sustainable source of energy, including biofuels, hydro, wind, and solar power. The main focus of energy performance engineering is to find efficient, clean, and innovative ways to supply energy.
Flight Engineer: The flight engineer, or the aircraft engineer is responsible for ensuring that all components of the aircraft are in proper operation. It is the responsibility of the flight engineer to make any adjustments if it is a problem with the machinery of the flight. People often wonder if a pilot and a flight engineer are the same thing and often compare 'flight engineer vs pilot'. They are two very different designations. A flight engineer's job includes interpreting complex flight-related scales and tools, as well as helping pilots with navigation.
Locomotive Engineer: A locomotive engineer is also called a train driver, engine driver or locomotive driver. In India, a locomotive engineer starts his or her career as an assistant initially and steadily becomes a freight or passenger train driver. Freight or passenger trains are controlled by locomotive engineers. He or she should, therefore, examine the locomotive thoroughly during and before the operation, and also review the train's speed, air pressure, battery and other complex mechanics while travelling.
Nanosystems Engineer: A Nanosystems engineer is a professional who deals with material which is roughly 1/1,00,000 of the width of a strand of human hair. Nanotechnology deals with materials that behave in a much different way on the nanoscale than normal. This is where a nanosystems engineer comes in. The job of a nanosystems engineer is to study these differences and imagine new techniques for these materials to benefit the environment.
Nuclear Engineer: Nuclear engineer design, build, run and shut down nuclear power stations. He or she works in multi-disciplinary teams to come up with technical solutions. Depending on his or her role he or she could be designing totally new systems, maintaining existing systems, or looking for ways to improve the efficiency, stability, and sustainability of nuclear power plants.
Petroleum Engineer: Petroleum engineer design equipment that extracts oil from reservoirs, which are deep pockets of rock that contain oil and gas deposits. To do this, he or she spends a lot of time gathering and analyzing data to extract the oil in the safest and most cost-effective ways possible. A Petroleum Engineer also does a lot of evaluating and refining systems to make them better. He or she uses supercomputers, not only in the analysis of exploration data and simulation of reservoir behaviour but also in the automation of oilfield production and drilling operations.
Polymer Engineer: Polymer engineers are involved in the designing and engineering of polymers that include household products that include as water bottles, and containers. They develop materials used in making automobiles, and industrial piping Polymer engineers work full-time in the laboratory. Sometimes they are required to work overtime to meet deadlines. The polymer engineers supervise the production process of plastic and other polymers.
Robotics Engineer: Robotics engineering acts as the bridge between mechanical engineering, electrical engineering, computer science and even psychology. A Robotics engineer works with computers and automated machines in technology-driven environments. He or she uses CADD software to create blueprints and schematics for robotic systems.
Textile Engineer: A Textile Engineer is a professional who completed undergraduate level education in textile engineering or related specialisations. He or she started working in textile plants or related industries. A textile engineer deals with the production of fabrics, cloth, garments, and related products. A textile engineer applies the laws, principles, and scientific techniques to develop innovative solutions for textile manufacturing and processing-related problems.
Geotechnical Engineer: A Geotechnical engineer is a professional who uses the applications of scientific methods and engineering principles to improve ground engineering design. Geotechnical engineering uses methods such as acquisition, interpretation, and knowledge of the use of materials of the earth's crust and earth materials for the solution of engineering problems along with the design of engineering works. The role of geotechnical engineers in mining includes work on various geotechnical engineering projects while using the principles of soil mechanics and rock mechanics.
Geothermal Engineer: Geothermal engineers are professionals who research and explore new ways to utilise geothermal energy with the use of technology. Geothermal energy is highly popular and its use is rapidly increasing. Geothermal energy can be defined as thermal energy stored on the earth. Geothermal engineers explore ways to convert this energy into electrical power energy.
Chemical Engineers: Chemical engineers decipher forms formed in the lab into practical applications for the business creation of items. They work afterwards to keep up and improve those procedures. The chemical engineering jobs are to structure and investigate processes for the creation of chemical compounds, fuels, nourishment, pharmaceuticals, and biologicals, just to give some examples.
Agricultural Engineers: Agriculture engineers find new ways of doing things to improve the productivity of the land without harming the environment, and conserve resources. Agricultural infrastructure such as dams, water reservoirs, warehouses, and other structures are also designed and built by them. In short, agricultural engineers work to improve the efficacy and sustainability of agricultural practices with the help of advanced technologies.
Aerospace Engineer: Aerospace engineers are professionals who not only design aircraft, spacecraft, satellites, and missiles but also create test vehicles to ensure optimum functionality. Aerospace engineers develop new ideas and technologies that can be used in defence systems, aviation, and spacecraft. Be it flight technology or aerial defence systems, there are a number of aspects aerospace engineering looks into.
Marine Engineer: Marine engineering deals with the construction, operation and management of mechanical equipment used in the seagoing craft, dock or harbour installations and also maintain vehicles used on or around water. This includes ships, aircraft carriers, submarines, sailboats, tankers and several other marine vessels. Professionals are responsible for the functioning of the ship's internal system which comprises the propulsion, electrical, refrigeration and steering systems.
Mechatronics Engineer: Mechatronics is a multidisciplinary field of engineering. It combines both electrical and mechanical systems and also includes a combination of fields like robotics, electronics, computer, telecommunications, systems, control, and product engineering. Mechatronic engineers design, develop, maintain as well as manage high-technology-based engineering systems for the automation of several industrial tasks. A Mechatronics engineer applies mechatronic or automated solutions to transfer of material, components or finished goods. Not only that, but he or she also applies advanced electronic control systems, which are usually computer-driven.
Wind Energy Engineer: A Wind energy engineer is a professional involved in designing wind farms and their components such as wind turbines, windmills and other related components. There are various types of engineers that work on wind energy projects as considered wind energy engineers. Mechanical engineers, electrical engineers, civil engineers, and material or aerospace engineers working on a wind energy project are also known as wind energy engineers.
Water Engineer: A Water engineer works to build tools and techniques that can increase water efficiency and provide us with a sustainable environment to live in. If we talk about the key points of a water engineer's work, we can say that he or she designs various solutions that protect a town from the devastating effects of flooding. As a water engineer, one is also responsible for overseeing every day's water supply to make sure it is safe for the population to drink.
Software Engineer: A Software engineer is a computer science specialist who employs knowledge of the concepts of engineering and software development to build software products, design computer games and operate network control systems. A software engineer assesses the needs of the customer, and designs, measures and constructs the computer software to meet customer needs.
Computer Systems Engineer: A Computer systems engineer is involved in updating himself or herself with recent developments in computer technology. His or her work responsibility involves improving the existing processes and equipment. A computer systems engineer is required to integrate hardware and software programmes into the computer system to meet the requirements of clients.
Software Quality Assurance Engineer: A Software quality assurance engineer ensures the quality of the software is up-to-date and is not compromised at any level. A software quality assurance engineer is required to perform testing at various phases of software development. Additionally, he or she is also responsible for creating various test cases that can be used by both software beta testers and software engineers to check the redundancy of software.
Sales Engineer: A Sales engineer is an individual who is responsible for selling complex scientific and technological products as well as services to different businesses. A sales engineer should have in-depth knowledge of the products' parts, functions and applications. He or she must understand the scientific processes that make these products work.
Industrial Engineer: Industrial engineering job description is to evaluate and build structures, material handling systems, fabrication and manufacturing systems, information systems and individual and company workplaces as systems integrators. Industrial engineers evaluate, design and manage manufacturing and service processes in the field of operations, planning and monitoring of production systems, allocation and scheduling of resources, assignment and scheduling of staff, quality assurance, management of inventories and system and protection of staff.
What is the workplace/work environment of Engineer like?
Engineering as a career requires an individual to work in an office environment. He or she is responsible for overseeing the manufacturing process. An engineer communicates with other departments as required for the project. He or she is involved in creating prototypes and product tests. A mechanical engineer is responsible for effectively communicating with other departments as per the requirement of the project. He or she is responsible for checking the manufacturing equipment and machinery. An engineer is required to travel to manufacturing sites or customer offices. He or she may be required to frequent bending and heavy weight lifting.
Does Engineer require travelling?
Likely
An engineer is often required to travel to different sites or customs offices to check the machine is functioning properly and resolve other related issues.
Employment Shifts
Full Time
Yes, the career falls into a certain shift. A software engineer works from early morning till late evening. Shifts may also vary depending on the requirement of the organization. A mechanical engineer works full-time. Work from home, on-call work, part-time or hourly basis employment shift is not provided in the career of an engineer.
Employment Nature
Contractual, Permanent
An engineer finds employment opportunities on both a permanent as well as contractual basis. The contractual term completely depends on the requirement of the organisation. The contract's duration may also be extended depending on the work performance of the engineer.
Work Place
Office
An engineer can work both in an office environment as well as in the field. For example, a computer hardware engineer works in an office environment, a civil engineer works both in an office as well as in the field, whereas an agricultural engineer works mainly in the field. A software engineer's job can be both travel dependent or limited to office premises only. For example, a flight engineer has a travel-dependent job, whereas a nanosystems engineer works within the office premises only.
Presence in Geographical Area
Semi-urban, Urban
A civil engineer finds alluring opportunities in urban, and semi-urban areas. Bengaluru, Chennai, Ahmedabad, Hyderabad, and New Delhi provide promising opportunities for engineers. Whereas in some cases like that of an agricultural engineer, he or she may have to work in rural areas.
Time Pressure
Likely
Yes, when it comes to a career as an engineer one is often required to work under frequent time pressure. There are several deadlines that he or she needs to meet.
Overtime Details
An engineer may be required to work overtime or more than 10 hours a day to meet the deadlines.
Weekly Hours of Work
Min 45 Hours
A career in engineering requires working for a minimum of 40 to 45 hours per week. The standard working hours may extend due to excess work pressure. A software engineer may be required to work overtime or 9 to 10 hours to meet the deadlines.
How to become a Engineer?
Steps to become a Engineer
If you look around you, you will find all products, machines or devices that help us to make our lives better and easy. Have you ever wondered who made all those and how it is created? An Engineer is a professional who creates all those products and systems. If you are someone who is interested in designing, creating or developing products or services then you must opt for a career as Engineer. If you are looking for how to become an Engineer then here are certain steps that an individual is required to follow. We have mentioned below the steps for how to become an Engineer.
What are the skills and qualities required to become a/an Engineer?
We have provided below the description of Engineer skills. Here, we have discussed how to become an engineer.
Designing skills: An individual planning to make a career as an engineer is required to create sketches of designs of equipment, devices, and other components of, for example, a machinery system or a dam on paper with charcoal pencils. He or she designs 3-D sketches using AutoCAD software on the computer.
Research skills: A civil engineer must be able to research effectively. He or she is responsible for researching and implementing findings for developing new products using various tools and technologies.
Interpersonal management: A candidate who wishes to make a career as an engineer is required to supervise the technical staff. He or she is required to effectively communicate with other departments according to the requirement of the project. An engineer works with other engineers as well to fulfil the requirements of the project.
Technical skills: An individual aiming to make a career as an engineer must possess strong technical skills. He or she is required to identify the problems in the manufacturing of products and provide the best possible alternative solutions. An electrical engineer is required to bend and lift heavy objects frequently to test systems and improve them.
Time management: When it comes to a career as an engineer always works with deadlines. Therefore, an electrical engineer must be able to manage the work and complete it on time. It is essential for professionals belonging to this field to have good time management skills. Not just professionally but to have a good work-life balance one should have good time management skills.
Popular Online Engineering Courses and Certifications
Which certifications and internships can be helpful in becoming Engineer?
We have mentioned below certification courses for aspiring individuals who want to become an engineer. These certification courses may help them to upgrade their skills and knowledge.
Internship Availability
Yes
An internship plays a crucial role in the initial level of establishing a successful career as an engineer. Candidates are required to opt for internships during the semester break of the academic year or after the successful completion of the academic programme. Internships bring industry insights. One can learn about the functioning of the industry through an internship. It also increases the chances of acquiring a full-time job role in the same organisation.
An engineering intern is required to work under the supervision of a senior engineer who allows him or her to work. An engineering intern is required to provide support in several daily tasks like product sourcing, purchasing, and selection of materials. An engineer can find an internship opportunity either from his or her college sources or one could also apply on websites providing internship opportunities.
Career Path Progression for Engineer
Junior Engineer: A Junior Engineer is a professional who is responsible for creating and developing products, services, systems, and techniques. He or she researches, designs and builds the components of a machine, building, and software.
Senior Engineer: A Senior Engineer is an experienced professional who is responsible for leading a team of juniors and trains them. He or she supervises the designing, manufacturing and building processes and other technical staff.
Engineer Jobs and Salaries
Junior Engineer
Job Description
The Junior Engineer job description includes designing, constructing buildings, and overseeing public works. He or she identifies the problems and brings solutions.
Salary Description
An entry-level Engineer salary in India ranges between Rs 1.5 Lakhs to Rs 4.5 Lakhs with an average annual salary of Rs 2.6 Lakhs per annum. Junior Engineer salary in India may vary depending on the various job factors like skills and experience of the candidates, job location, and others.
Salary Source: AmbitionBox
Senior Engineer
Job Description
The Engineer job description includes dealing with the needs of the people or community. He or she designs and prepares the budgets, project specifications and creates technical reports.
Salary Description
The estimated Engineer salary in India ranges from Rs 3.5 Lakhs to Rs 18.4 Lakhs with an average annual salary of Rs 6.1 Lakhs. An Engineer salary may vary depending on the various job factors.
Salary Source: AmbitionBox
What is the job outlook for Engineer?
According to a report, it is expected that India will move up to the fifth position from the sixth position on the global manufacturing competitiveness index. India will make a stronghold in the manufacturing sector in the coming years. Hence, it will provide numerous opportunities to engineers in India.
The engineering career salary and remuneration are dependent on the skills of engineers. Skill gaps should be bridged to make new graduates of engineering aware of the latest tools and technologies used in the industry.
Students also liked
Frequently Asked Questions for Engineer
Que. What is the average fee of B.Tech. in engineering programme?
Ans.
The fee varies from institution to institution. Government colleges charge an economical amount of fee while private colleges charge a hefty amount of fee. The average fee for B.Tech. (engineering) ranges from Rs. 400,000 to Rs. 1,000,000.
Que. Is civil engineering a good career?
Ans.
Any basic engineer career in this field is good for your career at all times. Specifically, civil engineering also has the advantage of getting a government job in almost every sector. Civil engineering is a professional engineering discipline and the oldest which deals with the constructed environment.
Que. What is the difference between aerospace and aeronautical engineering?
Ans.
The primary difference between aerospace and aeronautical engineering is that aerospace deals with vehicles and crafts that fly inside and outside the Earth's atmosphere, whereas, aeronautical engineering deals with crafts that fly inside the Earth's atmosphere.
Que. What is the average salary of Agricultural Engineers?
Ans.
The average salary of agriculture engineers is between Rs. 2.5-4.5 lakhs per year.
Que. Do chemical engineers find jobs easily?
Ans.
Chemical engineers will find jobs directly related to their profession in the energy sector. Business and leadership are important parts of a chemical engineering degree, and these can be used to form a career in manufacturing, textiles, or even retail management.
Que. Are marine engineers in demand?
Ans.
Marine Engineers are expected to continue growing as fast as the national average for all careers. As oil companies continue to move offshore to drill, marine engineers will also be needed to design and service these rigs.
Que. Does IIT offer a course in mechatronics at the bachelor level?
Ans.
No, IIT does not provide a bachelor's degree in the field of mechatronics. However, IIT Kanpur offers a master's degree in mechatronics, one could go for that after completing his or her graduation.
Que. Is engineering a good career for the future?
Ans.
When it comes to a career as an engineer a candidate can acquire several types of opportunities. Engineering careers salaries are also decent. Especially computer engineering jobs have a wide scope currently as well as in the future.
Que. i have score 85.4 percent in 10 th , 54.8% in 12th and 76.10% in graduation engineer male with 18 months work ex can get into any good IIM ?
Ans.
Hello aspirant,
It's a well known fact that getting into IIM is very tough because it also look at you past records like your class 10 th and 12 th percentage, graduation percentage etc. But even after having bad past records, if you can score decent marks in CAT exam and interview then definitely you can get into top IIMs.
Thank you
Hope this information helps you.
Que. to become an AI engineer , what to do after pursuing degree
Ans.
Hello aspirant,
An artificial intelligence engineer creates models for AI-based applications utilising traditional machine learning methods like neural networks and natural language processing. Sentiment analysis is one of the applications created by AI developers that uses contextual advertising. The work of an artificial intelligence engineer include designing, putting into practise, and training complex systems of algorithms.
To know complete information about how to become AI Engineer, you can visit our site by clicking on the link given below.
https://www.careers360.com/careers/artificial-intelligence-engineer
Thank you
Hope this information helps you.
Que. Hey! I got engineer seat in kea(Karnataka) but I want to do BAMS but that counselling not yet started. Now I am confused that should I join this engineer college or cancel and wait for BAMS councelling
Ans.
Que. hi i got 49048rank in ap eapcet is i eligible for any group in gudlavalleru engineer college
Ans.
You might also be interested in
Questions related to Engineer
Showing 505 out of 505 Questions
The question have been saved in answer later, you can access it from your profile anytime.
Access now
Report Question
Select your reason of reporting