Free Online Certificate Courses from Foreign Universities
Free online certificate courses from foreign universities are one of the most vital tools that can help improve your employment opportunities and help you acquire new-age skills that help you align your style of work with the ever-changing global ecosystem. They can add something extra to your CV and also provide access to different, globally-oriented teaching styles and agile methods adopted by some of the world's most brilliant teachers. For people who can not get easy access to world-class education due to some or the other reason, there are a lot of free online certificate courses from foreign universities that they can gain access to, without paying next to no money & receive job-ready skills as part of the curriculum.
View more- Explore Online Courses and Certifications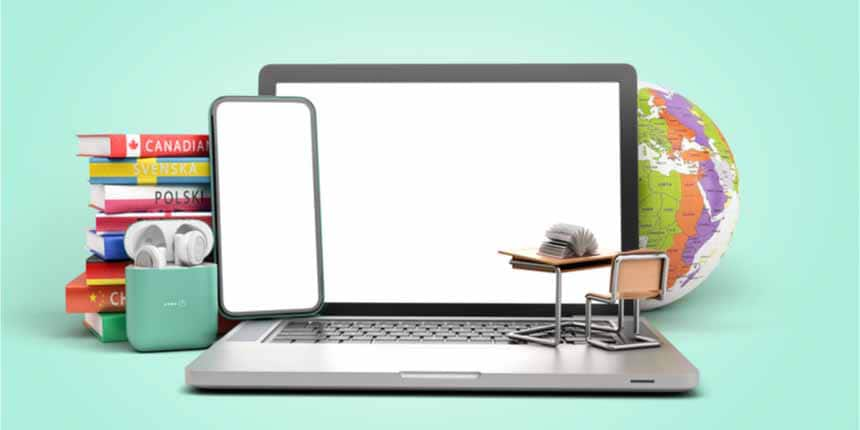 With so many renowned higher education institutions from different countries now offering free online certificate courses from foreign universities, it can become daunting to choose the one which fits your needs perfectly. In order to help aspirants choose the free online certificate courses from foreign universities that not just caters to their area of interest, but also enables them to get clarity on their doubts during the process of study, we have curated a list of some free online certificate courses from foreign universities available in India.
Also read - Free Online Degree Course with Certificates by International Universities
Some free online certificate courses from Foreign Universities are mentioned below:
a) Harvard University
Harvard University offers 600 free online courses with certification and enables you to get a taste of Ivy League education for free. Here are a few lessons to enjoy:
Shakespeare's Life and Work: Such online certificate courses from foreign universities will help you learn how to read William Shakespeare's plays, while studying his biography in four weeks. The study also covers the history of Elizabeth and Jacobean and modern practice.
Justice: In these online certificate courses from foreign universities, one learns about the introduction to moral and political philosophy. Justice course examines an in-depth analysis of past and present ideas in this 12-week study. You will read the writings of Aristotle, John Locke, Immanuel Kant, John Stuart Mill and John Rawls.
Health Impact of Climate Change: Climate change has more topics than ever before. In these seven-week online certificate courses from foreign universities, you can learn and discover how global warming affects human health and how we can help reduce its effects.
Also read - Leaders of Learning by Harvard University, Cambridge via Edx
b) University of California, Irvine
University of California, Irvine offers a wide range of courses in a variety of disciplines. Here are a few things that might interest you:
Best Business Writing in English: Such online certificate courses from foreign universities promise to help you build your voice in your writing, giving you the opportunity to practice your writing skills in a variety of business communications.
Electronics Introduction: This online certification course will help you learn about the basics of electronics, transistors, and several other devices. This course is perfect for those who want to understand electrical engineering.
Integration Games: These online certificate courses from foreign universities are like a beginner's guide to the game of integration. The lessons include mathematical theory and simple game analysis without going through the possibilities.
Also read - Getting Started with Go by University of California, Irvine via Coursera
c) Georgia Institute of Technology
The Georgia Institute of Technology has been providing online courses since 2012. Since then, as many as 3.3 million people have enjoyed these world-class courses, on a variety of topics. Here are a few things you can enjoy:
Business Data Statistics: This tutorial helps you understand business data and analyse it further. Furthermore, it also provides you with a chance to apply the complex algorithms to real scenarios and extract valuable business-related data sets.
Aslo read - Information and Communication Technology (ICT) Accessibility by Georgia Institute of Technology via Edx
Innovative Leadership: If you are keen to become a leader, this 6-week course is for you. Students will learn why innovation leaders are important for growth and how to become one.
You may read a career as a Business Analyst.
Principles of Supply Chain: This is a 15-hour course. It is a good introduction for anyone who wants to pursue a career in procurement and supply chain management. It will help you gain an understanding of the extensions made for you and inform you of the livelihood options available to you.
You may read a career as Supply Chain Manager.
Explore Popular Online Certification Courses
d) Ecole Polytechnique
Ecole Polytechnique is a leading French institution that combines advanced research, academics and innovation in the technology field, by offering around 29+ courses where 10 of the courses are in English whereas the rest 19 study French. We've listed a couple of such courses in this article.
Introduction to Opportunities: This course is taught in English, this is a two-part course that provides weekly classes that teach the basics of opportunity, giving you a small but complete understanding of opportunities and how to use them in the real world.
How to Write and Publish a Science Paper: This course is designed for students with previous experience in subject research, this course will help an individual in writing and publishing a scientific paper. This course is taught in English, you will learn to write accurately and publish a full scientific paper in four weeks.
From Space to Astronomy: If you have ever wondered how the Universe was formed, how it came to be 14 billion years ago, or even how the universe contains, then this is your course. The course lasts for ten weeks but it is taught in French.
e) Michigan State University
Counted amongst the largest universities in the United States, MSU is offering multiple free courses via the Internet. There are a couple of free online courses that you'd like.
Become a Journalist: This course will help you learn the impact of journalism on social and media issues and trends. It acquaints learners with journalistic practices as well as ethics for news collection processes. This Journalism course takes about six months to complete and is suitable for those looking to become a journalist.
Write Feature-Length Screenplay for Film or Television: In 20 weeks, you will write a full-length film or television feature script. Learners have imparted knowledge through a step-by-step process which further allows creating a near-perfect script at the end of this course.
Game Art Skills: These initially focused lessons will teach you the basics of 2D and 3D art production in a six-month period. If you are interested in working as a game designer or illustrator for video game companies, this course will give you a start in the right direction.
Also read - Global Master Certificate in Business Analytics by Michigan State University via Upgrad
f) California Institute of the Arts
Ranking 20th in the world in art and design at QS World University is in the title category 2019 by the California Institute of Arts. It offers a slew of creative online courses, some of which are -
Graphic Design: This six-month graphic design course teaches the basic skills required for graphic design. You will also complete a project that can be used for a professional portfolio.
Also read- Graphic Designer
Sharp Ideas and Workplace Poetry: In this ten-hour lesson you will learn key words and poems by reading a variety of poems by some of the most celebrated modern and classical poets. You will also have the opportunity to write your own poems and get feedback from experts, which will help you improve further.
Structural Language: You will make an analysis of the objectives of the graphic design work in this course, and evaluate its application. This is a beginner level course and will take about eight hours to complete.
Also read - Brand New Brand by California Institute of the Arts, Santa Clarita via Coursera
g) Hong Kong University of Science and Technology
An international research-oriented university, HKUST adopts advanced teaching methods focusing on research in areas such as science, technology & management among others.
Here are a couple of courses offered by them -
Introduction to Fintech: Learn about the innovations, technologies and regulation that change financial transformation in Asia's first FinTech MOOC (Massive Open Online Course). The courses start on May 15 every year and it is taught by leading professionals.
Making News Feature: This six-week online course will improve your critical thinking skills to allow you to see better and reliable information in news reports and have better news writing experience.
Status, Law and Economics: If you are interested in learning about economics, this course is a good place to start. The lessons teach important economic concepts relevant to the study of the political economy.
h) University College London (UCL)
Ranking 8th globally in the recent QS World Rankings, they are a premier educational institution in the United Kingdom.
They offer a variety of free online courses, including:
Social Media Anthropology and Why We Post: It is a five-week course on social media results and how to compare and use social media around the world.
You may read a career as a Social Media Manager.
Citizen Science and Scientific Crowdsourcing an Introduction: This course is conducted by UCL's geography department, it imparts basic knowledge of crowdsourcing information, whilst bringing your academic credentials in the field.
Culture, Health and Welfare an Introduction: This course will help you to develop, deliver and evaluate health and social work within a museum, artistic, heritage or cultural organisation. It is a good introduction to anyone who wants to work in this field.
Also, read- Anthropologist
i) Massachusetts Institute of Technology (MIT)
MIT is widely regarded as one of the most respected universities in the world, ranking first in the world in the latest QS World University Rankings. Here is an option for their free online courses:
Number I theory: This advanced course will cover a wide umbrella of topics such as algebra & analytic number theory among others.
Microeconomic Theory and Social Policy: If you are interested in learning economics, why not learn from the best? Pursuing this course enables you to use microeconomic theory for analysing public policy.
Literature: (Renaissance and Modern) For those who want something different, this study examines the impact of new technologies on the recording and distribution of words and images during the invention of the printing press in 1450, the invention of 19th-century telecommunications technology, and digital media today.
Why opt for a free online certificate course from foreign universities?
Here are some of the major reasons why one should opt for free online certificate courses from foreign universities:
Cost-effective and time-saving
What makes free online certificate courses from foreign universities a great option is that it enables students to save their time and money by eliminating the need to move from one place to another. Students have begun to choose this study method as it saves them a large portion of their tuition fees, as well as other spending such as tuition fees, assignments, and stationery. Also, most courses offered online are available for, which is something that can be very beneficial for some students.
A learning environment and opportunities for communication
Many professionals may also be enrolled in free online certificate courses from foreign universities, allowing students to communicate with future colleagues or employers in the related field. Therefore, advanced communication and network communication is another advantage that makes an online certificate a good choice.
Also read - 50+ UGC Approved Online Courses by Top Universities
Better job opportunities in the job market
Online validation also helps students find their worth in a new workplace location that often works as a transition in their careers. Pursuing free online certificate courses from foreign universities establishes a person as a progressive student and learning is a valuable asset that only helps to earn praise and respect in the workplace.
Having digital and virtual skills helps students achieve their career goals and set their dreams. Therefore, creating strong and efficient digital tracks is essential to finding and maintaining work.
Lifelong development
The fact that the digital world will continue to exist and evolve, it is beneficial for students to use it and present themselves in a positive light and to show their best qualities and personalities. In fact, this breakthrough is a place where students continue to add new skills and basic values to knowledge that increase your ability to meet your business objectives. This flexibility is a great way to encourage professionals to continue to study and elevate themselves with the growth of their work and business. To ensure lifelong learning and professional development, online certification programmes help students adjust to market trends and improve their skills.
Explore Popular Platforms Certification Courses
Frequently Asked Question (FAQs) - Free Online Certificate Courses from Foreign Universities
Question: Do online certifications matter?
Answer:
Most recruiters from large companies know about online courses and have seen certificates before. If the qualification gained in the online course is relevant, they see certificates as advantageous for an applicant.
Question: Can I do online classes on my phone?
Answer:
The core of an online course is a virtual learning platform. Some schools may use platforms that work on mobile devices, but not all schools do so. If your programme of study will have you taking these courses where you need a laptop or PC, a mobile device may not be sufficient.
Question: Are Google certifications free?
Answer:
Google AdWords is a free certification. If reading study guides isn't your thing then you can check out the company's Academy for Ads, which is a freely available resource that can be completed in no time and many of them are available free of cost.
Question: What is Google Level 1 certification?
Answer:
Level 1 focuses on Google Tools at a foundational level but also gives educators insight into Digital Citizenship and Copyright. Level 1 is perfect for the educator who would like to learn how to integrate technology into the classroom. Users must pass the Level 1 exam at the end of the curriculum to become Certified.
Question: Which site is best for online courses?
Answer:
There are multiple e-learning platforms which have partnered with Ivy League institutions to offer free online upskilling and learning courses to students across the globe. Most popular platforms for online courses include Coursera, Lynda.com, Udemy, Udacity, Khan Academy and Codecademy.
Question: Are online certificates worth it?
Answer:
There are certifications which are not accredited & it means that they are not checked or approved by a prestigious educational institution. Real certificates are usually backed by well-known colleges & shall be recognised by employers and likely help improve your resume's worth. Therefore the certificates backed by a recognised institution are always worth it.
Question: Can I put online courses on my CV?
Answer:
Yes, you can put the relevant completed online courses and certifications on your CV, as apart from teaching new skills, it can also help in getting a job sometimes.
Question: Do free online courses count?
Answer:
Yes, it does not matter if an online course is free or paid as long as you have received its certification, it will count.
Question: How many hours in a day does an online course take?
Answer:
On average, an online course can take approximately four hours a day. Which includes both the duration of the class as well as the time a student takes to complete his or her online school work. Some days, of course, will take longer and some days you may be lucky and have less.
Question: Is an online degree valid in India?
Answer:
In India too, the government has taken cognizance of the popularity of this mode of education. It has therefore allowed 15% of the Indian universities to offer these online courses to the students.
Question: Are Google certifications valuable?
Answer:
Yes, certifications play an important role in Digital Marketing career as Google gives certificates after completion of Digital Marketing course and it's valuable but it's really important to follow some steps to know the real value of a certificate. You should read all the modules and make notes from it.
Skill Development Updates and Articles