22+ Online Course to Become a Professional Animation Artist
If you enjoy blockbuster classics like Kung Fu Panda, The Chronicles of Narnia, Wall-E, Coraline, Up, Bolt, Ice Age, and Monsters vs. Aliens and want to create magic with visuals, enrolling in a professional animation artist online course has limitless possibilities. If you really want to learn animation, there are numerous colleges, both private and public, that offer online animation courses with certificates.
Also read - List of Certification Courses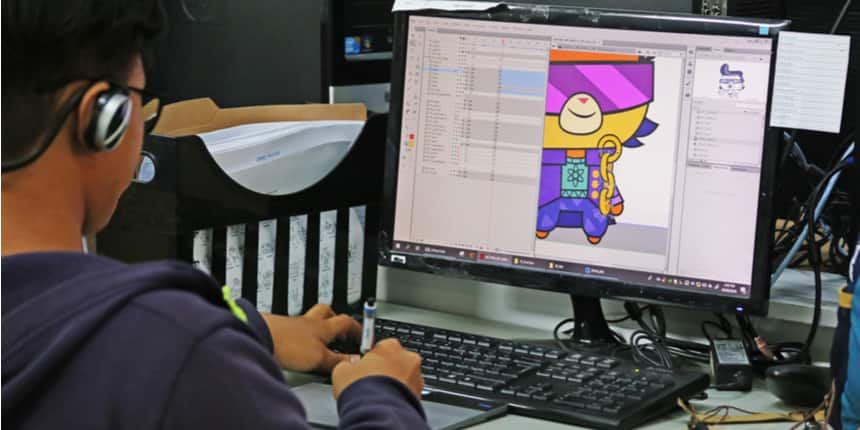 Animation is the art of bringing such characters to life. The animation degree is the art of bringing inanimate objects to life with the help of advanced computer-based sequence analyses. All of this can be learned in animation certification courses. For your convenience, the Careers360 Team has compiled a list of the top professional animation artist online courses so that you can easily select one for yourself and begin your colourful journey.
22+ Online Animation Courses
| | | |
| --- | --- | --- |
| Course Name | Duration | Platform |
| Angular Styling & Animations (for Angular 2+) | 7 hours | Udemy |
| Learn 3D Animation - The Ultimate NEW BLENDER 2.8 Course A-Z | 19 hours | Udemy |
| Learn Professional Pixel Art & Animation for Games | 4.5 hours | Udemy |
| jQuery for Beginners - Create Website Animations Easily | 3 hours | Udemy |
| Advanced Storyboarding for Film & Animation | 1 hour | Udemy |
| Learn to Animate: Animation Principles | 7 hours | Udemy |
| After Effects Motion Graphics Beast | 9 hours | Udemy |
| Learn Web Animation the Easy Way: An Intro to SVG and GSAP | 3 hours | Udemy |
| Create HUD graphics in After Effects and Illustrator | 5 hours | Udemy |
| Create hand-drawn character animations using Photoshop | 5 hours | Udemy |
| 2D Character Animation: Walk Cycles | 2.5 hours | Udemy |
| Background Design | 3.5 hours | Udemy |
| Interactive Web Animation 2020 [JavaScript, SVG, CSS & HTML] | 7 hours | Udemy |
| Adobe After Effects: Infographics & data visualization | 2 hours | Udemy |
| Comic Book Animation in After Effects | 1 hour | Udemy |
| UI Animation using Sketch 3, Principle App, and Flinto | 1 hour | Udemy |
| Complete Rigging Course: Moho & Anime Studio | 3.5 hours | Udemy |
| Direct and Produce Animation | 3 hours | Udemy |
| The Complete Spine Game Rigging & Animation Course | 6 hours | Udemy |
| Engage Your Audience with Animated Presentations in AE | 3.5 hours | Udemy |
| Unity 5 Level Design, Lighting, and Animation | 4 hours | Udemy |
| Animation in Photoshop: Create an Amazing Motion Typography | 3.5 hours | Udemy |
| Create amazing animations fast and easy using After Effects | 1 hour | Udemy |
22 + Animation online Courses to Pursue.
1. Angular Styling & Animations (for Angular 2+)- This professional animation artist online course teaches you that angular gives tools to design and animate your web page dynamically. This is not a simplistic course for CSS - this course would dig into Angular ships' rich toolset, empowering you to build a reactive, customer web application.
Also read - All about Animation Course
2. Learn 3D Animation - The Ultimate NEW BLENDER 2.8 Course A-Z- This 3D animation course has more than 110 lectures and is meant for anybody who wishes to study the art of 3D graphics, irrespective of whether or not you have any experience. In this animation online course, you will learn 3D art skills that will encourage you to design your 3D work.
Also read - 3D printing Applications by University of Illinois, Urbana Champaign via Coursera
3. Learn Professional Pixel Art & Animation for Games- The animation design course - 'Learn Professional Technical Pixel Art & Animation for Games' teaches you how to produce stylized pixel art and animation courses of excellent quality that can stand up as professional work. The strategies learned in this animation certification course can be converted into just about every gaming asset formation. In the field of digital art production, this course will boost or give you skills - or your money back.
Also Read: Diploma in 3D Animation and Graphics
4. jQuery for Beginners - Create Website Animations Easily- This jQuery tutorial is a popular web-based animation and multimedia course that is ideal for beginners and will show you what jQuery is and how to begin using it to build animations for websites or apps and advance functionality. JQuery is everywhere over us; whenever you see a slider, picture gallery, navigation menu, visual effects, photo, or pop-up video boxes with plugins such as lightbox or pretty photo or wherever you see fun animations on any website, jQuery is that there is.
Also read - Become A Motion Graphics Artist With These 19 Online Courses
5. Advanced Storyboarding for Film & Animation- This animation design course covers talents that are the backbone of filmmaking: a tool that is undeniably the most robust type of storytelling art of our day. One of the most innovative and imaginative aspects of the development staff is the storyboard artist's role.
Also read - 3D Printing Hardware by University of Illinois, Urbana Champaign via Coursera
6. Learn to Animate: Animation Principles- After enrolling in the professional animation artist online course, you're going to progress from mainframes to smooth and dynamic character animation in these projects. When we're at the senior assignment, we want to ensure that you feel secure in animating a complicated character animation with several moving parts. This one is ideally suited for those who have a BA in Animation or beginners who want to learn animation in a detailed manner.
Also Read: Animation And Design Courses Offering B.A. in India
7. After Effects Motion Graphics Beast- Under this hands-on animation class online, you will be getting assignments by the end of this course, which you can add to your CV and start accepting work from clients. Wait, we're still not done. Step by step, you can learn how to create each of them. Not just this, you can have links to and dig deep into the project files.
8. Learn Web Animation the Easy Way: An Intro to SVG and GSAP- You'll profit from the techniques learned in this animation online course, whether you're a front-end artist, UI/UX designer, or just an enthusiast who is beginning to learn animation online. To bring you to the SVG graphics format and the GreenSock Animation Framework, we use a project-based approach—possibly the most effective and efficient Javascript animation library currently available.
Also read - Animation Colleges in India
9. Create HUD graphics in After Effects and Illustrator- After the Results, we will take our Illustrator file, transform the layers into 3D textures, and animate them using form layers. After the results, we'll compose these assets and build the text. To create the final look, we'll add effects and filters. You would have built up a library of resources at the end of this online animation course with certification that you will re-use in addition to making this animation.
Also read - Learn Advanced Animation With These 17+ Courses on Cinema 4D
10. Create hand-drawn character animations using Photoshop- You can learn to transform hand-drawn drawings into animations using Photoshop during this animation online course. You can learn to apply several dance steps to a robot's pencil sketch. We're going to make a joyful leaping cupcake that never gets tired. In typography, we'll add some vibrancy. Using the video timeline, vector forms, and smart artifacts, we can ensure a seamless experience that you will get after enrolling in this popular animation degree course. And by plotting on top of a film, we can develop suitable energy.
Also read - 3D Printing Software by University of Illinois, Urbana Champaign via Coursera
11. 2D Character Animation: Walk Cycles- If you enjoy animation and games and want to understand how to draw your animation characters; if you'd like to learn animation skills that can open the doors to a real career path in the animation degree, but if you'd like to learn how to produce your short animated films, you will be taught precisely those skills under what is considered to be amongst the best animation online courses out there.
Also Read: Diploma in Animation and Multimedia Technology
12. Background Design- You will focus on two background assignments in this professional animation artist online course that have been designed by the instructor to help the students understand and practice various and varying background art pieces. This is one of those animation certification courses in multimedia and animation which shall appeal to those who have completed their bachelors in animation or the ones who want to refresh their knowledge after having graduated as an MSc in Animation.
13. Interactive Web Animation 2020 [JavaScript, SVG, CSS & HTML]- Twenty animation projects that demonstrate the principle of immersive web animation are shown in this animation course. They are all available for uploading, learning, and updating. This professional animation artist online course is required for those who want to revitalize their website and use an unforgettable UX / UI interface.
Also read - Animation VFX Prime by Arena Animation
14. Adobe After Effects: Infographics & data visualization- Adobe After Effects, which is one of the most sought-after software tools in the animation industry is what this animation design course covers. If you are someone who is interested in VFX, compositing, stop-motion animation, or other similar motion graphics practices, you do not need to go anywhere else. This particular animation online course curriculum offers you a lot of insight into how you can create appealing infographics and visualize business/research data through motion-based animations.
15. Comic Book Animation in After Effects- This animation certification course is suitable for illustrators, graphic artists, motion designers, or anybody else with After Effects who want to learn how they can animate comic books using the software. The instructors make use of some really cool and simple color variations to create the desired projects mentioned under the course curriculum.
Also Read: Top 10 Short-Term Animation Courses For a Better Career
16. UI Animation using Sketch 3, Principle App, and Flinto- If you want to learn how to animate the user interface in mobile and web apps, this particular professional animation artist online course offers a step by step process to achieve your first UI animation using software tools such as Sketch, Principle app for prototyping & the Flinto tool to see the UI come alive, in action. Furthermore, the enrolled student will get a lot of tips and tricks from the instructor to improve their drawing and design skills throughout the duration of this course. You would be able to make impressive animations spectacularly by the end of this fabulous animation course online.
17. Complete Rigging Course: Moho & Anime Studio- If you are an experienced animator with extensive knowledge of rigging, this animation online course for beginners may not be for you. Even if you are familiar with rigging, you can refresh your knowledge of how to create ready-to-animate characters that make full use of Anime Studio/ Moho.
18. Direct and Produce Animation- You read this, but you have an idea for yourself because of a web series or full-length animation course since you are just intrigued and wanted to know what all the "Direct and Create Animation" buzz was. Ok, give me a few seconds to see how I can make you more interested. Everybody's got ideas. Huh? Right? Oh, the positive thing is that. The worst thing is that most of those thoughts exist within the holder's head. Never create it to be born into being.
Also read - B.Sc. in Animation Degree Colleges in India
19. The Complete Spine Game Rigging & Animation Course- The animation course online is your road to creating incredibly attractive game animations! If it's for your favorite games or programs for other people. For as little as one week, this course will take it from Photoshop and Spine's very little knowledge to making advanced animations of game characters.
20. Engage Your Audience with Animated Presentations in AE- If you're concerned about your viewers and want everyone to have an excellent time viewing your posts, then you may be involved in this course. With a lot of animation course online training, I see that they only use a single PowerPoint demonstration, and viewing it isn't very interesting.
Also Read: M.Sc Animation and Multimedia
21.Unity 5 Level Design, Lighting, and Animation- By including terrain and sophisticated lighting, this course aims to create levels that test your game. Explore material development, physically-based rendering, animation of characters, and more. At the end of this animation degree course, an advanced understanding of Unity and its practical feature set would have been established.
22. Animation in Photoshop: Create an Amazing Motion Typography- Suppose you do have adobe photoshop now and don't want to spend your money and time purchasing new apps and mastering them. This animation course online is for you, anyway. You are using Adobe Photoshop to delve deep into the world of motion typography and graphic designing and take your talents to the next stage with this animation degree.
23. Create amazing animations fast and easy using After Effects- This animation online course will provide you with the resources to achieve excellent results in minutes if you are fresh to an animation degree or tired of spending hours creating basic animations. You would be able to make impressive animations spectacularly by the end of the animation course.
Conclusion
The animation industry discovered a new centre in India, which was once ruled by the West. India possesses the potential and creative juices to produce world-class animations involving all Asian countries. Despite the fact that India is a relative newcomer to the animation industry, it is poised for unprecedented growth.This boom, however, would not be limited to the animation degree, but would also spread to the mobile and computer game sectors. This means more work for 2D and 3D animators, and Indian animators are becoming more well-known globally.
Also Read
Frequently Asked Question (FAQs) - 22+ Online Course to Become a Professional Animation Artist
Question: Does opting for animation courses have the potential to flourish in India?
Answer:
There is a broad scope for animation courses in the sector, and it is a suitable area for those that want to make fantasy and turn their creativity into reality. Rather than just outsourcing, now Indians are also going on to create amazing, industry-grade & globally renowned animation products, which makes it a sector with high potential.
Question: Is it a sensible decision to pursue animation as a profession in India?
Answer:
Animation is a rewarding and profitable career and attracts young people to it in huge numbers. In animation studios and production houses, specialists new to this field typically operate in junior animators' roles while one can easily go up the ranks with experience they gain over a period of time.
Question: Is it challenging to get an animation job?
Answer:
It's pretty hard to break into animation, but as long as you can work consistently, without any compromise on quality and ideation, you can easily get a high-paying job in animation. Many animators get a lot of work at big companies and animation studios thanks to references from other animators.
Question: What rating am I meant to get to be an animator?
Answer:
While it is not necessary to have pursued a college degree, most companies tend to select career applicants who have an animation, computer graphics, fine arts, or similar specialty bachelor's degree.
Question: With a degree in computer science, will you become an animator?
Answer:
Degree programs in multimedia art also allow students to specialize in a different form of art, including animation, making this the right choice for those who want to become an animator.
Question: Are animators in high demand across the globe these days?
Answer:
From 2019 to 2029, the workforce of multimedia artists and animators is expected to rise by 4 percent, almost as quickly as the rate for all occupations. Projected increases in video games, film, and television would be due to increased demand for animation and visual effects.
Question: Why are people in India paid a little lower than their international counterparts?
Answer:
The quality of teaching and the fact that most people in India are not exposed to advanced level animation techniques & tools is one of the primary reasons why most animators in India are paid relatively lower than their international counterparts.
Question: Does animation have any scope in the field of computer science?
Answer:
Drawing, 3D modeling, augmented reality, photography for animated video animation, motion capture, graphic design, and computer programming could be the kind of computer science and skills required in computer animation.
Question: Without going to college, can I still become an animator?
Answer:
Yes, absolutely, there are numerous animation courses online that they can pursue in order to learn 2D and 3D animation, finding work at studios and production houses as an intern or full time employee.
Animation Updates and Articles
Questions related to Animation
Showing 322 out of 322 Questions