Animation has always been one of the most lucrative career options to pursue. Most of us have grown up on animated cartoons and films and love the idea of being the hand behind those wonderful creations. However, getting into animation seriously can be a bit of a confusing and difficult process. Animation is an amalgamation of art skills and computer expertise, which most academic systems still consider polar opposites in the curriculum spectrum. Thus, it can be difficult to master the skills necessary to get going in the chosen field of animation. While most short-term animation courses online do not have any requirements, they can give learners an edge over others to have them anyway.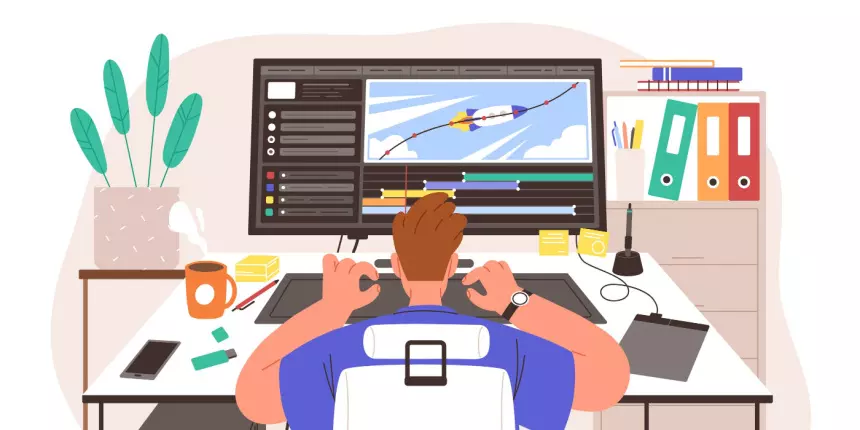 Top 10 Short-Term Animation Courses For a Better Career
Short-term animation certificate courses help students gain basic animation knowledge or obtain more niche skills in a certain specialisation. There are a large number of such animation courses such as 3D animation short term courses, VFX short term courses, 2D animation free courses, and more. These short term animation best courses are provided by the top animation colleges in India, animators, or online learning platforms. Choosing the right short-term animation courses online can be difficult, especially for beginners. In this article, explore the list of the best short term animation courses online that provide every necessary information to help eager animators make the right choice for a better career.
Top 10 Short-Term Animation Courses for Better Prospects
Short term animation courses are highly popular among those wishing to go forward in their career. A career in VFX and animation in India does not require as much investment of time or money as a long-term course, yet, with the right planning, can provide the same benefits. Given below are the top short term animation certification courses for honing animation skills of various levels:
1. Animation VFX Prime
This short term animation courses certification offered by Arena Animation is an excellent opportunity for individuals looking to gain comprehensive knowledge and skills in animation and visual effects (VFX). This is a more than 1 year animation course and covers a wide range of techniques and abilities, including 2D and 3D animation, digital filmmaking, VFX, and Dynamics. Animation has become a vital tool in various sectors, including entertainment, education, and many others, due to its ability to convey messages effectively. Consequently, there is a significant demand for skilled professionals in these fields. Therefore, the Animation VFX Prime certification by Arena Animation stands as a highly valuable option for learners seeking to enter these dynamic and rewarding industries.
Also Read -
2. Basic 3D Animation using Blender
The Basic 3D Animation using Blender certification is one of the best animation courses offered by edX and is a standout opportunity in the professional courses industry as it is entirely free of cost, making it accessible to a broader audience. This programme is designed to provide learners with a comprehensive understanding of Blender, a powerful open-source animation tool, and 3D animation fundamentals.
3. Certificate Course Animation Technology
This is one of the short courses in animation that uses a combination of classroom lectures and weekly assignments to teach the latest animation technology. The course includes up-to-date modules for graphic design and 3D art creation, offers experience with industry-standard software, and encourages students to build portfolios for future career opportunities. Expert instructors and peers provide continuous feedback, ensuring a comprehensive learning experience.
4. Graphics and Animation Development
Throughout this course, students learn to effectively convey ideas and concepts through various visual media, including text, images, animations, models, and special effects. One of the highlights of this programme is hands-on experience with free, open-source software and tools commonly used in graphics and animation design. This includes the use of software such as the GNU Image Manipulation Programme (GIMP), a popular alternative to Photoshop for image editing and graphic design. The course also covers Blender, a versatile tool for creating dynamic 3D models and incorporating shading effects, lighting, and textures.
Also Read:
5. Web Design and Animation for Interactive Media
The University of Delhi offers an online course in Web design and Animation, developed in collaboration with Edinburgh's Telford College through the UK-India Education Research Initiative. The curriculum not only imparts essential technical skills in animation and web development but also covers aspects related to designing and evaluating professional websites. This comprehensive programme equips students with a range of practical skills and knowledge in the field of web design and animation.
6. Blender 3D Modeling & Animation: 20+ 3D Projects in Blender BY
This course provides you with the fundamental knowledge of Blender and Animation and is freely available. Designing 3D models for games is very much possible with Blender. This is a self-paced course and has 17 hours + pre-recorded video content. This course will help you to master the tools and techniques used in designing 3D video game models.
7. Ultimate Blender 3D Character Creation & Animation Course
The "Ultimate Blender 3D Character Creation & Animation Course" is an online certification programme designed for individuals interested in learning 3D character development and animation using the popular software "Blender." This comprehensive course caters to both beginners and those seeking advanced knowledge in character creation and animation. The curriculum begins with the basics of Blender and the fundamentals of animation, then progresses to areas such as modeling, materials, face animation using shape keys, 3D animation techniques, animating along curves, particle systems, texturing, and more.
Also Read:
8. Master Certificate in Animation with Autodesk Maya
This professional course is dedicated to teaching Autodesk Maya, a leading software in the animation field, and is designed to help participants pursue successful careers in animation. The training spans a period of 9 months and focuses on computer-generated images and animations, which are increasingly integral to various industries such as TV, movies, gaming, and Virtual Reality. The demand for these skills is rapidly growing. By completing this course, students can enhance their productivity and achieve mastery in the animation industry, particularly in using the industry-standard Maya software.
9. MAYA Master Class - Complete Guide to 3D Animation in Maya
This is undoubtedly one of the best short-term animation courses online created and provided by Lucas Ridley of Video School Online. This is specifically a Maya animation course, which means learners will learn all animation techniques on Autodesk Maya. This best course in animation is targeted at beginners but can be taken by hobbyists wanting to gain professional skills. In this animation 1 year course candidates will learn to use Maya for various animation techniques like modeling, texture, rigging, animation, dynamics, light, and rendering.
10. Animation Motion Graphics and Video Editing
This programme offers a promising career path in the animation industry. This field is rapidly growing in India, surpassing the IT industry in terms of growth. Opting for this certificate course can give candidates a competitive edge. The programme covers 2D animation, motion graphics, and their applications in film titles, broadcast and commercial design, interactive media, and gaming.
Also Read:
Short-term animation courses have made the art and science of animation accessible to more people. Animation courses for beginners as well as professionals have opened up the wonderful world of animation to more people, thus gaining more talent in the field. It is one of the reasons why animation has advanced so much in recent times and why more and more people are taking animation courses after 12th, animation courses online free, and VFX short term courses to become open to the idea of becoming an animator.
Skills Required for an Animator
An Animator is a professional accountable for designing and creating animations and visual effects for films, television, video games, mobile devices, and other forms of media. You can be an animator by pursuing the best courses for animation online or taking animation courses online free. Mentioned below are some of the top skills required for an animator.
| | |
| --- | --- |
| Technical Skills | Eye for Details |
| Aesthetic Skills | Communication Skills |
| Research skills | Editing Skills |
| Teamwork | Ability to work under pressure |
| Ability to meet tight deadlines | Drawing and composition |


Job Opportunities After Animation Courses
Job prospects available in Animation Design are immeasurable. After animation certificate courses and animation courses online, one can explore a variety of job roles. The table below shows the different job opportunities after the best animation courses.
Popular Animation Courses by Top Providers
Conclusion
Animation offers a diverse range of career opportunities, and short-term courses are a convenient way to gain essential skills. Whether you choose 2D, 3D animation, VFX, or game design, the field is dynamic and global. Online courses make learning accessible. Key animator skills include technical proficiency, attention to detail, and creativity. With a variety of job roles available, animation is an attractive career choice for creative individuals. Reputable providers like Udemy, Coursera, and animation schools worldwide offer quality training, making it easier for aspiring animators to enter this exciting field.