The Scope of Artificial Intelligence in India
Have you ever wondered how the Google assistant in your phone answers your queries or driver-less cars move from one place to another? The technology that makes all these things possible is termed Artificial Intelligence (AI) and Machine Learning (MI). Artificial Intelligence can be seen as the intelligence of machines through which they try to mimic human intelligence. Artificial Intelligence is an emerging technology that has the ability to change how we interact with the world around us. With the increasing scope of Artificial Intelligence and Machine Learning in India, machines could be trained in certain circumstances to decide on their own.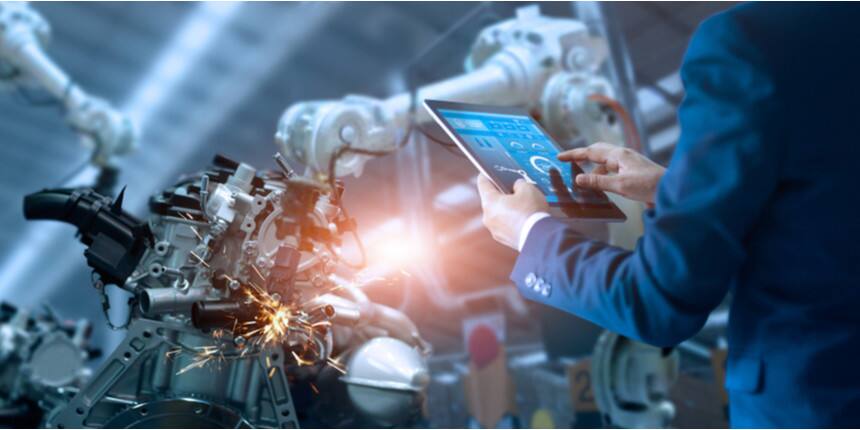 The scope of Artificial Intelligence in India is still in the adoption stage but slowly it is being used to find smart solutions to modern problems in almost all the major sectors such as Agriculture, Healthcare, Education and Infrastructure, Transport, Cyber Security, Banking, Manufacturing, business, Hospitality, Entertainment. Artificial Intelligence is a classic example of disruptive technology, as it has affected on we go on about doing our daily work.
Another aspect that has helped in understanding and adapting AI is the online education mode. Online learning has become a huge part of our education ecosystem; especially after the pandemic. Aspirants who are looking to pursue an Artificial Intelligence course & Certification can read this article. By going through this article candidates will get an idea about the scope of Artificial Intelligence in India.
Scope of Artificial Intelligence in India
The scope of Artificial Intelligence in India is promising. Artificial Intelligence has immense potential to change each sector of the economy for the benefit of society. There is not just one technology under AI, but there are various useful technologies such as self-improving algorithms, machine learning, big data, pattern recognition. Soon, there would hardly be any industry or sector which would be untouched by this powerful tool in India. This is the reason why there has been an increasing demand for Artificial Intelligence online courses in India.
1. Education - Artificial Intelligence can help increase the effectiveness of our instructors via numerous AI applications such as text translation systems, real-time message to speech, automating mundane and also repeated jobs such as taking presence, automating grading, customising the discovering trip based upon ability, understanding, and also experience. The scope of Artificial Intelligence education and learning takes a look at the possibility of utilising AI ran rating machines that can evaluate unbiased solutions. This is something that is gradually being implemented in institutes. The various other applications of AI in the area of education are real-time text to speech as well as text translation systems.
View more - Data Science With Artificial Intelligence Certification Courses
2. Chatbots : In a country as varied as India, the combination of chatbots in the digital framework or availability via the IVRS system education domain can be transformational- they might be educated on the subject matter and a great percentage of doubts of the pupils could be responded to quickly, consequently lowering the current work of educators who could focus on even more imaginative tasks.
Also read - 15 Online Courses to Create Chatbots
3. Automated grading : On a large scale, Machine Learning methods such as Natural Language Processing might be made use of for automated grading of assessments on systems such as E-PATHSHALA, SWAYAM (Study Webs of Active Learning for Young Aspiring Minds) and DIKSHA - not simply subjective ones however objective inquiries too. This is due to draft of National Education Policy 2019, prioritising on the internet understanding.
Explore Artificial Intelligence Courses & Certifications by Top Providers

4. Healthcare - The Healthcare system in India is the most dynamic and challenging sector in India. There are many challenges like affordability, accessibility but particularly the shortage of doctors and services like qualified nurses, technicians, and infrastructure. In India, good healthcare facilities are mostly near the tier1 and tier2 cities which creates non-uniform accessibility to healthcare across the country with physical access. Apart from this, with the development of Artificial Intelligence, the overall cost of healthcare would get reduced due to increased efficiency. With the ability of AI to handle large data in a speedy fashion it can help in making innovations, design, and developing medical equipment. Having an AI-enabled system helps in reducing medical errors and increases productivity. Artificial Intelligence can also overcome the barriers to access and solve the accessibility challenge by employing early detection followed by suitable diagnostic decisions.
View more - Artificial Intelligence For Healthcare Certification Courses
5. Agriculture - In India, a significant population depends on agriculture for their livelihood. The problem of farmers in India is not extremely great as they depend on conventional methods for farming. If plants are obtaining an adequate quantity of water, water usage in agricultural land can be maximised by utilising thermal imaging cameras that constantly keep track of. It can help determine proper crops to expand in a desirable environment on a productive surface as well as the sowing technique to improve performance and also minimise expenses. Artificial Intelligence can also be utilised to forecast the behaviour and also study parasites which can be useful for advanced preparation of insect control. Anticipating modelling using Artificial Intelligence can be important in providing more precise demand-supply details as well as anticipating the need for farming produce to farmers.

Also read -
6. Transport - There is tremendous scope of Artificial Intelligence in the transportation sector as well. Particularly, there are a few areas where AI can be used. In the aircraft, ships, spacecraft they have been using autopilot since 1922 to maintain the correct course. Another area is autonomous cars. There are many companies across the globe and even in India that are researching autonomous cars or self-driving cars. The development of such vehicles is heavily reliant on artificial intelligence and machine learning. Experts believe that self-driving cars will bring many benefits including lower emissions, error-free driving.
Read more - How to Make a Career in the Field of Artificial Intelligence
7. Home - We are surrounded by Artificial Intelligence. We use devices that are based on Artificial Intelligence all the time without knowing of it. For example, we use OK GOOGLE or ALEXA or CORTANA all the time to perform the various tasks with just voice command. These smart assistants use Artificial Intelligence and Machine Learning for voice recognition. They learn from the users' commands to become more efficient. You can also use this smart assistance to perform a variety of tasks like playing a song, asking a question, Buying something online.
Read more - Top 10 Artificial Intelligence Tools & Framework with certification courses
8. Artificial Intelligence in Cyber Security - Cybersecurity is another field where Artificial Intelligence is employed. Many organisations deal with a significant amount of data. For example, in the Banking sector or government organisations which are having a huge database of people's personal data, there is always a risk of stealing, and hence a security mechanism needs to be put in place. An apt example of this field is Cognitive Artificial Intelligence. It detects as well as analyses hazards, while also giving understandings to the analysts for making better-informed decisions. By making use of Machine Learning formulas and also Deep Learning networks, the AI obtains better and much more resilience over time. IBM has IBM Resilient, which is an open as well as an agnostic platform that offers a framework and also center for managing safety and security responses.
View more - Online Cyber Security Courses & Certifications
9. Manufacturing sector - There are many Indian startups based on Artificial Intelligence that are serving the manufacturing industry. These companies develop Artificial Intelligence-based solutions to increase the growth of the manufacturing industry. Artificial Intelligence in the industry is used In controlling the various kinds of robots to do a certain kind of job. One unique technology of Artificial Intelligence is to analyse the data and make future predictions. This ability of AI is used to analyse past year sales or market survey data to predict the future supply and demand and make faster decisions or amazing customer feedback of a given product to optimise the product in the coming years. AI has a wide scope in the Manufacturing industry in the coming years.
Also read - Certified Artificial Intelligence Professional by Vskills
10. Artificial Intelligence Online Course - Online Artificial Intelligence certification course and ML can be beneficial in the future as there is a large scope of it in the coming years particularly in India where there are huge populations and several problems persist now and then. To find smart solutions to these modern-day problems AI will play an important role. Strong knowledge of data structures and data modelling. To pursue an Artificial Intelligence online course, one should know subjects such as Mathematics, engineering, physics, Programming expertise in one of the programming languages like Python, Java, C++, R, Working Knowledge of Data Science algorithms and libraries. The various job profiles in the field of AI include Machine Learning Engineer, Data scientist, Business Intelligence Developer.
Renowned institutes offering online Artificial Intelligence courses in India include Indian Institutes Technology, Indraprastha Institute of Information Technology-Delhi, Great Lakes International University, and Jain University. There are some Training Institutes as well:
Explore Popular Platforms Certification Courses
Frequently Asked Question (FAQs) - The Scope of Artificial Intelligence in India
Question: What is the demand for Artificial intelligence online course?
Answer:
A report by Gartner shows an increase of 270 per cent in artificial intelligence applications in 2019. The artificial intelligence (AI) and analytics industry in India are presently estimated to be $415 million annually in revenues in 2019, up from $230 million in 2018.
Question: How can I learn the Artificial Intelligence Course for free?
Answer:
An online course named "Machine Learning" is offered by Stanford University on Coursera. The courseware is free. You need to pay only if you want a certificate.
Question: What are the three sectors in which the government is planning to indulge AI in India?
Answer:
The three main sectors for AI's introduction in the Indian context are: Agriculture, Healthcare, and Education.
Question: What are the prerequisites for Artificial Intelligence?
Answer:
Students need to have an idea about Linear algebra, which consists of vectors, matrices and derivatives, Python Programming, and an understanding of Basic Probability theory.
Question: Do I need to know to code?
Answer:
No, an online course on Artificial Intelligence does not require knowledge of coding.
Question: What are the job opportunities after completing the Artificial Intelligence course online?
Answer:
You can work as BI Analyst, Data Mining Analyst, Analytics Manager, Business Analyst, and Risk Analyst after completing Artificial Intelligence course.
Artificial Intelligence Updates and Articles