What is Artificial Intelligence and how its related to Machine Learning and Deep Learning
In the constantly changing world, new technologies are gearing up for an easy and smart life. Artificial Intelligence is one such technology which has brought about a revolution in daily human life. Although there is a widespread lack of familiarity, Artificial Intelligence is affecting and transforming every step of human life by being deployed to various sectors. Be it finance, healthcare, transportation or national security, Artificial Intelligence is significantly impacting the augmenting human capabilities. You might have come across the term AI (Artificial Intelligence) a lot over the past few years along with terms like machine learning, data science and deep learning being used interchangeably. All these technical terms signify a presence of technical support upon which human life is being built over the past few years. To make it more precise, these terms hold a different meaning wherein Artificial Intelligence is a bigger umbrella tool, Machine Learning being the subset of AI and Deep Learning being the subset of Machine Learning.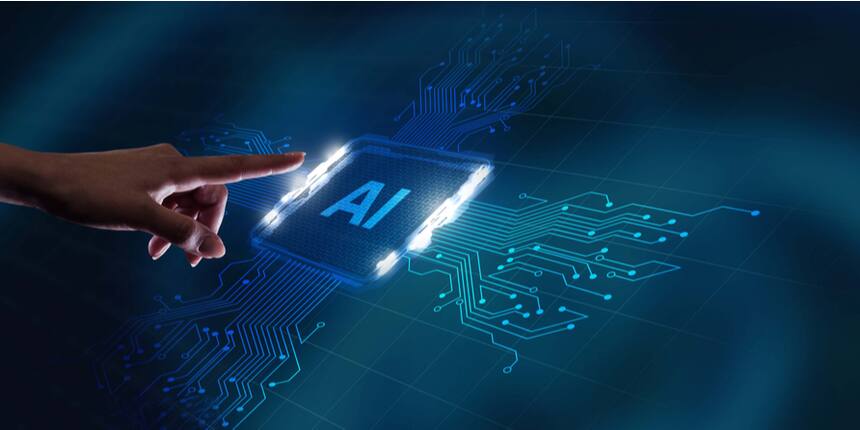 Through this article, we have explained what Artificial Intelligence is and how it is related to Machine Learning and deep Learning.
What is Artificial Intelligence?
Artificial Intelligence or AI is simply an umbrella term used to explain technologies which help machines mimic human behavior and intelligence. It is an amalgamation of various techniques which would eventually be used to solve real world problems. AI deals in problem solving by using computer science and data to enable problem solving in machines. Machine Learning (ML) and Deep Learning (DL) are subsets of the entire AI domain. These technologies come together to make systems intelligent. Let us try to understand in greater depths, what really comprises these technologies and the difference between them.
Artificial Intelligence - How is it related to DL and ML?
The problems in the artificial intelligence domain are not straightforward enough to be solved with only a single technique. One needs to leverage a host of algorithms, frameworks and platforms to finally solve a business problem. This explains the need of multiple technologies coming together and deriving business value and often solving real world problems which are quite complex for a single person to manage. The entire domain of artificial intelligence is dynamic and you might often come across terms which eventually join streams with the bigger ocean of performing tasks like humans. Thus, ML and DL combine together to power multiple AI systems and use cases.
Machine Learning and Deep learning - A part of Artificial Intelligence
Machine Learning
Deep Learning
Machine Learning - As a part of Artificial Intelligence
Machine Learning is originally a subfield of Artificial Intelligence. Machine learning is more or less concerned with the development of algorithms in order to help the computer predict models so that computers can automatically learn (predictive) models from data. Thus, Machine Learning helps to develop Artificial Intelligence, though ML is not necessarily needed for AI.
ML or Machine Learning is very close to analytics and it leverages various algorithms to solve a host of data problems. The technique is further divided into the following three major streams:
Supervised learning
Unsurprised learning
Reinforced learning
Supervised learning
Comprises use cases where the output is known. An example can be predicting house prices based on the location, size and type.
Unsupervised learning
Comprises use cases where the output is unknown. The problems where you need to derive insights from a chunk of data are managed under this stream. An example can be discovering the type of products a target group would like based on its past purchase history.
Reinforced learning
Comprises techniques which teach systems on the basis of a reward punishment framework. An example can be a system used to mimic a human online gamer.
Deep Learning - As a part of Artificial Intelligence
Let us begin with understanding deep learning and its applications. A lot of the terms within this domain are inspired from actual human brain functioning. Words such as neural networks, pattern recognition and analysis, are all inspired by actual human functioning. Deep Learning does have similarities on how our brain works but it is still quite different. The technology leverages the ability to train multiple layers of neural networks to train a data set. This might seem complex at first but at the very core is quite simple and intriguing. Data is used to feed a series of networks which learn to adapt patterns.
Imagine teaching a machine to identify cats. You would feed multiple images and try to train your network. The system would understand the various contours and features of a cat. The shape of its ears, whiskers, 4 feet, a tail and other multiple things which essentially are characteristics of a cat. Eventually after multiple iterations, your system would be smart enough to identify a cat.
Continuing with the same example, let us say you have a large data set of cats and you would like to derive multiple insights from it. Some of these insights could be the type of food each breed prefers. The climatic conditions causing problems in pet cats could be one more example or you might want to simply forecast how many cat food cans your company can sell in a particular geography in the coming months. These questions are a part of the Machine Learning (ML) domain.
Who all can pursue AI Certification
Being the host of all techniques and technologies, Artificial Intelligence is used to deal with several business problems in the field of Finance, Marketing, HR, and Operations. These terms are "business" centric and not "IT" (Information Technology) centric. Similarly, the term "Technology" is no longer relevant to just IT professionals but to all Business Managers and industry workers.
Explore Popular Relevant Courses and Certifications by Providers
Are AI certifications relevant to only IT professionals?
Here, we will get to know about how AI is not just relevant to IT Developers and Managers but also to the overall industry veterans and SMEs who want to derive meaningful business insights and solutions.
Taking an example of the manufacturing unit, a Floor Manager ensures safety of all his workers on the shop floor. He is closely working in the manufacturing domain and ignores the host of IT solutions available to him. Now, to solve his business problem he ensures adding manual safety tags, exit routes, warning signs, alarms, and sensors are in place. He ignores all the AI solutions which are available to his disposable to augment manual installations. When their manual installations fail, there is no plan B. The safety of these workers is at risk and solely dependent on one core line of safety. What they need is a backup or an augmented solution to be in place, which takes center stage to assist when conventional measures fail. Now, let us try to list how AI can solve this problem and act as a support system to the entire manufacturing facility.
Image recognition for workers not wearing their safety gear.
Predictive models to predict equipment failure
Virtual agents/chatbots to assist in manufacturing and safety monitoring.
Text analytics to scan and maintain essential safety details on manufacturing equipment.
This list is suggestive and not exhaustive. Using this we realize that there are a bunch of solutions and optimizations that the manager would miss out on, just by being ignorant towards AI technology. It is difficult to achieve high levels of expertise in this domain however, one must not be ignorant of the benefits AI offers. This might also open new avenues to drive value and open business verticals if carefully analyzed and contemplated.
Artificial Intelligence is not just a technological solution to solve use cases but can also help in creating new verticals in an organization. Amazon Alexa, Google Analytics, Self-Driving cars, Uber analytics, Google lens are all bright examples of products and solutions which opened new avenues to drive business. To summarize the same, one must not look at AI just as a problem solver but also as a value driver. Hence, this technology should not be limited to only IT or Analytics professionals. It is relevant for all and dynamic in nature to derive value and solve complex business problems.
Explore Free AI, ML, DL & Data Science Courses & Certifications
What is Artificial Intelligence and how its related to Machine Learning and Deep Learning