Starting college can be an exciting and transformative experience. It's a time when you gain newfound independence, make lifelong friendships, and pursue your academic and career aspirations. The college experience also offers a chance for personal growth and development. At college you can explore new interests, broaden your perspective, and become more self-aware. However, the challenges that come with this new phase can sometimes hinder personal growth and academic success. It can also come with its own set of hardships, such as adjusting to a new environment, managing your time effectively, and dealing with financial pressure. These challenges can be overwhelming, but with the right mindset and strategies, you can overcome them and thrive in college. You can make the most of college by keeping a few things in mind and doing them so you can beat the challenges you may face when you enter college.
What Changes Between School and College?
As you embark on your college journey, you are taking a significant step toward adulthood and independence. While college life offers exciting opportunities, it also presents unique challenges that require adjustment. The transition from high school to university is marked by notable differences in scheduling and coursework. Unlike high school, where your schedule and curriculum are predetermined, in college, you have more control over your schedule and can customise your coursework based on your interests and career aspirations. This flexibility allows you to focus on a specific major or areas of study, deepening your understanding of your chosen field and preparing you for your future career. Furthermore, college life offers more opportunities for socialising and meeting people from diverse backgrounds through extracurricular activities and events. Although college life can be difficult at times, it is also a rewarding experience that prepares you for the next chapter of your life.
Also Read | Dealing With The Stress Of College Admissions
Tips On Dealing With Challenges That Come Your Way
University life is a time of self-discovery, advancement in careers, and the creation of new personal and professional relationships. Having said this, it is important to shed light on some of the difficulties you may face at the start of this journey. Being aware of certain issues can help you be better prepared to deal with them, if and when you face them.
Homesickness
The Challenge: Moving away from home and family can be difficult, and it's common to experience homesickness when starting college in a different city, state or country. You may move into an apartment, or stay on campus. In either situation, you could be on your own or with a roommate. These situations can be daunting, and uncomfortable and will require some level of adjustment. Being away from family and friends can also lead to feelings of loneliness and homesickness. It's essential to acknowledge these feelings and understand that they are a normal part of the adjustment process.
Possible Strategies: One way to ease the transition is to stay in touch with your loved ones through phone calls, video chats, or visits. Additionally, finding ways to create a home away from home can help you feel more comfortable and settled in your new environment. For example, decorating your room or apartment with items that remind you of home or getting involved in activities that interest you can help you feel more connected to your new surroundings. Remember that it's okay to feel homesick, and with time and effort, you can adjust to your new life at college.
Adjusting To A New Environment
The Challenge: Adjusting to a new environment in college is a common challenge that many students face. Moving to a new campus, city, or state can be daunting, especially if it's your first time away from home. Additionally, if you come from a different culture or background, adjusting to a new cultural environment can also take time. You may need to adapt to new norms, customs, and ways of communicating.
Also Read | 8 Tips To Make The Best Of College In A New City
Possible Strategies: It's essential to give yourself time to acclimatise to your new environment, connect with other students and support systems, and explore your campus or locality to feel more comfortable and at home. Remember that it's normal to feel overwhelmed at first, but with time and patience, you will adapt and thrive in your new environment.
Academic Workload
The Challenge: Academic workload in college is often more rigorous than in high school, and students may face difficulties keeping up with the coursework. The assignments and readings are usually more extensive and complex, and you may have to balance multiple projects and deadlines at the same time. In addition, college classes often have a larger volume of material covered in a shorter time, requiring you to manage your time effectively to keep up.
Possible Strategies: Developing time management skills and learning to be organised is crucial to succeeding in college. You can use tools such as planners, calendars, and study schedules to plan your coursework and allocate your time effectively. Furthermore, reaching out to professors, academic advisors, and tutors for help when needed can also ease the academic workload and help you stay on track. Remember that it's okay to ask for help and that there are resources available to support you in your academic journey.
Making Friends
The Challenge: Making friends can be one of the most rewarding aspects of the college experience. However, it can also be challenging for some students, especially if they are introverts or have social anxiety. Aside from this, it may also be difficult for extroverts to develop meaningful relationships. A major reason for these difficulties is it may be tough to understand who you fit in with. It is common for friend groups to change every now and then.
Possible Strategies: One way to overcome these challenges is to get involved in campus activities and organisations. Joining a club or group that aligns with your interests or passions can help you meet like-minded individuals and form meaningful connections. Additionally, attending campus events and volunteering can provide opportunities to meet new people and engage in activities that you enjoy. It's important to remember that everyone is in the same boat when starting college, and many students are eager to make new friends. Don't be afraid to put yourself out there and strike up a conversation with someone new. With time and effort, you can develop a strong and dependable network of friends and build a sense of community on campus.
Financial Pressures
The Challenge: Financial pressures can be one of the most stressful aspects of college life. For many students, college is the first time they are responsible for managing their own finances. The cost of tuition, housing, textbooks, and other expenses can quickly add up and put a strain on your finances.
Possible Strategies: To manage these pressures, it's important to create a budget and stick to it. This means tracking your expenses, prioritising your expenses, and looking for ways to save money wherever possible. Additionally, many students find part-time work to help supplement their income while in college. It's important to remember that financial pressures are common among college students, and there are resources available to help you navigate these challenges. Don't hesitate to reach out to your school's financial aid office or other resources on campus for support and guidance.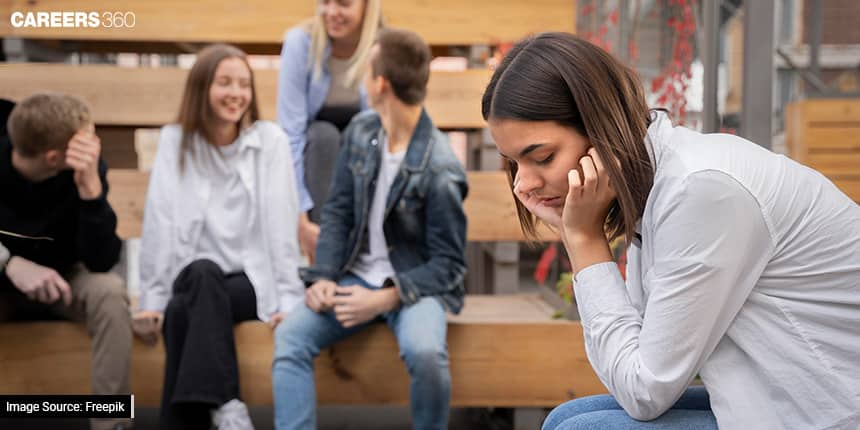 The shift from high school to university comes with changes in scheduling, coursework, and social life, which can be overwhelming for some students.
Also Read | Tips To Deal With The Stress Of Navigating Through College Admissions
Mental Health
The Challenge: College can be a stressful and overwhelming time, and many students struggle with issues such as anxiety, depression, or homesickness. It's important to seek help if you're struggling to adjust to your new surroundings. Reach out to family or friends back home, you could even speak to counselling services or mental health resources offered at your college.
Possible Strategies: In addition to seeking help from counselling services or mental health resources, there are also other steps you can take to prioritise your mental health in college. These can include practising self-care, such as getting enough sleep, eating well, and exercising regularly. It can also be helpful to connect with a support system, such as friends, family, or a mentor. Finally, it's important to be aware of the signs of mental health issues and to seek help early if you notice any changes in your mood, behaviour, or overall well-being.
The journey to college life can be exciting, rewarding, and transformative, but it can also come with its own set of challenges. The shift from high school to university comes with changes in scheduling, coursework, and social life, which can be overwhelming for some students. It's common to feel homesick, struggle to adjust to a new environment, manage a heavier academic workload, and make new friends. To overcome these challenges, you can try staying connected with your family and friends back home, creating a comfortable space in your new surroundings, giving yourself time to settle in, improving your time management and organisational skills, and participating in campus activities and clubs.