Career Opportunity After MBA - Scope, Specialisation, Salary
With the increasing number of students opting for MBA, many of them are asking themselves why they pursued this career path. In order to answer these questions, they should first ask themselves why they pursued this course in the first place. It's widely believed that having an MBA degree will immediately improve a person's career graph. However, this is not the case for everyone. Most of the time, people don't start earning a great salary after getting their MBA job opportunities.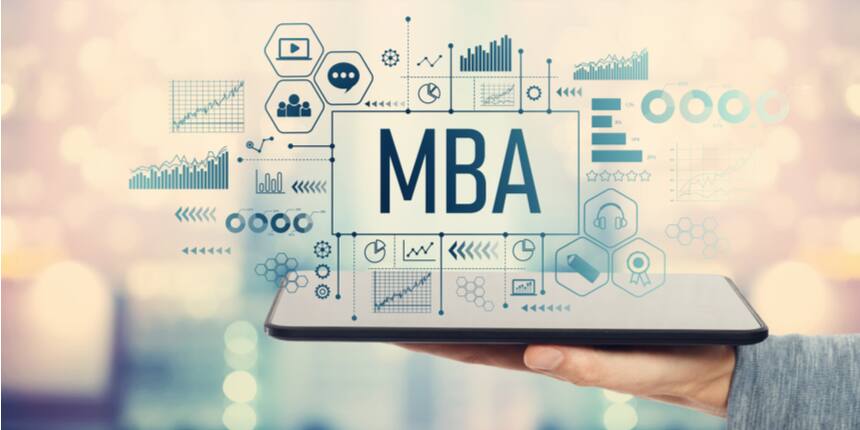 Before earning an MBA, many people tend to take on a variety of tasks and activities that can enhance their career. Some of these include taking on a promotion, changing their work profile, or starting their own business. One of the most popular entrance exams for MBA is the Common Admission Test or CAT. For 2018, almost 1.9 lakh candidates appeared for the exam. With a high score, they can secure admission to any of the IIMs in India.
4 min read
Mar 05, 2022
Read More
Streamed Webinar
01 Apr'22 05:00 PM to 01 Apr'22 06:00 PM IST
Aside from getting an admission to a particular institute, many candidates also consider pursuing various MBA programs. Some of these include Part-Time MBA, Executive MBA, and Online MBA. They can also pursue a general MBA through a specific specialization. Aside from these, candidates also have the option to pursue a specific MBA specialty. Some of these include Executive MBA, Online MBA, and Part-Time MBA.
Scope of MBA in India:
For the longest time, there was a shortage of skilled professional managers in India's corporate sector. Now, with the increasing number of professional MBA holders, the industry is hiring them to take on managerial positions.
Indian MBAs are also becoming more prevalent globally. With the right combination of skills and experience, they can find lucrative MBA job opportunities in different countries. Despite their skills, Indian MBAs are still very good at communicating. This makes them an excellent option for people wanting to work in different countries.
Streamed Webinar
03 Apr'22 12:00 PM to 03 Apr'22 01:00 PM IST
8 min read
Mar 05, 2022
Read More
The quality of the MBA programs offered by different schools is often regarded as the main reason why many people apply to IIMs. In 2021, the average CTC packages of all IIMs in the country will exceed 10 LPA.
The demand for MBA job opportunities in India is increasing at a fast pace. There are a number of companies that hire these individuals. After securing an MBA, many people discover that they have more career options. Aside from gaining hands-on experience, an MBA also helps prepare them for various technical and soft skills.
Popular MBA Specialization:
Finance, Human Resources, Sales and marketing, IT and Systems, International Business, Operations, and Retail are some of the fields that can be pursued through a specific specialty. Many people who pursued MBAs in the past have found some of the most lucrative career opportunities after they finished their course.
MBA in Sales and Marketing:
One of the most popular fields that people tend to pursue after getting an MBA is Sales and marketing. This field has never had a shortage of job opportunities. After securing an MBA in Sales and marketing, candidates can immediately find job opportunities in various industries such as banks, hospitality, and media.
Marketing is a discipline that mainly involves selling ideas and thoughts. It is focused on developing effective strategies and implementing them through various means. Due to the increasing popularity of digital marketing, many people are looking for ways to get certified in this field. This discipline is not taught in depth in MBA programs.
If you are a believer of traditional marketing, then you can take some courses that are related to MBA Marketing to improve your skills.
After getting an MBA, you might consider becoming a marketing manager. This role involves developing a strategy and implementing it in order to create awareness of the company's products and services.
Brand Manager- The brand manager of a company is responsible for developing and implementing a strategy for the promotion of the company's brands. Sales Manager- The sales manager of a company is responsible for generating sales for the organization.
Product Manager- The product manager of a company is responsible for developing new products and managing the profitability of the company's existing ones.
Market Research Analyst- A Market Research Analyst is responsible for gathering and analyzing data to develop a proper marketing strategy.
Media Planner- The media planner/ Advertising manager is primarily responsible for planning and executing various advertising techniques for the company's products.
Digital Marketing Manager- The digital marketing manager is responsible for developing and implementing various forms of marketing, such as search engine marketing, social media marketing, and email marketing.
MBA in Finance:
After securing an MBA in finance, people can immediately find job opportunities in various industries such as banks, hospitality, and media. Finance is another popular MBA course that can be pursued. It offers candidates various opportunities in various fields such as taxation, insurance management, and international finance.
After securing an MBA in Finance, candidates can work for a wide range of companies such as banks, hospitals, and manufacturing firms. This job role involves recruiting and training employees. Financial Management is a popular MBA specialization that prepares students for working in various industries such as Retail banking, insurance, and financial services.
There are a number of short-term courses after MBA Finance that can be taken by students wanting to work in various industries globally. These courses include Chartered Financial Analyst, Financial Risk Manager, and many more. These courses provide students with the opportunity to work in various corporations and industries globally.
Career Opportunities After MBA in Finance:
There are various types of Finance jobs after MBA available in the industry. Usually, these roles involve advising clients on how to manage their wealth and get the most return possible. Some of the popular job roles that can be pursued after completing an MBA in finance are: Financial Manager, Analyst, Risk analyst, and Treasurer.
You need to be able to analyze the financial markets of the world and provide advice to different organizations on how to raise funds.
You will be working with various stakeholders to develop effective solutions that will help the startup of a company. You will also be involved in corporate finance, such as managing risk and profitability.
MBA in Human Resource Management:
The duties of an HR manager include developing and implementing strategies and programs that promote employee engagement and organizational structure. A generalist HR manager can also handle various tasks such as developing employee benefits programs, monitoring payroll processes, and recruiting new staff members.
Human Resources is the main component of a firm's operations. It's a study of how to manage the various human resources functions within a firm.
MBA Job Opportunities After Human Resource Management:
Some HR courses like the HRCI and the SHRM allow students to build up their capabilities as they go on.
The role of an HR manager is focused on three sectors: Training and Development, Performance Management, and Human Resources.
Performance Evaluation- It involves assessing the work of the employees and determining the needs of the team. It also involves developing strategies and implementing performance goals.
MBA in Operations:
After getting an MBA in operations, candidates can immediately find job opportunities in this field. Not only is it a competitive field, but it also offers numerous job opportunities. There are numerous job opportunities in various industries such as manufacturing, e-commerce, and technology.
MBA courses in operations can be taken in various industries such as supply chain management, warehouse management, and project management. After securing an MBA in operations, candidates can also pursue a career in the field of IT and Systems. By taking this course, they can find MBA job opportunities in any industry.
Operations Management is a process-oriented discipline that constantly updates and refines its processes and practices. This discipline can be applied in various ways such as Six Sigma and lean methodologies.
Career Opportunities After MBA in Operations:
After graduating from MBA in Operations, you will be responsible for overseeing the production of products and optimizing the efficiency of the process. You can join various sections such as inventory management, order processing, and logistics.
Due to the increasing popularity of technology in today's operations, the role of an IT manager is very important. You will be responsible for the management of the company's information technology infrastructure.
The scope of work for candidates after securing an MBA in supply chain and logistics is a wide range of industries that includes manufacturing, retail, and e-commerce. The candidate who pursues this field will be trained to implement cost-effective solutions. They also learn about various strategies and procedures.
After securing an MBA in supply chain and logistics, candidates can immediately find job opportunities in high-salary industries.
MBA in Entrepreneurship:
An MBA is also beneficial for individuals wanting to start their own businesses. Through the training, students will also develop core competencies in various areas such as marketing, accounting, and licensing.After securing an MBA in entrepreneurship, there are many job opportunities available in the field of business development.
Career Opportunities After MBA in Entrepreneurship:
Entrepreneurship jobs after MBA are available globally. There are numerous establishments that offer this type of training. In terms of MBA in Entrepreneurship jobs, there are many industrial establishments all around the world. Many people are now taking advantage of the opportunity to create their own businesses.
Today, entrepreneurship is widely regarded as a vital part of a person's life. It can generate various economic benefits such as job creation and revenue.
The MBA in Entrepreneurship is a lifelong badge that highlights the skills and drive to build. There are many reasons why people pursue this field of study, such as the endless opportunities it provides to expand and develop businesses. There are various types of MBA job opportunities that are available in corporate settings. Some of these include:
Management analyst: It is a position that specializes in working with consultants to improve the efficiency of a company.
Investment banker: This job provides advice on mergers and acquisitions for large companies. It also helps startups secure funding.
Sales Director: The director of sales is responsible for overseeing the department's activities and resources. This person also has to be able to manage multiple accounts and personnel effectively.
Nonprofit fundraiser: This job requires people with strong social connections and an expertise in marketing to potential investors.
MBA in International Business:
This field holds numerous rewarding career opportunities after MBA due to the increasing economic interrelationships between different countries. Many international business school graduates also receive in-depth training on various international regulations and trade agreements.
Some of the major job opportunities after an MBA in international business are: Sales and marketing analyst, government affairs manager, export manager, and finance specialist.
Career Opportunities After MBA in International Business:
Based on Payscale's average salary, which is around 7.91 lakhs per year, an MBA in International Business can expect to get a salary of around 12.65 LPA. Aside from having a good understanding of international business, candidates should also have a passion for business. They should also have the necessary skills to manage and lead their company.
Due to the increasing need for MBA graduates, the scope of this degree has become much wider. Many people who want to work in this field choose this course as it provides them with the necessary skills and knowledge to run their businesses.
MBA in Healthcare Management:
In healthcare management, students can take on various managerial roles within hospitals, medical schools, and other facilities. Through this course, they can learn about various ethical and managerial issues.
After securing an MBA in healthcare management, candidates can pursue various managerial roles within hospitals, medical schools, and other facilities. The scope of work for these individuals can be numerous. Many of them can also secure managerial roles within hospitals and medical schools.
Career Opportunities After MBA in Healthcare Management:
An MBA degree can help you secure a well-paid job in the pharmaceutical or MNC industry, which typically ranges from Rs 5-12 lakhs per year. Salaries for hospital CEO and CFO roles are also high.
Aside from being paid a high salary, these roles also require working at odd hours. In most cases, these positions can be had for around Rs 30 lakhs to 36 lakhs per year.
With an MBA in healthcare, you'll be well-equipped to take on top positions in hospitals and other healthcare facilities. Some of the positions that require this level of expertise include hospital administrator, COO, CFO, and healthcare associate.
MBA in Retail Management:
The scope of work for candidates after an MBA in retail management is endless. This course prepares them to manage various facets of the industry, such as customer relationship management and marketing. Top job titles after an MBA in this field include: Sales Manager, Brand Manager, and Executive Store Manager.
Career Opportunities After MBA in Retail Management:
Due to the continuous growth of the retail industry, the demand for MBA in Retail Management has increased significantly. The course usually takes two years and is offered at a cost of over 2 million.
Retail Manager: Retail managers often face many tasks that they have to complete on a daily basis. Some of these include keeping track of all the products in stock, planning the store's layout, and many more.
Brand Manager: The Brand Manager is primarily responsible for developing the image of the brand and ensuring that it is memorable to the customers. This includes overseeing the use of advertising techniques to improve the brand's image. The average salary that a brand manager receives is around Rs 50,000 a month. However, this varies depending on the company's business model.
Marketing Executive: This job title also refers to individuals who are involved in developing and implementing promotional programs that will help boost the brand's popularity.
Department Manager: A department manager is typically responsible for the sales of all products in a given section. This person also needs to be able to interact with the customers and perform other administrative tasks.
Store Manager: A store manager is responsible for the overall management of a retail outlet. He or she coordinates the various departments and oversees the sales and product management of the store.
MBA in Business Analytics:
After securing an MBA in Business Analytics, candidates can work in various industries such as government, education, and finance. Due to the increasing number of job titles in this field, many students choose to pursue an MBA in Business Analytics. This course will teach them how to apply various types of data analysis and survey software. Aside from Business Analytics, many individuals can also consider pursuing other careers such as supply chain analyst, financial analyst, and predictive modeler.
Career Opportunities After MBA in Business Analytics:
There are many opportunities for candidates with MBAs in Business Analytics. Some of these are specialized roles that can suit individuals with specific interests.
Data Analyst: A data analyst is someone who collects and interprets data related to various factors such as sales, market research, and logistics. This individual's technical expertise enables them to make informed business decisions.
The day-to-day tasks of a data analyst vary depending on the industry and the specialty chosen. They often communicate with various departments and organizations to determine organizational goals.
Supply Chain Analyst: Supply chain analysts play a vital role in improving the efficiency of an operation by identifying and coordinating with the other team members.
This role involves communicating with quality assurance professionals and engineers about the various supply chain initiatives that are being implemented.
Big Data Analyst: The Big Data analyst is a person who collects, interprets, and interprets massive amounts of data to help guide business decisions. The skills necessary to become a successful Big Data analyst include problem-solving skills, analytical thinking, and creativity. This person also has programming and data mining skills.
Business Analyst: Business analysts are tasked with identifying and assessing the business requirements for various changes. They then communicate these details to the various stakeholder groups.
The average salary for a Business Analytics in India is 6,66,084. According to a survey conducted by PricewaterhouseCoopers, almost 90% of organizations have already implemented some form of Analytics in their operations.
Predictive Modeler: The role of the predictive modeler is not very well-known. However, it is a job that comes under the umbrella of predictive analytics. The ideal candidate for this job would have at least two years of experience in developing predictive models. They should also have knowledge about statistics and technology.
Conclusion:
MBA in India is among the most popular programs among postgraduate students. The MBA program provides students with an in-depth understanding of business and its operations. It also helps them land a job in India or abroad.
We hope that these courses would help improve your career and resume. However, remember that these courses would require considerable time and money. Before we sign off, let us remind ourselves that choosing a career path after the MBA is not an easy task. You need to thoroughly understand the industry trends and find the right role for yourself.
Career Opportunity After MBA - Scope, Specialisation, Salary