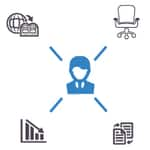 Product Management
Degrees offered: Diploma, Executive MBA, MBA, P.G.D
Q&A : 9 Question
What is Product Management
Product management is a course that is offered by several institutes across all over in India in the Post-Graduation level study. Any student enrolled in this course of Product Management will be able to learn several facts while developing a product.


They will get knowledge about planning, organising, forecasting, developing, and at the end, marketing of a product. They will get habituated with this process as they have to work with it for the rest of their job period.


Students will be familiar with the development of new products. Throughout the course, they will get every required and relevant training which will help them build up their knowledge from their teachers as well as working professionals with years of experience.


The course helps students to learn and apply skills that are required in a tough situation in the professional field. The tactical skills and necessary strategies will help those students a lot when they are working in the professional field.


There are different product management courses available that will teach students to apply their learnings in the fieldwork in different ways.
Eligibility Criteria (UG & PG) of Product Management
To get admission into different institutes that offer the Postgraduate course in Product Management, candidates require certain eligibility criteria. Those are as follows:
Candidates must be a graduate to be eligible for admission in different institutes in this course. They must have a degree from any recognised board or university.
Candidates from Science, Arts, Commerce, Business Administration or any other background are eligible to take admission in any institute offering this PG course. However, they may need to qualify the entrance exam.
However, any student who has already completed his/her post-graduation level study in any discipline and is trying to opt for this course may also apply without any doubt.
According to most of the institutes that offer Product Management courses, take candidates with a minimum aggregate of 50 per cent during their UG course. However, students from the reserved category have no minimum marks criteria for their admission.
There is no upper age limit for a candidate who is seeking admission in this course. However, he/she must be at least 20 years old or above to be eligible to get admission in those respective institutes.

Entrance Exam for Product Management:
There is no such common entrance exam or exam conducted by any institute for the admission in Product Management. Institutes that offer this course take students by tier aggregate marks in the UG course.
Scope of Product Management in India and Abroad
After completion of this course of product management, a student can get several job opportunities. However, most of the jobs available in this field are in the private sector. A candidate can get the role of a product manager or other related post at the beginning. However, they get promoted according to their performances.


Here are the few sectors, where a candidate can get jobs are as follows:
Manufacturing
Finance
Market research
Software industry
Hospitality
Advertising
E-commerce firms
Personal care product firms
Food manufacturing firms
Automobile firms
Home products manufacturers
Course Fees Product Management
Minimum Fees
Maximum Fees
Private
Government
Private
Government
PG

1.80 Lakhs

MBA in Product Management at University of Technology, Jaipur

---

Data not available

6.45 Lakhs

Executive MBA in Product Management at Institute of Product Leadership, Bangalore

---

Data not available

DIPLOMA

40.00 K

Diploma in Product Management at Radha Govind University, Ramgarh

12.20 K

Diploma in Product Management at UP Rajarshi Tandon Open University, Allahabad

40.00 K

Diploma in Product Management at Radha Govind University, Ramgarh

12.20 K

Diploma in Product Management at UP Rajarshi Tandon Open University, Allahabad
Course Subjects
There are different courses in Product management. Those are post-graduate certification courses or postgraduate diploma courses.
However, some institutes offer online e-courses, where students can get learning opportunities, classroom study and may take their exam online.


Subjects taught in different institutes are more or less similar. Here are the subjects/topics taught in the course product management as follows:
● Basics of Product Management
● Product Portfolio Analysis
● Consumer Behaviour
● Market Research
● Customer development - Techniques to understand customers and validate demands
● Advertising and Channel Management
● Elimination Strategies
● Strategic Brand Management
● Testing and validation techniques and implementation
● User Experience Design and Innovation
● Product Marketing and Strategy
● Pricing and Promotion
● Communication and presentation practices
● New Product Planning
● Financial theories and fundamentals of business
● Business models- designing, storyboarding and wireframing
● User Experience design
● Customisation and innovation in the digital domain
Careers in Product Management
There is absolutely no doubt that the Product Management course has a big prospect in this country. It is a field that is newer in the market, and comparatively fewer people are attached to this. As time flies, this will surely be developed, and people will get more attracted to it. Indeed, every organisation in the world is always trying to bring their best product in the market. Thus, their approach, offerings, a marketing strategy will be different.


Since the product management field is huge and has the options for the students to shine. One requires certain skills and patience besides his/her theoretical knowledge. After completion, students might get positions of manager, assistant manager, specialist, quality analyst, and more product-related posts.


Upcoming trends
Product Management is a course that is not so popular in the market and from the educational prospect. Therefore, a few candidates are willing to take this as for their higher studies. Most of the candidates choose it to be compatible with the industry standards and develop themselves ready for the job.


Gaining knowledge while studying the Product management course will do nothing good if the candidate fails to implement in the professional field.


The production industries are huge, and those have opportunities which are incredibly large in number. There are also new trends and options for getting attention. From design, style, and other aspects, the Product management field is newer but suitable for those who want to get attached to the production sector. New technologies are developing, and students might get more inclined to this course in future.
Job Profiles and Top Recruiters
Job Descriptions in Product Management:
| | |
| --- | --- |
| Job Profile | Job Role |
| | Product Development Managers perform as the person who is in charge of an entire team. They manage the team for the development of a new product for a brand. They help the members to create new products, prepare new ideas and strategies based on market trends, and many more. This is one of the most sought jobs in Product management. |
| | Tasks like setting goals for marketing the product, determining the price, and other things are also handled by a Product Marketing Manager. He always tries to understand the consumer's mind and their choices. He also tries to realise the brand's position in the market. |
| Assistant Manager/Manager - Product | Assistant Manager used to help the manager in almost every aspect. They always try to work and coordinate with every department of a business organisation. They collect all the information from the respective departments and inform the manager accordingly. |
| Delivery Manager – Product | A Delivery Manager (Product) takes great care and monitors everything while all the products are on their way to get delivered. |
| Group Product Manager | A Group Product Manager is used to notice all the groups working on their respective field. They used to talk to every other manager and determine the next step for the organisation. |
| Manager – New Product Development | Manager for the new product development works in the field of developing new ideas for the new product according to the current trends in the market. |
| Brand Manager– New Product Initiatives | The Brand Manager of an organisation tries to chalk out design, price, label, and other factors by discussing it to the other managers. |
Product management Top Recruiters
As the Product management course is strictly related to the product, it's manufacturing, and other required steps, therefore product-based companies are used to recruit more candidates from this field. There are some big names in the world who use to recruit candidates from this field. Those companies are as follows:
Amazon India
Flipkart
Google
Wenger and Watson
Mettl
Oracle India Pvt. Ltd
Abbott
Amazon
Deloitte
Cipla
Castrol
Siemens
Vedanta
E&Y
Average Salary
| | |
| --- | --- |
| Job Profile | Average annual salary |
| Product Development Manager | Rs. 5-7 lakh p.a. (approx.) |
| Product Marketing Manager | Rs. 4-5 lakh p.a. (approx.) |
| Assistant Manager/Manager - Product | Rs. 3-5 lakh p.a. (approx.) |
| Delivery Manager – Product | Rs.3-4 lakh p.a. (approx.) |
| Group Product Manager | Rs.3-5 lakh p.a. (approx.) |
| Manager – New Product Development | Rs. 4-6 lakh p.a. (approx.) |
| Brand Manager– New Product Initiatives | Rs. 4-5 lakh p.a. (approx.) |
Required Skillset for Product Management
After completion of the course of Product management , to be a successful production manager, a candidate needs to grab every chance he/she will get. He/She needs to learn the skills and the mindset to apply those skills at the right time and in the right place. After years of working in this field of Product management , one will get a certain amount of experience. By which he/she will become a successful product manager. To take this course, a student needs some skillset to do better in this course. Here is the required skill set for Product management as follows:
Ability to solve an analytical problem
Good grip to solve numerical skills
Flair for leadership
Creative mind-set
Computing skills are a big plus
Persuasive skills
Ability to handle complex situations and keep calm
Course Curriculum for Product Management
Postgraduate Diploma in Product Management:
The complete course of PG Diploma in Product Management is only a one-year course. In some institutes, the curriculum is divided into two semesters. Whereas, in some institutes, the course is only a year-long, semester-based system will not be there.
Product management course includes several activities like classroom study, writing assessments, class tests, final exams and many more. However, additional sessions such as Interactive sessions, case studies, life skills are also included in this course etc. The goal of this course of Product management is to develop the candidates in such a way that they will become industry-ready.
However, for online certification courses, candidates need to do everything, such as classroom activities from their home. They have to take tests as well as do assessments from their home and submit online.
Product Management Colleges by States
Product Management Colleges by Location
Top MBA Colleges By Location
Popular Product Management Colleges in India VIEW ALL
Frequently Asked Questions (FAQs)
Question: What is the duration of work in the field of Product Management?
Answer :
The time requirement while working for any particular organisation will vary. On average, all the employees need to work for 8-10 hours for any organisation for which he/she is working. However, it may vary depending on job profile, location, other requirements, and many more. However, overtime work may be required for a certain period.
Question: What would be the prospects of Product Management in India?
Answer :
There are huge prospects in the field of product management in our country. As the field is not too crowded, therefore students who are in this field and who want to choose it will get ample opportunities soon. Only a few students are choosing this field, and, therefore, job opportunities available in different organisations are more.
Question: Can any graduate students apply for Product Management courses?
Answer :
Yes, all the graduates are eligible to apply for this course. While choosing this course, the educational background of a student will not matter. The thing that matters is the student must be a graduate from any recognised board or institute in any discipline.
Question: Are all the job profiles in this field tough to maintain?
Answer :
It completely depends on anyone's interest and choice. There is a lot of work to do as the fieldwork remains mostly inside a product-based organisation Candidates need to work hard at the beginning of their career.
When they get promoted to the senior (managerial) posts, they will have to provide lesser efforts. However, everything will depend on various factors like job profile, location, shift, and many more.
Question: Is this field suitable for both boys and girls equally?
Answer :
Apart from those office work, candidates who are working in this field need to work hard to get success. However, anyone either boys or girls who are physically fit enough and determined to do something in this field can go ahead. However, boys are more suitable for this post.
Questions related to Product Management
Showing 7 out of 7 Questions
Courses Similar to Product Management
Interested in Product Management? Find information around eligibility, career scope, jobs , colleges and exams and much more for free.