10 Must-Have Productivity Tools For Lawyers
Being a lawyer, there are a lot of responsibilities that one has to fulfill. From scheduling meetings, storing files, signing contracts, and researching to managing the case in a flawless manner and creating an impression of being the best possible option, in front of the potential client all need to carry out while juggling between the task. However, only having the zeal to do something does not actualise an individual's goals.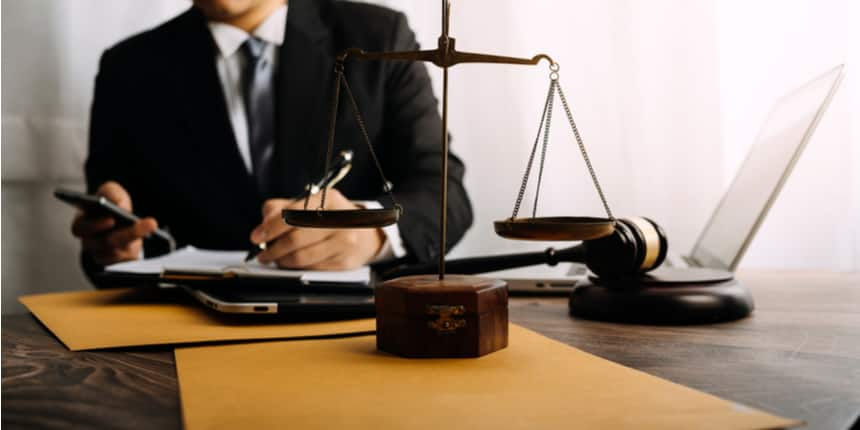 Also read - List of Certification Courses
This is where productivity tools come into the picture because they make your work much faster, and manageable. Having the right productivity tools for lawyers to carry out a task signifies that half your work is already done. Careers360 Team has listed below 10 productivity tools for lawyers in order to help them in managing their work and time efficiently.
10 Must-Have Productivity Tools for Lawyers
1. G- Suite: While you can make use of the large variety of Google's products available independently, and free of cost, G-Suite is an amazing, powerful, and best tool for lawyers to use. With the help of it, you can easily manage your emails and meetings as well as do real-time collaborations with your colleagues and other members of the team. The best part about using the suite of software applications from Google is that you can get access to the various products that are available within the service, along with your own custom domain. This tool is not only going to help you in creating as well as organising your files effectively with the famous Google Drive, but it also gives you much better control over Gmail.
Also read - Law Certification Courses
2. HelloSign or Adobe E-Sign: HelloSign and Adobe E-Sign are the best tools for lawyers that help them in getting clients to sign all the documents remotely, saving their time. Within minutes of your first intake, you can easily get your clients on board, instead of waiting for the document to come back to you. This reduces or in fact completely eliminates the bounce rate of your respective potential client, or even losing sales altogether. The best part is that the documents that are mostly signed using these services are also admissible in court. On HelloSign, specifically, any executed agreement brings along with it a timestamped audit trail, that records everything including who touched the document, emails, IP addresses as well as party names.
Also Read: Free Online Corporate law courses in India
3. Solicitors' Toolkit: This productivity tool for lawyers is a one-stop destination for quickly resolving all solicitor-related issues. It provides comprehensive resources as well as information that is constantly updated in order to reflect upon recent Trends and developments in the legal industry. It also includes laws of the Federation and Regulatory agency processes, forms and precedents call mom contract templates and drafting tools as well as law reports of special jurisdictions. Popularly known as STK, it is a solution that takes into consideration the very specific needs of lawyers who practice solely as Solicitors or work in the private corporate industries.
Also read - Business Law Certification Courses
4. Podio or Trello: Trello and Podio are two of the best tools for lawyers that are available in order to get your projects, tasks, and clients together in the same place. you can create boards (Trello) or Templates (Podio) for larger projects and routine workflows and also keep a tab on the work status of the members working on any assignment or project at a given time. Since they also integrate well with Google Drive, it is very convenient and easy to attach documents to every project, and it is going to be very easy to find them. The flexibility of these tools makes them go-to productivity tools.
5. Team Viewer: If you ever store any confidential file on your computer and you are required to access it quickly, Teamviewer allows you to access those documents from any other computer in a very secure manner. Moreover, in order to connect to your computer from anywhere, you can also use the Teamviewer app that is available for smartphones as well. The display will automatically resize in order to fit the screen of your phone so that you can easily access your desktop apps as well as files. Furthermore, it is also possible to share the screen of your desktop to any projector, wherever you are or even print small files via your phone.
Also Read: Know more about Law courses
6. Evernote or OneNote: Evernote and OneNote remain the two best digital options. Both of them have been on the market for a couple of years now, and are available on both mobiles well as desktops. Evernote also offers a variety of functions, which depend upon your subscription.
7. Calendly: We often face a challenge when we have to schedule an appointment with any client or colleague. All thanks to technology, there do exist productivity tools for lawyers that make this task seem much less arduous. Calendly is an ingenious application. It helps you in scheduling a meeting that works for both you as well as your client, by allowing all the potential participants of the meeting to choose any day out of your calendar. It also shows the availability of the days, based on the data that you have saved in your calendar, and provides them with the opportunity to book different kinds of appointments. Although currently is a web programme, yet it also provides you with the option to sync with your own calendar.
Also read - Criminal Law Certification Courses
8. Westlaw: It is crucial for any lawyer as well as aspiring lawyers to have access to a legal encyclopedia that is full of information about legal journals, legislations as well as previous court cases. Staying up to date on all the relevant knowledge of both ongoing as well as previous cases not only sharpens your skills but also prepares you for any potential case that might not have occurred in the past. Westlaw is a global research library that is used in more than 65 countries. It provides information on genres such as business, news, law, and more. Its interface is fairly simple and it also has the ability to keep its content updated in accordance with the latest events.
Also read - List of Law Colleges in India
9. Tabs3 Billing: There are an umpteenth number of products in the market that make it very convenient for corporate workers to make their payment, as well as billing processes, hassle-free. However, among these, there are very few that have been specifically tailored for lawyers and Tab3 billing is one of them. This tool has been specifically designed for law firms. It makes it very convenient for any lawyer to time track the status reports of their clients, pay invoices, calculate the earnings of their staff, reconcile bank statements, among various other features.
Also read - Top Law Colleges in India
10: Casetext: Casetext uses Artificial Intelligence (AI) technology, as a legal assistant named CARA, which stands for Case Analysis Legal Research. It helps you find the cases that are most relevant to any legal document. It provides you with an option where you can upload any document that contains text that is related to the Legal field in any manner, and it sends back a list of cases that are relevant to the document that you have uploaded. It also assists you in weighing as well as extracting issues that are related to the procedural posture, the jurisdiction or the types of parties.
Today, every other individual that we meet heavily relies on technology, as well as the Internet, and the same thing applies to the law industry too. Using the right productivity tools for lawyers is not only going to make their work much more efficient, effective, but simpler also. It is also going to assist you in becoming the best for the clients that hire you.
Also read -
Frequently Asked Question (FAQs) - 10 Must-Have Productivity Tools For Lawyers
Question: Do I even need a productivity tool?
Answer:
Even if you go and simply search productivity In the App Store, you are going to see that it has huge demand as if today. Today, almost Across every industry both hard work as well as smart work go hand in hand. Everyone wants to be better at what they do and that exactly is what the tools facilitate. Admit it or not this is exactly why we take our "Do better, be better" new year resolutions. The right tool can help in making a big difference, it makes your work much easier, faster, and effective.
Question: How can I become a lawyer in India?
Answer:
In case you are still in school, after completing your class 12 you can take the Common Law Admission Test (CLAT), and do a five-year B.A. L.L.B. (Bachelors of Law) course from one of the sixteen NLUs in the country, thereafter. You can also pursue a law degree online via law distance education.
Question: How can I prepare for the Common Law Admission Test?
Answer:
It is very important to read a lot. One can start with reading easy books and then move to the more complex ones. Other important aspects include General Knowledge, English, Mathematics, Legal Aptitude as well as Logical Reasoning.
Question: How are these tools going to assist me?
Answer:
Productivity tools facilitate a lot of functions, the first and foremost being making your work much quicker and efficient. Their functions include storing files, providing dates for scheduling meetings, contract signing, helping with research and analytics, management of cases, including drafting and publishing, and project management, among other things.
Question: Can I pursue Law through Online mode or Distance Education?
Answer:
It is possible to apply for law degrees online, and there is no age limit for online law courses. The University of New England offers a law degree that is 100% online and can be completed within 3 years.
Question: What are the benefits of a digital signature tool for lawyers?
Answer:
Using a digital signature allows you to devote less time to the mundane aspects of your trade. Using a digital signature tool like DocuSign is an excellent productivity hack as it helps you save costs and resources while focusing on servicing your clients.
Question: What is the use of an online communication tool like Slack for lawyers?
Answer:
Using such a tool can help you manage client-related queries, streamline unnecessary procedures, and communicate with your team members, bringing greater efficiency to the whole legal advisory process.
Question: What are some good online platforms offering corporate law courses?
Answer:
Udemy, Coursera, and edX have a huge repository of content and online law courses that one can pursue to gain an understanding of how the entire legal framework works globally.
Question: Which are the best Indian universities to pursue a bachelor of law?
Answer:
Some prominent Indian universities to pursue a bachelor of law are -
NLSIU, Bangalore

NLU Jodhpur

Gujarat National Law University
Question: How much do lawyers in India earn as salary on average?
Answer:
A lawyer who's just starting out in the field can easily earn a salary of around INR 25,00,000-30,00,000 per annum.
Law Updates and Articles
Explore the 10 best career options that you can take after pur...
29 Sep 2021
Looking to make a career in the field of law and become a lawy...
23 Sep 2021
Questions related to Law
Showing 10306 out of 10306 Questions