10 Online Courses To Boost Your Interior Design Career by Udemy
If you love to decorate your space or home, if you are the one that likes to give a makeover to a little corner in your study room, then for sure interior designing is the career option you to opt for. However, interior design is not just about learning and creating. You need to update yourself with the latest trends and time-to-time brush up on your skills. Therefore, to master this art, you need to take interior design certification courses. With the world going tech-savvy nowadays, you can pursue interior design courses online in the comfort of your home.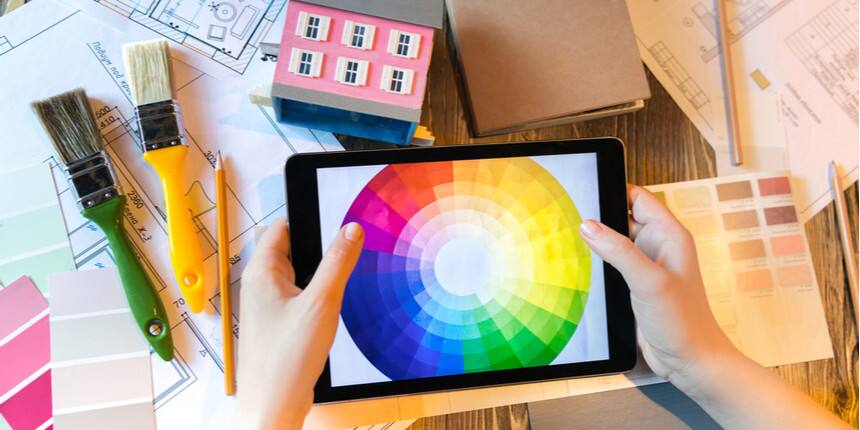 Enroll yourself in the best interior design online courses by Udemy to upgrade your skills. Such online interior design courses will teach you every process, skill, and technique of designing a space. These interior design certification courses not only refresh your skills but also decorate your resume. So, here is the list of the best interior design online courses by Udemy that you can opt for:
Also read -List of Certification Courses
10 Bet Interior Design Courses By Udemy
1. How to Work with Interior Design Styles Like a Pro - This course is one of the best interior design online courses by Udemy. Starting with basics, it teaches you to understand the details of different interior design styles. You learn about the exciting characteristics of each style including formal interior designs such as English country, traditional, etc. You learn to select proper patterns, appropriate color schemes, suitable materials, window coverings, and floorings used in each of the various main styles. If you want to renovate your homes and your skills, you should enroll in this interior design certification course. This course gives you wings to explore the sky of creativity and boosts your confidence to mix different styles.
Also read - Certified Interior Designer BY Vskills
2. How to Use Color Like a Pro - it is important to learn everything about colors. Right from the color psychology and color wheel to mixing patterns and creating new color schemes, you will be taught about every detail of color in this online interior design course. In this colorful course, you will learn to create an ideal color scheme for any space. You will learn to select ideal paint colors for effective results on the walls. By the end, you will be given an assignment to create your color scheme. This course would be the best choice for candidates who have entered the interior design field and want to gain deep information on colors.
3. Styling and Staging Interior Spaces - This interior design certification course is specially designed for candidates who want to dive deeper into the ocean of decorating techniques. In this course, you will learn to arrange or rearrange existing furnishings, artwork, and accessories. Right from styling coffee tables, side tables, dining room tables to bookcases, cushions, sleeping areas, and walls with art, you get an opportunity to reflect your personality and taste by staging any space. This online interior design course works on your skills to make you an excellent interior stylist.
Also read - Interior Design Course Online BY Shaw Academy
4. How to Design a Room in 10 Easy Steps - If you think that interior design is all about creativity then you are wrong. It is a beautiful amalgamation of art and science. This course focuses on the same subject. In these interior design courses online, you will learn to design a room (living room, dining room, or bedrooms and not kitchen or bathrooms) in an arranged 10-steps approach. Each step gives deep insight into different elements of designing such as floor plan, color scheme, furniture size, lighting scheme, etc. It has a lecture-based curriculum and does not include tasks to help you to apply learned topics. So, you will have to imbibe the learned skills and implement them in your future workplace.
Also read - Top 10 Online Certifications on Interior Designing in India
5. Revit Architecture: Interior Modeling and Rendering - Do you want to learn tricks to make amazing Revit renderings without any external plug-in? If yes then this is the best interior design online course by Udemy for candidates like you. You will learn to model and render a living area, bedroom, and kitchen to create awesome interior renderings without any use of external plugins. You will also get some free project tutorials to analyze them and free practice project files to try your hand. This course is ideal for candidates who are interested in interior architecture courses and have basic knowledge in Revit Architecture and the Advanced Revit.
6. Interior Design for your Modern Home: A Room by Room Guide - The interior design certification course covers broad topics like core interior design principles, lighting design, paint selections, color scheme, etc. Comprehensive knowledge of all these topics applies to all rooms in a house. This is a perfect interior design course online that promises to deliver a room-by-room guide on how to design the interiors of a house. This online interior design course would be ideal for those who enjoy decorating houses and want to work as a professional in the same field. It can be taken by a seasoned professional as well who wants to refresh his interior designing and decoration skills.
7. How to Use Lighting Design to Transform your Home - This online interior design course exclusively directs on the lighting schemes in a residential design. In this course, you will get to learn 3 great lighting tricks and effective use of artificial and natural light in a space. You will learn the types of light fixtures and techniques to install them appropriately. The online interior design classes will also teach you the methods of hiding table and lamp cords, and use lighting to make a room appear larger or smaller than its original size. In short, this interior design certification course will help you to excel in the lighting system in a room. You will evolve as a professional after completing this course.
Also read -Best 10 Online Interior Designing Courses for Better Career
8. The Complete Sketchup and Vray Course for Interior Design - This is one of the best interior design online courses by Udemy for the depth it offers. This course is just next to perfect to kick start your journey in interior designing. It takes you on a step-by-step ride to design space efficiently and in the right manner. It has a comprehensive curriculum that covers lessons on the use of essential tools. The course starts with the fundamentals of Sketchup and jumps to advanced topics like use Sketchup plugins to take your 3D Modelling to the next level. It helps you to learn the basics and fine details of designing software like Sketchup. Additionally, you will learn about interactive rendering.
Also read -
9. How to Design your Dream Kitchen - This interior design certification course has rich content to update your old kitchen pattern within budget. It is known as the 'A-Z of the kitchen design', which covers topics like the latest innovative kitchen design hacks, storage solutions, layouts, cabinets, countertops, appliances, etc. After completing this online interior design course, you will be able to select the best kitchen style for a house and mix metal finishes in it like an expert. In short, you will easily learn complex kitchen designing. If you want to have a deep understanding of kitchen designs, then you should take up this course.
Also read - Careers as Interior Designer
10. Design is in the Details: How to Accessorize Like a Pro - This is the last course in the list that talks about details, every minute detail. So, this beginner interior design certification course will teach you the importance of accessories and the 7 golden rules for accessorising. This course offers you to learn 5 accessories that may transform your normal-looking room into a great, inviting space. This online interior design course covers all the topics related to accessorizing, mixing wood and metal finishes, and different types of room molding. You will learn to decorate coffee tables, bookcases, hang artwork in the most appealing manner, the techniques to use moldings, and wood finishes like a pro. You also get to implement taught topics in practical exercises. This course would be perfect for a novice in this field. It could be a great supplemental course for interior design students.
Also read -
Frequently Asked Question (FAQs) - 10 Online Courses To Boost Your Interior Design Career by Udemy
Question: Is interior design a good career option?
Answer:
Absolutely! Interior design is a growing and thriving sector. It is an excellent career choice for those who know how to mix creativity with technicalities. Interior designers can find jobs in any location and can draw a handsome salary for their creative work.
Question: How can I start my career in interior design?
Answer:
To get into the industry, you should start with a professional course and earn a bachelor's degree (B.I.D (Bachelor of Interior Design) in it. You can take low-budget projects to implement your creative strategies and build an attractive portfolio. You can also take a certificate course in interior design to strengthen your skills and explore better job opportunities.
Question: Is it necessary to enroll in any online interior design certificate course to boost my career?
Answer:
Well, it is not mandatory but there is nothing wrong with refreshing your skills. The online interior design courses work on the enhancement of your skills. They develop smart thinking skills and teach you the basic techniques of interior design. With such an attractive set of skills, your chances of getting hired would probably increase.
Question: What skills should I have if I want to pursue Interior Designing?
Answer:
If you have a creative mind, you are proactive, sharp-minded, technically sound, and can pitch your ideas persuasively then you are perfect to enter this industry.
Question: What are the available job opportunities after completing a course in interior design?
Answer:
You can seek a job for the roles of interior decorator, creative director, interior audit, interior photographer, interior product designer, and consultant.
Question: Do I need to be good at drawing to become an interior designer?
Answer:
Yes, drawing is the most basic and important element of courses in interior design. All the interior designers are supposed to create initial sketches of their projects. They are allowed to make necessary changes and once it meets the requirements of the client, the design is executed.
Question: What is the scope of interior design in India?
Answer:
Due to rapid urbanization, interior design has a bright future in India. Interior designers will be highly in demand as their role is constantly rising. For creating sustainable houses and workplaces, it is expected that the industry might require more than 1 lakh designers in architectural firms, construction companies, and furniture enterprises.
Question: Do people hire interior designers for small living spaces?
Answer:
Of course. An interior designer is hired usually to design small spaces. They know how to use appropriate colors and furnishings to make a small space look larger. They can do wonders even in small spaces.
Question: What is the average salary that an interior designer can draw?
Answer:
Interior designers make a lot of money. Even a fresher can get 3.5 lakhs to 10 lakhs per annum. This figure may increase with an excellent set of skills and experience.
Question: Is there any difference between an Interior Designer and an Interior Decorator?
Answer:
Yes, there is a slight difference between an Interior Designer and an Interior Decorator. An interior designer is known for creating holistic themes to transform good spaces into jaw-dropping areas, whereas an interior decorator works on mixing and matching the texture and available furniture. Interior designers are qualified and have a degree whereas a decorator typically does not hold any professional degree.
Interior Design Updates and Articles
Pursue the best online interior designing courses to hone your...
6 days ago
Know in detail about the Top‌ ‌10‌ ‌Online‌ ‌Certifications‌ ‌...
20 Dec 2020
Questions related to Interior Design
Showing 421 out of 421 Questions