Who is a Interior Designer?
Your home should tell the story of who you are and be a collection of what you love ~ Nate Berkus
Individuals in interior design career in India create various spaces, from indoor to outdoor spaces, they provide a pleasing home environment, as well as, make the outdoor environment beautiful. It is the job of an interior designer who studies the art of transforming a space into what the client wishes for.
Interior designers are someone that you should aim to become, who work for clients to create aesthetic rooms and spaces. Interior designers work with a wide variety of clients, starting from small house owners to big corporations. Interior designers beautifully modify offices, hotels and other spaces as required as per the clients' needs. Students can study interior design courses to become interior designers. Here, in this article, we have discussed the details of an interior design career such as how to become an interior designer in India, interior designing scope and salary in India, interior design career path, and alternative careers for interior designers.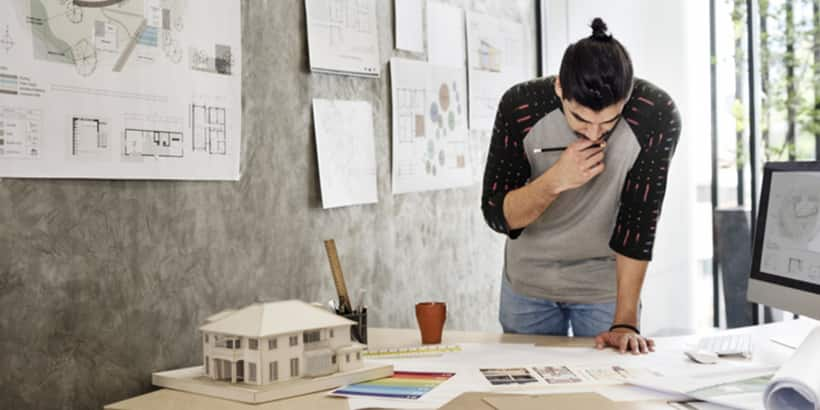 Interior Designer in a Nutshell
Individuals in interior design career in India take up projects and work on them right from the conceptualization stage till the completion phase. For this, interior designers work with architects, structural engineers and builders to decide how a living space will look and function. As part of the interior design career, individuals should also be aware of certain inspection regulations. Interior designing is to enhance the interior of a building to achieve an aesthetically pleasing environment. This is a part of both science and arts to make a certain place healthier and peaceful for the people.
Quick Facts for Interior Designer
Industry

Design

Average Salary in India

₹50000

Suitable for

Male, Female, Others

No, career as an interior designer does not suit candidates with special needs.

Any special needs

Yes

A career as an interior designer requires outdoor activities. A person with special needs might not be comfortable with traveling. Interior designers can work on the desk, in an office environment but they also need to travel to visit the location of the project and meet the clients. It also requires doing physically exhaustive work that may adversely affect candidates with special needs. Career as an interior designer requires good mental and physical health and free from any kind of bodily deformity to fulfill every performance which is necessary.
What is the role of Interior Designer?
Interior designers are people who work to create decorative and graceful-looking interiors. An interior designer for offices designs office spaces, restaurants, and corporate buildings, where all their designs are different from each other. Be it the confined space of small rooms to the vast open spaces or from an informal setting of a restaurant to a professional setting of a corporate office, interior designers create spaces that are attractive as well as functional. Interior designers plan, research, coordinate, and manage to enhance the projects. Interior designing is a versatile profession that includes space planning, inspections of the particular site, researching, programming, communicating with the clients to understand what they actually need, and also constructing, managing, and last but not least executing the design. So how to become an interior designer and what does it take to become one?
Planning
Interior designers create environmental plans for being reasonable, sustainable, stylistic, and appealing to realize the importance, like efficiency improvements or retail sales. They design working spaces, cafes, and industrial buildings, most of which differs from one another in construction and style.
Coordinating with client
They coordinate with customers to define aspects that influence interior decorating, like expenditure, aesthetic desires, objective and functionality. They also represent customers on aspects related to interior decorating, including planning of space in a particular area , floor plan or use of furniture as well as machinery, and aesthetics of colour.
Manufacturing
Interior designers perform the manufacturing, assembling, and arranging of rugs, fittings, accessories, draperies, paint and soft furnishings, art pieces and other products.
Ensuring safety
Interior designers adheres to national and local building and safety codes with every design element. They need to learn the safety instructions to avoid any kind of environmental damage.
Types of a Interior Designer
There are three to four types of alternative careers for interior designers, starting from corporate designers to kitchen and bath space designers.
Corporate designers: Corporate designers create interior designs for professional workplaces from small office settings to large-scale corporations within high-rise buildings. These designers take up the contracts from the offices, malls and other corporate sectors. They produce corporate spaces lively to give a friendly work environment or give an irresistible look to shopping complexes for the shopaholics so that it will attract them to shop more.
Healthcare designers: Healthcare designers design and renovate healthcare centres, clinics, doctors' offices, hospitals, and residential care facilities. They specialize in making design decisions keeping patients, residents, and facilities in mind. These designers should know how to maintain a perfect decorum of the healthcare place. This place needs to be soothing in nature so that patients could recover themselves really fast.
Kitchen and bath designers: Kitchen and bath designers specialize in kitchens and bathrooms. They possess expertise in designing a variety of cabinets, fixtures, appliances, plumbing, and electrical solutions. These people need to understand the ongoing styles in the market so that they can also suggest the clients based on their understanding as well.
Sustainable designers: Sustainable designers use strategies to improve energy and water efficiencies and indoor air quality, and they specify environmentally preferable products, such as bamboo and cork for floors. These designers not only focus on beautification but also give attention to nature-friendly products to maintain a bridge between the environment and beauty.
Universal designers: Universal designers renovate spaces to make them more accessible for specially-abled and senior citizens. They might design an entrance without stairs to make it convenient for wheelchairs and baby strollers. The concept that universal designers follow is to design all products and they built an environment to be aesthetic and usable to the greatest extent for everyone. They focus mainly to smoothen the life of specially-abled people and senior citizens.
What is the workplace/work environment of Interior Designer like?
In a career as an Interior Designer, some designers work primarily for retail stores and may find themselves working in a retail environment as a result. Others work for architectural firms and may find themselves working in office settings with architects and other professionals in the industry. Other interior designers work for corporations and may work within an office setting. Interior designers can work in various settings, some designers work for large firms as well as in office environments. Individuals in the interior designer career path might need to go to the client's place for meetings and the designers need to be comfortable in every work culture whether it is a large firm or an office place.
Does Interior Designer require travelling?
Likely
Yes, career as an Interior Designer requires travelling to meet with clients, visit the locations, visiting stores to select and purchase the material.
Employment Shifts
Full Time, Part Time, Hourly Basis, On Call, Work From Home
Independent Interior designers do not have any particular shift timing, but they also work under time constraints to meet the time of the project. Individuals in the interior designer career path work on a full-time basis with large firms that need to work for eight or nine hours per day as per the shift timing.
Employment Nature
Contractual, Permanent
In a career as an Interior Designer, employees can be hired on both contractual and permanent as well. Several large firms hire some independent designers for certain projects. While other designing companies may merge with big brands for their entire designing requirements.
Work Place
Buildings, Office
In a career as an Interior Designer, the working environment for Interior Designers may vary since they tend to work on different varying projects and it may require visiting the site. Individuals in the interior designer career path do not typically work regular business hours. Interior Designers' hours are similar to many jobs in the sales field.
Presence in Geographical Area
Semi-urban, Urban
There are negligible opportunities for a career as an Interior Designer in rural areas. Individuals in the interior designer career path are in huge demand in cities with higher densities of the population such as Delhi, Mumbai and Bengaluru.
Time Pressure
Likely
A career as an Interior Designer is more of a creative profession. Interior Designers are required to work full-time. However, one who is positioned for a senior post might feel some time pressure because of his/her duties. Apart from this, an Interior Designer rarely faces any time pressure.
Overtime Details
A career as an Interior Designer requires a lot of creativity which sometimes works as a hindrance in accomplishing the projects. Working overtime is quite normal in the profession. Interior designers are generally required to work more than their scheduled time.
Weekly Hours of Work
Min 40 Hours
An Interior Designer works regular business hours. Their work hours may fall between 40 to 45 hours per week. It may also extend occasionally to meet deadline of the project.
How to become a Interior Designer?
What are the skills and qualities required to become a/an Interior Designer?
Interior Designers have the ability to step into a colourless space and transform it into something cheerful. If the person has the quality to draw and think out of the box to meet the client's needs then you are on the right path to start your career. This field needs people to be creative. If students want to be a part of a fun-loving and fascinating career then they should develop some kind of skill set. Here are some skill sets given below which that aspiring interior designers should follow in their interior design career path.
Visualisation: An interior designer needs to visualize with great detail space planning, room function, furniture arrangements, and appliance arrangements. In architecture and interior design, visualisation is very essential. Highly specific computer programmes allow the designer to match the colour of the walls, and curtains, and shift furniture inside the building. This also encourages creative and different graphics technologies.
Problem-Solving Ability: An interior designer has to regularly solve problems coming into their work because of the client's requirements and also from other external factors. Everything does not go as planned before and there are always unexpected delays and expenses. A system of problem-solving is essential in the interior design process. Each design project includes specific design problems that need imagination and innovation to solve. A designer needs to have a set of ideas and motivation to solve a design issue.
Project Management: Budgeting skills are most important in this profession. Being good with numbers and financial creativity is necessary for negotiation, forecasting, transparency, record keeping and identifying hidden costs. The position of the interior design project manager in the development of a corporate building structure should be of significant importance for a customer in order to achieve their desired design goals and functions during the planning phases of the initiative and during the completion of the construction procedures.
Creativity: Interior design is a creative profession where if students enjoy letting their creative impulses hold for a longer time, this might be a great career option that aspiring designers can opt for. Creativity is basically having the ability or the knowledge to follow the rules and also knowing where to break those. Creativity encourages workers to work cooperatively. They try colleagues for their suggestions because they all have innovative thoughts. The design process promotes teamwork through design, and this is the most significant advantage of having a workplace where innovative thinking can take place.
Critical Thinking: Individuals in the interior designer career path need sharp critical thinking skills. Individuals who opt for a career as an interior designer may have a particularly challenging space or a client with a specific set of needs and whatever the issue, the critical thinking skills of an interior designer will help to solve it. Not every time interior design professionals get good clients who are easy to understand. At that point in time, they need to think out of the box to satisfy their clients' needs.
Spatial Awareness: The interior designer needs to make the unused space used to make the flow of movement in the office spaces efficiently. Spatial awareness of the interior designer helps to achieve the objectives. These people need to know how to occupy every single space and give a better structure to it. Spatial knowledge is a core element of a regular lifestyle. It helps to explain, communicate and recognize the world around us; hence, it is a key element in maintaining health and wellness. One of the biggest threats we experience in the workplace is apathy.
Computer Skills: Nowadays interior designers use computers to design their objectives. Computer skills are one of the key components in the interior designing profession today. Using the latest technologies helps to sketch the design and create renderings of the vision for an interior space. Today computer skills are key in the profession of interior design. Taking advantage of the latest technology could allow designers to outline concept ideas and generate vision illustrations for an interior space.
Listening: Interior designers need to have active listening skills so that in a client meeting they can minutely notice all the detailed specifications made by the clients. This job is mainly based on the client's requirements, so the professionals need to give priority to the clients' preferences. Active listening helps one to understand and make logical sense of what someone is suggesting. Effective communication skills make it more efficient for employees. Effective listening enables employees to better understand their assigned tasks.
Managerial Skills: Interior designers need to supervise the work progress and also need to maintain a friendly atmosphere at work. They need to work closely with designers, decorators, architects, and constructors to guide them as per the client's requirements. Individuals in the interior designer career path need to maintain a bridge between the client and the workers in the field. Not only just be in the office and work on software but also have to be present physically to look upon the work on the field.
Transform your Career with Popular Online Design Courses and Certifications
Which certifications and internships can be helpful in becoming Interior Designer?
We have mentioned below certifications for interior designers to upgrade their skills. These short courses are full of knowledge that is applied in the field of interior designing.
Internship Availability
Yes
An internship gives you insights of industry and answers several questions in relevance to how to become an interior designer. The internships are available in big cities with higher densities of population. Students can manage to find internship opportunities in architectural firms, design studios, home decor, and the furnishing industry. Interior designers assist in creating design proposals for project quotations. Individuals who opt for a career as an interior designer would require creating designs with sketches and generating 3D views. They create working drawings for sign-off documents. Internships are available for full time and also the interns need to show their presence in the office and provide help and assistance in the office.
Also read: Career as an Animator
Career Path Progression for Interior Designer
Interior designers start as design associates. Next in the hierarchy comes the resident designer. From here designers can either start their own business or continue to work as design consultants. Here, we have discussed some of the alternative careers for interior designers
Design Associate: An Associate Designer is a professional who works under the supervision of a senior designer or in a team of designers and provides assistance to design and deliver products to the end-users. For example, an associate interior designer will help the senior designer in finding out the latest trends in the market relevant to interior designing and architecture.
Resident Designer: A Resident Designer, also called a residential architect, is a professional whose work is to design structures that are meant to be lived in. The process of designing residential spaces requires the residential designers to perform various tasks. For instance, they are required to perform a consultation with clients to make sure a comprehensive grasp of the goals of the project. During these consultations and meetings, resident designers determine design parameters, including site selection, cost, size, floor plans and materials.
Interior Designer Jobs and Salaries
Design associate
Monthly Salaries
Average Salary

40000

Starting Salary

25000

Junior Level Salary

25000

Senior Level Salary

80000
Job Description
Design associates generally work under an established designer, where they help the lead designers in their projects. These designers work under a team of the designers in a firm and help them to complete the work for their clients.
Salary Description
Design associate's career depends on advancement, or significantly depends on industry experience and skills relevant to it. The entry level salary may be five lakhs a year, and might even possibly cross nine lakhs a year depending on the skills of the designers and on the company.
Resident Designer
Monthly Salaries
Average Salary

60000

Starting Salary

35000

Junior Level Salary

35000

Senior Level Salary

120000
Job Description
Resident typically means highly professional, but in this scenario a resident designer usually works with the furnishing or a furniture store as a design consultant. These designers basically focus on consultation and they not only provide consultation to the furnishing companies but also to the clients.
Salary Description
Income for resident designers based on individual experience and skills in the business. The entry level salary can touch three lakhs per year and will eventually reach more than eight lakhs per year depending on the company and the skill of the individual resident designer.
What is the job outlook for Interior Designer?
As the industry is growing, it is opening great opportunities for interior designers. With the increasing rate of construction, the demand for interior design career has also increased. Everyone wants to stay and work in overwhelming surroundings whether it is a corporate entity, a restaurant or a home. With the high demand for interior designers, their salary is also higher. Interior designing is a miscellaneous industry where technology meets the innovation to modify the interior environment, where they work as per their client's requirements. The interior design industry includes firms that deal with the planning, designing and management of projects. In the interior designer career path, individuals consider the required building codes and health and safety regulations for all the projects they are doing.
Students also liked
Frequently Asked Questions for Interior Designer
Que. Do interior designers paid well?
Ans.
The average salary of Interior Designer in India is Rs. 305823 per annum. A Junior Interior Designer gets an average compensation of Rs. 294,546 per annum. A Senior Interior Designer can expect up to Rs. 659081 per annum.
Que. What are the 7 elements of interior design?
Ans.
Interior design elements include space, line, forms, light, colour, texture and pattern; and keeping them balanced is the key to creating an aesthetically pleasing interior.
Que. What is the 60 30 10 decorating rule?
Ans.
60-30-10 is a timeless decorating rule that helps designers put a color scheme together easily. The 60% + 30% + 10% proportion is meant to give balance to the colors used in any space. This concept is incredibly simple to use.
Que. Is drawing necessary for interior designing?
Ans.
Knowing how to draw well is necessary if students are serious about becoming an interior designer. As interior designers, they need to be able to understand the relationships between materials, color, lighting and texture and the final effect they create on a particular space.
Also read: AutoCAD
Que. What are top Interior Designer colleges?
Ans.
Top Interior Design Colleges
You might also be interested in
The question have been saved in answer later, you can access it from your profile anytime.
Access now
Report Question
Select your reason of reporting