10 Short-Term Journalism Courses to Pursue from Home
There are many overlapping aspects among a career in Journalism and Mass Communication. Many prospects find it overwhelming to adjudicate the founding principles, in the absence of which, improper choices may be made. Media is the 4th pillar of democracy. A job that comes with brand-new experiences and adventures every day, attracts a variety of incumbents from all walks of life. Media programmes put together receive applications from approximately 80 lakh students each year. This includes both Mass communication as well as short term Journalism courses. Perseverance and substantial Communication skills are the call of the hour to make it large in this field. The selection process to earn a spot on the finest of media colleges is an uphill task. Below are the 10 best short Journalism courses to pursue from home.
View More -Journalism Certification Courses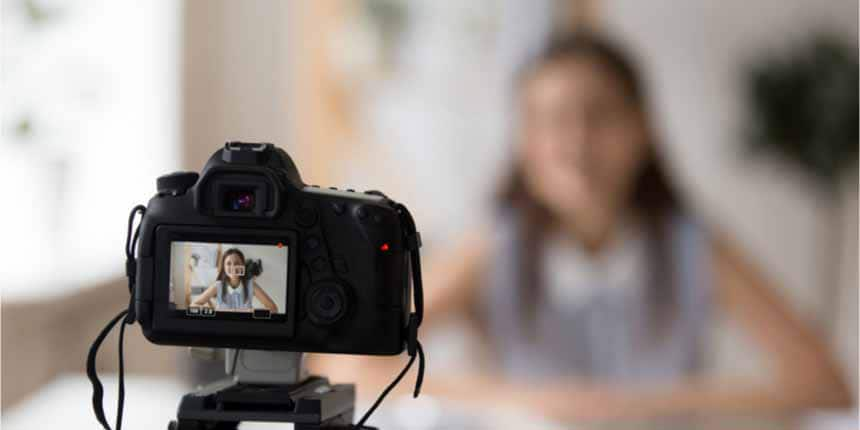 Short term journalism courses in India- Highlights
| | |
| --- | --- |
| Course Level | Certificate |
| Duration of the program | 1 year |
| Eligibility criteria | 50% aggregate in 12th grade |
| Fee range | Rs. 10,000 to 10 lakhs |
| Post Courseware Salary range | Rs. 2.5 lakhs to 14 lakhs |
| Popular recruiters | India Times, CNN, Start News, Amar Ujala, Times of India, India Tv, Hindustan Times, NDTV, BBC |
| Job areas | News & TV Channels, Research & Educational Institutes, Press & Printing Firms, All India radio, Fashion Industry |
| Common designations | Proof-reader, News Reporter, Media Researcher, Content Developer, Scriptwriter, Media Planner, Copywriter |
10 Short-Term Journalism Courses to Pursue from Home
| | |
| --- | --- |
| Course Name | Duration |
| Bachelor of Arts in Journalism and Mass Communication by Guru Nanak Dev University | 3 years |
| PG Diploma in Journalism and Mass Communication by IGNOU | 1 year |
| | 1-year |
| PG Diploma Mass Communication and Journalism by Madurai Kamaraj University | 1 year |
| Diploma in Mass Communication and Journalism by Mahatma Gandhi University | 1 year |
| PG Diploma in Mass Communication and Journalism by Nalanda Open University | 1 year |
| Diploma in Mass Communication and Journalism by Periyar University | 1 year |
| Diploma in Mass Communication and Journalism by Krishna Kanta Handique State Open University | 1 year |
| | 6 months |
| Diploma in News Reading, Anchoring and Reporting at NIMC | 6 months |
10 Short-Term Journalism Courses to Pursue from Home
Short term journalism courses usually belong to the certificate level. Completion of 12th grade is the eligibility criteria. Admission to the best short term journalism courses depends on the prospect's performance in an appropriate entrance examination and the counselling round that follows.
Below is the list of popular colleges and institutes which offer a variety of Courses in Journalism and Mass Communication ranging from Diplomas, Post Graduate Diplomas, Bachelors of Journalism and Mass Communication to the Masters version. All the following best short term Journalism courses are offered in the distance mode and thus can be enrolled into from the comfort of one's home:
Read more - Top Media & Journalism Colleges in India
Bachelor of Arts in Journalism and Mass Communication by Guru Nanak Dev University
This university offers a Bachelor of Arts in Journalism and Mass Communication, designed in a semester-based system, lasting 3 years. The eligibility criteria involves a minimum of 50% marks overall. This is relaxed to 45% for SC and ST candidates. The total fee for the entire course is Rs. 52,365
IGNOU offers a PG Diploma in Journalism and Mass Communication in the distance mode with a minimum duration of 1 year. The eligibility criteria is fairly simple: A Bachelor's degree in any field, basic English speaking skills and average Microsoft Office abilities. This Mass Communication course is aimed at inculcating beginner-level journalism and communication skills. It brings out the media's role in our society. The fee is Rs. 13,500.
Amity runs a PG Diploma in Mass Communication, which is known for its immersive curriculum for a clear understanding of the pillars of Journalism and Mass Communication. This is a 1-year, online Mass Communication course including recorded lectures on the university's Learning Management System.
PG Diploma Mass Communication and Journalism by Madurai Kamaraj University
This is an interesting take on Mass Communication and Journalism. It's in a PG Diploma format that lasts for 1 year. The medium of instruction of this Mass Communication course is English and Tamil. The prerequisite for this program is a Bachelor's degree in any field. A total of 6 examinations need to be cleared by the incumbents to earn credits for this courseware.
Diploma in Mass Communication and Journalism by Mahatma Gandhi University
This institute offers a Diploma in Mass Communication and Journalism with a 1-year duration. Moreover, this course can be enrolled in on the back of completing 12th grade in any stream. It is one of the most holistic mass media courses out there, ensuring future job satisfaction for the students. It has a total of 9 subjects included in the courseware.
PG Diploma in Mass Communication and Journalism by Nalanda Open University
The PG Diploma in Mass Communication and Journalism offered here is of a 1- year duration. One needs a Bachelor's degree to be eligible for this Mass Communication course. It is well known that this program has produced a qualified workforce adept to lead journalism in the evolving Mass Communication arena in our country.
Diploma in Mass Communication and Journalism by Periyar University
Situated in Salem, the Periyar University offers a remarkable Diploma in Mass Communication and Journalism lasting just 1 year. This program requires the incumbent to have finished their 12th grade from almost any major boards in India. There are a total of 6 examinations that are encountered during this engagement, all of which need to be passed to get the requisite award of the diploma.
Diploma in Mass Communication and Journalism by Krishna Kanta Handique State Open University
This is a Diploma in Mass Communication and Journalism through the distance mode lasting 1 year. It is available for students who have finished their 12th grade in any stream. The courseware is structured around the founding principles of Mass Communication, thereby setting up the incumbents for a wide variety of mass media courses post completion.
Diploma in Radio Jockeying at NIMC
Period: 6 months
Curriculum:
Fluency principles encompassing the tone, pitch, inflection and intonation of the voice among other relevant factors

Introduction to Voice Overs. This includes speech rhythm and resonance in the context of TV commercials, radio commercials, Corporate videos and Documentaries

Radio journalism

Understanding music and basic awareness

Structure of Radio Programs

Managing live programs

Conduction of interviews

Colourful words painting on the radio

Understanding the concept of the medium

Understanding the distinction between corporate and neighbourhood radio

Studying the present RJ's and their design

Production
Diploma in News Reading, Anchoring and Reporting at NIMC
Period: 6 months
Curriculum:
Fluency principles encompassing the tone, pitch, inflection and intonation of the voice among other relevant factors

Introduction to Voice Overs. This includes speech rhythm and resonance in the context of TV commercials, radio commercials, Corporate videos and Documentaries

Dedicated practice on Public Speaking: Capturing public attention, awareness of voice and its functionality, managing body breathing, articulation and language

Main functions while narrating news and inculcating the essence of the script at hand

Radio essentials, Studio autocue reading and voice recording

Examples of anchors work and comprehensive analysis of their designs

Skills for an effective talk-show host

Legal risks

Reporting techniques - Delivering a piece of news & Interviewing, recording the byte & transcription & scripting

Different Reporting designs- Political, Entertainment, Crime, Sports & Business

Production
The typical tuition fee charged for these courses in India varies between Rs. 5,000 to 15 lakhs, for 1 year.
Also read - Activism and Citizen Journalism through Media BY University of the Witwatersrand, Johannesburg via Edx
Best Short Term Journalism courses- An Overview
Certificates in Journalism covers the research study of methods to gather and disperse the news and produce awareness amongst the public through various channels. The short term Journalism course is normally divided into two media classifications: the Print and the Electronic media.
A study of certificates in Journalism opens pathways that lead to the fields of advertising and PR (Public Relations). Media is gaining a strong foothold in the context of the nation every quarter. Moreover, a reporter covers a diverse array of subjects. These include politics, economics, culture, art, history, organisation, sports and entertainment among others. So, a profession in journalism brings along a great salary and maybe even popularity.
The task chances for the Certificate Course in Journalism holders are big and are financially rewarding today. They can discover jobs in newspapers, publications, main details services, sites, AIR, and tv news channels.
Such prospects are employed within capacities such as Media Planner, News Reporter, Proof-reader, Media Researcher, Creative Visualizer, Content Developer, Translator, Copywriter etc. A fresh prospect in this field can make an average wage in between Rs. 2 to 8 lakhs per annum relying on the calibre and experience of the candidate.
Difference Between Journalism and Mass Communication
| | | |
| --- | --- | --- |
| Aspect | Mass Communication | Journalism |
| Definition | Various pathways such as advertising, radio, print media, television and film are used to convey information | Journalism is a subset of Mass Communication. It comprises of news dissemination through television, print, radio and online mediums |
| Content Delivery | It is a multi-platform channel for information broadcasting | Journalism involves making the information available to the masses exactly in its original form |
| Creative Freedom | The original message may be suitably modified to present a better experience to the users | Here, emphasis is more on facts instead of forming opinions |
| Course Structure | Topics with a clear social impact are usually found here. Moreover, writers may also be included for their opinions. | On the other hand, Journalism deals with aspects of politics and economics and introduces the students to the function of media in the country. |
Summary of short term journalism course
Candidates discover the essentials of journalism practice for all media types, including news and function composing styles, journalistic research study, journalism-specific legal and ethical requirements, and discussion and publication of journalism. Those candidates who can speak clearly and have the ability to write in a concise style are most suited for the Certificate Course in Journalism. Regardless of one's previous line of study, these short term Journalism courses have the potential to equip the incumbents to use innovative understanding and abilities in a variety of modern contexts.
Also read - Journalism for Social Change by University of California, Berkeley via Edx
Candidates who have an interest in events, individuals, and locations, have incredible listening and observational abilities, decent general knowledge, a strong capability for performing independent research study and good grammar, spelling, and punctuation likewise constitute the most optimum mix for a successful career in this arena.
Additionally, students who can shoot, modify and tell stories through video, possess the essential ability to make interactive story elements by using adobe flash, ability to modify audio as well as podcasts are an optimum match for this subject.
Career Pathways After Completing Short term Journalism courses
Commonly encountered professions include press reporter, correspondent/special press reporter, feature writer, leader author, evidence reader's editor, writer critic, photojournalist and cartoonist for any newspaper company.
Because journalism is such a broad field, there are numerous chances to change jobs. Candidates can likewise shift to marketing and service departments in news companies.
In the current years, the market for web journalism has continuously broadened at a significant rate. A significant quantum of individuals prefer online media consumption compared to the traditional newspapers. This has carved out a broad niche for web journalists. Thus, various broadcasters, publishers and different news agencies contact consultants to make the most of this fairly recent innovation. However, competition remains stiff for jobs on news magazines, huge everyday documents, and the major cable television, TV, and radio networks.
Also read - Print and Broadcast Journalism by ASPEE College of Home Science and Nutrition, Sardarkrushinagar via Swayam
Summary
In a broad sense, journalism is all about news reporting be it for the print, electronic or online medium while mass communication encompasses within itself a variety of media disciplines such as that of movies, online media, documentary, tv, radio, graphics, occasions, advertising, business communications and so on. But when you head out to register in a university or college you see the two courses normally overlap.
Depending upon your disposition, you can pick one in between mass communication and journalism. For, those who think that they are more likely towards current affairs and are quite passionate about providing info to individuals before anybody else they are more most likely to perform much better as reporters while those who are interested in elements of mass media other than news media such as interaction and culture studies, marketing, public relations, documentary and feature movies, radio and tv programs are most likely to do much better in the mass communication discipline.
Disclaimer
The salary figures mentioned in this article are just for reference purposes. Please treat them as such. Actual salaries may vary depending on respective candidates, employer, job location and numerous other factors.
Explore Popular Platforms Certification Courses
Frequently Asked Question (FAQs) - 10 Short-Term Journalism Courses to Pursue from Home
Question: Which among Mass Communication and Journalism is better?
Answer:
A degree in Mass Communication would be great if you desire a more comprehensive set of skills in your bag, while a degree in Journalism can help if you are clear about your goal of building a profession in Journalism.
Question: What are the jobs in mass communication?
Answer:
Some of the popular job titles in this field are as follows:
Fashion Photographer

Film Director

Radio Jockey

TV correspondent

Sound Engineer

Producer

Sound Mixer and/or Sound Recordist

Screenwriter
Question: Which stream is finest for Journalism?
Answer:
If you are an innovative author or dreamer at heart and keen on pursuing a profession in Mass Media or Journalism, use up topics such as Modern Indian Language, Hindi, Political Science, Psychology and Sociology from the arts stream. A liberal arts education is an outstanding beginning point for the journalism foundation.
Question: Which country is finest matched for a course in Mass communication?
Answer:
The following 3 countries are known for launching amazing careers in Mass communication:
Question: How can I become a Journalist in India?
Answer:
To end up being a reporter, you need to pursue a Bachelor of Journalism and Mass Communication (BJMC) after finishing Class 12th in any stream from a licensed board. After graduation, you can likewise pursue a Master's in Journalism and Mass Communication.
Question: Does Journalism pay well in India?
Answer:
An incumbent with little or no experience can anticipate earning an average total payment (includes benefits and overtime pay) of Rs. 2,97,476 based upon 57 salaries. A slightly experienced journalist makes a typical overall compensation of Rs. 3,24,950 based upon 98 incomes.
Question: What is the wage of mass communication in India?
Answer:
The starting wage for a mass communication fresher could be in between Rs 12,000 and 25,000. After 5 Years of work experience, an expert can anticipate a greater salary in the vicinity of Rs 50,000 to Rs 1,00,000 monthly.
Question: Is Mathematics needed for Mass communication?
Answer:
No, for pursuing mass communication, mathematics is not compulsory. However, one will need to clear an entryway examination for journalism.
Question: Does Mass communication have branches?
Answer:
The main branches of mass communications include journalism, public relations and advertising. The three branches are closely associated so that experts in each field frequently communicate with each other in their work.
Question: How can I get ready for Mass Communication?
Answer:
The following steps will help:
Keep yourself abreast of important world events as much as possible

Establish a habit of reading

Enhance your comprehension and analytical abilities

Polish your writing abilities

Practice previous years' papers

Do not ignore the interview round
Question: Is Mass communication in demand?
Answer:
Unlike other fields, mass communication has been growing steadily. If you sign up within the following fields, your start may be sluggish presently as compared to the standard tasks but your profession will quickly take off.
Question: Is Mass communication hard to study?
Answer:
A lot of the topics in mass communication are subjective, which suggests it requires a great deal of critical thinking. A wide variety of mass communication courseware is open-ended, without guaranteed yes or no responses - this makes it extremely difficult to study for. Each field of study comes with their challenges that trainees have to withstand.
Journalism Updates and Articles
Take up online Journalism courses and learn from the best expe...
23 Sep 2021
Careers360 Team has penned down some of the popular journalism...
03 May 2021
Questions related to Journalism
Showing 719 out of 719 Questions