Who is a Copy Writer?
Nobody counts the number of ads you run; they just remember the impression you make ~ Bill Bernbach
A career as Copy Writer is a creative and rapidly evolving profession. Do you ever notice or think who made those catchy commercial advertisements that we generally see between some movies or daily soaps? Those advertisements are made by copywriters and their teams. A copywriter is a person who develops written content for a company or organisation with the aim of selling or promoting a good, service, or brand. Advertisement is an integral part of our daily lives. It is not only when we watch television, can see those advertisements but also when we go out we can see big banners of several brands, and this is not the end. The content can be written for several purposes like print and digital ads, television commercials and radio jingles. Candidates from any stream (Science, Commerce, Arts, Humanities) can become copywriters; the only demand being, he or she should be proficient in English/Hindi or any regional language.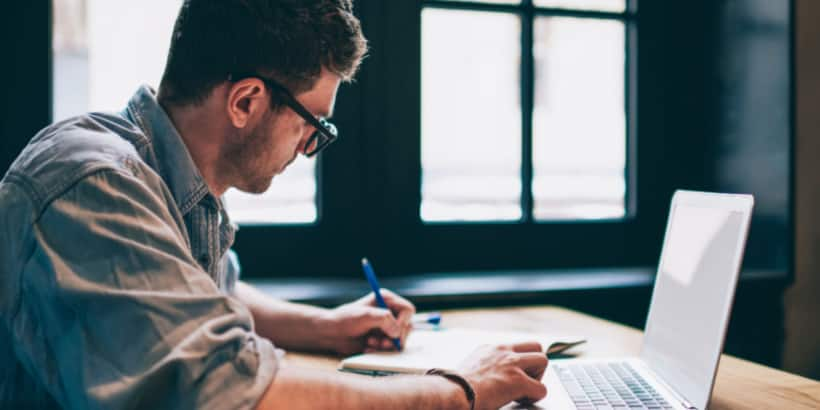 Copy Writer in a Nutshell
In a career as a copywriter, one has to consult with the client and understand the brief well. A career as a copywriter has a lot to offer to deserving candidates. Several new mediums of advertising are opening therefore making it a lucrative career choice. Students can pursue various copywriter courses such as Journalism, Advertising, Marketing Management. Here, we have discussed how to become a freelance copywriter, copywriter career path, how to become a copywriter in India, and copywriting career outlook.
Quick Facts for Copy Writer
Industry

Media

Suitable for

Male, Female, Others

A copy writer's occupation is not gender-specific. Men, women and others can choose advertising as a career for themselves. Men and women copy writers receive equal benefits in India, because in this profession, gender is insignificant.

Any special needs

Yes

The career as copy writer suits everybody, even those with special needs. Occasionally, they may be asked to attend events and arrange client meetings. Individuals with body deformity can plan and execute advertising campaigns for companies, they only need to have the ambition to show the world that in all the circumstances they can achieve their dreams.
What is the role of Copy Writer?
Copy writer jobs include creating new written content for a variety of commercial purposes such as advertising, marketing and descriptive texts. Copy writer jobs include writing content for commercial purposes. For example, advertising, marketing, jingles or outdoor advertising text. Copywriting can be considered the process of writing advertising materials. In the career as a copywriter, individuals create articles for brochures, billboards, websites, emails, ads, catalogues and much more. Copywriters write about various topics, in different languages for readers of different age groups.
Target Audience
In the career as copy writer, individuals work hand-in-hand with the creative and the marketing team to decide how their service and products will meet the needs of their target audience. Copy writers write and prepare the content according to the marketing strategy which is relevant to the needs of the targeted audience. Choosing a target audience is essential as it helps the company to focus its investments towards certain consumers with a potential for growth, product value and brand loyalty.
Advertising Campaign
A copy writer manages the advertising campaign along with the marketing team. One needs to be in agreement with the strategy. The creatives of the brand, service or product should resonate with the campaign and strategy that has been put together by the experts.
Search engine marketing
One of the prime responsibilities in the career as copy writer is to write according to a website's efficiency. The content especially the one that goes on social media or any other digital platform has to be written according to the google analytics. This is done so that the product or service is more visible on media platforms.
Search engine optimisation
In the career as a copy writer, individuals must establish traffic-enhancing strategies of writing their content. This can be done by making the site available on the internet. Pay per click, or PPC, search engine optimisation takes clients to the platform through search engines like Google, Yahoo, MSN and Bing. Pay per click management is an important way to gain larger web-based visibility through the search for keywords.
Types of a Copy Writer
In the copywriter career path, there are several opportunities available. Some of them are mentioned below:
Agency Copywriter: Copywriters of the agency work within the design studios, full-time marketing agencies, digital agencies, search agencies, PR agencies and writing organisations, where they produce text to order clients of the institution. They will usually be notified by the account manager, or perhaps the designer, and will produce whatever the client needs. In some cases, they may deal directly with the client. Agency copywriters, especially those who have worked in London or elsewhere in the media, will usually be able to show off national or international attractions on their resume.
In-house copywriter: In-house copywriters are employed by large organisations with their own marketing departments and in need of the help of the author, or writers, in full. An in-house copywriter works for only one client, which can reduce their chances of exposure of selling different products or working in a variety of media. However, they may have the opportunity to deepen the tone of the voice product in-depth, and may also enjoy productive working relationships with their internal customers, those who use their own copy and provide them with needs.
Advertising copywriting: This is probably the kind of writing most people think of when they hear the word copywriting. Writing content in newspapers, on TV and in other forms of advertising. Copywriting includes the formation of headlines, slogans and taglines that people remember in the media. But it also includes long-copy advertisements such as those that appear on Sunday posters or subway trains.
What is the workplace/work environment of Copy Writer like?
The copy writer is responsible for writing commercial content that can help in selling more and more products or services. In the career as copy writer, one conducts studies to determine a target audience, along with the advertising management team. Most of the work is done on the desk therefore, freelance copy writer works in an office environment. This is a regular job and the individual prefers to work in an office desk, and in a safe atmosphere in general.
Does Copy Writer require travelling?
Likely
In the copy writer job, an individual's work includes travel, but not very much. This occurs when they are required to meet the client at the office of the company by the advertisement manager of the business. A freelance copy writer travels quite often both globally and domestically in order to provide guidance and supervision for big advertising campaigns or other relevant businesses.
Employment Shifts
Full Time
Copy writer job shift for a copy writer is usually full-time. The freelance copy writer operates full-time but shifts vary by workload. In the career as a freelance copy writer, individuals generally work 40 to 45 hours a week, with exceptionally crucial assignments that often require extra shifts. They operate 9-10 on a daily basis.
Employment Nature
Contractual, Permanent
The job of a copy writer may also be of a permanent or temporary nature. In the career as copy writer, individuals may have to work with an organisation on a full-time basis or they could also become freelancers and work on a contractual basis.
Work Place
Office
In the career as a copy writer, individuals plan and execute company advertising campaign's content and try to make it as creative as possible. Those activities are conducted in the office setting. The work requires creativity, knowledge and mental strength but not much physical labour.
Presence in Geographical Area
Semi-urban, Urban
In rural areas, the copy writer has fewer opportunities than in urban or semi-urban regions. The notion of the rural market in India is also emerging and it presents various challenges such as knowing rural customers, reaching out to remote areas and providing services.
Time Pressure
Likely
In the career as copy writer, candidates execute certain activities for a business or person in a specified time-span. This career is one of the emerging career opportunities in India which needs a lot of time and mental strength. Therefore, there is time pressure when it comes to the career as a copy writer.
Overtime Details
Copy writers serve for several mainstream media companies and they also work on an individual basis for nine hours a day. But when it comes to press releases or deadlines they need to work harder. Many tasks may require more focus, in such situations freelance copy writers ought to stretch the duration of their shifts to finish it in time.
Weekly Hours of Work
Min 45 Hours
The copy writers work about forty hours a week, almost nine hours a day. copy writers' work comes under certain shifts, and they may even work longer hours in various types of projects to solve the problem. While freelance copy writers work nine to ten hours a day, it can be up to fifteen hours at the time of a press release or campaign.
How to become a Copy Writer?
Steps to become a Copy Writer
What are the skills and qualities required to become a/an Copy Writer?
Here we have discussed how to become a freelance copy writer thIn order to make a career as copy writer one must possess some skills. Some skills required by a freelance copy writer are mentioned below:
Creativity: In a career as copy writer, individuals should be capable of producing unique and innovative concepts. Advertising creativity satisfies the clients' psychological, advertising and corporate demands. Creativity involves recognising significantly how a product satisfies a customer's requirement. It could be as basic as casting out a brand's perfect performer. Creativity is the most critical thing when it comes to the copywriter career path.
Communication Skills: In the career as a copy writer, individuals should be able to interact efficiently during the advertisement, promotions and marketing system with a team consisting of many other managers or staff members. Particularly, freelance copy writers should be able to interact with the client in order to know and understand their requirements.
Analytical Skills: The advertising market is evolving with the emergence of digital platforms, advertisement, promotions and copy writers need to be able to evaluate customer preferences and assess their institution's most effective approaches. An analytical skill starts by acquiring visibility into the customers of a company. Analytical skills are what consumers want to learn to handle and manage the information and build customer information for insight.
Decision-making Skills: In the copywriter career path, individuals should have the capability to make a decision and contribute to the foundation of strong leadership competencies. Decision-making is a process that is needed in every small or large industry. Having decision-making skills enables one to evaluate every situation.
Interpersonal Management: In the career as a copy writers, candidates work with a majority of individuals in various positions, both within the company as well as outside. Interpersonal skills are the qualities and strategies that an individual uses to communicate effectively with everyone. In the corporate world, the word involves the willingness of an individual to function well with each other.
Popular Online Arts And Crafts Courses and Certifications
Which certifications and internships can be helpful in becoming Copy Writer?
We have mentioned below various certifications that copy writers can opt to upgrade their skills.
Internship Availability
Yes
Internships are seen as the perfect means of gaining exposure in a career as a copy writer. Internships serve to provide the candidate with real-life experience. Internships often provide the future applicant with the opportunity to incorporate the theoretical concepts that they have developed in order to bring it into practical use during their college days. Copywriting interns are accountable for providing copy writing and advertising and assistance.
Also read - Career as advertising manager
Career Path Progression for Copy Writer
Advertisement Copy Writer: Advertising copy writing is the kind of writing most people think of when they hear the word 'copywriting': writing content in newspapers, on TV and in other forms of advertising. The copywriters who work at a high level of professionalism need to be creative, subsequent thinkers who can come up with very strong, original ideas under pressure. Moving further down in advertising, the work of the copywriter may involve minor distractions and compromises. The copywriters need to be able to present ideas and content that sells products.
Long Copy Writer: 'Long copy' means any advertisement that contains multiple copies. For example, a sales copy with a long copy can be several pages long, rather than just one page. Long copy advertisements may have several sections of text rather than one, and a website with a long copy can have longer articles (1000 words or more) than 100 or 200 standard web pages.
Website Copy Writer: Website copywriting simply generates text for websites. However, the skills of a web copy writer are not limited to simply producing a copy. They may also be involved in site building, user experience, voice tone, verification and application design and text to work together. For this reason, web copy writers need good knowledge of web design and application, as well as technical features such as HTML, CSS and SEO.
What is the job outlook for Copy Writer?
The copywriter career path has high competition but people with the required skills and experience can get a great future in this field. Copy writing industry is rapidly growing in recent times. It has become one of the most crucial foremost steps for advertising and marketing. The demand for copy writer job has grown rapidly over the years.
Student Also Liked:
Frequently Asked Questions for Copy Writer
Que. How much does a freelance copywriter earn in India?
Ans.
The average salary for a freelance copy writer is Rs.19,948 per month in India. This is for an entry level copy writer. With more experience and knowledge one can earn even more.
Que. Is being a copy writer a good career?
Ans.
Copywriting is a good career. Some top copy writers have become creative directors of very successful ad agencies, earning a lot of money. Good copywriters are hard to find and sought after since it is a creative field.
Que. Are copy writers in demand?
Ans.
Web copy writers are in high demand. Companies need their help in crafting home pages, landing pages, product pages, subscription pages, sales letters to customers, blogs, articles for e-zines and e-newsletters. The demand is great right now and growing in the career as copy writer.
Que. What degree do you need to be in the field of copywriting and advertising?
Ans.
While associate degree programmes are available in advertising, entry-level jobs generally hold a bachelor's degree. A four-year advertising degree programme includes both the arts and sciences, integrating creative writing and digital marketing courses with communication, psychology, and marketing courses.
Que. Why is advertising so important?
Ans.
Advertising includes keeping customers aware of any new goods and services that the company has to offer. It allows raising public awareness of services and goods which are beneficial to customers or potential clients. Some claim that the principal role of advertising is to promote.
You might also be interested in
The question have been saved in answer later, you can access it from your profile anytime.
Access now
Report Question
Select your reason of reporting