Who is a Author?
The pen is mightier than the sword ~ Anonymous
Are you naturally prone to think creatively? Do you like playing around with words and languages? Being an author can be a clear path to your career. Authors produce well-crafted pieces of work for people to read, learn and enjoy. The author will work closely with words and use the basics of language to stimulate the reader's imagination, teach and capture his or her interest. There are different types of authors like novel writers, poets, journalists, screenwriters, playbooks, copywriters, and so on. There are many types of writing as well like in education, arts, business, professionals, and journalism. With so many different types of books and published literature available in the world, there are so many different types of writers writing them.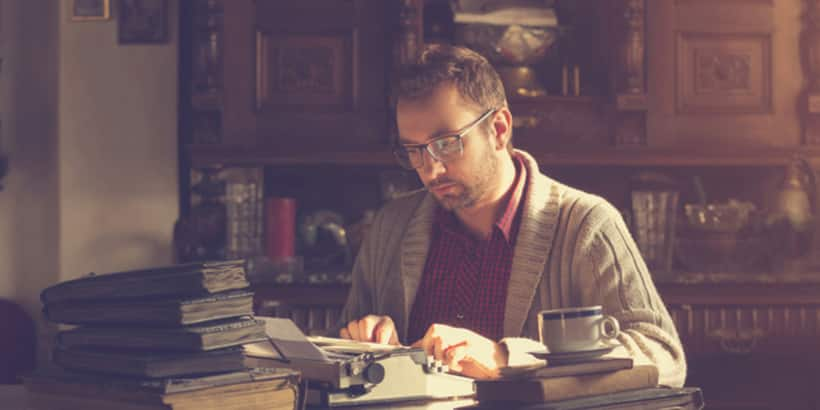 Author in a Nutshell
An author is someone who chooses a field to write in, and can go about it according to his or her wish. It is considered as one of the most content career options. Being an author and writing something which breaks all possible records is entirely in the hands of an individual. It is one of those careers where one gets to 'be his or her own boss'. Not only an author could also be a freelancer or could do the job as a hobby or passion. Being an author is not just limited to writing novels or poems but it also includes several other career options like screenwriter, copywriter, playwright, so on and so forth.
Quick Facts for Author
Industry

Entertainment, Media

Average Salary in India

₹52666.67

Suitable for

Male, Female, Others

A candidate who wishes to become an author can do so irrespective of his or her gender. The field of writing is not gender biased and all genders get an equal opportunity to pursue it. Being an author is a desk job where an individual is not required to put in any kind of physical labour. Therefore, one can pursue a career in writing no matter which gender he belongs to.

Any special needs

Yes

An individual with a strong language, good writing skills as well as has a creative mind can be an Author. It does not matter if he or she is physically fit or not. An author is more of a desk job where he or she does not have to put in physical effort. One might have to go out for research or for finding inspiration in order to write but that is not a problem for anybody with special needs.
Table of Contents for Author
What is the role of Author?
The job of an author is to choose an area of writing. One could either write fiction and use his or her creativity or could be a non-fiction writer. Once that is done, an author chooses a subject to write on which is followed by research in order to add important facts as well as credibility to the written piece. Using appropriate sources and citations help the author to gain credibility from the reader and the editor. After getting feedback from an editor the author has to re-work on the draft depending on the suggestions.
Choosing the subject
The first thing that an author should do is to choose a subject of interest as well as making a choice of the book to be fiction or non-fiction. Something which he or she can write about either due to the kind of knowledge one has or because of experience, or maybe could gather information through. Choosing an appropriate subject is the first and the most crucial part for an author in order to write about it.
Types of a Author
Novelist: A novelist is a person who writes long stories. Depending on the genre, a fairy tale can have between 80,000 and 200,000 words, so this type of author should be able to plan and execute his or her work. This requires dedication and patience along with the ability to think creatively enough to captivate the reader into reading something that
Non-Fiction Writer: A non-fiction writer is a person who writes in a special field. This could include technical writers and academic writers. A non-fiction writer is able to take large amounts of information and break it down so that the important text can be read. A non-fiction writer writes about a specific area delivering the content to specific target-audience. This type of writing requires realistic observation and research.
Journalist: A journalist is a person whose writing is published in newspapers, media houses and magazines and read by thousands if not millions of people. This type of writer constantly works on gathering information about the happenings around the world. It is a job for the ones who can deal with always working with deadlines. The quality of work is very important as one can make a name for himself, as this will help the individual earn the right amount of
Article writer: An article writer is someone who writes a short piece, for example, a food article, product review article or a travel essay. One will write various magazines, using precise and 'to the point' language to make the article informative and enjoyable to read. Having specialised knowledge is excellent, as essays are often needed in medical, technical or commercial journals.
Online Author: An online author is a person who is accustomed to visiting and writing articles or short stories on websites and blogs. The internet is a great way to provide an amateur writer a store for showcasing creative work, enabling him or her to learn and improve the writing skill level as one rises to the top of his or her writing career.
What is the workplace/work environment of Author like?
The workspace is very subjective in nature. An author writes his or her draft sitting on a desk. But for example, if he or she is a travel based author then one will have to travel the places in order to write about it, or if someone is a journalist then one will have to go to different places in order to find leads for writing a story. The author's job is to write but there is a lot of background work that has to be done in order to write about a certain topic or subject and this can require an individual to even go out and do research.
Does Author require travelling?
Not Likely
The job of an Author can or cannot involve travelling depending on the type of writing he or she does. For example, if an individual is a fictional novelist then he or she will not have to travel in order to write about something fictional. He or she can write about it sitting at home. But, on the other hand if someone is writing a non-fiction book based on travel then one will have to go and explore the places that he or she wants to write about.
Employment Shifts
Full Time, Part Time, Work From Home
The shift timing of the Author can fall under a certain category if he or she is working for a company. It can be a 9-to-5 job. But if someone is a journalist or a novelist, the working hours are not fixed. It depends more on deadlines as well as the situations taking place around the globe (in case of a journalist). There are no specified shifts in such cases.
Employment Nature
Contractual, Permanent
The employment can be both permanent as well as contractual in nature. Some companies may form a contract which can be ranging between two to three years in length. It varies from company to company. Whereas it is a field where an individual can work for himself or herself or as a freelancer and in that case the work can be contractual in nature.
Work Place
Home Office, Office
An Author can work in an office, go out for research on field or even travel around to gather information for his or her write-up. It is very subjective in nature. An author who works as a travel journalist, his or her workplace would not be fixed, it would be all about travelling. But, on the other hand a novelist who works for himself can work in his or her house and has the choice of going out for research as and when required.
Presence in Geographical Area
Rural, Semi-urban, Urban
An Author can work in any type of geographical location, especially if he or she works for his own. But if one works in a big company then it is most likely that he or she would have to work in an urban location.
Time Pressure
Likely
The job of an author is to write content for his or her audience. For freelancers or journalists, there are several deadlines that one has to work upon almost on a daily basis. But for a novelist, he or she gets to choose when one wants to work and for how long.
Overtime Details
An Author might have to work for extra hours in cases of emergencies (in case of journalists) but for a novelist it is entirely up to him, how he wants to divide his work.
Weekly Hours of Work
Min 40 Hours
An Author has to work for 40 hours a week if he or she is working for an organisation or company. But, if one is working for himself then he or she can choose his own working hours depending on what suits him the most.
What are the skills and qualities required to become a/an Author?
Writing skills: Authors as well as writers must be able to write well in order to convey feelings and emotions and communicate with readers. It is one of the most important skills required by an author to be able to do well in his or her career. It is not a skill one can adopt overnight. It takes time for an individual to be able to learn the skill of writing. In order to be a good writer, one must read a lot of literature specifically in the language he or she wants to write.
Flexibility: Several authors and writers need to be able to adapt to new platforms and software programs, including the various Content Management Systems (CMS). Since technology keeps advancing with every day passing by, one needs to be up-to-date with it in order to deliver the task that is assigned to him or her without facing many problems while doing so.
Creativity: In order to captivate one's reader it is important that the author should be able to develop new sites, characters, or new, interesting ideas, or situations in his or her write-up so that one could create something new. There is already so much written, in order to stand-out an author must be creative.
Critical thinking: An author must be proficient in thinking and understanding new concepts, and convey them in written form. There are several topics that an author may have to write about which may or may not be the individual's area of comfort. Therefore, one must think critically about how to still go about writing on a subject like that.
Determination: An author sometimes may have to work on projects that take years to complete. For example, a freelance writer who is paid for each assignment must show the perseverance or in case of a novelist who has to write thousands of pages in order to complete his or her book has to come up with a proper plan along with the determination to carry out the work.
Social understanding: An author must understand how readers react to certain genres of writing in order to connect with the audience. At the end of the day, a writer writes for the people who make society. Therefore, understanding them and finding ways to connect with the reader through one's writing is an important skill that an author must possess in order to do well in life.
Which certifications and internships can be helpful in becoming Author?
Internship Availability
Yes
Several internship opportunities are available in this particular field. Different companies and organisations, with appropriate abilities and competencies, employ interns who can write for them in order to become an Author in future. There are plenty of internships available for someone who wishes to be an author. Internships are of both paid and unpaid type. The norms and requirements differ for each and every organisation or industry. Interns day to day job includes writing articles, e-books, podcasts, sales copy, researching the topic for which they are required to write
One can explore internship opportunities through the online hiring portals. The individuals get hands-on experience through internships. Higher-education colleges and private airlines therefore provide internship opportunities.
Career Path Progression for Author
Business writer: Several newspaper companies and magazines hire individuals who have an expert's knowledge in the beat of business. Individuals who can write in this beat are considered as business writers. This job requires the person to do proper research as well as putting in enough effort to provide the reader with his or her needs.
Novelist: A novelist is an author or a writer of novels. Several novelists write in either fiction or non-fiction and sometimes even both. A novelist can be a professional novelist, thus making a living writing novel and other fiction, while others aspire to support themselves in this way or write as part of pursuing a hobby..
Copywriter: The job of a copywriter is to write content for several advertising agencies and brands in order to create brand awareness. A copywriter has to write the content in a way which can capture the people's mind and can amplify the brand's awareness. The job of a copywriter can be very hectic at times as one may have to work on multiple projects simultaneously.
Columnist: A columnist is an individual who writes for publications in a series, creating an article that usually offers commentary or personal opinions of the author. These columns appear in newspapers, magazines and other publications, including blogs. They take the form of a short essay by a specific writer who offers a personal point of view.
Author Jobs and Salaries
Novelist
Monthly Salaries
Average Salary

48000

Junior Level Salary

45000

Senior Level Salary

80000
Job Description
A novelist is a person who writes long stories. Depending on the genre, a fairy tale can have between 80,000 and 200,000 words, so this type of author should be able to plan and execute his or her work. This requires dedication and patience along with the ability to think creatively enough to captivate the reader into reading something that long.
Salary Description
A novelist's earnings majorly depend on who is his or her publisher as well as how is the book doing in the market. An author who writes a best-seller can earn crores of money.
Business writer
Monthly Salaries
Average Salary

55000

Junior Level Salary

35000

Senior Level Salary

60000
Job Description
A business writer is a person who usually writes for newspapers as well as magazines. Business magazines and newspapers need writers with good business knowledge, excellent language skills and equals, if not better, than that of a reader.
Salary Description
A business writer's salary might vary based on the individuals skills, and experience. After gaining enough experience a business writer can earn more than the amount of Rs. 60,000 every month.
Columnist
Monthly Salaries
Average Salary

55000

Junior Level Salary

49000

Senior Level Salary

63000
Job Description
A columnist writes for newspapers, magazines and news books. Some journalists are adapted; their articles appear in hundreds of newspapers, and a new article is published each week.
Salary Description
An individual who becomes a columnist is generally a person with a lot of experience and expertise in the area. Therefore, one is paid well by the organisation he or she works for.
What is the job outlook for Author?
Writing can be seen as an emerging field that is growing day by day. After the Internet became a major means of delivering this information, almost every company or organisation has become involved in hiring authors who could write for them. It has become a major and very important step in advertising and marketing. With the growth and competition, being an author is possible for someone who has great perseverance to work and make a big profit.
The demand for talented authors has grown exponentially over the years. In the current situation, some popular niches are, construction firms and services, Auto-utility vehicles, children's technology, products and services, beverage manufacturers (soft drinks, beer, wine), Biotechnology, Bitcoin and cryptocurrency, Finance, health, insurance, online education. With several companies coming forward in order to hire authors and with an increase in demand for such professionals, the market scenario shows positive growth for someone in this field. The jobs are expected to grow by 8.5 per cent by the end of the year 2025 for an author.
Frequently Asked Questions for Author
Que. How long does it take to become an author?
Ans.
For an individual who wants to become an author after taking up a degree and some experience, it can take around four years for him or her to become an author.
Que. Who is the richest author in India?
Ans.
Malayali author Benyamin was declared as the richest author of India for the year 2019.
Que. What are the highest paying jobs in the field of writing?
Ans.
The top three jobs that pay the highest in the industry are technical writer, Editor, and Magazine writer.
You might also be interested in
Questions related to Author
Showing 2 out of 2 Questions
2 Views
suggest Good author for preparing gate2021exam for civil engineer
hey,
here i am suggesting some good books for GATE 2021 civil branch
1. for engineering mathematics - discrete mathematics and its applications by kenneth rosen  , higher engineering mathematics by B.S grewal , advanced engineering by erwin kreyszig
2. for structural engineering - theory of structure by CK Wang , S.rammamrutham , theory of elasticity by timoshenko and gere , theory of structure by wilbur and norris , strength of materials/mechanics of structure by gere and timshenko , E.popove , L.singer , B.C punamia rammamrutham
3. for geotechnical - soil mechanics by gopal ranjan and rao , venkat ramaiha , S.K garg , B.C punamia , VNS murthy
4. water resources - water resources by SK garg, water and waste water by SK garg 1 and 2 , fluid mechanics - RK bansal and fox and richard
5. transportation engineering - transportation by justo khanna
for more details kindly go through the link
https://engineering.careers360.com/articles/what-are-best-books-for-gate-civil-engineering
all the best!
The question have been saved in answer later, you can access it from your profile anytime.
Access now
Report Question
Select your reason of reporting