Who is a Journalist?
Journalists educate and inform the public about events and issues and how they affect their lives ~ Rebecca Briscoe
In career as journalist, individuals inform the common people about the happenings around the world. A journalist job involves questioning the government decisions and for this reason, the media is given that kind of authority. Do you ever feel the urge to be someone who can provide information to common people? Do you want to be someone with credibility and importance? Then a journalism career is for you. In today's scenario where the internet is flooded with fake news, you can bring in the change you want by picking a journalism career. Being a journalist is a job that involves a lot of news gathering, fact-checking which can ideally bring about a qualitative change in society. Students can pursue Journalism, Mass Communication to opt for a journalism career path. Here, in this article, we will discuss career opportunities of communicators and journalists, journalism career path, how to become a journalist in India, highest paying jobs in journalism, alternative careers for journalists.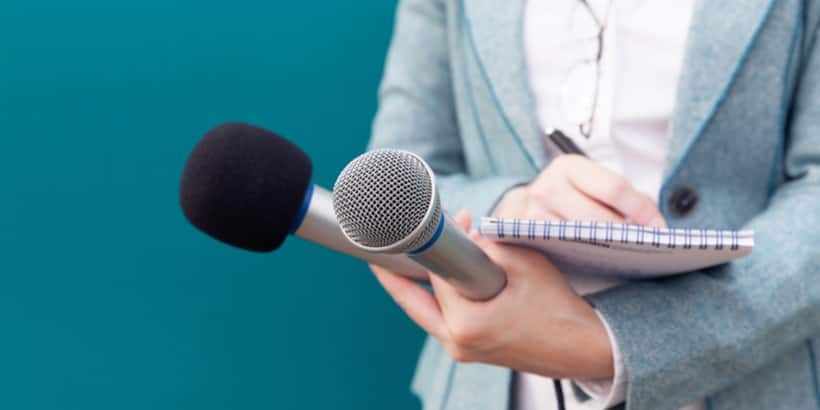 Journalist in a Nutshell
Careers in journalism are filled with excitement as well as responsibilities. One cannot afford to miss out on the details. As it is the small details that provide insights into a story. Depending on those insights a journalist goes about writing a news article. A journalism career can be stressful at times but if you are someone who is passionate about it then it is the right choice for you. If you want to know more about the media field and journalist career then continue reading this article.
Quick Facts for Journalist
Industry

Media

Average Salary in India

₹36833.33

Suitable for

Male, Female

In order to opt for a career as a journalist an individual from any section or gender can do so. It does not matter which gender he or she belongs to when it comes to taking up journalism career. There are several advantages of journalist job in India due to the vast career opportunities available in this field where an individual's gender is insignificant.

Any special needs

Yes

The career as a journalist involves providing information to common people about happenings around the world. Ideally, physically fit people join this field but from the past few years several news agencies have reserved a certain percentage of jobs for the specially-abled individuals as well. For example. The Hindu has reserved four per cent job opportunities for specially-abled individuals. Therefore, it does not matter if one is physically fit or not in order to opt for a career as journalist. There are several responsibilities to be carried out as a journalist apart from being on the field, one can become a desk journalist as well.
Table of Contents for Journalist
What is the role of Journalist?
Individuals who opt for a career as a journalist are storytellers. Journalist people also search for stories on everything, from social and political issues to sports and entertainment. He or she writes and reports news stories. The journalist provides details so that people can formulate opinions and make informed decisions. But, being a journalist in India and getting to this point takes a lot of legwork, when the spread of fake news on rising. A journalist spends time using news releases and developing story ideas, verification of facts, researching and investigating a single topic in-depth, and interviews. A journalist's workplace may vary depending on his or her roles and responsibilities. Individuals in journalism career path may work for various news sharing platforms with varying responsibilities such as broadcasting news, reporting there, photography and content production, including videos, social media platforms or even in the print media.
Story ideation
As a journalist is considered a storyteller, the first step to become a storyteller is to have a story idea. A journalist needs to find a lead or a story which he or she wants to cover. The story idea is generally from the niche or the beat in which the journalist works for example, politics, sports, entertainment, education, so on and so forth.
Types of a Journalist
In this section, we will be discussing the different types of journalism jobs in India.
Columnist: A columnist is an individual who writes for publications in a series, creating an article that usually offers commentary or personal opinions of the author. These columns appear in newspapers, magazines and other publications, including blogs. They take the form of a short essay by a specific writer who offers a personal point of view.
Reporter: An individual's job as a reporter of a newspaper, magazine, news agency, radio or television channel, will be to report with swiftness, clarity and accuracy. A reporter must have an intellect to distinguish a story and objectivity. It will be very important in this role. A reporter is accountable for the credibility of news stories. There are several qualities of a reporter that makes him or her crucial for a news organisation. Such qualities include eye to detail, strong networking, communication skills, persuading skills, investigation and fact-checking skills. Depending on the beat, there could be several types of reporters such as political reporters, entertainment reporters and crime reporters.
Article Writer: An article writer is someone who writes a short piece, for example a food article, product review article or a travel essay. He or she can write for various magazines, using precise and 'to the point' language to make the article informative and enjoyable to read. Having specialised knowledge is excellent, as essays are often needed in medical, technical or commercial journals.
Online Author: An online author is a person who is accustomed to visiting and writing articles or short stories on websites and blogs. The internet is a great way to provide an amateur writer with a store for showcasing creative work, enabling him or her to learn and improve the writing skill level as one rises to the top of his or her writing career.
Also read - Career as a content writer
What is the workplace/work environment of Journalist like?
A desk journalist spends most of his or her time in the office environment itself. On the other hand a field journalist needs to go out in the field, collect information and then file the story. A journalist job is both physically and mentally demanding. It is a job for people who do not like monotony. The functioning of newsrooms for various platforms such as broadcast media, print media and digital media varies. Excellent writing skills are crucial in this field. There are numerous career opportunities for aspiring journalists in India.
Does Journalist require travelling?
Likely
As a journalist one is required to travel locally a lot in case there is a story that is breaking. Individuals who opt for a career as a journalist need to travel every now and then depending on the requirement of a story or in case of any event that is to be covered. Desk journalists or news editors do not require travelling on a regular basis. While a reporter who is considered a credible source for further distribution of news as he or she is the one who researches, gathers facts and travel to places to meet the concerned person, officials, family members of victims or accused can not do without travelling. He or she reaches to places of crime scenes to report and get bites of people.
Employment Shifts
Full Time, Work From Home
The employment shift of a journalist in India is full-time in nature. The duration is generally ranging between 40-45 hours a week. It often stretches depending on the workload of the individual. Many times there are incidents that can happen late at night, a journalist is required to cover that as well. The work shifts of a journalist in India vary. A news organisation functions 24 hours a day. Work shifts get changes from time to time. Journalists work on early morning shifts, mid shifts and night shifts. Individuals in the journalism career path do not have the luxury to get weekends off but he or she gets leave once a week or twice in bigger news organisations, which can be any day not necessarily Saturday or Sunday. On several cases, news editors can work from home but that is not the case with reporters.
Employment Nature
Permanent, Contractual
The nature of employment of a journalist is permanent in nature. A firm hires him or her on a full-time basis. The role of a journalist is considered one of prominent roles. He or she can be required to work in almost all kinds of scenarios as it is a journalist job to provide information to the people. Several news organisations hire journalists on contractual basis to provide content with news value regional languages. In such cases local bilingual candidates are preferred. There are numerous employment opportunities for a journalist in India. Digital media is booming at a rapid rate. It offers various roles for journalists from gathering and editing news content, adding facts and analysations.
Work Place
On-Field, Newsroom, Studio
A journalist workplace varies depending on the news-sharing platform. The functioning of newsrooms also varies. A satellite news channel's newsroom is different from the newsroom of a newspaper. Similarly, radio news broadcast or podcast is different. In career as journalist, individuals may work in the newsroom, on-field or studio. A desk editor spends most of his or her time in the newsroom while a news anchor gets get up in the makeup room, researches in the newsroom and presents news in the studio.
Presence in Geographical Area
Semi-urban, Urban
A journalist mostly functions in an urban or semi-urban location. The headquarters of major news organisations are set up in urban and semi-urban areas. In rural areas, if some incident occurs then people from the nearest branch of a media house are sent. There is a network of stringers spread across various locations including rural, semi-urban and urban areas. These stringers cover stories and provide them to news agencies and the input departments of news organisations. Reporters are sent to cover exclusive stories in urban and semi-urban locations. Individuals in journalism career paths are often sent to rural areas to break big news stories.
Time Pressure
Likely
A journalist job is time bound. He or she constantly works under time pressure. A newspaper needs to be published on a daily basis, TV channels have a schedule as well. Therefore, deadlines are staple in the field of journalism. If you are planning to opt for a role of a journalist, then be ready to work under frequent time pressure. In the newsroom of electronic media, everything happens so instantly as they have scheduled back to back programmes and it works for 24 hours of day. There are no fixed schedule for lunch breaks. Colleagues have to coordinate with each other to take lunch break. A little mismanagement can cause chaos in the newsroom and also affect the credibility of organisation.
Overtime Details
Individuals in journalism career path often requires to work overtime in order to meet the desired target or deadline. On several cases, a journalist may require to do double shifts and work 15 hours. In such situations, he or she gets compensatory off for the next working day.
Weekly Hours of Work
Min 45 Hours
Individuals who opt for a career as a journalist do not have a minimum work hour condition but one does have a target to complete. Each reporter needs to file the required number of stories which is set as a target. His or her work hours often get extended due to travelling to various locations for covering news stories. But a desk journalist generally works around eight-nine hours a day on average.
How to become a Journalist?
Steps to become a Journalist
What are the skills and qualities required to become a/an Journalist?
In order to opt for a journalism career path, you are required to possess several skillsets. We have mentioned below the required skills for a journalism career path in India.
Writing Skills: Even if it is English or any other language, one needs to be skilled at communicating clear ideas and thoughts. Most journalists will start writing before the start of their work. It is not just about good writing, but also about building knowledge of various writing styles. A good way to develop this skill is to maintain a good routine of reading and writing. In this day and age, it is much easier to maintain an online presence through personal blogs. Find out how to get work published and get out when you want to be criticised.
Technical Skills: While many journalism courses focus on training the students in the complexities of print, publishing, audio and video journalism, and digital journalism, one should also familiarise himself or herself with the technical knowledge of how to officially get words for example, on a digital website.
Investigation Skills: Every journalist is expected to be fully committed to any article. In order to know current news, to know where to look, how to find the story, to research the story and finally, to tell the story in an unbiased, non-corrupted and precise way. This requires a level of perseverance and commitment that goes hand in hand with journalism.
Work Ethics: This is in line with the quality of work. A piece of journalism not only needs to be real, it must also be factually correct. Therefore, it is important to understand the ethical requirements in order to be a conscientious journalist. One who is free from the pressure to pander to sensationalism for commercial purposes.
Popular Online Arts And Crafts Courses and Certifications
Which certifications and internships can be helpful in becoming Journalist?
We have mentioned below certifications that individuals may opt who want to establish a career as a Journalist.
Internship Availability
Yes
Journalism internships are considered the best possible way for gaining entry-level experience in the media industry. Since the field of journalism in India is very competitive and unforgiving in nature, one must have an idea of how a media house runs before he or she joins it professionally. Internships provide a journalism student the opportunity to apply the theoretical knowledge he or she gained during their time in journalism college, to bring them in practical use. Not only that, but internships also enable the candidate to make connections in the field for future use. If he or she performs well during the internship several companies or organisations could also hire the candidate on a full-time basis. The candidate can get an internship either through an online medium or he or she could also contact his or her known working professionals of news organisations to ask about the internship role.
Career Path Progression for Journalist
Photojournalist: A photojournalist uses photography as a way to report the news. One can combine events with a journalist, take pictures to represent written stories or attend events on his or her own, doing both activities. The photographer must be in charge of the photography equipment and must make immediate decisions to capture important events during the event. From time to time, he or she may experience physical danger, crowds, or adverse weather conditions.
Feature Author: A feature author writes longer and detailed stories, which provide additional background to the news story. This type of writing involves a lot of in-depth research to come up with a longer and more informative article. Sometimes the research work can take as long as years to complete.
Sub-editor: The job of a sub-editor is to take news articles and submit them to a form that suits the specific needs of a particular newspaper, magazine, or website. A sub-editors do not collect the information himself or herself but instead focuses on how the existing issues can be better adapted to suit specific audiences.
Editor: An editor is a person who is in charge of deciding what is going on in a newspaper, magazine, or news report. As an editor one is committed to content that should be written by journalists and make all final decisions keeping the well being of the hiring company in mind.
The salary of a journalist varies depending on his or her skills, specialisations and experience. A journalism intern can expect an stipend of up to Rs. five to ten thousands per month. An entry-level journalist earns an average monthly salary of Rs. 15,000 to Rs. 20,000 per month. The average salary of a journalist is Rs. 30,000 per month. A journalist is promoted to upper positions such as senior journalist, sub-editor, executive editor, editor, head of the news department and editor in chief with experience in the industry.
Journalist Jobs and Salaries
Photojournalist
Monthly Salaries
Average Salary

32000

Junior Level Salary

30000

Senior Level Salary

40000
Job Description
A photojournalist is someone who is responsible to capture the pictures related to a specific story. A picture is important in a story as it adds a lot of value as well as a visual representation of the incident.
Salary Description
The salary of a photojournalist majorly depends on which beat he or she is working for. An individual is paid comparatively more in a beat like sports than in civic or educational beat.
Feature Author
Monthly Salaries
Average Salary

38500

Junior Level Salary

38000

Senior Level Salary

42000
Job Description
A feature writer in any media house is generally a person who at least has a few years of experience if not many. As a feature writer one's job is to find the possible links or background in a story.
Salary Description
The salary of a feature writer is decent. It increases as and when the writer establishes himself or herself. Once a feature writer has written a few write-ups and gained experience of a couple of years his or her salary keeps on increasing.
Sub-editor
Monthly Salaries
Average Salary

40000

Junior Level Salary

39000

Senior Level Salary

45000
Job Description
The job of a sub-editor is to go through the stories filled by journalists. He or she is responsible for removing grammatical errors or check if there are any factual errors. After that, he or she forwards the story to the editor.
Salary Description
At the job position of a sub-editor, the primary factor that affects the amount of salary is the years of experience. More the work experience, more is the salary as a long term of work experience would sharpen the individual's skill sets as well.
What is the job outlook for Journalist?
A candidate who wishes to opt for the role of a journalist may experience quite a significant job growth. As and when the individual gains knowledge and experience he or she steps up the ladder of designation in the field of a journalism career. Since the field is vast and it continues to grow, there are plenty of job growth opportunities. Depending on the individual's track record of handling previous stories, he or she can be promoted. Journalism career used to be a very closed field, especially for fresh college graduates a few years ago. But, ever since digital media has taken over more and more journalist job opportunities are opening up for students in the field of journalism and mass communication.
Currently, the scope of journalism is very bright. There are numerous job openings in various fields. For example, print journalism involves the newspaper, magazines, journals, digests and text print media agencies. Electronic media involves TV, the internet and radio. Web journalism is one of the fastest-growing divisions of journalism and is very effective at connecting the world at the same time. The face of media has been transformed entirely in the past decade, it is shifting extensively towards the digital space.
Student Also Liked:
Frequently Asked Questions for Journalist
Que. Is journalism a respected career?
Ans.
Presently in India, journalism has become a prestigious career choice for many students. Journalism is a challenging field and it is playing a key role in the development of the nation hence, it is a respected career. The role of a journalist in India is considered reputed as a journalist career aims at seeking justice for those whose voices are made silence. A journalist is considered as the voice of common people.
Que. What are the main types of journalism?
Ans.
The main types of journalism are print journalism, TV and radio journalism and digital journalism.
Que. Can you get a journalist job with no experience?
Ans.
It is not necessary to have job experience before becoming a journalist. But, one must have completed a bachelor's degree in the related field. With more and more job openings one could get a job with no experience quite easily in digital media.
Que. Is it dangerous to be a journalist?
Ans.
Journalists are exposed to dangerous conditions at times. One may have to go and cover a story in for example, a flooded area or a bomb blast tragedy. But, it depends on which beat a journalist is working. On a general basis it is not really a dangerous job.
Que. What is a journalist salary?
Ans.
The salary of journalist varies depending on their skills, specialisations and experience. There are numerous other factors that affect the salary of journalist. Such as the size of the news organisation and area where it is located. The average salary of journalist is Rs. 30,000 per month.
Que. What is the difference between a columnist and journalist?
Ans.
A journalist works either on contractual or permanent basis with a news organisation. He or she provides, edits or represents news stories to readers, viewers and listeners. A columnist occasionally writes for newspaper and magazines. He or she presents his or her personal opinions on a news story or recent happenings.
Que. What degree do most of journalists have?
Ans.
A bachelor's degree in any specialisation is mandatory to opt for a role of a journalist. The career as a journalist requires excellent writing skills to convey information to common people without any cconfusion. A bachelor's in journalism and mass communication is a major degree opted by most of aspiring journalists.
You might also be interested in
The question have been saved in answer later, you can access it from your profile anytime.
Access now
Report Question
Select your reason of reporting