Masters in Engineering Management (MEM) is a professional master's degree specifically designed to bridge the gap between engineering, technology, and management. A degree (Masters) in Engineering Management is a better option for engineering graduates who want to amalgamate their technical skills with business discernment and thus advance toward top lucrative jobs in engineering management. In this article, we will explore top engineering management jobs that promise a lucrative career like a project manager.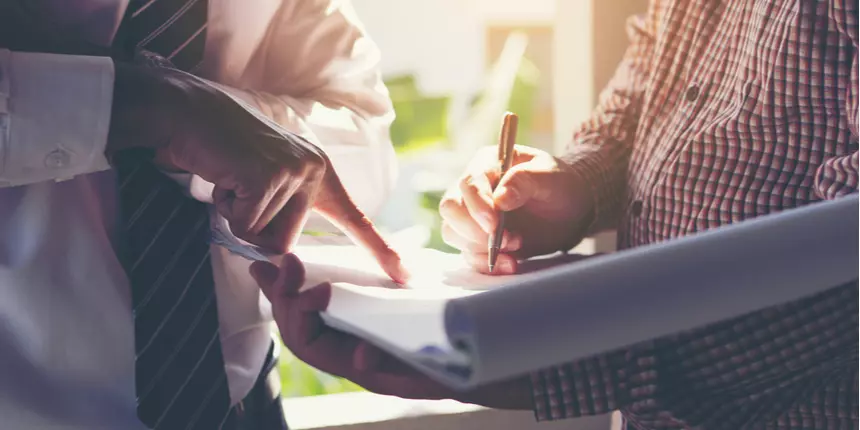 Top 10 Job Opportunities after Engineering Management (EM)
There are myriad engineering management career paths you can look for both in India as well as abroad. These engineering management jobs in India are ideal for those who have an equal interest in management as well as in manufacturing new products and machines. A Master's in engineering management gives a wider standpoint to work out the complications accompanying more complex and convoluted business systems. Not only does the programme provide in-depth technical and managerial skills, but also imparts the required amount of training to operate with individuals belonging to varied cultures and environments and help them find job opportunities after Engineering Management.

Candidates who are confused as to which jobs can be good for their career after the Engineering Management course can check the following job opportunities after Engineering Management presented by Careers360 in this article.
Read more - Top Engineering Management Colleges in India
Scope of Engineering Management (EM)
Modern-day engineers need a perspective that is multidisciplinary, and multifaceted and will enable them to resolve today's composite issues. The more they are well-versed in engineering management, the better they will be able to gird up their loins to come up with creative ideas and remedies that are benevolent and environment-friendly. Companies and organizations are interested in recruiting for jobs in engineering management to get professionals who know how to amalgamate technical prowess, shrewd business acuity, and efficacious interpersonal expertise.
Affluent engineering managers know that they should take a desegregated perspective of management so that they can smoothly run serviceable activities, meet deliverables within the given time, and attain organizational goals. Professionals in engineering management jobs are proficient in their technical domain of adept, as well as, business, law, ethics, technology, and leading teams.
The field of engineering management is expected to grow at a rate of 9% throughout this year. We can presumably predict increases in fields like research and development, architectural engineering, biomedical, and environmental engineering. Due to the increasing demand for jobs in engineering management, it is a given that companies will prioritize candidates with advanced technical knowledge, excellent interpersonal communication skills & expert business management, and financial skills.
These engineering management jobs require skills in effectively utilizing technical, financial, and human resources effectively. These jobs in engineering management additionally hone their abstract skills like critical thinking, analytical thinking, and problem-solving. Training not only helps engineers advance their careers, but, it also contributes to the goals of their organization in ways that are impactful to the clients they serve and therefore the population at Giant.
Job Opportunities after Engineering Management (EM)
Thanks to the vast topics being covered under the subject, it helps in understanding both the managerial as well as the production-oriented side of the business in-depth. This translates roughly into the below-mentioned job opportunities after Engineering Management that not just pay well, but are also very exciting in terms of the work they involve. Some of these are -
| | |
| --- | --- |
| Job | Estimated Salary |
| | Rs 3, 90,000 p.a. |
| Project Manager | Rs 6,20,000 p.a. |
| Cost/System Analyst | Rs 2,82,000 |
| Operations Manager | Rs 7,77,000 p.a. |
| Technical Manager | Rs 19,35,000 p.a |
| | Rs 10,00,000 |
| Architectural and Engineering Managers | Rs 4,00,000 to Rs 5,00,000 |
| | Rs 5,00,000 to Rs 6,00,000 p.a. |
| | Rs 5,16,000 p.a. |
| | Rs 8,00,000 p.a. |
(Note: All the details mentioned in the table above have been accumulated by the team at Careers360.)
1. Project Engineer
A Project engineer is an individual who looks after the technical staff on engineering plans inside the company, guaranteeing that projects are completed well within time, within the assigned budget, and within the project stipulations Their major responsibility includes making certain potency within the given task and providing effective communication between the project manager and also the technical employees concerned within the project. These jobs for engineering management will require you to have an MBA in engineering management.
Average Salary- Rs 3, 90,000 p.a.
2. Project Manager
A project manager with such jobs for engineering management may be a skilled person who looks after the design, procurance, and execution of the project in any definite endeavour. Project managers do not always directly engage in the project making but are active members in the decision-making, maintaining progress, and mutual interaction amongst the team members. Aspirants pursuing an MBA in engineering management or those with a master of engineering project management degree are well-suited for this profile.
Average salary- Rs. 6,20,000 p.a.
3. Cost/System Analyst
Those who've completed MSc in engineering management can go on to pursue jobs in engineering management as cost analysts. A cost analyst is a professional who analyses the cost of a company, and the use of the available resources, and comes back with a report with such analysis for management to make appropriate decisions.
A systems analyst is an individual who avails himself of analysis and design approaches to resolve business complications utilizing information technology. Systems analysts might aid in recognizing the organizational improvisations required, design systems to enact those changes, and instruct and persuade other people to use the systems.
Average Salary- Rs. 2,82,000
4. Operations Manager
An operations manager is concerned with the management of delineating and administering the procedure of producing and rearranging business operations in the manufacture of goods or aids. The professional working in operations management is accountable for confirming the sleek and economical operation of companies in terms of resources and client needs. The operations function requires the administration of the well-planned and daily proffering of merchandise and services. You will need to pursue an MS degree in engineering management to gain a hike in your salary after some time.
The average Salary for operations management professionals is around Rs. 7,77,000 p.a.
5. Technical Manager
A technical manager is one who has advanced, technically strong skills as well as a strong social network. These professionals are required to perform tasks that are usually undertaken by the technical efficiency department and need to ensure that all systems within the company's internal functions are up-to-date. They also further aid in diagnostics as well as other similar problems in the equipment.
The average Salary for those pursuing technical management jobs is around Rs 19,35,000 p.a.
6. Nuclear Engineer: Nuclear engineers are tasked with exploratory and scientific tasks that involve research methods, testing of materials, and creating infrastructural systems that allow them to create nuclear energy. These engineering management jobs involve the creation and testing of medical diagnostics procedures as well as cure-related equipment. Nuclear engineers in India earn up to Rs. 10,00,000 which makes it a viable career option for engineering management graduates.
7. Architectural and Engineering Managers Architectural and engineering managers conceive, carry out, and look over substantial architectural and engineering companies. They make an average annual salary of Rs. 4,00,000 to Rs. 5,00,000.
8. Aerospace Engineer: Aerospace engineers are tasked with creating new-age aircraft, jets and missiles among other weaponry, which are important for any country's space exploration ambitions. Aerospace engineers in India make an annual salary of around Rs. 5,00,000 to Rs. 6,00,000 per annum.
9. Chemical Engineer: This professional involved in chemical engineering is tasked with designing, developing, and testing of chemical compounds that can be used to streamline various industrial processes. A chemical engineer in India earns an annual salary to the tune of - Rs. 5,16,000 per annum.
10. IT Manager: An IT manager is tasked with streamlining, controlling, and procuring all the information systems-related equipment, tools, and processes for an IT-based organization to ensure efficient operations for the company. IT managers in India can earn a starting salary of Rs. 8,00,000 annually. Thus this is one of the best jobs after masters in engineering management in India.

Apart from the above-mentioned job profiles an MBA in Engineering Management gives a plethora of opportunities, such as:
IT consultant

Web application developer

Business analyst

Intelligence officer

Support technician

Project manager

Network Engineer

Data security analyst

Social media strategist

Web designer/administrator

Technical/new media writers and producer
Conclusion
Engineering management is the field that equips professionals with leadership technical knowledge and skills to manage engineers. As the field of engineering is vast and provides a plethora of opportunities, engineering management courses are a better option to pursue to start a lucrative career. Hope this article helped you figure out some of your career options after the engineering management courses.