Who is a Aerospace Engineer?
I think of space, not as the final frontier but as the next frontier. Not as something to be conquered but to be explored ~ Neil deGrasse Tyson
If stars and space travel have always fascinated you, if you are interested in creating space vehicles and want to be surrounded by some of the most brilliant minds on the planets then becoming an aerospace engineer is something you should aim at. There are so many different types of engineering fields but students often get fascinated with the name aerospace engineering and why shouldn't they, as it is one of the finest of all engineering streams. Aerospace engineers are professionals who not only design aircraft, spacecraft, satellites, and missiles, they also create test vehicles to ensure optimum functionality. Aerospace engineers develop new ideas and technologies that can be used in defence systems, aviation, and spacecraft.
While understanding who is an aerospace engineer, one should also understand what is aerospace engineering? Aerospace engineering is a branch of engineering which deals with study, design and development of aerial vehicles such as aircraft and spacecraft. Be it flight technology or aerial defence systems, there are a number of aspects aerospace engineering looks into.There are several types of aerospace engineering branches, which have been mentioned in the article.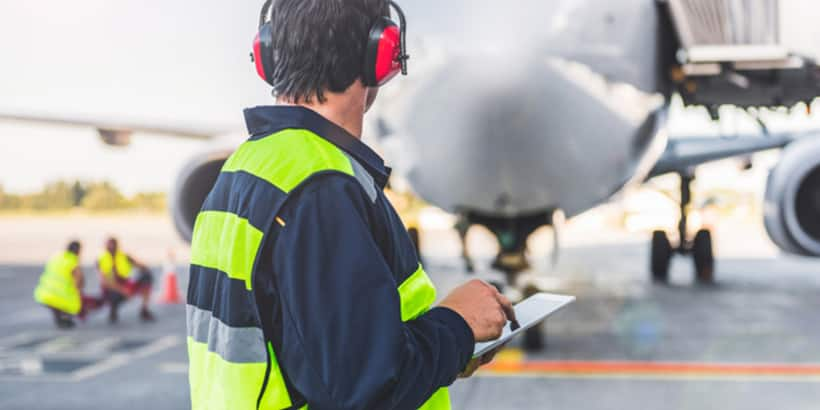 Aerospace Engineer in a Nutshell
Aerospace engineering deals with employees who design or build missiles and aircraft for national defense, or spacecraft. Aeronautical and Astronautical are two major branches of Aerospace engineering. Aerospace engineering or aircraft engineering is often referred to as rocket science.
Quick Facts for Aerospace Engineer
Industry

Technology

Average Salary in India

₹55000

Suitable for

Male, Female, Others

The career of and aerospace engineer is not gender-specific. Anyone who has the capability irrespective of gender can become an aerospace engineer.

Any special needs

Yes

Aerospace engineers often need to work as flight crewmen and do such physical tasks, which are not possible by those who are physically handicapped. Therefore, this profession is better suited for those people who are physically fit as far as the field area is concerned. However, there are certain areas where physically challenged people can also work, provided their disability does not hamper the tasks assigned to them.
What is the role of Aerospace Engineer?
Aerospace engineers are responsible for designing aircraft, satellites, spacecraft, and missiles. Design, manufacture, and testing of aerospace products are the basic jobs of aerospace engineers. Engineers make proposals for projects which are technically and financially viable. Aerospace engineers also have to take care of several projects and not only ensure their delivery, but also meet the quality standard. Aerospace engineers also look for the faults in the aircraft and the missiles and determine the solutions of it. Aerospace engineers need to look at whether the products meet environmental regulations, principles, and customer requirements.
Designing
Aerospace engineers design, repair, and improve air and spacecraft, elements, materials, safety regulations, and manufacturing processes with the help of scientific methods.
Analysis
Aerospace engineers research and analyze the information to develop designs of the aircraft and solve problems.
Assembling
Designing and assembling computer systems, control panels, propulsion systems, guiding systems, are also some of the areas they look into.
Prepare reports
Aerospace engineers create design proposals, reports, and also other technical documents.
Advisory
Assisting in projects and providing technical advice is also a part of their job as aerospace engineers.
Types of a Aerospace Engineer
Operations technicians: Maintaining the equipment that is used for developing, testing aircraft, and spacecraft are some of the prime responsibilities of an Aerospace Engineer. Nowadays engineers are using computer-based devices to process the work efficiently and also on time. Aerospace engineers often use advanced automation and robotics for better results.
Architectural and engineering managers: Architectural and engineering managers plan, direct, and also give inputs in production for architectural and engineering companies. The individual is required to supervise a number of activities such as activities related to construction, production, and operations. They are often involved in testing, quality check, and assurance at manufacturing factories as well.
Computer hardware engineers: The primary responsibility of a computer hardware engineer is to research, design, create, and test the computer equipment that might be used for space flight or is used in space vehicles. It is their job to ensure that all the computer hardware works perfectly and that there are no glitches. They also make sure that memory devices, processors, and circuit boards are compatible with each other.
Electrical and electronics engineering technicians: Helping in designing and developing computer systems, equipment, monitoring devices, and other electronic equipment are some of the basic jobs of electrical and electronics engineering technicians. They are also involved in the manufacturing equipment for automation.
Industrial engineers: An industrial engineer's main responsibility is to check and maintain the overall equipment effectiveness systems and the stability of the manufacturing systems. He or she is also responsible for conducting equipment and assembly line audits to ensure that everything runs smoothly. Equipment design and safety too form an essential part of an industrial engineer's job profile. Industrial engineers also work on developing manufacturing processes.
Materials engineers: Materials engineers develop, process computer chips, and aircraft wings. They are often involved in the research and development of materials that are optimal for building a spacecraft or the components that are used in them. They keep experimenting in order to find an alloy that can be used for space crafts. Since material science is an evolving segment, materials engineers have to constantly develop and test new types of material alloys.
Also read - Career as a flight engineer
What is the workplace/work environment of Aerospace Engineer like?
Aerospace engineers and technicians work in several places like laboratories, manufacturing and industrial plants, and offices. Aerospace engineers generally work in offices, where they have access to computer software and other tools necessary for analyzing projects and designing solutions. They also take care of the navigation and other systems and equipment. When these engineers are working specifically for the satellites, and missiles they need to use the computer-aided programs to create design solutions and are also involved in bigger solutions processes.
The workspace of aerospace engineers is specifically designed according to their work profile. These days aerospace engineers go through a lot of data, hence they tend to spend a lot of time analysing that data. This is usually done in a laboratory or in an office setup. Time spent on the field has also increased significantly.
Aerospace engineers also handle sophisticated computer equipment and design tools that are used for designing modern crafts. Such systems are also used for creating models and tests simulations for evaluating aircraft.
Does Aerospace Engineer require travelling?
Likely
Generally, aerospace engineers may travel but not as much as mechanical engineers or civil engineers do. For example an engineer working in the design department of Boeing or Lockheed Martin can have a desk job and never travel. Aerospace engineers do technical work in the field and for a particular reason, they often do visit fields. For instance, aerospace inspectors mainly do this kind of fieldwork to review products or to ensure employee training, design specifications, and safe operating conditions.
Some of the aerospace engineers regularly travel to vendor locations for inspection purposes. Aerospace engineers properly and timely communicate any anomaly in the aircraft or spacecraft structure, and also document all noncompliance and assist with recommendations,while fulfilling other requirements. This career needs a certain type of commitment.
Employment Shifts
Full Time
Like every other job, the job of aerospace engineers needs a specific type of commitment regarding work culture or shift timing. This job can not be done from home and it requires seriousness and undivided attention. The job of aerospace engineers requires candidates to be on their feet. Previously we have just mentioned seriousness but it also requires particular qualities. The qualities that candidates should possess are intelligence and curiosity. It is a full-time course and it is very rare that an aeronautical engineer works from home or works on a part-time basis.
Employment Nature
Permanent
The aerospace engineering or more specifically the aviation industry not only influences recreation and defense but also in shipping and trade. Aerospace engineers generally work for government agencies, defense systems, and scientific services. In most cases, aerospace engineers work in an office environment with computer systems. Sometimes they may be required to visit the field to test the air vehicles that they have designed.
Work Place
Office
Presence in Geographical Area
Urban
Offices of aerospace engineering are mainly located in urban areas like Pune, Bengaluru, and also in other metropolitan cities. But it is also noted that most engineers go out of India for better job opportunities. The National Aeronautics and Space Administration hires many Indian scientists and engineers. Though the number of jobs is less compared to other industries, it is one of the finest courses in the engineering domain.
Time Pressure
Likely
Most aerospace engineers are required to work for a typical 9 hours per day. They usually spend most of their working time in offices and aeronautical laboratories. They might be required to work for long periods during the end time of the project to ensure and verify their work. Apart from this, there can be a certain amount of time pressure.
Overtime Details
Typically, aerospace engineers work for 9 hours per day. The working hours exclusively depend on the role and responsibilities of an engineer. The aerospace engineers with a considerable amount of experience are required to work for long hours usually than the normal working hours.
Weekly Hours of Work
Min 45 Hours
Aerospace engineers may need to extend their shift or work time due to many reasons. The work hours primarily depends on which sector the aerospace engineers are working in and on their commitment towards their work. Aerospace engineers need to work nine hours a day. The shift time or the work culture is high paced and dynamic too. A lot of mental and physical effort is required for the work environment. Aerospace engineers may work overtime while trying to meet the deadline like in any other profession. They might work day, evening, or night shifts in manufacturing companies. They may work for more than forty hours a week when it is required and there are many circumstances where the job may get extended. Calm, composed and hardworking people are only capable of doing this strenuous job.
How to become a Aerospace Engineer?
What are the skills and qualities required to become a/an Aerospace Engineer?
Critical Thinking: Aerospace Engineers should be able to think logically to identify the strengths and weaknesses and find solutions, conclusions or approaches to the problems. They need to think out of the box to bring out the best solutions for the problems.
Scientific Skills: Aerospace Engineers should possess strong science skills. The candidate needs to understand the minute details of the subjects, whether it is chemistry or physics. Physics is one of the core subjects of aerospace engineering.
Attention to Safety: Aerospace Engineers must know how to manage extreme conditions and make everyone feel safe who is present in the aircraft. Aerospace Engineers should not have anxiety issues and should be calm and composed during emergencies.
Listening: Aerospace engineers are required to pay attention to what the people are saying. Engineers might take longer than usual to understand key points. Aerospace engineers should question if they are not clear about a particular concept. Also, while clearing their doubts, they should know when to interject. Asking a question at the right time is important.
Supervisory skills: Aerospace Engineers should monitor or assess the performance of individuals and as well as organizations to make improvements in the work.
Communication skills: Writing skill is required for writing reports and speaking efficiently can help people to convey information effectively to others.
Problem-solving ability: Aerospace Engineers must possess problem-solving ability and they should stay with the spirit of finding a solution to every problem. As an aerospace engineer one might face a lot of unexpected situations at a moment's notice, this is where the problem-solving ability of aerospace engineers come in.
Time management: Like every other profession, Aerospace Engineers should also manage his or her own time in an efficient manner. It is important for professionals to possess exceptional time management skills. There will be a lot of tasks to be completed in a single day, hence it is important to time management skills. Not only professionally, in order to have a work-life balance, but time management can also be extremely useful.
Leadership skills: Teamwork and leadership qualities form an essential part of an aerospace engineer. An aerospace engineer should work well in a team and should know how to supervise and lead the team effectively. Quality management is something that all engineers should strive for. They should know how to manage adverse conditions in the absence of higher authority.
Social orientation: The job of aerospace engineering requires working in teams rather than alone, so it is important for them to stay connected with others on the job. Social orientation also means to be empathetic and be sensitive to the needs of others on the team.
Which certifications and internships can be helpful in becoming Aerospace Engineer?
Internship Availability
Yes
Those who are still doing their internships, should have a complete knowledge of the primary areas. During internships, students or graduates usually stress upon the important topics related to the field. Mechanics, Dynamics, Thermodynamics, Materials science, Robotics, Structural analysis are some of the areas that an intern is exposed to. These internships help the interns to focus on the demands of the aerospace industry. Once the internship is concerned, and students are familiar with the work environment, they can start applying to organisations for a full-time job.
Career Path Progression for Aerospace Engineer
Mechanical Engineer: Various parts of airplanes, rockets, and missiles can be made to work better and more efficiently. Mechanical engineers plan and research these potential vehicles, regardless of whether they are huge stream motors or small sensors, to develop better aviation technologies for the present as well as future use.
Data Processing Manager: Nowadays supercomputers create advanced aircraft designs that have more durability and are less prone to wear and tear. In aeronautics jobs, data processing managers gather the information in several systems and try to find out new solutions, which they want to bring out in the market as soon as possible.
Aerospace Technician: Aerospace technicians are some of the most important people in aerospace engineering. Aerospace engineering install, maintain, test, and repair equipment that is used to develop aerial vehicles and its equipment. Aerospace technicians are an important part of any research team as well as aircraft manufacturing companies.
Drafter: As a drafter, a person is required to draw and prepare sheets and design blueprints of any spacecraft or missiles before they are being built. Drafters prepare detailed documents that show every functionality of the vehicle.
Aircraft/Spacecraft Designer: Aircraft or spacecraft designer designs commercial airplanes and also provides designs for private space flights. These designs of aircraft and spacecraft tend to become safer and efficient with each passing generation.
Military Aerospace Engineer: Military aerospace engineers give the military edge by creating innovative and new technologies that are deadlier or more efficient than the previous generation. These aerospace engineers also develop military technologies such as laser-guided weapons and drones that assist soldiers on the ground.
Aerospace Engineer Jobs and Salaries
Aerospace Technician
Monthly Salaries
Average Salary

40000

Junior Level Salary

20000

Senior Level Salary

60000
Job Description
Aerospace technicians are amongst the most important professionals in aerospace engineering. They build, operate, inspect, and repair equipment which are used to develop aircraft and their equipment. Aerospace technicians are a significant part of any team of researchers and also aircraft engineering firms.
Salary Description
The salary of the aerospace technicians is also decent, although it may be significantly lower than those of the aerospace engineers.At the beginning of their career, aerospace technicians receive approximately three lakhs, and seven lakhs and above at the senior stage of their career.
Military Aerospace Engineer
Monthly Salaries
Average Salary

70000

Junior Level Salary

50000

Senior Level Salary

200000
Job Description
Military Aerospace Engineers give the military edge by generating new and creative technological innovations that are much more convenient than the generation before them. Such aerospace engineers often improve military technology that supports military forces, like laser-guided weapons and drones.
Salary Description
Salary packages depend on the institutions from which a student graduated, and their performance during the curriculum. Candidates should expect up to an annual starting package of Rs. 7 lakhs. Military Aerospace Engineers can expect a salary of nearly twenty lakhs per annum at the senior career level.
What is the job outlook for Aerospace Engineer?
The main concerned area of aerospace engineering or aviation engineering is to build and design aircraft, missiles, and spacecraft. The field of aerospace engineering is pretty new and these days it is developing in India. This particular industry requires a huge investment and the prominent Indian government companies are Defence Research and Development Organisation (DRDO), Hindustan Aeronautics Limited (HAL), and National Aerospace Laboratories (NAL), Indian Space Research Organisation (ISRO). Apart from India, other countries such as the United States of America, also hire Aerospace Engineering graduates. The United States government hires a number of aerospace engineers for designing and manufacturing aircraft and spacecraft, besides other aerial vehicles.
The aerospace industry is a growing field, each year space research organisations such as ISRO, NASA, and the European Space Agency hire aerospace engineers. If we talk about numbers, in 2019, NASA's annual budget for that year was twenty billion dollars. Those who are interested in research, this is a perfect platform as there is plenty of funding, apart from that there are several job opportunities as well. There has been significant job growth in the aerospace industry.
As far as the future of aerospace engineering jobs is concerned, it looks strong. In the aerospace industry, there are plenty of innovations taking place and companies need people who are competent and visionaries. The future of the aero engineering industry looks strong as companies are looking into new technologies, which will make aerial vehicles more efficient. Space exploration has also picked up space and exploring new frontiers, hence better spacecraft are required. So, in the hindsight, the market growth of aerospace engineering is immense. There are and will be aerospace engineering jobs in India in the near future as we continue to improve and expand our space exploration capabilities.
Frequently Asked Questions for Aerospace Engineer
Que. How to become an aerospace engineer?
Ans.
A Bachelor's degree is required to become an aerospace engineer to enter into the field, typically in aerospace engineering. Some universities offer five-year programs that allow students to earn a bachelor's and master's degrees at the same time. All Aerospace Engineering programs are accredited by the Accreditation Board for Engineering and Technology, ABET.
Que. Is Aerospace Engineering a good degree?
Ans.
Yes, of course, aerospace engineering is a good choice to enhance the career in the aviation industry. Aerospace engineers typically do the following: direct and coordinate the design, manufacture, and testing of aircraft and aerospace products.
Que. Do aerospace engineers go to space?
Ans.
Aerospace engineers don't go to space. They evaluate the spacecraft and aircraft and also they design using computer technology and inspections conducted in testing facilities.
Que. How many hours do aerospace engineers work a day?
Ans.
Most aerospace engineers work a standard of forty hours a week. At times, deadlines or design standards may bring extra pressure to a job. When this happens, engineers may work long hours and experience considerable stress. Most Aerospace Engineers work indoors, in an office setting.
Que. What is aeronautical engineering?
Ans.
Aeronautical engineering is the branch of engineering which deals with the designing of the aircrafts and their propulsion systems. Aeronautical engineering also involves the study of the construction material of airplanes.
Que. What is the difference between aerospace and aeronautical engineering?
Ans.
The primary difference between aerospace and aeronautical engineering is that aerospace deals with vehicles and crafts that fly inside and outside the earth's atmosphere, whereas, aeronautical engineering deals with crafts that fly inside the earth's atmosphere.
You might also be interested in
Questions related to Aerospace Engineer
Showing 5 out of 5 Questions
The question have been saved in answer later, you can access it from your profile anytime.
Access now
Report Question
Select your reason of reporting