Who is a Project Manager?
Being a Project Manager is like being an artist, you have the different colored process streams combining into a work of art ~ Greg Cimmarrusti
Project managers are the individuals who are responsible for all project management duties. In order to accomplish certain corporate objectives, project managers are responsible for organising, leading, gathering, monitoring, and managing work and activities. Project managers are problem solvers who excel at time management and integration, and are great communicators. Project management professionals often employ project managers to create projects in order to reduce costs and raise sales. Project manager jobs require candidates who pursue Information Science, Computer Science, and Bachelor of Business Administration. In this article, we have discussed some commonly asked questions like how to become a project manager, the project management career path, project management skills, and scope of management.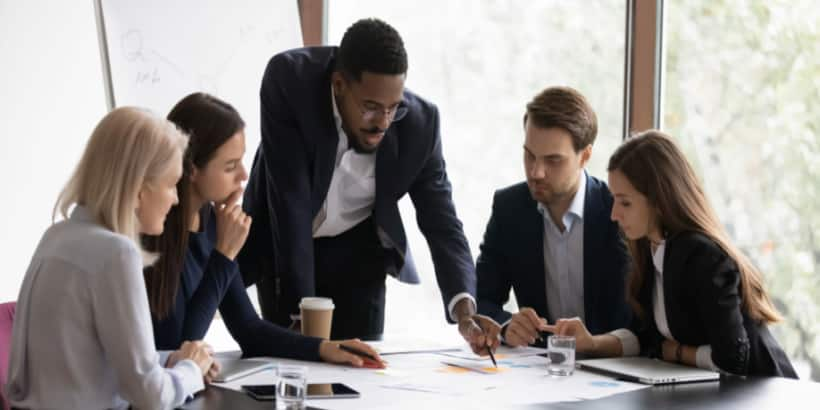 Project Manager in a Nutshell
Project management refers to the method used to organize and manage the resources required to successfully complete a project. They are the dedicated, skilled professionals who determine whether the project will succeed or fail. Project planning, implementation, monitoring, supervision, and closure are the responsibilities of PMO managers. In the project management career path, they are responsible for the complete project management process, project methodology, and resources, as well as the project's success or failure.
Quick Facts for Project Manager
Average Salary in India

₹115000

Suitable for

Male, Female

Individuals can take up a career as Project Managers, it is not gender-specific. Men, women, and others can choose a career as Project Managers. In India, a male and female Project Manager enjoys equal benefits because gender is insignificant in this career.

Any special needs

Yes

Everyone, including those with physical disabilities, is appropriate for individuals who opt for a career as Project Managers. The career as Project Managers is well suited to everyone, even those with special needs. They should have the desire to show the world that in all conditions, they can accomplish their goals.
What is the role of Project Manager?
Project managers develop a detailed work schedule to decide what work needs to be completed. Project management professionals monitor the budget and ensure that the project management process is completed on schedule. Project managers must be able to deal with any changes that arise and be willing to implement them as required. Individuals who opt for a career as a project manager oversee the project from beginning to end, adhering to the schedule. PMO manager keeps employees informed about the progress of the project and deals with any problems that arise. The technical project manager ensures that the project achieves all of its objectives and provides all of the strategic objectives.
Resource Links for Online MBA
Planning
A project manager must develop an impact plan that requires a detailed list of project-related activities. A project manager's primary responsibility is to plan. The project manager must determine the project's scope and create a plan based on it.
Managing Team
Another important work of project managers is to make notes of their team's efforts on detailed spreadsheets, thorough worksheets. It is their responsibility to coordinate their team so that they can perform at their highest levels. Project managers must also be aware of their teams' strengths and limitations in order to assign tasks appropriately.
Monitor progress
The majority of a project manager's time has been spent overseeing the progress of projects. Once the project has begun, the project manager must assess how far it has progressed and whether it is proceeding as planned. In the middle stages of the project, various systems such as status reports, conferences, and informal notifications are used to monitor progress.
Types of a Project Manager
In this section, we have discussed the types of Project Managers.
IT Project Manager: An Information Technology Project Manager is a professional who is responsible for overseeing all preparation, delegation, and implementation processes in order to achieve an organization's IT goals and priorities. The IT Project Manager is well-versed in the business's priorities in terms of specific requirements, and he or she assigns resources to meet these objectives.
Technical Project Manager: Technical project managers are in charge of an entirely technical project or the technical side of a particular project. They are skilled experts who can solve technical challenges, determine technical risks, and reliably forecast project schedules based on their many years of experience.
Digital Project Manager: A digital project manager is in charge of the processes associated with the management of online projects from creation to completion while remaining within budget and using a limited number of resources. Social networking, sports, ads, videos, mobile apps, SEO, events, blogs, and content creation are all elements of digital projects.
What is the workplace/work environment of Project Manager like?
Working conditions differ by location and are determined by a lot of factors. The nature of the job and the responsibilities assigned to the employee determine the working conditions. Individuals who work on project management systems work environment is an office setting in which Project Managers monitor and analyse the day-to-day operations of some particular projects. Individuals who opt for a career as a project manager maintain close communication with the areas of the process of production.
Does Project Manager require travelling?
Likely
Individuals who pursue a career as Project Managers can be required to travel to meet with the organization's clients on demand. PMO managers travel a lot, both domestically and internationally, to provide instructions and oversee major marketing campaigns.
Employment Shifts
Full Time, Part Time
Employment shifts are usually full-time for those who want a career as a Project Manager. Project managers work full-time, but shifts vary depending on the workload. Individuals who opt for a career as project managers tend to work during the daily shift, but that does not mean they are not expected to work additional shifts. PMO managers work 40 to 45 hours a week in general, with especially significant duties that often require additional shifts.
Employment Nature
Contractual, Permanent
The role of Project Managers may be permanent or contractual as well. Individuals who pursue a career as Project Managers must work within organizations and as part of a team. Individuals who want a career as a Project Manager interact with clients all over the world or consult with colleagues about projects. They can be employed for a short period of time, but they are normally hired as permanent employees.
Work Place
Offices
Individuals who choose the career as Project Managers perform duties in the office setting. This role requires both physical and mental abilities. When there is a deadline to reach, some of them will also work from home to ensure that everything is completed on time.
Presence in Geographical Area
Urban
Individuals interested in pursuing a career as a Project Manager have fewer opportunities in rural areas than in urban or semi-urban areas. Employment prospects for PMO managers are mostly found in cities.
Time Pressure
Likely
Individuals who pursue a career as Project Managers are responsible for completing specific tasks for an organization or an individual within a given time period. This is an emerging career opportunity in India that needs a considerable amount of time and emotional toughness. This work requires a considerable amount of time and mental effort.
Overtime Details
In most companies, individuals who choose the career as Project Managers work nine hours a day on a regular basis. When it comes to product releases, though, they must strive even harder. Many activities that require more effort require PMO Managers to extend the shift duration in order to complete them on time.
Weekly Hours of Work
Min 45 Hours
Individuals who choose the career as Project Managers work about 45 hours a week, or nine hours a day. Project Managers work in various shifts, but they may be required to work longer hours on some projects. Project Managers are expected to conduct different analysis and assessment during the job results, therefore regular work is done on a job site.
How to become a Project Manager?
What are the skills and qualities required to become a/an Project Manager?
Do you want to know how to become a project manager, the qualities of a good project manager or pm skills then read this entire article where we will be answering the most commonly asked questions. In order to make a career as a project manager, one must possess some project management skills. Some skills needed for project management are mentioned below:
Collaboration: Collaboration is advantageous to both employees and managers because it helps them to learn and understand how others work, think, interact, and function while they collaborate, interact, and share their ideas. This is one of the most important pm skills. To achieve a high-performing state, good project managers must have leadership skills as well as emotional intelligence.
Strategic Mindset: Strategic thinking assists businesses in determining how and when to make the most productive use of resources in order to bring the company closer to its goals. This is one of the most important pm skills. Project managers are in charge of making strategic decisions. They must prioritize the tasks and make suggestions from a wide range of sources.
Attention to detail: Attention to detail allows project managers to keep enhancing their efficiency, productivity, and output. A keen eye for detail will reveal the ability to analyze and solve problems. Attention to detail is one of the most important pm skills. Project management requires a high level of attention to detail. It helps advancement by assisting in the identification of missing details.
Which certifications and internships can be helpful in becoming Project Manager?
Internship Availability
Yes
Internships in project management are very common and important because they help you get a better understanding of the profession. Internships are the first step toward a career as a project manager. Internships in project management may easily be found on various recruiting sites. An intern in project management is responsible for tasks such as updating project documents, conducting project analysis, and assisting with record keeping. They also assist in the preparation of reports, the production of project materials, and the coordination of projects' timelines.
Career Path Progression for Project Manager
Junior Project Manager: Junior project manager s serve as a bridge between the project manager and the rest of the project team. By obtaining an initial agreement with sponsors/stakeholders, junior project managers have authority over the scope of the project. A bachelor's degree in business administration or public administration, as well as at least two years of work experience, are required to become a junior project manager.
Senior Project Manager: As the name suggests, a senior project manager is the leader of a project whose primary responsibility is to schedule, coordinate, direct, and monitor the project efficiently and effectively. Senior project managers design and introduce a project management programme to team members. Senior project managers give team members advice on every aspect of the project so that they completely understand their responsibilities and can carry them out successfully.
Project Manager Jobs and Salaries
Associate Project Manager
Monthly Salaries
Average Salary

80000

Junior Level Salary

38000

Senior Level Salary

150000
Job Description
Associate project managers act as a bridge between the project manager and the rest of the project team. They have the best possible solutions to a challenge that occurs during a particular project.
Salary Description
Salaries in this sector are primarily determined by the organization and the position that a person holds. Associate Project Managers will earn up to Rs. ten lakhs per year on average. They earn more than Rs. four lakhs per year at the beginning of their career, increasing to more than Rs. fifteen lakhs per year in senior positions.
Senior Project Manager
Monthly Salaries
Average Salary

150000

Junior Level Salary

80000

Senior Level Salary

250000
Job Description
The Senior Project Manager is in charge of leading teams to complete projects that cover several business units. The Senior Project Manager is in charge of the project's day-to-day activities. They provide guidance to the entire project team.
Salary Description
The salaries of Senior Project Managers depend on career growth or rely entirely on the experience of the particular field. The Senior Project Managers receive on average up to Rs. twelve lakhs a year. They get more than Rs. ten lakhs a year at the early stage but finally get more than Rs. twenty lakhs at the senior level.
What is the job outlook for Project Manager?
The global economy is becoming more project-oriented as project management career path becomes more common in sectors that were previously less project-oriented, such as health care, media, and professional services. When companies become more dependent on technology and numerous projects, opportunities arise. According to the Project Management Institute's (PMI) report - Project Management Job Growth and Talent Gap 2017-2027, India will develop as the world's fastest-growing country for project management-oriented jobs. According to the study project management jobs continue to outperform the overall job market.
Frequently Asked Questions for Project Manager
Que. What does a project manager do?
Ans.
Project managers, in the wider sense, are in charge of preparing, coordinating, and managing the completion of particular projects for an organization, ensuring that they are completed on schedule, on budget.
Que. What qualifications do you need to be a project manager?
Ans.
A project manager possesses the required personality, knowledge, and experience. At least three years of experience in a similar role, communication skills, formal training, and PMP certification are all common requirements to be a project manager.
Que. Is a project manager a good career?
Ans.
Project management is a good career option because you can make a decent living as a project manager. Each project you manage will be an opportunity for you to learn and develop as a project manager.
Que. What are the 5 stages of project management?
Ans.
Conception and initiation, preparation, execution, performance/monitoring, and project close are the five stages of project management, according to the Project Management Institute.
You might also be interested in
The question have been saved in answer later, you can access it from your profile anytime.
Access now
Report Question
Select your reason of reporting