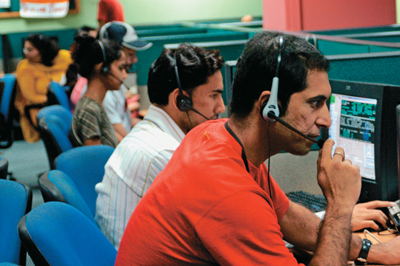 Tribhuvan Tiwari/Outlook Group
IF you think that working at a Business Process Outsourcing (BPO) or a Knowledge Processing Operations (KPO) is all about play and little work, you may to have to think again.

Agreed, some years back, the industry was viewed as a place for fun and some quick money. That, however, isn't the whole story. Now that the Indian as well as the global economy is recovering from recession, the industry is back on its feet and is on a hiring-spree.
Not just about calling
It is estimated that while 60 percent of the vacancies are in the calling area or voice-based processes, more than 40 per cent of job opportunities are in non-calling functions. In other words, BPOs and KPOs have a large number of openings in back end operations about which only a few are familiar with. So, voice-based interaction is one small part of the functions in a BPO or a KPO (refer to our more  detailed job descriptions).
 
Types of KPOs
LPO Legal Services, focuses on providing assistance to foreign legal service professionals in terms of transcribing, research and case development.

HRO Human Resources Outsourcing i.e., outsourcing functions such as payroll management, training, staffing etc, so that a client can concentrate on their core competency.

RPO Research, especially for biotech companies; Kiran Mazumdar of Bioteccoined the term

MBPO Medical Business Process Outsourcing

ESO Engineering service outsourcing i.e, product design, research and development and other technical services across sectors like automotive, aerospace, hi-tech/telecom, utilities and construction/industrial machinery.

ESO Educational Services Outsourcing. Good demand for Indian teachers, especially in Science and Maths.
Eligibility and personality traits
Graduates in any discipline are eligible to apply. In some cases, even under-graduates are considered. However, openings in the areas of Technical Support, Human Resource Management, Engineering Designs and Research Outsourcing and Finance and Accounting (F&A) would require professional qualifications such as an MBA, MCA, CA, CFA, Law, PhD, BE/BTech.

It isn't easy entering a BPO industry, though. It is an exhaustive process that includes both written and verbal tests.
General Aptitude Test
Most players in the BPO industry administer an aptitude test as part of the selection process. For example, the GAT (General Aptitude Test) at IBM Daksh is a web-based test. It comprises multiple-choice questions on analytical reasoning, numerical reasoning, grammar test, computer test (technical/semi-technical).

The verbal tests include free speech round where the candidate is assessed for language proficiency, the ability to articulate thoughts, rate of speech and listening and comprehension skills.  

For Transaction Processing and KPO-related jobs the selection process is slightly different. The selection process covers written function test, panel interview for checking subject matter, taking help of Subject Matter Experts (SMEs) and an HR interview to check if the candidate would fit in with the company's culture, says Praveen Kamath, Global Head of Talent Acquisition, Wipro BPO. He adds that for some of the critical and high-end financial services requirements there is an additional round of discussion/interview with the client to ascertain the fitment.

For inbound and outbound voice-based jobs for international and domestic markets, recruiters look for a good voice and articulation of thoughts, says DP Singh, director, HR, IBM Daksh. Other qualities recruiters look for include communication skills, grammar, proficiency in English, managerial and operational skills with leadership qualities and a strong sense of discipline. In addition, reasonable level of understanding of the domain goes a long way in helping the individual settle in quickly once he/she joins, says Kamath of Wipro BPO. Adaptability, points out DP Singh of IBM Daksh, is also important to succeed in this industry. "Recruitment avenues or channels we tap for recruiting employees includes employee referrals, walk-ins, advertisements, campus, job fairs, portals and our channel partners." says Singh.
Broad qualifications for recruitment for a beginner in:
Insurance Process
Graduates/PGs /Diploma equivalent to Graduates from any discipline, Preferably BCom, Graduates/Finance background.
Back end process
Graduate/Diploma-holder equivalent to Graduates from any discipline with good typing skills.
Voice Process
Graduate/PGs/Diploma holders equivalent to Graduates from any discipline. Engineers from other streams like Civil, Agricultural are also considered.
Technical Services
Graduate/PGs/Diploma holder's equivalent to Graduates from any discipline, Preferable Bask/BCA.

Graduates/Tech Diploma Engineers from mainstream (Software/Computers). Engineers from other streams like Civil, Agricultural are also considered.
Advice to candidates
Prepare well for the interview, be truthful with the responses and be professional in your demeanour. Do carry along all your academic documents and you should be able to substantiate the details provided in your CV with all necessary proofs. At the time of interview, you would be expected to carry documents as part of joining formalities. These may include educational documents, previous work experience documentation, photo ID proof, photographs for internal use, PAN card, and identify and address proof: passport or passport application.

And remember, once the training starts, avoid taking leaves. "You miss one day, your batch moves on and you are left behind," says Singh.
Top Qualities
Communication skills
 
Learning aptitude
 
Leadership qualities
 
Stamina to work for long hours
 
Quick decision making
 
Ability to handle critical situations without getting panicky
 
Tactful and diplomatic attitude
 
Cool Temperament
Professional training
Once selected, candidates are given a Letter of Intent. In some companies the Letter of Intent implies that the candidate has been hired. However, others many insert a clause stating that final recruitment would take place after successful completion of training. Singh of IBM Daksh explains why there is such a condition. "Training is tough, it demands discipline and focus; not everybody is cut out for a career in this industry." Besides, the training is a huge investment as candidates are trained in communication skills, voice-training, language fluency, accent training, dealing with a tricky situation or an unhappy customer, decision making. The skills acquired during training are so beneficial that candidates can apply in any industry or sector, he adds.

Call Agents or Customer Care Executives who may need to attend both the inbound and outbound calls, which may be technical or non-technical in nature depending upon the expertise of the candidate. They are given their own workstation, a computer and a telephone.

In fact, people keen on joining the BPO industry can seek training in a number of soft skills from BPO training institutes such as NIIT Uniqua, Hero Mindmine and more (refer to our training story and listing of independent training institutes in the next few pages).
Career prospects
The general view is that jobs in BPOs are just about making phone calls with very few career growth opportunities. Which isn't true clarifies Singh. Because of this misperception the industry is unable to attract talented people. Experts say that the processes and functions in a BPO or a KPO are so vast, and growth opportunities immense that anyone keen on a good career can look at joining a BPO or a KPO. The exposure a BPO employee gets is staggering compared with what an MBA in a Fast Moving Consumer Goods (FMCG) company would get. You are dealing with international clients, handling various industries such as FMCGs, Finance, Retail, Telecom.

With some years of experience and good performance a call agent or a customer care executive can move up the ladder to become a team leader, project leader, project manager, trainer, training manager and so on. In areas such as Human Resource management, technical support, F&A you could become a senior manager drawing a package similar to a senior manager in retail or automobile industry.

Besides, there are plenty of in-house jobs and scope for lateral movements. In fact some companies actively encourage lateral movement of staff. For example, at Wipro, employees also have options to move into other businesses of Wipro like consumer care, infrastructure if they have the appropriate qualifications.

Many BPOs pay for their employees' education programmes. Wipro has a Learn and Earn Options to fast-track employee careers, allowing them to enrol in paid education programmes affiliated to various universities, offering a wide range of courses.
Remuneration
One can start with a minimum salary, which ranges between Rs. 8,000 to Rs. 17,000 at entry level. A team leader can earn up to Rs. 25, 000-Rs. 30,000 a month. Of course, those handling international clients are paid more than those handling domestic markets. Managers and team leaders can get a pay package from Rs. 5 lakh to Rs. 8 lakh per annum. Other incentives include performance-based bonuses, pick and drop facility, shopping discounts, facilities such as gyms, health centres, subsidised loan schemes and health support and insurance covers covering parents and spouse and children.
The pluses and minuses
The BPO and KPO industry operates in a 24/7/365 framework. Be open to working in varied shifts including night shifts. And regular night shifts do afffect your health. The industry requires very strong customer service orientation. In addition, you must be resilient, flexible and prepared to work in a high performance oriented environment.

The calling jobs can turn out to be repetitive. However, Singh is of the view that this is one sector that allows you to take your career in your hand. And money definitely is good. 
Vishal Mehta*
This Business Analyst outlines the gap between his education and job.

"How many computers are there in Delhi?" "How do you slice a cake into 16 equal pieces cutting it only four times?" These were the questions asked from Vishal Mehta when  he applied to a KPO.  Says the BTech graduate, "The quizzes are designed to evaluate whether a candidate has the ability to slice down a problem into negotiable pieces."

Talking about the work environment, he says,"It's a good office with good infrastructure and good lifestyle." Right now his work includes analyses and preparation of research report for clients in the energy sector. "It's consulting work," says Vishal, who enjoys his line of work.

But is he able to use his knowledge of mechanics and automation that he qualified for in BTech? "Not much," he concedes. 

Though the organisation allows lateral movement to other verticals like market research, knowledge management, investment research, he feels his BTech knowledge will not be fully utilised in any function area in an outsourcing firm.

With 10 percent annual increment per year for the last two years and an award for best performance received in January 2010, Vishal is  satisfied with his professional trajectory so far.

But he doesn't want to remain in his current job much longer.  It may be MBA studies or job in an consultancy firm," he says. 

*Name changed

The Careers360 team and Pankaj Agnihotri from NIIT Uniqua, a BPO training company will answer your BPO queries. Post your BPO query, today!