Most popular online certification courses, based on countries
Certification courses are a great way to enhance your knowledge and expertise in a field without going for full-fledged degree courses. These courses are an incredible means for reskilling and upskilling ourselves. This has become especially relevant in the current scenario, with the pandemic crisis having uprooted people from their jobs as well as making it difficult to get new ones. There is a large number of both free and paid online courses and certifications available in India. Since doing an in-person course is out of the question at the moment, taking the most popular online certification courses would be the most convenient and effective alternative.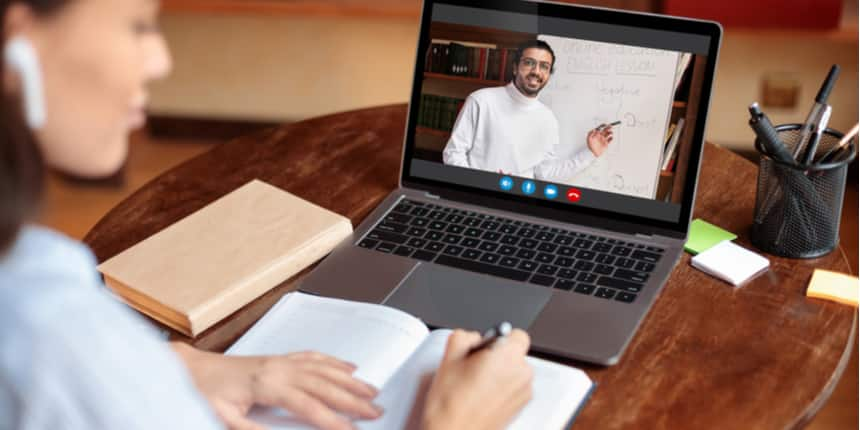 Students also liked

There are many circumstances under which online courses & certifications from top providers can be highly rewarding to an individual. For example:
A person wanting to take a particular job might have done their degree course in the primary skill required, however, they might not possess the secondary skill that the job demands. This skill can be acquired through the best online certification courses.
If one does not wish to pursue any offline or online degree courses after high school, he/ she can opt for the most popular online certification courses to elevate their chances of getting a job.
For those already working, and keen on learning a new skill for their growth and development, a short certification course is a way to go to become eligible for a higher designation.
For those wanting to re-enter the professional world due to having lost their job, or having taken a break, the most popular online certification courses are the means through which the transition becomes easier for them, by brushing up their existing skills and providing them with new ones.

There are a large number of both free and paid online diploma courses and certifications that both students and professionals can take to enhance their skills. However, there are very few free online courses that provide an actual printable certificate. It is advisable that you must make sure that you get a certificate, which acts as evidence of whether you have acquired the skills you claim to have, before choosing the course.
Most Popular Online Certificate Courses
Lately, certain subjects have become especially popular for taking the best online certification courses based on the need of the hour as well as upcoming trends. Some of which are:
Programming or Coding
Information Security courses
Photography, Painting, Illustration, Movie-making
Management courses
Medical courses, including Psychology and Therapy
Corporate Finance courses
Stock Market courses
The aforementioned courses can range from a few weeks to even a year. Though most online certificate courses are paid, you will manage to find some free of cost as well. The latter is usually provided by universities and other educational institutions within India or outside. Many organizations, too, have come up for providing the most popular online certification courses. No matter where you get your course done, you must make sure that it is from a reputable institution.
Best Online Certification Courses in India
Google Digital Garage
Alison Diploma in Ethical Hacking
Microsoft Learn
National Programme On Technology Enhanced Learning
EdX IIBM - MBA
LinkedIn Learning/Lynda
Advanced Post Graduate Certificate Course in CSR
The Most Popular Online Certificate Courses of 21st Century
The ease and convenience of Internet education have made online certification courses more popular than ever. Conventional degrees place an important role but the modern corporate culture couldn't care any less. Employers these days want people with optimum skills rather than a plethora of degrees. This has started an online learning revolution and has created a demand for online degrees more than ever. These online degrees are as good as the traditional ones but have a swift focus on specific skill sets and a specially designed curriculum to offer more knowledge in the stipulated time.
Here is the List of Some of the Most Popular Online Certification Courses, based on countries:

1. Advanced Certificate in Managing Brands and Marketing Communication
This is one of the most popular online certification courses offered by MICA, Ahmedabad via Talentedge. The course will teach you advanced marketing skills, brand awareness, and brand management. This course is ideal for individuals who want to work or plan to work in the marketing field. After completing this course, you will be able to understand concepts of targeting, branding strategies, segmentation, pricing, and positioning essential to develop effective branding and marketing strategies for the company.
Duration: 4 months
Platform: Talentedge
Also read: Anthropology Certification Courses
2. Creative Writing Classes Online
Through this of the best online certification courses, you will learn the basic elements and concepts of creative writing, including research, character, setting, and dialogue. The course will discuss an overview of research work and various things to be considered before research. It will also teach numerous research methodologies and source types along with the understanding of integrating the research into the fiction stories.
Duration: 24 months
Platform: Shaw Academy
3. Investment Management Programme
Offered by Columbia Business School, Columbia University, New York via Emeritus, the goal of this one of the most popular online certification courses specialization courses is to develop your expertise in global financial markets, investment strategies, and wealth management. This online course is especially ideal for financial advisors, retail banking professionals, Investment advisory professionals, Consultants, and individuals seeking to enhance their portfolio performance and manage their wealth more efficiently.
Duration: 9 months
Platform: Emeritus
4. Postgraduate Certificate in Digital Marketing
This one of the best online certification courses offered by the Asian Institute of Management, Makati via Emeritus will teach you key concepts, tools, and principles of marketing and how they can generate value in a digital marketplace. The course will cover accomplishing brand growth, analyzing analytics and KPIs, transitioning businesses online, enhancing customer experience, and setting KPIs and SMART goals. It will also discuss how to build digital marketing plans, use marketing channels in the customer journey and ultimately help in mastering online reputation management.
Duration: 6 months
Platform: Emeritus
5. HND Business & Management Online Distance Learning course
This is one of the best online certification courses that cover all the fundamental grounds of business and management, giving you a comprehensive knowledge of the field. Through the course, you will develop both technical and analytical aspects of global business. Offered by the Brighton School of Business and Management, the programme also emphasizes your soft skills and leadership qualities. You can even turn your online certification course into a degree by taking an extra one-year on-campus programme. After completing this course, you can successfully pursue a career in the business and management field.
Duration: 24 months
Platform: Independent.co.uk
Explore Skill Development Courses & Certifications by Top Providers
6. The Anthropology of Social Media: Why We Post
Social media has evolved tremendously since its creation. In today's world, it has become the most important channel of communication. While most of the social media courses are focused on strategizing the post to build the brand, this is quite different and interesting. This one of the best online certification courses from University College London focuses on the fact that why people post on social media and the reason behind the increasing number of memes, posts, and photos. In five weeks, the course will touch on a range of topics like politics, education, and commerce on social media and its effect on these strata of society. This course can add flair to the CV of students pursuing courses in mass media and journalism.
Duration: 5 weeks
Platform: University College London
Also read: Social Media Marketing by University of Cape Town, Cape Town via GetSmarter
7. 3D Animation Program by Online Studies
This another one of the most popular online certification courses by online studies offers a simulated production environment to imitate real-world animation studios. The course is fostered by instructors who have worked in some of the world's best studios and who share their expertise and experience throughout the course. The unique feature of one-on-one mentor-style teaching ensures clear understanding and guidance. The course offers fundamental knowledge of 3D animation coupled with advanced and secondary learning. You can opt for this course as a full-fledged online degree program or a part-time online certification course. Upon completion of the course, you can actively start a career in the 3D animation industry.
Duration: 4 years
Platform: Online Studies
8. Certified Digital Marketing Professional (CDMP) by Online Studies
This is the most popular online certification course, you will be taught all key points of digital marketing concepts with in-depth lessons on digital marketing strategies. You will learn to effectively plan and strategize social media campaigns. This digital marketing course also includes integrated knowledge of search engine optimization to understand the value of digital marketing and the digital marketing landscape. If you are a business trying to build its brand or an individual trying to make a career in digital marketing, this course can provide you with the skills and strategies to succeed.
Duration: 30 hours
Platform: Online Studies
Also Read:
Conclusion
We hope that the above list of most popular online certification courses, based on countries will help you acquire new-age, job-ready skills that can further be utilized to create more employment opportunities for the learners. However, it depends on technology to aid their survival. Only time will tell if they can make a dent and spearhead developments in the world. You can make an online course comparison to enroll in the course that suits you best.
Explore Popular Platforms Certification Courses
Also Read:
Frequently Asked Question (FAQs) - Most popular online certification courses, based on countries
Question: What are the best certification courses for data science in 2023?
Answer:
There are many courses like IBM data science certification, Harvard's data science certification, Advanced business analytics specialization, and business analytics specialization which are considered the best courses in the field of data science.
Question: What are the most in-demand online courses in 2023?
Answer:
Digital marketing, Data science training, and artificial intelligence training are some of the top courses which are the most in-demand online courses in 2023.
Question: What are some of free best online certification programmes in 2023?
Answer:
There are many training programmes like Python training, machine learning, java training, and networking training that you can pursue for free.
Question: What is the best site to learn online courses?
Answer:
Udemy, Coursera, and HubSpot are some of the best sites to pursue online certificate courses in India. These platforms offer various courses in all types of fields.
Question: Is an online degree certification valid in India?
Answer:
Although online degrees are not recognized by the University Grants Commission, it has certainly helped people grow professionally. Online certificate programmes are meticulously designed to inculcate a certain set of skills and hence prove to be useful in professional settings.
Question: Is it possible to pursue an online certificate course and a job at the same time?
Answer:
Online certificate programmes are the most flexible form of learning skills, therefore, can be squeezed into your schedule at any time of the day. If you have the time management skill and appetite for the knowledge you can easily manage your existing job with your programme.
Question: Do online certificate courses land you a job?
Answer:
Nowadays, skills and passion are the primary drivers of the hiring process. Every employer expects their employee to be passionate about the job. Having an online certificate course in such a field can showcase your seriousness and passion for the job and can help you land the job.
Question: How can I sign up for a free online certificate course?
Answer:
There are various online certificate courses in different fields available free on websites like HubSpot and Udemy. You just have to boil down your options to one among all those free courses.
Question: Are online courses without certification useful?
Answer:
Yes, they are. There are various online courses out there without certification which are extremely useful. Moreover, the basic motive for choosing an online course is attaining knowledge.
Question: Can I put my online courses on my CV?
Answer:
Yes, it is always a good idea to put your online courses on your resume. However, if you showcase your photography certification in the CV for a business analyst job, it wouldn't seem relevant or look good.
Skill Development Updates and Articles