Six Sigma has become a symbol of excellence for organisations across various industries. It has also attained the global search for quality and efficiency. Rooted in the ambition to minimise defects, reduce variations, and optimise processes, this methodology leads to heightened customer satisfaction and increased profitability. With diverse six sigma certifications – Black Belt, Green Belt, White Belt, and Yellow Belt – individuals have the opportunity to enhance their skills and advance their careers. In this blog, we will delve into the details of Six Sigma certification costs, and the advantages of pursuing these certifications, and explore the career prospects they offer.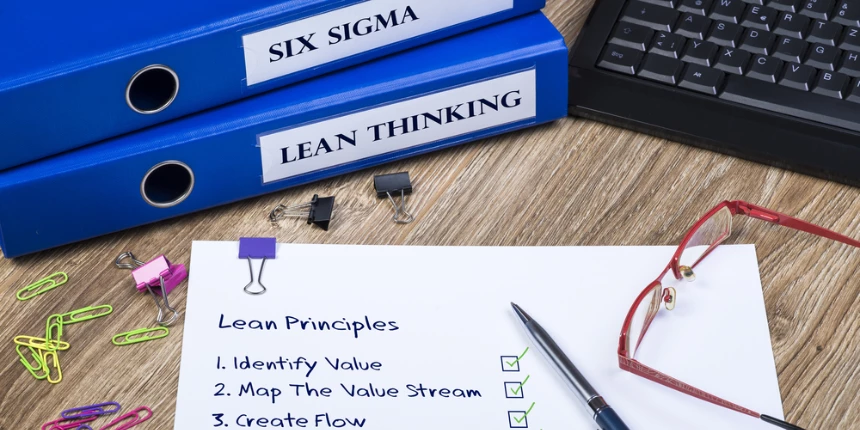 Everything You Need to Know About Six Sigma Certification Cost
Also Read: What is Six Sigma: Tools And Techniques
What is Six Sigma Certification?
Six Sigma represents a methodology rooted in data-driven precision, aiming to optimise processes, and elevate overall quality within an organisation. This methodology offers various certification levels, including varying levels of expertise, and is based on the DMAIC (Define, Measure, Analyse, Improve, Control) framework for process enhancement. Achieving each Six Sigma Certification involves fulfilling prerequisites and successfully clearing an examination administered by one of the following associations:
Council for Six Sigma Certification [CSSC]

American Society for Quality [ASQ]

International Association for Six Sigma Certification [IASSC]
Also read: Lean Six Sigma Green Belt Certification Program By GreyCamppus
What are the Levels Offered in Six Sigma Certification?
The Six Sigma Certification comprises five distinct levels. It is not mandatory to complete all levels; individuals can opt for the level that aligns best with their needs and goals. The ensuing are the various tiers of Six Sigma Certification.
This foundational level of Six Sigma Certification encompasses the fundamental concepts of Six Sigma. Individuals at this stage play a vital role in managing organisational changes and collaborating with localised problem-solving teams.
Focusing on the details of Six Sigma, the Yellow Belt level delves into the specifics of when, where, and how to apply these methodologies. A Six Sigma Yellow Belt actively supports project teams in tackling a variety of problem-solving challenges.
At this stage, participants gain proficiency in advanced analysis techniques and problem-resolution strategies that impact overall quality. A Six Sigma Green Belt is well-equipped to lead projects and provide essential support to Black Belts by undertaking data collection and analysis tasks.
Emerging as experts and catalysts of transformation, Black Belts hold the highest level of mastery. In addition to spearheading projects, they also take on the role of educators by delivering training and knowledge dissemination.
Explore Six Sigma Courses From Top Providers
Why Should You Pursue Six Sigma Certifications?
The Following points explain the reasons regarding why you should pursue these six sigma certifications:
Six Sigma certifications provide a structured approach to problem-solving, data analysis, and process improvement. These skills are not only applicable within an organisation but can also be valuable in personal life situations.
Holding a Six Sigma certification, especially at the Black Belt level, opens doors to various career opportunities. Professionals equipped with Six Sigma skills are in demand across industries such as manufacturing, healthcare, finance, and technology.
Six Sigma methodologies have a direct impact on an organisation's bottom line by reducing defects, minimising waste, and improving efficiency. Professionals with Six Sigma certifications contribute significantly to these outcomes.
Six Sigma projects often require collaboration between departments, fostering teamwork and breaking down silos within an organisation.
Six Sigma is recognised globally, which means that your certification holds value regardless of your geographical location.
Also read: Top Six Sigma Interview Questions to Know
Six Sigma Certification Cost
Six Sigma certifications enhance an individual's professional career. However, queries related to six sigma course fees always occur among the candidates. Let us understand what is the six sigma course duration and fees:
The six sigma yellow belt certification cost can range from Rs 5,000 to Rs 10,000 depending on the training provider and course format.
There is no Six Sigma certification cost for this Six Sigma belt and is available for free.
The Six Sigma certification cost for this Six Sigma belt may differ depending on the provider. The Six Sigma Green Belt certification cost typically ranges from Rs 15,000 to Rs 30,000.
The Six Sigma Black Belt course fees may differ from one institute to another. The Six Sigma Black Belt certification cost can range between Rs 30,000 to Rs 60,000 or more. While this Six Sigma certification cost may be substantial, it brings with it greater potential for advancing one's career.
Also read: Free Six Sigma Certification Courses
What Are the Job Opportunities Available After Pursuing Six Sigma Certifications?
Six Sigma certifications are a fundamental training programme to enhance professional skills. There is a higher return on investment for the Six Sigma certification cost as it opens up diverse career opportunities, some of which are mentioned below.
Professionals with Six Sigma certifications, especially Black Belts, are well-suited for roles that focus on streamlining processes, reducing costs, and enhancing quality.
Six Sigma-certified individuals play a crucial role in maintaining and improving product or service quality, ensuring customer satisfaction, and meeting industry standards.
The project management skills gained through Six Sigma certifications make candidates proficient for the roles of project managers, as they can effectively lead cross-functional teams and deliver successful outcomes.
With their ability to optimise processes and drive efficiency, Six Sigma-certified individuals are well-positioned to take on leadership roles as operations directors.
Six Sigma's data-driven approach equips professionals with the skills needed to start their careers as data analysts, a highly sought-after skill in today's data-driven business landscape.
Conclusion
To sum up, the decision to invest in Six Sigma certification revolves around attaining a detailed understanding of Six Sigma certification cost, apart from that, as six sigma certification fees, the variability of Lean Six Sigma certification cost also depends on the course providers. However, whether it involves training expenses or the dedicated time to master the methodology, Six Sigma certifications prove to be a highly valuable undertaking. The advantages of improved skills, expanded career horizons, and the capability to instigate impactful transformations within organisations clearly surpass the initial financial investment.
Each belt level presents a distinctive viewpoint and proficiency level, catering to a diverse spectrum of individuals aspiring to enhance their abilities and create a significant influence on their professional journey. As industries persistently adopt the abilities of quality and efficiency, individuals armed with Six Sigma certifications are well-positioned to thrive and excel within a competitive job landscape.