Who is a Multimedia Animator?
Animation is about creating the illusion of life. And you can't create it if you don't have one ~ Brad Bird
Multimedia Animation is not exactly like animation, but a lot more. Movies like the Civil War, Avengers, Justice League all are the blessings of the multimedia animation industry which an entire family can enjoy together. Individuals who opt for a career as Multimedia Animators produce visual and motion effects for television, video games, movies as well as other media. Multimedia artists create models and animation that are two and three-dimensional. While most multimedia animators are self-employed, some work exclusively for the film and television industry. Often individuals who opt for a career as a multimedia animator work long hours, especially when they face deadlines. The animation field is vast and as technology has grown it has provided a broad array for art and innovation in various visual arts aspects. Here we will provide you with how to become a Multimedia Animator, Multimedia Artist and Animator job description, multimedia career, what is a computer animator, animation companies in India.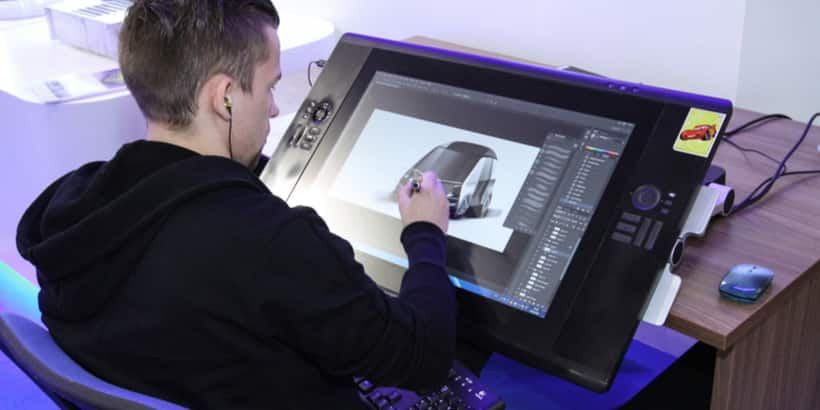 Multimedia Animator in a Nutshell
Films like Baahubali, Kung Fu Panda, Ice Age and others are both a sensation among adults and children, and the multimedia animation industry's future looks promising. A multi media jobs could be described as the activity of giving life to a non-living object. Cartoons are the work of animation. Multimedia animation is an illusion developed with the still photographs. Multimedia animators work in a specific medium. Some concentrate on making video games or animated movies. Multi media artists produce visual effects for films and television shows. Multimedia career produce computer-generated images that contain representations of the movements of an actor and then animating them into three-dimensional objects. Multi media artists draw beautiful landscapes or backgrounds.
Quick Facts for Multimedia Animator
Industry

Entertainment

Average Salary in India

₹60000

Suitable for

Male, Female, Others

Individuals can take up a career as Multimedia Animators, it is not gender-specific. Men, women, and others can choose a career as multimedia animators. Multimedia Animators' profession is not gender-specific. Men, women and others may choose this as their career. In India, male and female Multimedia Animators receive equal benefits because gender is insignificant in this profession.

Any special needs

Yes

Everyone, including those with physical disabilities, is appropriate for individuals who opt for a career as Multimedia Animators. The career as Multimedia Animators is well suited to everyone, even those with special needs. The career is appropriate for anyone, including those with special needs. They can sometimes be required to attend events and organise client meetings. They will have the desire to show the world that in all circumstances they should achieve their goals.
What is the role of Multimedia Animator?
Individuals who opt for a career as a Multimedia Animator employ computers to make two- and three-dimensional pictures, special effects and graphics for use in computer games, television programs, videos, commercials and movies. These practitioners' usual work duties include creating videos and designing storyboards to be used in multimedia projects. In order to work on all forms of projects, multi media artist and developers may specialise in a particular form, like video games, or a specific productivity level, such as designing characters or backdrop designs. Whenever deadlines are close, extra work hours can be needed. The multi media jobs are the imaginations accumulated with technologies to deliver the human vision. Here we will provide you with how to become a Multimedia Animator, Multimedia Artist and animator job description, Multimedia Career, what is a Computer Animator, Animation companies in India.
Target Audience
Individuals who opt for a career as multimedia animators work hand in hand with the animators and cartoonists and technicians to decide whether the services meet the target audience's needs. It is important to select a target audience because multimedia animators develop and implement a specific plan that is specific to the needs of the targeted audience.
Mentoring
This is the duty of individuals who opt for a career as a multimedia animator to advise individual participants to manage programmes. Mentoring is a formal programme of support junior animators, in which one mentor uses his or her expertise, knowledge and skills to help others develop their careers. Mentors need to be knowledgeable and keen to help whenever the need arises.
Review
The review is a major role of an animation process by reviewing a design against its requirements to check the efficacy of the output of internal control and identify problems before committing to and prioritising whether further work is necessary. The analysis offers a forum for addressing suggestions, describing findings and seeking advice. These are important methods by which systematic review and evaluation of the outcomes of the design processes may enhance product development.
Types of a Multimedia Animator
There are types of animators. We have provided here details of some of the major types of animators in India.
3D Modeller: 3D modellers describe concept art and drawings to generate virtual characters, environment and props. They follow guidelines for designs, conventions for naming properties and other technical issues. 3D modellers make prototypes and optimise models and characters based on the team members' recommendations. 3D modelling combines cutting-edge technology with innovative thinking and problem-solving abilities in a fast-paced and detailed environment. Television advertisements and video games to hit movies, 3D modellers could be seen everywhere in the industry. They collaborate with photographers, animators and programmers to carry out timely projects. 3D modellers stay up to date with the latest innovations in techniques and technology for 3D design.
Cartoonist: Cartoonists are graphic artists who specialise in cartoon drawing or comic drawing. Cartoonists translate ideas and express them with words to teach, direct, share stories and even deliver commentary on local news by making hand-drawn or computerised images. Their goal is to explain problems in an easily understood way for people, such as editorial cartoons or comic strips. Most cartoonists work with artists who develop the concept or story and write captions, and cartoonists will also write captions by himself. In addition to drawing skills, most cartoonists possess critical, humorous, or dramatic talents.
Graphic Designer: Graphic designers use software such as photoshop to produce a wide variety of graphics and animations for product images, business logos, and web sites. They evaluate final layouts and recommend alternatives if needed. From fun fonts to wireframe collections, there are always plenty of solutions in graphic designing to get the extra income when downtime comes in. In order to express ideas and knowledge creatively, graphic designers use computers or hand tools to produce posters, blogs, banners, brochures, magazines and many other items. Occasionally, they are called graphic artists. They collaborate with external departments, art services, web developers, advertisers, publishers and peers.
Game designer: Game designer jobs are like designing characters, levels, puzzles, art and animation. They may also write code, using various computer programming languages. Depending on their duties, famous game designers may also be responsible for project management tasks and testing early versions of video games.
What is the workplace/work environment of Multimedia Animator like?
Individuals who opt for a career as Multimedia Animators typically work in an office or studio installed with equipment. The workspace will depend on the specific type of organisation the animators operate under. Multimedia animators are considered part of the film industry and usually have a conventional office room approach. Operating from home can be convenient, and flexible working hours should have been provided.
Also Read: Career as Graphic Designer
Does Multimedia Animator require travelling?
Likely
There are not any frequent travel requirements in a career as a Multimedia Animator. Multimedia Animators participate in the initial preparation, and need to consult with the client to discuss project layout ideas. In terms of working hours, this profession offers great flexibility.
Employment Shifts
Full Time
Work shifts for individuals who opt for a career as Multimedia Animators are of a full-time in nature. Multimedia Animator work hours are usually ranges between 40 to 45 hours a week. Exceptions occur where freelance or part-time digital animators work according to their own work hours.
Employment Nature
Contractual, Permanent
The nature of the work of Multimedia Animators can be permanent and contractual, too. Individuals who opt for a career as a Multimedia Animator work as part of a team within the organisations. The animation industry offers both full-time and part-time jobs. However, most Multimedia Animators opt for a full-time job.
Work Place
Office
Individuals who opt for a career as Multimedia Animators work on projects with colleagues or interact with clients across the globe. Such operations are carried out inside the office environment. The work needs intellect and mental strength but not a lot of physical labour.
Presence in Geographical Area
Urban
The rural areas offer less or no opportunities for multimedia animators. Most of the work of the Animators are in urban areas, they can find jobs in cities such as Gurugram, New Delhi and Bangalore. Individuals who opt for a career as multimedia animators also work for media industries such as entertainment, news, business communications located in Tier-1 cities.
Time Pressure
Likely
Individuals who opt for a career as a Multimedia Animator perform certain tasks for a company or entity within a defined time-span. This career is one of the emerging career opportunities in India that takes a great deal of time and emotional resilience.
Overtime Details
Individuals who opt for a career as Multimedia Animators work on a regular basis for nine hours a day. Multimedia Animators may extend the duration of the shifts for several activities that require more effort.
Weekly Hours of Work
Min 40 Hours
Individuals who opt for a career as a Multimedia Animator work approximately seven-eight hours per day, sometimes up to twelve hours in a huge project. While many multimedia animators work independently, people also work for professional animation organisations as part of a team. Most Multimedia Animators collaborate and work with colleagues or communicate with clients around the globe. Many Multimedia Animators do freelancing from home and animators are also self-employed.
How to become a Multimedia Animator?
What are the skills and qualities required to become a/an Multimedia Animator?
When it comes to how to become a multimedia animator, the first thing that they should know about are the skills required to become a multimedia animator. Some of the essential skills we have mentioned below.
Drawing skills: Aspiring multimedia animators are required to have storytelling and characterisation skills. Candidates with computer and technology, will not survive in this field, without drawing. Developing a concept and a plot is a very first step of creating multimedia animation. Multimedia animators need to have good drawing skills to provide a visual representation of the animation concept to a design team or customer. Multi-media artists create storylines or help the client build the storyline.
Creativity: Creativity is the ability to think about a task or a huge problem in a new or substantially different way, or the ability to use the imagination to come up with innovative approaches. Creativity helps overcome complex problems and seek out new solutions. Multi-media artists look at things from a completely different perspective. They are expected to work creatively and create innovative pieces and animation that are aesthetic and appealing.
An eye for detail: The entire definition of multimedia animation is linked to visuals and displays, graphics, sound, video and thus even a small mistake would represent an enormous loophole in the result. Detailing is something that is very much needed in the field of visual arts, and when it comes to multimedia animation, it can certainly be one of the most critical skills that can simply be possessed.
Technical skills: Multimedia animators need to combine technical skills with natural abilities to add life to the characters. It is important to have strong drawing skills, as it is easier to sketch the animation ideas on the device. Multimedia animators must always know how and why the character moves, and be aware of the rules of animation. Multi-media artists should have in-depth knowledge about application design specialist software such as Maya, Flash and After Effects.
Knowledge of sound: Audio or soundtracks in animation film consists of background music and dialogues. Audio supports the visual elements in animation to present a storyline properly. Audio helps to enhance the film experience; efficiently using audio to bring life into cartoon characters. Sounds are important for works of animation as they help the action that each character performs. Having sufficient sound effects will provide a relaxing experience watching animation in 2D or 3D animation. This also makes the story simple for the spectators because it displays the animation combined with sounds.
Which certifications and internships can be helpful in becoming Multimedia Animator?
We have mentioned below certifications that individuals may opt who want to establish a career as Multimedia Animator. These careers provide them support to upgrade their skills and knowledge.
Internship Availability
Yes
The world of multimedia career offers plenty of internships. Internships help to get the candidate's industry experience. In fact, internships provide potential candidates with the opportunity to apply the theoretical values they learned during their college days. Different businesses and organisations, with different expertise and preferences, employ interns. Interns need to plan an enterprise training curriculum, training manual and video training. Multi media artists make presentations using presentation tools and also enhance and create visual elements for existing materials. Interns in multimedia animation work on corporate video and design company brochures.
Career Path Progression for Multimedia Animator
We have provided here details of Multimedia Animator career progression. Aspirants are required to give a start to their career in the animation industry with an entry-level role. Further, with experience in the industry they progress and get promoted to senior level roles.
Character Animator: Character animators are professionals who use animation software, 3D modelling, 2D animation, and puppetry to develop and design characters. Character animators create characters used as a movement to display narratives for various entertainment series such as movies, television, mobile applications or video games. Character animators produce pleasing animations of characters according to the specifications of the project design. They apply animation effects to add emotions, mood, actions, gestures, personalities, and attitudes. Character animators collaborate with lead animators to create character movements.
Compositor: Composers build a frame, shot or sequence in the final picture. They use all the different visual materials such as computer-generated pictures, action footage and paints and merge them to display as one unified picture and shot. Composers take the visual elements of a scene into consideration. Composers set type by hand and machine, and arrange type and cut into print documents, columns, and other printed matter, to establish the type size, form, and pattern of composition from the work order. Composers add spacers for balancing and justifying lines between terms and units.
Lead Animator: The principal duties of lead animators are to schedule, coordinate, track and assess their team's work and its influence on the project. Lead animators are "Animator in Chief" responsible for animation projects in movie studios, television studios or game development companies. They inspire and develop teammates and serve as mentors in the technical and artistic aspects. Lead animators create storyboards, animation, visual effects, and artwork to fulfil design requirements and promote the style of animation. They collaborate with the art director and the development department to create and convey the games animation style.
Animator: Animator create animations and graphics for television, video games, internet marketing, online advertising, website development, and more. Any person who is pursuing career as animator amalgamate creativity and technology, using digital tools to make designs for commercials, movies, cartoons, online media and more.
Multimedia Animator Jobs and Salaries
3D Modeller
Monthly Salaries
Average Salary

50000

Junior Level Salary

25000

Senior Level Salary

100000
Job Description
3D modellers create 3D characters and environments centred on the art concept. They paint and cover 2D textures on a digital frame, to create the surfaces or textures of the models. 3D modellers also build characters which are controlled by animators.
Salary Description
3D modellers' income depends on job development or is mostly dependent on knowledge and experience of the particular industry. 3D modellers' salaries rely on specific industry experience and competencies. On average, 3D modellers earn over Rs. seven lakhs per annum. At the entry-level, they earn more than Rs. four lakhs a year but eventually make more than Rs. twelve lakhs at the senior-level of their career.
Cartoonist
Monthly Salaries
Average Salary

70000

Junior Level Salary

40000

Senior Level Salary

100000
Job Description
Cartoonists are artists who make animated cartoons on the machine or manually. It can be for magazines, newspapers, advertisers, TV and movie studios, videos, gaming companies and animation studios. They may also use their work in political commentaries, comic strips, installation guides and user manuals.
Salary Description
In this industry, wages are based around the various departments and the role which one holds. The salary for a professional cartoonist is constantly rising. The average salary, cartoonists, receives more than six lakhs a year. At the beginning of employment, they earn more than Rs. four lakhs a year, and this rises at senior-level by more than Rs. twelve lakhs a year.
What is the job outlook for Multimedia Animator?
Multimedia animation is a multi-billion dollar industry that has developed a wonderful job scope and provides employment opportunities through a variety of profiles from technology-based career opportunities such as scanning, image processing, digital drawing and painting, and game design to imaginative people such as visual effects supervisors, 3D modellers, and animators. Due to the rapid increase in the film and gaming industry, job opportunities for animators are rising at a fast rate. Multimedia animators have a firm grip on the film, television and advertising industries. A single animation film needs almost five hundred animators, creating massive opportunities for jobs. Multimedia animation is one of the profitable and challenging career opportunities serving both the entertainment and the education sectors. Film animator employment is expected to rise by four per cent from 2018 to 2028, almost as quick as the average for all professions.
Frequently Asked Questions for Multimedia Animator
Que. What kind of education is required to be a multimedia artist and animator?
Ans.
To become a multimedia artist, usually a bachelor's degree in computer animation, digital graphics, graphic design or a related field is necessary. Multimedia artists should have a portfolio that shows their skills to hiring managers, and then they can develop this work during their postgraduate degree programme.
Que. Is animation a good career?
Ans.
Animation is an enjoyable and lucrative profession and encourages young people. Animators, new to this business usually work in animation companies and production houses as junior animators.
Que. How many years does it take to become a multimedia artist?
Ans.
As a major in multimedia or graphic design, beginning and advanced level courses are required in illustration, website design, animation, photography, and video production. Students should complete the degree programme in four years, and some courses are also available on the internet.
Que. Is it hard to become an animator?
Ans.
Becoming a professional 3D animator is not something that is usually achieved in just a few weeks, months or even years as with learning any profession. You will need to find out very quickly whether character animation is something you would like to undertake or not; sometimes it is disheartening, puzzling and also complicated.
Que. Why is animation not taken seriously?
Ans.
Animated films have important lessons which are often overlooked because the target audience is young. On the other hand, an older audience sometimes neglects them because they are presented in a very light way, and are thus not taken very seriously.
You might also be interested in
The question have been saved in answer later, you can access it from your profile anytime.
Access now
Report Question
Select your reason of reporting