Who is a Graphic Designer?
What separates design from art is that design is meant to be... functional ~ Cameron Moll
Depending on the sector, a graphic designer designs products, displays, posters, hoardings, logos, and marketing materials. Graphic designers can get employment in publications, advertising and marketing firms, and much more. A graphic is a form of vision that can be associated with art, imagination or expression. Design is about planning out the look of something before it is made. Graphic designer jobs in India do not require any specific degree to become a graphic designer, one can also opt for a diploma in Graphic Designing courses. Students can study Graphic Designing to become graphic designers. Here, In this article, we will discuss the graphic designer course, graphic designer jobs in India, graphic designer career path in India, graphic designer career progression, and graphic designer career options.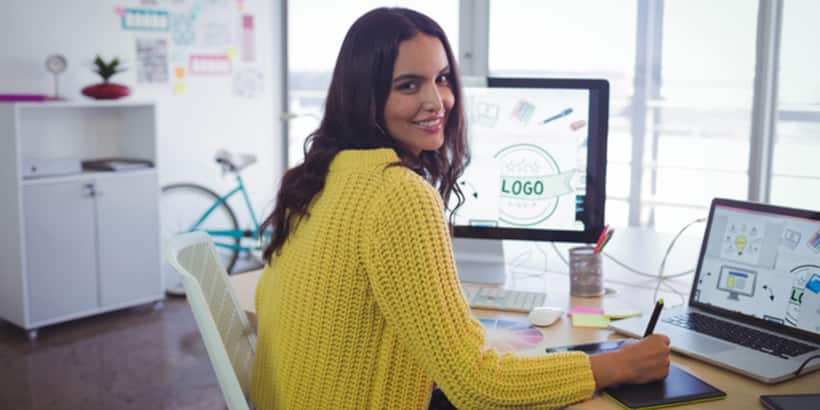 Graphic Designer in a Nutshell
Within the graphic design and graphic arts industry, a graphic designer is a specialist who designs and builds images, graphic design, or visual effects to develop a piece of artwork. In career as graphic designer, individuals primarily generate the graphics for publishing houses and printed or electronic digital media like pamphlets and commercials. There are various options for industrial graphic design employment. Graphic designer jobs include providing numerous opportunities in the media industry.
Quick Facts for Graphic Designer
Industry

Technology

Average Salary in India

₹38333.33

Suitable for

Male, Female, Others

A career as graphic designer is not gender-specific. Male, females and others can choose this as their career. Although gender should not have an impact on pay, it does, in practice. Indian employees of male graphic designers earn thirty-two per cent more than their female counterparts.
What is the role of Graphic Designer?
In career as graphic designer, individuals are visual communicators, who manually construct visual ideas while using computer programmes. Individuals who opt for a career as a graphic designer convey information that motivates, educates, or entertains the audience through physical and virtual genres like pictures, words, or illustrations. A career as a graphic designer demands the ability of individuals to convey a specific idea or identity by using a range of media that can be used in advertisements and marketing. The primary aim of a graphic designer career path is to captivate the audience. Unlike web designers, they develop the overall layout for advertisements, magazines, brochures, and corporate reports. Individuals in the graphic designer career path provide ideas through images and layouts and they combine art and technology to do so. Individuals in graphic designer jobs in India also work using both texts and images. There are numerous types of graphic design careers.
Create products
Graphic designers create products to save time for other designers or for non-designers who want to make their unique illustrations. From fun fonts to wireframe sets, there are always plenty of solutions for getting that additional income when downtime arrives. Developing a quality product is crucial to pleasing customers and maintaining their trust so they continue to rely on you. Quality products contribute significantly to generate revenue and profitability in the long term.
Collaboration
A secure and versatile environment encourages designers to feel more relaxed, allowing them to interact efficiently and easily. Incredible team coordination may allow colleagues to take complete authority through their profession and drive objectives and outcomes. The graphic designer needs to learn exactly what challenges they are going to comprehend so that they can fix this with their knowledge. Though without immediate contact, they can end up resolving an entirely different issue, or not fixing something that you would actually like them to focus on at all.
Build from scratch
Graphic designers design products from the beginning and consider producing them with advanced software. The project starts from the outset, setting out on some action or method, often without any prior preparation and understanding. They conduct all aspects of graphic design from scratch to final delivery to the engineering or production team.
Create visual elements
The visual design features are line, shape, white space, volume, value, colour and texture that define the aesthetic basic elements of a design. On the other hand, the design principles inform how well these components could work together for the best outcomes. Graphic designers make beautiful illustrations which deliver information according to their products.
Review designs
A design review is a major function in a design process by evaluating a design against its specifications in order to verify the effectiveness of internal control performance and identify issues before having committed to and actually-prioritizing if further work is required. The design review offers a platform to include concerns, explain conclusions and receive advice. These are useful mechanisms by which a product development can be improved by systematic analysis and assessment of the results of the design processes.
Types of a Graphic Designer
There are various types of graphic designer career options. We have mentioned below the major alternative graphic designer career options.
Communications Designer: Communications designers are responsible for designing visual elements for publishers, web developers, and other multimedia companies. This is one of the important specialisations of a graphic design career. Individuals in the graphic designer career path in India are professional graphic designers who create visual design features for advertisers, website developers and other digital businesses using graphics software applications. These materials are most often used by businesses on their online sites, printing materials, manufacturing process, as well as other visual media.
Service Designer: Service designers develop visual communication related to some service sectors such as public services, mobile communications, and other sectors. Service designers work with methods and statistical insight to design solutions and organizational propositions through collaborative work with frontline staff, managers and the community at large. Individuals in the graphic designer career path in India clearly understand and formulate how service providers need to switch from a user centre, process, and corporate viewpoint.
Interaction Designer: Graphic designers who work as interaction designers are primarily concerned with the user interfaces and the interaction essentially between the human and the computer. An interaction designer is an individual on the design, production, development or advertising team who helps shape and build a design plan, recognize main product experiences, develop models to validate concepts and remain up-to-date on innovation and trends that would influence users.
You may also read a career as an Animator
What is the workplace/work environment of Graphic Designer like?
Are you searching for how to become a graphic designer in India, graphic designer career path and scope of graphic designing in India. Then, no need to worry. We are here to support you throughout your career path to make you establish a successful career as a graphic designer.
The workplace would focus on the particular type of organisation, for which the designer works. A web design company is meant to be part of the creative industry, and typically has a contemporary approach to office space. This workplace style would probably have a relaxed dress code and would attract younger workers. It may be convenient to work from home, and flexible working hours may be offered. A graphic designer career is a typical desk job that requires the ability to design and shape creative ideas using Auto CAD software such as Photoshop and CorelDraw.
Does Graphic Designer require travelling?
Not Likely
Individuals who opt for a career as a graphic designer does not even have to travel much but then has to attend meetings. A graphic designer could interact in the planning stage, meet with the client to discuss work layout ideas. This choice is a good alternative and appears to offer tremendous flexibility in terms of working conditions and location. Graphic designers generally work in workshops where they will have exposure to the drafting tables, machinery, and applications required to build their design.
Employment Shifts
Full Time, Part Time, Hourly Basis, Work From Home
There are various career options for graphic designers. Around twenty-four per cent of graphic designers are self-employed. Self-employed graphic designers may need to change their working days to accommodate clients on evenings or weekends. Individuals who opt for a career as a graphic designer might also invest a few of their time searching for new ideas, or competing with a number of other designers for contracts. Most graphic designers work a full-time job, though schedules could vary depending on the amount of work and schedule.
Employment Nature
Contractual, Permanent
While many graphic designers operate individually, folks also function as part of a design team for professional graphic design organizations. Most graphic designers work with colleagues on projects or meet with employees around the globe. Many web designers do the job and work freelancing from home. Individuals who opt for a career as a graphic designer could arrange their workplace completely as they like but they will need to be prepared to travel to discuss business and workplace conditions can change based on the type of business or company they deal with.
Work Place
Office
The majority of a graphic designer's working hours are spent in an office setting. In order to work on new projects, he or she must travel to a client or business. They must, however, put in extra time when there is projected to be a heavy workload.
Presence in Geographical Area
Urban
Thousands of businesses have moved online to harness the power of the internet to reach a wider audience. Most jobs of graphic designers are in urban areas because many IT firms are established in urban areas. Today e-commerce has encircled our lives in such a way that it has become a necessity. Because in rural areas it is less but still developing.
Time Pressure
Likely
Graphic design is more of a creative profession. Graphic designers working on a permanent basis hardly face any time pressure. However, one who works as a freelancer for big design organisations is more likely to face time pressure. Also, in situations such as reaching deadlines or project completion, graphic designers might be required to handle time pressure and work for long hours in order to manage their work.
Overtime Details
Individuals who opt for a career as a graphic designer is a profession that requires a lot of creativity which sometimes works as a hindrance in accomplishing the projects. Working overtime is quite normal in the profession. Graphic designers are generally required to work more than their scheduled time.
Weekly Hours of Work
Min 45 Hours
A full-time graphic designer career involves a minimum 45 work hours a week, almost nine hours a day. The work of graphic designers falls under certain shifts, even though they may be working long hours to solve the problems in large projects.
How to become a Graphic Designer?
What are the skills and qualities required to become a/an Graphic Designer?
A career as a graphic designer requires both knowledge of technical aspects as well as artistic creativity in designing. There are several skill sets required in the career for performing efficiently and progressing in the career. We have mentioned below the major graphic designer skills that one must possess to grow in industrial graphic design. In this section, we have discussed how to become a graphic designer.
Drawing skills: Aspiring candidates are required to have the ability to draw in graphic design. In this profession, candidates with considerable interest in the computer and building products digitally, without drawing, would not achieve success. A strategy and a draft development is really the first step in the process of designing. Individuals in the graphic designer career path in India need to have the drawing skills to give their imagination life. Without the ability to draw, graphic designers could not pass on their creative expression to consumers. Graphic designers require serious drawing skills to provide a visual understanding of the product to a design team or customer.
Communication skills: Communication is necessary to give instructions and is essential to be familiar with the customers. One designer could not really function alone on a given project. In the sector, the designers have to take the assistance of others. They often need the cooperation of several other designers. Even when working on a project, the designer needs to share his or her ideas for a good piece of work to come out. Individuals in the graphic designer career path in India must collaborate with clients, consumers and other designers to ensure that the intended message is correctly represented in their designs and that knowledge is conveyed effectively.
Creativity: Creativity is the ability to think in a certain manner of a fresh or significantly different way about a project or a real issue, or the eagerness to use the intellectual ability to keep experimenting with new technologies. Creative thinking helps to overcome complicated situations and perceive solutions to innovative ideas. Individuals look at these things from a completely different angle. Inclinations for creative fine arts of all kinds are basic skills that you should acquire for becoming a graphic designer. To become graphic design assistants you need an underlying sense of creativity. Artistry and creativity have the desire to turn the content into a splendid piece of art.
Time Management: Effective time management enables the designers to achieve more in a shorter period of time, allowing them to learn and plan from things, reduce stress, and help them concentrate, resulting in greater professional success. This ability would really help the practitioners to function better at the time of the work overload. A career as a graphic design assistant requires the ability to multitask in a specified timeframe to satisfy the customers' needs and demands. To complete the tasks in a certain time span, designers need to work overtime.
Which certifications and internships can be helpful in becoming Graphic Designer?
Those interested in pursuing a graphic designer career in Indican do the following certification in order to hone their skills.
Internship Availability
Yes
Individuals who opt for a career as a graphic designer internship offers the opportunity to learn about graphic design, a discipline devoted to creatively conveying concepts. As an intern in graphic design, you can help with technical tasks like making simple and complex copy files, preparing papers and mailing documents, printing and stuffing. Graphic designers can get their internship opportunities in several companies such as Quick Radius, Verve Logic, Multia, StudioTale and Logo design India.
Career Path Progression for Graphic Designer
There are various types of graphic design careers in India. Individuals in the graphic designer career path in India can choose to become a brand identity designer, illustrator or layout artist. We have mentioned below Graphic Designer job description for such roles.
Brand Identity Designer: Brand identity designer develops the logo and visual design for an organization, which means that they have authority over that first impact. Whenever a company requires them to create or redefine its visual mark, they proceed by researching and reviewing the strategy of the brand. Brand identity pulls new customers into a brand, and at the same time making existing customers feel more comfortable.
Illustrators: Illustrators use many various skills for the planning and production of their drawings, from pencil and colour to digital layout. They start their design by figuring out the design specifications. This involves recognising the art concept and who it is that target audience is. Illustrators develop monochrome or colouring images, depending on their creative brief. Illustrations may well be the end product in books, or that represent the final product in computer games.
Layout Artist: A Layout Artist gathers and arranges patterns and photos, like diagrams, images and sketches, to create a visual design on a computer or on a sheet. The layout artist is one of many kinds of commercial artists recognized as Visual Artists who provide visual communication with concepts and information. For each shot of the animation, the layout artist creates fully black and white variants of the final backgrounds captured from screenplays.
Graphic Designer Jobs and Salaries
Brand identity developer
Monthly Salaries
Average Salary

50000

Junior Level Salary

20000

Senior Level Salary

80000
Job Description
Brand identity developers employ a strategy to build the company's brand visual elements. These components usually involve the logo, colour scheme, fonts, style of the image and general appearance and feel. Those will be appropriate for the organization. They should help showcase the brand and its service and products.
Salary Description
The more experience you acquire designing products for clients, the better salaries you can get in this industry. Brand identity designers get a little less at the early phase of the profession, though better than most other professions, they can earn nearly Rs. three lakhs per year but eventually receive more than nine lakhs at the senior level.
Illustrator
Monthly Salaries
Average Salary

30000

Junior Level Salary

15000

Senior Level Salary

70000
Job Description
Illustrators use two-dimensional or three-dimensional images to conceptualize and create illustrations that represent an idea or a story. Illustrators could draw printed materials, like books, magazines, as well as other journals, or digital products such as fabrics, packaging, paper bags, greeting cards, bookmarks, office supplies.
Salary Description
In the graphic design industry, salaries are centered around the different departments and the place one holds. The compensation for skilled staff is gradually rising. To an Illustrator, the total salary is up to four lakhs a year. They receive two to three lakhs a year at the start of jobs, and that rises to senior level by more than seven lakhs a year.
Layout artist
Monthly Salaries
Average Salary

35000

Junior Level Salary

20000

Senior Level Salary

70000
Job Description
A layout artist operates with the images and text structure and model in an appealing style. This may include work on magazines, leaflets, newsletters, articles, CD booklets, banners, and related forms. Entry-level graphic designers are also referred to as the designers in production houses. Layout artists are often recognized as DTP artists or DTP associates within an in-house design department.
Salary Description
Layout artists' income depends on work growth or is highly dependent on a particular industry's experience and expertise. Layout Artists' salaries depend on unique knowledge and skills in the industry. On average, the model artist earns more than four lakhs per year from Rs. At the initial level, they earn more than three lakhs a year but ultimately earn more than seven lakhs at the senior level of their career.
What is the job outlook for Graphic Designer?
If you want to know is graphic design a good career in India, then you should continue reading this article. The employment of graphic designers is projected to increase by three per cent over the next ten years, slower than the average for all jobs. The work of graphic designers in marketing products will continue to be important throughout the industry. The predicted rise in employment for graphic designers depends according to the most recent industry. Graphic designers' employment in periodicals, books, and directory publishers is expected to decrease by twenty-two per cent over the next ten years. Nevertheless, it is expected that the use of graphic designers in computer system design and services related will start increasing by twenty per cent. Graphic designer salary in India is also rapidly increasing day by day.
Companies are steadily increasing their social media presence, featuring graphic designers to help create visually appealing and effective layouts for web pages. From 2012 to 2022, the employment of graphic designers is projected to grow by seven per cent, slower than the average for all occupations. The graphic designers would continue to play a significant role in selling the products. From 2012 until 2022, the increase in graphic designers' jobs is expected to differ from industry to industry.
Students also liked
Frequently Asked Questions for Graphic Designer
Que. What does a graphic designer do?
Ans.
Graphic designers develop visual objects to express ideas that inspire, educate and captivate customers, using computer software or by hand. They create the overall design and layout for applications including ads, brochures, magazines and studies.
Que. Is graphic design a good career?
Ans.
Graphic design is often useful. Many companies could use a great graphic designer's skills and because so much of the work is digital, there are plenty of remote choices. This means that graphic designers aren't just working at those sites. He or she can also do homework and earn a small salary.
Que. What exactly is graphic design?
Ans.
Graphic design is the art of producing visual communications content. Using the techniques of visual hierarchy and page layout, graphic designers use typography and images to meet the specific needs of users and focus on the logic of displaying elements in interactive designs to optimize the user experience.
Que. Is Graphic Design in demand?
Ans.
Graphic designers' job opportunities are expected to grow three per cent from 2018 to 2028, slower than the average for all occupations. Graphic designers are expected to compete strongly for positions that are available.
Que. Is it worth getting a graphic design certificate?
Ans.
Gaining a graphic design certificate after successful completion of Graphic Designing courses could be of actual advantage to your professional life as it is the only opportunity to illustrate innovative design as well as provide written documents that you have the skills to start your professional life in the design world, usually as a junior designer in a design company or organization.
You might also be interested in
The question have been saved in answer later, you can access it from your profile anytime.
Access now
Report Question
Select your reason of reporting