How to Become an Army Doctor in India After 12th
When we talk about the Armed Forces of India, it generally means the three uniformed services: the Indian Army, Indian Navy and Indian Air Force. The Armed Forces of the Republic of India come under the Ministry of Defence. Besides defence careers, there are other supporting careers that also exist in the Armed Forces. The list is quite long for supporting careers in the Armed Forces. In the Indian Army, you may find other roles for which recruitment notifications are posted by numerous job portals and in newspapers. These roles include cook, barber, commission staff, multitasking staff, carpenter and others.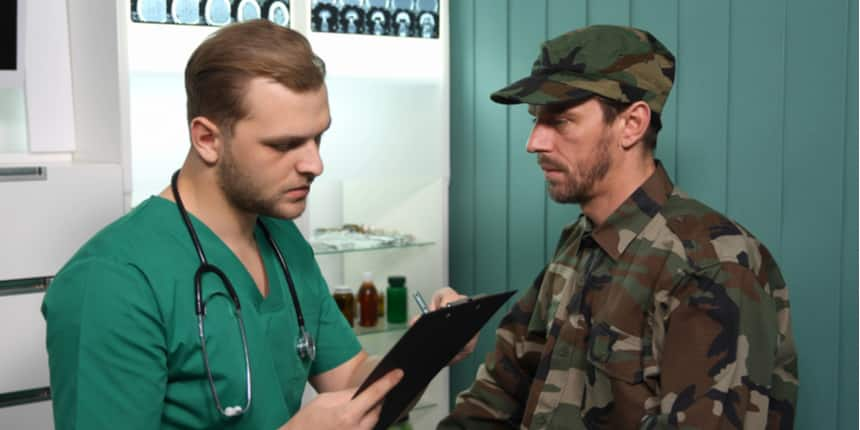 We all know that Medical Emergency can happen anytime and anywhere. It can happen among our army professionals too. You must be wondering how to become army doctor in India. As you might have not seen any notifications for the recruitment of a Doctor posted by any job portals or recruitment websites. It has also not been found in newspapers either.
You do not need to search for how to become an Army Doctor anymore. Keep scrolling and reading the article and you will get the answers of every questions that you want to know.
Before knowing the recruitment process of a Doctor in the Armed Forces, let us look at the other side of being a doctor in army. The army doctor rank in India is similar to other Army Officers and they get the similar perks such as retirement benefits, family pension, gratuity, travel concessions, medical treatment, accommodation and free ration. Everything is quite similar whether it is their postings or transfer in the services. Aspirants usually stay curious about how to become a doctor in Indian Army.
Also read: Career as a Doctor
We know how to become army doctor after 12th. We have provided here a straight path that makes it quite easy for you to pursue a career as a doctor in army.
A career as a Doctor in the Armed Forces is one of the most sought after careers for medical aspirants. The path to become a Doctor in the Armed Forces is not that complex, but it is quite competitive as compared to other careers. Since, the career comes under the government job and comes with lucrative salaries and post retirement and other benefits as compared to a medicine career in the private sector. Check the path to become a doctor in army.
Here is your step by step guide to pursue a career as a doctor in army
Step 1: Completion of 10+2
We have provided here a step by step answer to your question of how to become doctor in Indian Army after 12th. Aspirants who want to become a Doctor in the Armed Forces are required to complete 10+2 in physics, chemistry and biology from a recognised university with a minimum of 50 per cent of marks.
Step 2: Entrance Examination
NEET is the most popular entrance examination conducted to provide admissions in the medical colleges to deserving candidates. Early preparation for cracking NEET is crucial as it is the most competitive medical examination. Most candidates opt for coaching classes for NEET preparation after enrolling in class 11 with physics, biology and chemistry subjects. While few choose to prepare for NEET post completion of 10+2. It might take 1 to 2 years of strong dedication of study to crack the competitive examination to get enrollment in the desired college.
Step 3: MBBS
Aspirants are required to secure the NEET score as per the required cut-off marks to enrol in AFMC Pune. Those who manage to enrol themselves in the Armed Forces Medical College in MBBS course get the opportunity to serve as a doctor or other medicine professionals in the armed forces.
AFMC MBBS Eligibility and Seats
AFMC MBBS Seats
Around 130 seats are offered in MBBS. 105 seats are reserved for male candidates while 25 are reserved for female candidates.
AFMC MBBS Eligibility
Candidates must be an Indian citizen or subject of Bhutan or Nepal. Individuals of Indian origin who have migrated from Pakistan or other foreign countries with an intention of permanently settling down in India are also eligible.

They must qualify 10+2 with Physics, Chemistry and Biology best of three with an aggregate of 60 per cent of marks as well as best of four including Physics, Chemistry, Biology and English with an aggregate of 50 per cent of marks.

They must have passed the Mathematics examination of class 10.

They must be unmarried during enrollment. They are not allowed to get married during the academic programme.

They should be medically fit as per the standards of Govt. of India, Ministry of Defence.

They must not be less than 17 years of age or more than 22 years of age during the time of application on 31 December.

Those who are appearing in the BSc final year examination or have qualified the same should not be more than 24 years of age for enrollment in AFMC Pune.
Note: During the admission, parents or guardians of the candidates are required to sign a bond. It becomes compulsory for them to serve in the armed forces. The type of commission doctor in Indian army will be serving depends on the number of available vacancies.
Also Read: Career as a Dentist
We hope we have resolved your queries and satisfied your curiosity to know how to become an Indian Army Doctor. You may check other details concerning career progress and army doctor rank in India
Rank on Entry
The rank granted to doctor in army in the first appointment in the Army Medical Corps:
Candidates who possess a full Medical Registration certification are granted a Captain rank.

Candidates who possess a provisional Medical Registration Certificate are granted have not completed compulsory pre -registration internship are granted with a Lieutenant rank.
Also Read: Career as Indian Airforce Airman
Student Also Liked:
Indian Army Promotion
Doctors are promoted in the Army Medical Corps. on the basis of satisfactory services provided by them and their fitness for the higher rank.
We have listed here the eligibility criteria for promotion to the certain post.
Captain: The promotion to Captain rank is considered for those who possess permanent registration after completion of prescribed internship partly or wholly in the Armed Forces.

Major: The promotion to the role of Major is eligible after completion of four years of service as Captain.

Lt. Colonel: After completion of 13 years of reckonable service or on completion of 13 years from the date of eligibility of permanent registration, candidates become eligible for the promotion to the rank of Lt. Colonel.

Colonel or above upto Lt. General: The promotion is done by selecting the present number of posts authorised in different ranks from Colonel to Lieutenant General.
Indian Army Rank Authorised Cadres
Lt. Gen: 07

Major General: 25

Brigadier: 96

Colonel: 373
(Source: Indian Army Official Website)
Popular Online Medicine Courses and Certifications
Conclusion: Aspirants can directly get recruitment as a doctor in Indian army by enrolling themselves in the AFMC, Pune in MBBS course. Once enrolling in the course, it is mandatory for candidates to further pursue Army service; they are not liable for pursuing any other career outside the Armed Forces due to signed NOC during the admission process. The army doctor salary is also decent. AFMC offers limited seats, and it is highly competitive to get enrolled in it.