Top 10 Indian Universities That Provide Online Courses
Indian saw a sudden rise in online courses in recent times, bringing one of the most debated subjects in the field of e-learning. Many Indian Universities have started to offer online courses, putting a full stop to the drawbacks of classroom-based learning, such as location, accessibility, transport, and cost. Moreover, thousands of students in India move to different countries to get higher education and professional prospects. However, with Indian Universities offering online courses these students can now get the same education at the comfort of their home, reducing wastage of millions of dollars in traveling and studying abroad.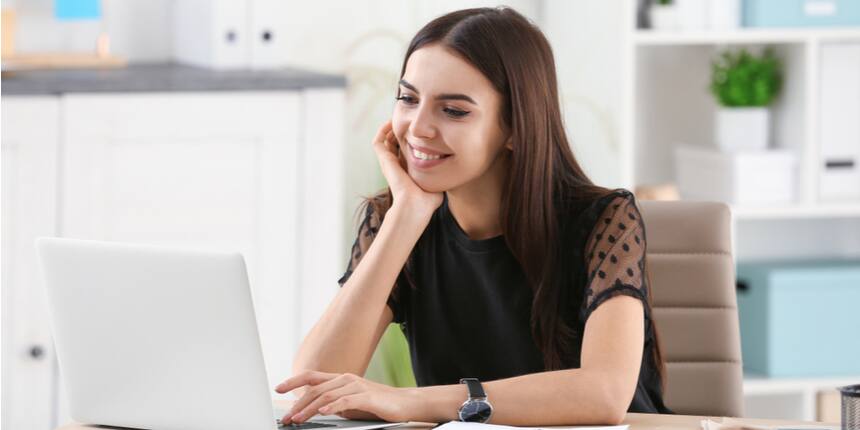 Online courses offered by Indian Universities have received tremendous support from the students. Universities that offer online degrees have eliminated regional and financial obstacles to quality education. Another significant element of this revolution is the rise in jobs. Skillful trainers and instructors will extend their scope through online education. Students in India will obtain education from the world's leading professors and instructors with the help of Indian Universities offering online courses.
Online courses offered by Indian Universities give professionals the ability to develop and upgrade their skills while working at the same time. This lets them keep up-to-date on new trends and innovations. At the same time certificate courses from Indian Universities are time-saving and cost-effective techniques for any field. Read on to know about the Indian Universities offering online courses:
Top 10 Indian Universities That Provide Online Courses
| | |
| --- | --- |
| Name of Universities | Online Courses Offered |
| Indira Gandhi Open University (IGNOU) | Bachelor degrees- BA, BCom, BCA |
| | Programmes are conducted in the fields of management in organizations, including MBA, BBA, MCA, BCA, M.Sc. (IT) B.Sc. (IT) (IT), and other online degrees. |
| | Two years of Post-Graduation in Diploma Management and Ms in cyber lows, a diploma in finance management, and a diploma in human resource management. |
| Symbiosis Center for Distance Learning | Symbiosis center for distance learning provides MBA, PG Diploma, UG diploma, and many online certification courses in management apart from a certificate in human resource management and there is even a project management certification online by Symbiosis. |
| | Madhya Pradesh Bhoj University provides B.Ed, MBA/PGDM,online art classes, and many more online business courses. |
| Maharshi Dayanand University | Maharshi Dayanand University provides M.Sc, BE/B.Tech, B.Pharma, M.A, and an online law degree like LLB. |
| | Dr. BR Ambedkar Open University provides undergraduate degrees, master's degrees, and diploma courses. Also, they provide online computer courses. |
| | Netaji Subhas Open University provides the best online courses such as an MA, PG Diploma, BA, B.Sc, and many other courses. |
| Acharya Nagarjuna University | Acharya Nagarjuna University provides MSc in mathematics, MA in English, BBA, MSW. |
| | Karnataka State Open University provides BE/B.Tech, MBA/PGDM, MSc, UG Diploma, and many more online courses. |
10 Indian Universities Offering Online Courses
1. Indira Gandhi Open University (IGNOU) - Indira Gandhi National Open University is one of the top Indian universities offering online courses. Indira Gandhi National Open University (IGNOU), famously known as People's University is India's highly top institution. The university has a highly trained and knowledgeable professor's team committed to the growth of expertise, skills, tendencies, and value by dynamic and engaging student learning and academic care. IGNOU offers undergraduate, postgraduate, certification, and diploma education to graduates in the fields of humanities, technology, economic development, and leadership. Also, IGNOU provides online certificate courses that help you in your career development.
2. Sikkim Manipal University - Sikkim Manipal University has made a significant contribution with its path to the academic revolution and is recognized by the commission on higher education and supported by the government of India. Sikkim Manipal University provides high-quality education to academics from the North and Northeastern parts of India.
3. IMT Distance and learning institute - IMT Institute is the top listed university located in Ghaziabad. The Center has made great strides in training managers, equipped with a strong vision, combined with advanced technologies. The Center aims to build all-round management and business leaders by enabling its students to develop the skills they need.
4. Symbiosis Center for Distance Learning - SCDL offers master's degree Associate, certificate, and diploma programs in several management courses. Overview of the Blended Learning approach for all programs offered by SCDL. Immersive e-Learning material as a learning material technique to enhance the comprehension of topics. The interactive classroom service with the staff eliminated the communication barriers between the instructor and the instructor. Online Professor Chat Sessions allows students to interact with the professors.
5. Madhya Pradesh Bhoj University - The university helps to encourage education amongst these impoverished and has set up study centers in rural regions. It cooperates with organizations such as the Indian Rehabilitation Board, the Indian Institute for Travel and Tourism Management, and the Indian Institute for Material Management. The goal of the university is to have a readily available model of learning and teaching via educational inputs such as classroom sessions, online courses, communications systems teaching. Bhoj University places particular emphasis on targeting different learners from rural areas, particularly those with disabilities.
6. Maharshi Dayanand University - Maharshi Dayanand University provides a wide selection of programs via online courses. Maharshi Dayanand University has student services Centers (SSSIs) in the open learning program, which include all the online therapy or learning problems, but also self-growth, soft skills, career therapy, typically comprises the promotion of e-learning in conjunction with the National Education Policy. Also, the SSSCs promote the learning, therapy, and resolution of the issues faced by graduate students through self-study about the study references provided to them by the Directorate. Via the SSSCs, these students can communicate with the mentors as well as the social circle.
7. Dr. BR Ambedkar Open University - Dr. B.R. Ambedkar Open University (BRAOU) has a very large of 206 study centers in the state of Andhra Pradesh. The Institution is adopting the slogan "Education at Your Doorstep." The University appeals in particular to females, poor workers, and those who want to develop their educational credentials and technical skills. The University focuses on financially deprived and physically disconnected people who've never had access to quality education before.
8. Netaji Subhas Open University - Netaji Subhas Open University is India's leading state open university. The Institution has set up 31 learning centers to offer learning activities to those with a bachelor's degree (BDP) in Arts & Commerce, 5 Arts & Commerce Centers under the BDP.
The Bachelor's Degree in Science Fields, the master's degree Degree in Science Fields (Mathematics), and the Art Topics (History and Social Work) also have been made accessible to learners.
9. Acharya Nagarjuna University - Accreditation through either the Center for online courses or via the Student Center of selection. Allocations are made twice a year, Academic Year Group, Year Batch January to December Sunday classes/practicals at the campus locations. The university offers various more than 75 degrees. A large network of review centers for the benefit of the students. Offers better education at a reasonable cost.
10. Karnataka State Open University - Karnataka State Open University is located in the center of Manasagangotri, Mysore. It is regarded as one of India's better sporting colleges for online courses. The college system is a renowned higher education corporation recognized for its competitive advantages in offering its students with outstanding and appropriate e-learning courses.
Frequently Asked Question (FAQs) - Top 10 Indian Universities That Provide Online Courses
Question: Why do some Online courses services cost less than the others?
Answer:
The variations in the fees for college courses offered by the university are largely due to the various policy objectives by universities. Although some colleges use their low rates as the reason for gaining a lot of students, others based their degree courses on the prestige they have gained over many years, together with the services they provide to explain their increased expenses.
Question: Is online education cheaper than on-campus education?
Answer:
Although some organizations offer free digital educational programs, some charge modest school fees much like on-campus courses. The explanation of why distance learning is cheaper is that there are no extra costs associated with online courses, such as traveling, accommodation, travel, etc. This enables digital degrees more accessible than conventional on-campus programs.
Question: Are online qualifications of low quality?
Answer:
What's important to recognize is that online courses have had the same certification as traditional undergraduate degrees, allowing them as valid and rigorous as regular undergraduate degrees. It is suggested, therefore, that people think of courses before taking any important decisions to avoid fraudsters and unrecognized institutions.
Question: What's the easiest way to find inexpensive online courses?
Answer:
The best way to find accessible online courses is to explore available online and distance learning opportunities through some of the global knowledge websites. By performing comprehensive online research on the matter and the feedback of participants that have already registered in the courses, learners can freely assess the efficacy and quality of the classes they find themselves.
Question: How relevant is the student support service offered by online education services?
Answer:
The standard of student support and guidance services provided by distance learning organizations is also of great importance as it affects the successes and failures of a student to complete his / her course.Based on the service quality and service, the standard and type of support offered can vary greatly.
Question: Is there any importance of the classroom activities and the interactive learning environment provided in online courses?
Answer:
The reality is that the consistency of the research content and the interactive teaching methods in online courses is even more critical than in traditional studies. To inspire students to study and learn as much as possible, stimulating teaching strategies with varied and engaging activities must be offered. There is also a need to provide a social network and a virtual campus to allow participants to connect and keep in contact with each other.
Question: Do online education and standard courses have the same value?
Answer:
Yes, Students seeking online education degrees are granted the same level of popularity and importance as is provided by traditional universities. Besides, nobody can discriminate against undergraduate students in online courses and standard courses in compliance with the UGC notifications.
Question: Which learning process is used in online courses?
Answer:
Online courses provide a hybrid approach to student learning with a mixture of conventional and e-books (program specific), e-learning, and faculty interactions. To encourage debate, tutors use online chats and online classrooms. These sessions help students to connect with the staff and quickly clear up their doubts.
Question: Which payment method is used in online courses for fees payment?
Answer:
In the online course, direct Bank transfer services are available for fee payment. Or you can pay fees by their online portal.
Question: How can I ask my doubts to professors?
Answer:
You can contact the staff or your professor by their email id or you can contact them with chat.
Skill Development Updates and Articles