Tata Consultancy Services (TCS), an Indian multinational company is a global leader in business solutions, digital, and IT services across 46 countries. This a top Indian tech company employs over 6 lakh people. This year TATA, has announced that it is going to hire freshers who are graduating in 2023 through the TCS National Qualifier Test (TCS NQT). This is a golden opportunity for any fresher to enter the job market. This will be a single test for both TCS Ninja and TCS Digital. Based on the performance in TCS NQT, top performer candidates will qualify for digital interviews and others for Ninja.
Here in this article, we will discuss important dates, eligibility criteria, registration process, the application process, online test pattern, and preparation through the TCS launchpad for TCS National Qualifier Test.
Also, students can download following sample paper sets for the TCS NQT Exam.
| | |
| --- | --- |
| Title | Download Link |
| TCS NQT Sample Paper 1 | |
| TCS NQT Sample Paper 2 | |
| TCS NQT Sample Paper 3 | |
| TCS NQT Sample Paper 4 | |
| TCS NQT Sample Paper 5 | |
Also Read| How To Prepare For TCS NQT Quant
Motivation To Join TCS
Tata Consultancy Services is a part of the trustworthy and biggest Indian brand TATA. The parent company's contribution to social welfare is enormous. Tata Trust holds 66 per cent of the equity of Tata Sons and therefore 66 per cent of the profit goes to charity, so, working for TATA is like working for India. Work-life balance, high job security, brand name, work environment, working with an international team, etc are only icing on the cake while working with TCS.
Also Read| How To Prepare For TCS NQT Logical Reasoning
Important Dates For October Exam
| | |
| --- | --- |
| Registration Status | Open |
| Last date of Registration | 24 September 2022 |
| Exam Dates | 9 October 2022 onwards |
| Interview Date | To be announced after test results |
Also Read| How To Prepare For TCS NQT Hiring Process
Eligibility Criteria
Percentage: Aggregate marks should be 60 per cent or 6 CGPA in each of Class X, Class XII, Diploma (if applicable), Graduation, and Post-Graduation (if applicable).
Highest Qualification: Students who are graduating in the year 2023 and have academic degrees namely Bachelor of Engineering (BE)/ Bachelor of Technology (BTech)/ Master of Engineering (ME)/ Master of Technology (MTech)/ Master of Science (MSc/ MS)/ Master of Computer Applications (MCA) in any specialisation offered by recognised universities/ colleges are exclusively eligible for TCS NQT.
Backlogs / Arrears / ATKT: More than one pending or active backlog/ arrear/ ATKT at the time of appearing is not acceptable for the TCS Selection process.
Gap / Break-in Education: It is compulsory for a student to declare the gap in education with relevant documents and the overall gap should not exceed more than 24 months.
Course Types: Students who have finished their secondary and senior secondary from NIOS are eligible and only full-time courses will be considered.
Work Experience: Students who have more than two years are eligible to apply.
Age: The age of students should be between 18 to 28 years to participate in this hiring event.
Also Read,
What is TCS NQT And Its Variants
Want Placement ? Try These Employibility Tests
Register At TCS Next Step Portal
Following steps can help new users to register at the TCS Next Step portal.

"Visit TCS Next Step Portal and click on Register Now

Select the IT category and complete the application form. Your password should be between eight (08) to fifteen (15) characters long and must include At least one upper case character (A-Z), At least one lower case character (a-z), At least one number (0-9), At least one special character except ([,]), It should not contain single quotes ( ' ), double quotes ( " ) or space characters.

Select security question and answer, fill the captcha, and submit.

The candidate will receive a successful registration email on the registered mail id.
Application Process:
Visit for TCS Next Step Portal

If you are new then register yourself by following the above steps and if you have a registered user then login with your credentials.

Click on the "application form" at the top left corner

Before filling in the personal details, academic and work experience details, and other details(upload photo and CV), read the important instructions carefully and click on "Save and Continue" on-site. It will show a blue tick mark if all information is correct.

A pop-up will show that you would like to apply for the TCS recruitment drive, select the mode of the test (in centre or remote), and click apply.

Candidates can trace the application and it should show "applied for drive"
Online Test Paper Pattern
TCS NQT is an integrated test with two sections: foundation and advanced; both sections are compulsory for all students to be eligible for interviews. According to the performance in the test, candidates are shortlisted for either digital or Ninja interviews.
Test Pattern
| | |
| --- | --- |
| Sections | Duration (In Mins) |
| Part A - Foundation Section | |
| Traits | 1 |
| Numerical Ability | 25 |
| Verbal Ability | 25 |
| Reasoning Ability | 25 |
| Part B - Advanced Section | |
| Advanced Quantitative Ability | 20 |
| Advanced Reasoning Ability | 15 |
| Advanced Coding | 55 |
| Total Duration | 166 |
Prepare Via TCS Launchpad
It is a free learning gateway to limitless growth for soon-to-be graduates looking to successfully transition from campus to corporate and work with the global team. TCS Launchpad offers a collection of courses on various programming languages, Technology Bootcamps, SME Connects with market leaders, Webinars, Assessments, and Interview Prep series' to hone your skills and be industry-ready.
Participate In TCS Launchpad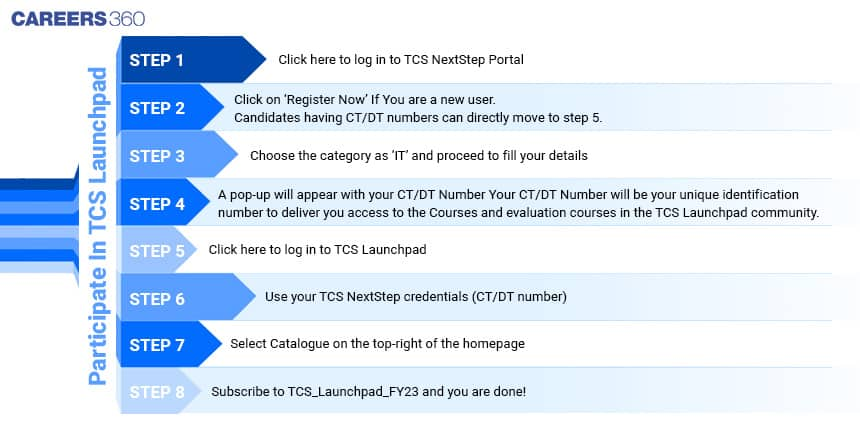 TCS Launchpad
Considering the situation of the job and the candidate's needs, It is the right time to show your spirit, compose the world's future, influence a million lives, and build an enriching career.