The world is currently seeing a growing focus on mental health concerns and awareness. This could be attributed to the influence of social media and increasing access to information. However, a major issue that arises is that although awareness is increasing, our comprehension of the nuances associated with these concerns is not necessarily improving. While the heightened awareness is undoubtedly positive, it is essential to remember that the language we use to discuss mental health can have a significant impact on how people perceive and experience these conditions.
Need For Empathy
In everyday conversation, words such as depression, anxiety, OCD, and "kill me" are often used casually, without considering their potential impact on ourselves or those around us. Despite their seemingly innocuous nature, these conditions can have a significant and detrimental effect on an individual's well-being. As a result, it is crucial that we become more mindful and empathetic in the language we use to communicate, recognising that while certain words may hold little value for some, they can represent real struggles and challenges faced by others on a daily basis.
In this article, we will explore why it is essential to carefully consider our language when talking about mental health, as well as provide tips and guidance on how to do so in a way that is both respectful and effective.
Also Read | A To Z Of Mental Health Care : Practices You Should Follow
What Is Mental Health Language?
Mental health language could be understood as the words and phrases we use to describe mental health issues and conditions. It includes the terminology and vocabulary used to discuss mental health concerns, such as depression, anxiety, bipolar disorder, schizophrenia, and other conditions, as well as the language used to talk about emotions, feelings, and behaviors associated with mental health.
To understand this better, here are a few examples of how these words and phrases can be used in daily life, you may have said these things or heard people around you say them.
"I'm so OCD about keeping my desk clean."
"She's acting so bipolar today."
"He's such a psycho."
"I'm feeling really depressed because of this weather."
"I'm so anxious about this upcoming test, I feel like I'm going to have a panic attack."
These phrases are often used without considering the potential impact they may have on individuals who are struggling with mental health concerns. They can perpetuate harmful stereotypes, trivialise serious mental health conditions, and make it harder for people to seek the help they need. It's important to use language that is respectful, accurate, and empathetic when discussing mental health issues.
Impact Of Language
Language plays a significant role in shaping our experiences and perceptions. The words we use to describe our experiences can activate certain neural pathways and influence the way we feel and think about those experiences. For example, if we say something like, "this weather is really depressing me" – this statement, if said enough times can simulate feelings of sadness or gloom within ourselves.
Affects Feelings, Mood
When we repeatedly use language that associates weather with negative emotions like sadness or depression, our brain tends to reinforce these associations and create a stronger link between weather and negative emotions. This can lead to a self-fulfilling prophecy where we expect to feel gloomy whenever it's cloudy or rainy outside, even if the weather doesn't actually have a direct impact on our mood.
Influences Interactions
Furthermore, language also influences the way we communicate with others and shapes our social interactions. The words we use to express our thoughts and emotions can impact how others perceive us and how we perceive them. The way we talk to ourselves and the people around us can also affect self-esteem and overall mental health.
Overall, language is a powerful tool that can shape our experiences and interactions with the world around us. Being mindful of the words we use can help us cultivate more positive and constructive experiences and relationships.
Also Read | 5 Mental Health Apps You Should Use For Your Well-Being
Why Be Careful?
Here are a few reasons why we must make it a practice to use mental health language mindfully.
Reducing Stigma | The use of stigmatising language can create a negative perception of mental health conditions, leading to feelings of shame, embarrassment, and isolation for those experiencing them.
Encourage Seeking Help | It can also discourage individuals from seeking help and support, perpetuating the negative effects of mental health conditions. Therefore, it's crucial to use appropriate and respectful language when discussing mental health to promote a positive and supportive environment for those affected by these conditions.
How Can You Be More Mindful?
It's also essential to educate ourselves and others about mental health conditions to reduce misunderstandings and misconceptions, and promote a more inclusive and supportive society. Here are some things to remember when conversing.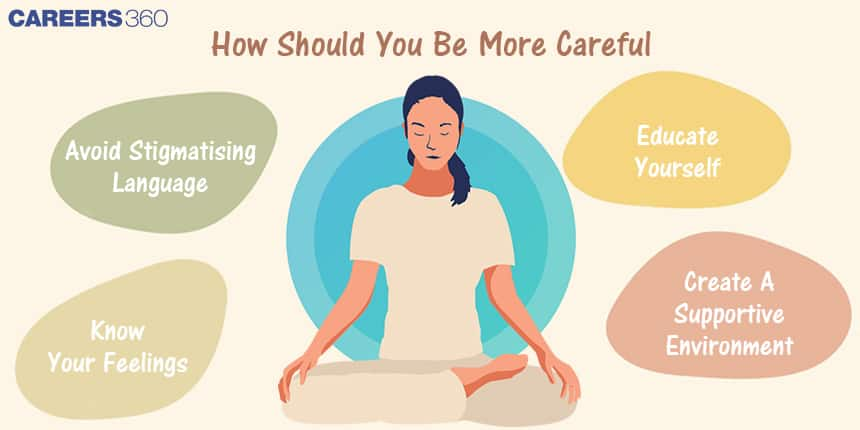 It's important to create a supportive environment by using language that is respectful, compassionate, and non-judgmental.
Know Your Feelings
Feelings are temporary emotions in response to a situation, which can be positive, negative, or neutral. Mental health conditions are persistent disruptions in mood, behavior, or thought patterns that impair daily functioning and require clinical diagnosis and treatment.
It's important to distinguish between the two for proper support. Feelings can be managed through self-care and coping, while mental health conditions may need professional help like therapy or medication. If you want to express how you feel about a certain situation, it is vital to name the feeling, rather than using a psychological condition to express how you feel. For example: "I am really upset at the result I got" rather than "I am depressed about the result I got"
Also Read | 7 Tips To Convey Your Struggles To Your Loved Ones
Avoid Stigmatising Language
Using language that reinforces stereotypes or perpetuates negative attitudes toward mental health can harm those who struggle with mental health issues. Avoid using labels that carry negative connotations, such as "crazy," "psycho," or "insane." Instead, use language that is person-first, respectful, and accurate.
Educate Yourself
Learn more about mental health conditions, their causes, symptoms, and treatment options. This can help you communicate more effectively with people who struggle with mental health issues and reduce stigma. The importance of this step increases if you know someone who is experiencing a difficulty or dealing with a mental health issue. It will enable you to start understanding what may work and what may not work.
Create A Supportive Environment
It's important to create a supportive environment by using language that is respectful, compassionate, and non-judgmental. You can start by acknowledging the importance of mental health and showing empathy towards those who are struggling. This can include validating their experiences and feelings, expressing understanding and support, and offering help and resources. By creating a safe and welcoming space for people to talk about their experiences, you can help to reduce the shame and isolation that often comes with mental health conditions and promote healing and recovery.
Also Read | Core Beliefs: What They Are, How They Manifest, Getting Rid Of Unhelpful Ones
While there is a growing focus on mental health awareness, it is crucial to consider the language used to discuss mental health. The words we use can perpetuate harmful stereotypes, trivialise serious mental health conditions, and make it harder for people to seek the help they need. By being mindful of the language we use, we can cultivate more positive, constructive experiences and relationships for those affected by mental health issues.
Ichha Bhan is a counselling psychologist, and personal growth coach. She holds more than 5 years of hands-on experience in working with children and adolescents, helping them and their parents navigate shared emotions, and the challenges of growing up.