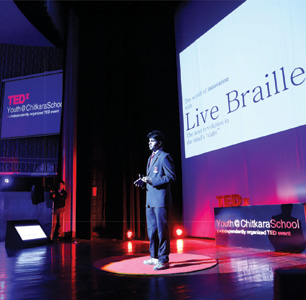 Abhinav Verma giving a presentation on Live Braille, a programme to help the visually challenged
AT a time when engineering institutes are mushrooming all over India, a few extraordinary students are putting extra efforts to standout with extraordinary achievements. And, it's such students who bring glory to engineering institutes across the country. These achievements are seen across segments, from academics to sports,  films to corporate, and so on. IITs boast of people like Nandan M. Nilekani, Chairman, UID, Jairam Ramesh, Union Minister, Bharat Desai, Chairman and Co-founder, Syntel, Manohar Parrikar, Chief Minister of Goa, and WhatsApp's Business Head Neeraj Arora, to name a few. This leads to a burning question. "Can only people from IIT, NITS make it big in India?" The answer is an emphatic 'No'.
From 'not-so-premium' colleges
Delve a bit deep into the profiles of Indian achievers and you find several engineering stars, making the so-called 'non-premium' colleges bask in fame. For instance, most recently the US-headquartered software giant Microsoft named Satya Nadella as its CEO. No wonder, Manipal University, Nadella's alma mater, enjoyed its share of glory. "Today is a red letter day in the history of Manipal University," said Chancellor, Dr Ramdas M Pai.


Similarly there are quite a number of  talented or say, extraordinary students at universities and colleges. MS Mehta, CEO of Sesa Sterlite Limited, one of the Fortune 500 companies, did BE Mechanical Engineering Mining/Minerals from MBM Engineering College University of Jodhpur; PES University Bangalore graduate MekinMaheshwari heads Digital Media and payments at Flipkart.com, one of the fastest growing start-ups and one of India's largest e-commerce companies, that has raised funding of about $560 million so far.


Amity University's Neil Mathew with other participants at #OpenDataApps Challenge 2014


Scholarships and fellowships
Engineering students also bag prestigious scholarships and fellowships. Last year, The Institution of Engineering and Technology (IET) awarded winners of the first edition of its India Scholarship Awards 2013. Suhas Vidhate from IIT Bombay and Siddha Ganju from National Institute of Technology (NIT) - Himachal Pradesh came out  winners in the General and Women's category, respectively. The eight finalists represented IIT-Kanpur and Bombay; NIT  - Rourkela, Durgapur and Himachal Pradesh; R V College of Engineering and M S Ramaiah Institute of Technology (MSRIT) from Bangalore and College of Engineering, Pune. "MSRIT has established standards to offer quality technical education to generate technically-competent and socially-concerned manpower to face all technological, managerial and social challenges with credibility and integrity," said Dr S.Y Kulkarni, Principal, MSRIT.


Jishnu Das who is a graduate of Indian Institute of Technology, Kanpur bagged Tata Scholarships at Cornell (US), a US$25 million endowment from the Tata Education and Development Trust. Some 20 scholarships are available every year for Indian undergraduate students at Cornell University. "I was not aware of the fellowship at all when I applied to the Computational Biology programme here at Cornell. This is because the fellowship was not externally announced,  internally the Director of Graduate Study of each department nominated their top picks to a committee who then picked the person they felt was most appropriate and only one award was made that year," Jishnu recalled.


Chitkara University's students at international Shell Eco Marathon, Malaysia


Students of one of the fastest emerging universities, Amity University, are tapping a lot of international opportunities like Archit Sharma of B.Tech (Computer Science Engineering) who bagged summer internship in CERN Open Lab, Switzerland with stipend of Rs. 308,500. Ankit Gupta, a student of B.Tech (CSE), batch 2010-14 got an internship opportunity at The Washington Centre (TWC), USA that was fully sponsored by Prudential Foundation. 


IIT Kanpur's Ankur Verma received Malhotra-Weikfield Foundation Nanoscience Fellowship 2011; Varunesh Mishra (CSE) won Best Poster in IBM Collaborative Academia Research Exchange (I-CARE) on Fourier Domain Scoring based Bug Report Summarization, 2011; KewalDharamashi (ME) received the First Prize in ASME's Asia Pacific Competition apart from the Best Technical Paper Award. The award is for his work on laser ignition of natural gas air mixtures carried out in their Engine Research Laboratory. In 2013, all eight Japanese TODAI scholarships were awarded to IIT Kanpur students. 
Dr S.Y. Kulkarni
Principal,
M. S. Ramaiah Institute of Technology (MSRIT),
Bangalore
"MSRIT offer quality technical education to generate technically competent and socially concerned manpower to face all technological, managerial and social challenges with credibility and integrity"
Challenging competitions
Success in competitions is one of the many ways to acknowledge bright engineering students. India's foremost competition for urban transformation - the National Student Challenge 2013 – organized by The Indian Institute for Human Settlements (IIHS), Bangalore and supported by the Rockefeller Foundation saw Team Transpose from Center for Environmental Planning and Technology (CEPT) University, Ahmedabad emerging winners at the finale.
Tackling traffic issues: The winning team presented an idea of acquiring, analysing and optimizing traffic movement to address traffic congestion in urban India. The joint runners-up were InfiLight and amrut Dhara from IIT Kharagpur and IIT Madras respectively. The three winning teams received a grant of Rs. 3 lakh each to support the implementation of their proposal and continued mentorship support from IIHS. Now, Transpose is a start-up which deals with pattern recognition among vehicular traffic, proposes solution for issues like traffic congestion, and helps authorities to mark smarter decisions. Transpose is now getting incubated at IIHS. 
Helping blind folks: Chitkara University, Chandigarh's Abhinav Verma, Karta rKaur and Anchal Gupta were first runner up at the IMechE EngNow DCVI competition finals at Hong Kong. The competition involved 180 colleges from India and from 15 Asian countries. Live Braille prepared by them is to assist the navigation of visually challenged people. The Live Braille model has earned recommendation from Kamlesh Kulla, NASA chief scientist for earth observation in the Human Exploration Science Office.
Young science awardees: IIT Kanpur's Somak Bhattacharyya (Electronic Engineering) received Young Scientist Award at the International Symposium on Electromagnetic Theory, 2013 organized by International Union of Radio Sciences (URSI); Sanchit Singhal was awarded the 'Promising Young Asian Leader' award at Asia'99 Conference, at NUS, Singapore; Puneet Singh and G Sriram won the American Helicopter Society student design competition for best new entry; Sauvik Samanta (CHM) got the first prize in poster presentation in the '5th International symposium' on "Drug Development for Orphan/Neglected Diseases" organized by Current Trend in Drug Discovery Research (CTDDR-2013) at CSIR-Central Drug Research Institute (CDRI), Lucknow.  Puneeth Patil S, a BE student of Acharya Institute of Technology, Bangalore won a Gold Medal for his project 'GSM Based Automation for Agriculture Field A Farmers Friend' in the "National Design & Research Forum, 42nd All India Student Design Competition" held at Ranchi.

Tata Cornell (US) Scholars with Ratan Tata (middle), former chairman of Tata Group


Women achievers
Of course, institutes thrive on students' achievements, but the victory tastes all the more sweet when the winners are women students.

Sports: To start with, Asian Athletic Medallist Dutee Chand, a student of Kalinga Institute of Industrial Technology (KIIT University), Odisha, won two gold and one bronze medals at the 53rd National Open Athletics Championships in the 200m & 100m race and 4 x 400 metre relay.
Engineering: According to Dr. Rajendra Pandey, President of NIIT University, Priyanka, a B. Tech student was invited to present a research paper at an international conference at Las Vegas. Prachi Sharma, a BE (Computer Science & Engineering) student of Acharya College, Bangalore was invited to work with Sensor Research Team at Old Dominion University from July 1, 2012 to August 25, 2012 as a research assistant. Pravesha Mishra of B.Tech (Civil) Batch 2011-15, Amity University has been offered a Fellowship under the Summer Research Fellowship 2014 scheme of IASC-INSA-NASI.
Recieving prestigious awards: IIT Kanpur's Vatsal and Saumya were selected for Honda Young Engineer and Scientist Award in India 2012; Avani Nandini (CSE) won Grace Hopper Scholarship of Facebook, 2011; and Parul Agarwal's (CSE) paper was accepted for Grace Hopper Celebration for Women in Computing, 2011. According to Avani Nandini's LinkedIn profile, she is now working as Software Engineer at Facebook.
Dr Ramdas M Pai
Chancellor Manipal University
"Today is a red letter day in the history of Manipal University" 

On Satya Nadella becoming Microsoft CEO
Aerospace
It is no surprise for the county with a history of aeronauts like Rakesh Sharma and Kalpana Chawla that a few engineering students are doing very well in aerospace engineering. Since 2009, IIIT Hyderabad has been the only team from India to qualify for World Finals of CanSat, a NASA-sponsored and American Astronautical Society organized annual international competition. The contest allows student teams, from colleges and Universities around the world to design, fabricate, and launch an aerospace system (CanSat).
Automation & Robotics
Robotics is fast entering into the industrial space in India, and naturally demanding people to enter this growing field. IIIT-Hyderabad's Team Kshitji has been the only team from India to qualify for the finals of the Robo Cup event, each year, for five years, since the inception of the contest in 2004. Chennai's Bharath University (BU) bagged third place in the Service Delivery League at the AUTCUP 2013 organized in Tehran by the Amirkabir University of Technology, Iran's first technical university. The robotics team comprised Dileep, Yukesh, Muzamil, Mohit and Vijaykumar, lead by JaishankarBharatharaj, founder of Roboin. Similarly, Centurion University seems to have extraordinary students for Robotics and aerospace engineering. Their students excelled in the national level Robotics competition at NIT Jamshedpur and secured third position.


"Various clubs related to extracurricular activities cater to the need of overall development of a young mind. First semester GDGU students have secured position to final rounds of upcoming national competitions in robotics and networking," said Dr Raj Singh, Vice Chancellor of G D Goenka University. Similarly, DY Patil Institute, Maharashtra's engineering students secured second rank at National Level Robotics competition held at IIT, Bombay under their project e- Yantra. Students of NIIT University are also doing well in this field. Noteworthy achievements include, Defence Research and Development Organisation (DRDO) sponsored project Automated Vehicle Detection by Integrated Sensor Approach: sanctioned to our students of B Tech second years, Arshnoor, Ruchita, Ruby and Baljeev," Dr Rajendra Pandey, said. IIT- Bombay's students have done well in several segments like Shwas – Underwater gliders, Matsya – Autonomous Underwater Vehicle (Robosub).
Dr Raj Singh
Vice Chancellor, G D Goenka University


"Our students have shown promising talent in studies and allied areas like robotics by using advanced software like AutoCAD as well as extracurricular activities like debates, photography, adventure activities and drama"

Automobile
The enthusiasm amongst engineering students in the field of automobile, is gaining a lot of traction and varsities are rejoicing the speed. Thapar University's students conceptualized, designed and built a racing car that won the Best Endeavour Award at the Silverstone Racing Track in Northamptonshire, UK in 2007, a first of its kind award for any Indian team. The team of AIT Hooligans, Mechanical Engineering students of Acharya Institute of Technology, Bangalore, invented an all-terrain vehicle as part of the international event of BAJA SAEINDIA 2011 competition.   
Corporate waves
A few students have bagged big opportunities offered by the corporate sector. Two engineering students of Centurion University, Anshuman and DeeptimanPattnaik, received the first-ever Mindtree Fellowship in 2013 to make an Oriya-English translation software. The desire has now turned into a mobile app. The dictionary, 'OdiaAbhidhan' is an Android app in Google Play.
Chitkara University's students have made it to the top four teams in the Microsoft Imagine Cup. As a part of this project, they developed a combination of hardware and software applications for better irrigation facilities. Gunraj Singh was selected as the Google Student Ambassador to represent Chitkara University for the upcoming academic year. In fact, the university's third semester engineering student, SunishChaudary has served as an Ambassador for Iversity GmbH. Iversity is an online platform for MOOC courses. 
Extra-curricular activities
Some students walk the extra mile in extracurricular activities like sports, music, drama, social activities, and so on and so forth.  Suryakaran Jain of Chitkara University's batch of 2009 is working with M.A.D. (Make a Difference) NGO supported by Michelle Obama as English volunteer to teach conversational English to under-privileged children. So if you have the heart, there is no dearth of opportunities to make a name for yourself in academics and beyond.