10 Steps to a Great UI Design Career in 2021
In today's rapidly evolving world, the most commercially successful websites/applications are those that respond fast and efficiently. Design and software have become largely dependent on the user interface, and it's all about the user. With the increase of new technologies in the modern era, everyone gets to discover the best technologies without wasting enough of their time and wasting their active brain.
Also read - List of Certification Courses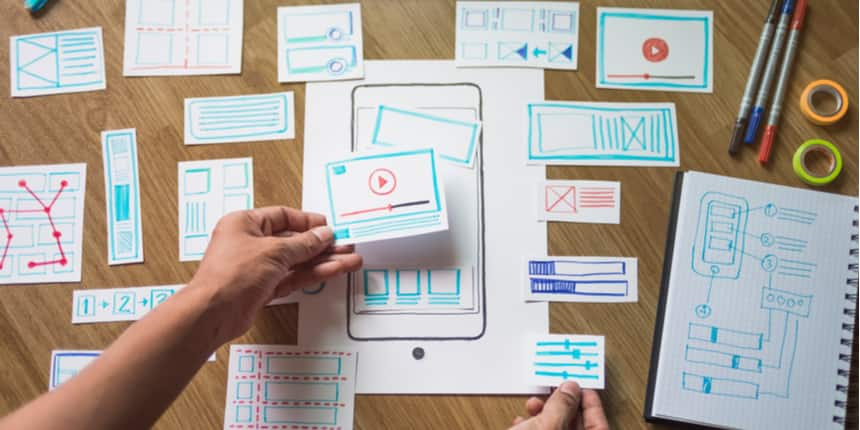 The very same applies to browsing websites or mobile apps, and also where the rapid and effective response of the website and mobile app can succeed. In general, it's also about users now! Because when it comes to Smartphone apps or web service quality, most software companies shift to the User Interface (UI) apps. A UI design career is not only rewarding financially, but also gives you a chance to understand how the user interacts with your application and what drives them to use it for prolonged periods of time.
If you have a passion for research, critical analysis, web design, human-computer interaction among practical knowledge of technical ability such as mobile / website design, then pursuing a career as a UI designer, completing your UI UX design course is the best fit for you. Globally, there is a growing demand for UI skills, particularly in countries such as Europe, the United States, Australia, and New Zealand. In several nations, demand is higher than the availability of professional UI designers. Read this article to know more about steps to a great UI design career.
10 Steps to great UI Design Career
1. Acknowledge all guidelines for User Interface design
The very first step to a great UI design career is to know specifically what you'll do. You can get ideas after completing the UI design courses. You've to choose what you need from yourself for a career as a ui designer. Start by figuring out which specialization is of the greatest importance to you.
2. Research the job tools
The second step to a great UI design career is to get yourself a copy of some development and testing software. Similar to recent research by Adobe, 42% of recruiting managers claim that Understanding of UX software is the most relevant ability they're looking for in a user experience designer that has completed UI design courses.
3. Acquaint the concepts of UI
Before practicing design, the very first thing you have to do is study some principles of design. From all this, you will be allowed to penetrate the world of design and start thinking creatively.
Read more - 10 Steps to a Great UI Design Career
4. Paying attention to design for User Interface
To become a user experience designer, you must pay attention to everything, ask yourself the key questions: why did they bring the icon here, not in there? Why is there a button only at the end, just not at the beginning? Find out what the page typically comprises?
Read more - 15+ Courses on Adobe XD to learn UI Design
5. Know about the UX design process
And the next thing to become a career as a ui designer is to grasp the creative process. UI / UX design is a series of specific phases that any creative individual is going through. Divided into four distinct phases — Discover, Describe, Create, and Deliver — Double Diamond is a clear visual mapping of the design method.
6. Take the Professional course
A lot of people are wondering if the courses are really important. Everyone is unique, some people are more curious and more relaxed looking into the new profession at work, watching youtube, reviewing books and papers.
Read more - Home CareerFoundry Courses UI Design Program UI Design Program by CareerFoundry
7. Get the Practice Experience
The next step to a great UI design career is to find a way to bring some of this new experience into effect. UX hiring managers need to know how you fix issues, so figure out a way to apply UX to original project work. Also, there seem to be a lot of ways to apply your experience and skills. For example, in your current business, you can take on small UX projects.
8. Build a Portfolio
When you've got practical knowledge and have UI design degree actual ventures under your belt, it's time to build a portfolio. The portfolio is the most significant requirement of the UX work recruitment process. This is one of the best ways to show that you have the skills and ability to do well in a research position.
Read more - 20+ UI Design Courses on Coursera for Product Designers
9. Connect with Recruiter and UI designer
Maintaining a network of contacts is crucial for any UX specialist, but you must get started first. Like other sectors, the best UX jobs aren't advertised — they're coming from LinkedIn, Twitter, local events, and referrals.
10. Apply with your first job/training
Utilize your first UX design job or intern as a chance to learn and develop. Aim for businesses where responsive management is a top priority for the company when looking for employment. These organizations aim to attract the smartest minds and allow them enough space to do their best job.
What Do You Understand By UI Designing for Software Applications
The User Interface (UI) is the method of enhancing the layout and interaction of your website or mobile app. It tends to focus on the design of the app and communicates with users. That screen, page, button, or other visual details you see when using an app is the User Interface of such an application.
UI design is normally concerned about design, user handling, and interaction. It is one of the reasons why it is so critical that you pay careful attention to it. These are the fundamental building blocks as to how your site is established and how it works while your target audience is accessed. If things don't go perfectly, problems appear to follow. A few of the elements used in the User Interface Design include input buttons, navigational components, informative components, and containers. The devil, as they say, is now in the details. Buttons, tables, toggles, icons, breadcrumbs, labels, and more have a big role to play.
Here are some most popular UI design course details to pursue a career in UI Design which will also help in knowing steps to a great UI design career. You can complete this UI UX design course and become a UI designer.
1. B.Des. in User Experience Design
Bachelor of Design or B.Des is indeed a Bachelor of degree. The length of the B.Des course is four years, which focuses only on design. B.Des students design new software, graphics, websites, gaming, style, and much more. B.Des candidates are also qualified in development tools such as AutoCAD software that allows them to design complicated systems easily with no errors on the computer screen. UI design courses are a very valuable stream and those that have a degree in B.Des get an opportunity to work in various industries. There are a few global corporations that pay significantly more than you can expect from those designers who are qualified.
Eligibility:
Learners who have achieved their 12th degree in any subject are entitled to enrol for the UI UX design course.
Duration:
You can complete this bachelor course within 4 years.
Fees:
To pursue this course you may cost INR 2 LPA to INR 7 LPA.
Visual communication is defined as the transmission of ideas and knowledge in ways that can be read or viewed. In the user interface design course Verbal content, in full or as a whole, depends on visualization and is mainly portrayed or represented in two-dimensional images, including signs, typography, illustration, web design, animation, color, and electronic tools.
Eligibility:
Applicants must complete their 10th and 12th or equivalent Science Stream examination with digital communication as one of the subjects.
Duration:
You can complete this UI UX design course within 4 years.
Fees:
To pursue this course you may cost INR 1 LPA to INR 3 LPA.
The communication program is designed to inform, educate, and entertain people in such a way that the idea is communicated and delivered in an efficient and useful manner. After finishing the program, the student would be able to interact with the group through graphic design, animation design, audio, and television design.
Eligibility:
Applicants must complete their 10th and 12th or equivalent examination with digital communication as one of the subjects.
Duration:
You can complete this UI UX course within 4 years.
Fees:
To pursue this course you may cost INR 1 LPA to INR 3 LPA.
Read more - Communication Design Course
4. BCA in Design animation/graphics/UI UX
BCA in User Interface (UI) and User Experience combined with UI UX design course Certification (IDF) is a course for developing techniques that can help companies develop and achieve website presence. The UX design course prepares the students for all technical skills, experience, and design techniques. It is industry-centric where students learn innovative skills, knowledge of software design, programming languages, and various techniques used during design.
Eligibility:
Applicants must complete their 10th and 12th or equivalent examination with digital communication as one of the subjects.
Duration:
You can complete this UI UX course within 4 years.
Fees:
To pursue this course you may cost INR 60,000 to INR 3 LPA.
Also, you can learn the User Interface (UI) courses and UX design courses online. Here are some popular UI courses available online with a certificate.
Online UI Design certification Courses
5. User Interface Design Required-Adobe XD UI UX Design
Such ui design certification courses are intended for people interested in UI / UX Design. You're going to start from the very beginning and work all of the ways through, point by point. Since you already have some familiarity with the UX course and want to get up to speed with Adobe XD then this course is great for you too!
Next, you're going to go over the discrepancies between UI UX courses. You'll look at what the vision for this real-world task is, then you'll hear about low-fidelity wireframes as well as how to make use of existing UI design kits. UI Design.
Eligibility:
No initial design experience is required for UI UX certification.
Duration:
You can complete this UI UX course within 12 hours.
Fees:
INR 8,640
6. DESIGN RULES: Principles + Practices of Great UI Design
UI is to ensure that no part of somebody's on-screen interaction occurs without a specific purpose. In ui design certification courses, the UI design decisions we make must reflect the motivations, perceptions, and atmosphere and potential actions of the user.
Eligibility:
No initial design experience is required for this course.
Duration:
You can complete this UI course within 5 hours.
Fees:
INR 6,400
There are several job roles available after completing ui design certification courses in IT Industries that paid a high amount of salary with good increments.
Job roles in UI Design
User Researcher
The UX Researcher's job should provide solutions to the most difficult questions in the design of the product. user experience design courses discover what customers need from the target market by performing this research, exploring customer behavior and motivation, and collaborating with the Product Design, Product management, and quality Development (Engineers) teams to create new product functionality. You can become a user researcher after completing UI design courses.
Salary:
INR 50,000 to INR 19 LPA
UX/UI Developer
User experience ( UX) design is based on user experience interaction with the apps. Front-end development is the technical implementation of the User Interface (UI) of the applications. The UI design is the visual bridge that connects them both. Getting all three fields operating together seamlessly is the secret to happy consumers and happy top management alike.
Salary:
INR 32,000 to 3 Lakhs
Are you having confusion about where to start or how to develop a career in UI Design? Here are 10 steps available to guide you to become a UI designer.
Final Thoughts
As software engineering is evolving and IT technologies are becoming more popular, performance, usability, and speed standards are becoming more important. As time passes, everything becomes user-centric, hence the need for user-centric websites that offer priority to learning, productivity, and satisfaction. These attributes are not seen in the Hawaii Emergency Management Missile Warning UI above.
Also read -
Frequently Asked Question (FAQs) - 10 Steps to a Great UI Design Career in 2021
Question: What is the difference between both UI and UX?
Answer:
UX Design applies to the term User Experience Design, and UI Design applies to User Interface Design.
We may define User Interface Design as the stuff that consumers see when accessing a digital product and User Experience Design as the experience they have when doing that.
Question: Is that great money in UI / UX design?
Answer:
Yes, you can earn a very good salary with experience in user interface design and if you have good knowledge of UI you can earn more money.
Question: Should I get to learn programming languages?
Answer:
The short reply is no. You would become a great web developer without learning to code, but I'd be dishonest if it said that understanding at least some HTML and CSS is not even an advantage.
Question: Should I get a degree in education at UI / UX?
Answer:
Through experience, businesses and customers are more interested in portfolios than in diplomas. So, personally, it wouldn't be too late to concentrate on getting a degree.
Question: What are all the responsibilities of the UI / UX Designer?
Answer:
Collecting and analyzing customer expectations in conjunction with product managers and engineers. Illustrating concept proposals using storyboards, process streams, and site maps. Designing graphical user interface components, such as menus, tabs, and widgets.
Web Designing Updates and Articles
Questions related to Web Designing
Showing 26 out of 26 Questions