IIT Madras: Online BSc Degree in Programming and Data Science
Established in 1959, the Indian Institute of Technology, Madras is one of the top IITs in India. Ranked No.1 in India overall and in engineering by NIRF for four consecutive years, it has also been granted the Institute of Eminence tag. IIT Madras offers numerous courses at the undergraduate and postgraduate level along with research degrees in engineering, science, humanities and management. B.Sc in Programming & Data Science is the first online degree offered by IIT Madras. In an exclusive interview with Careers360, Prof. Andrew Thangaraj, and Prof. Prathap Haridoss, IIT Madras, talk about the online BSc in Programming & Data Science, its purpose, eligibility, seat availability, learning objectives, admissions, scholarships, and placements. Read the full interview with Prof. Andrew Thangaraj and Prof. Prathap Haridoss, IIT Madras, below.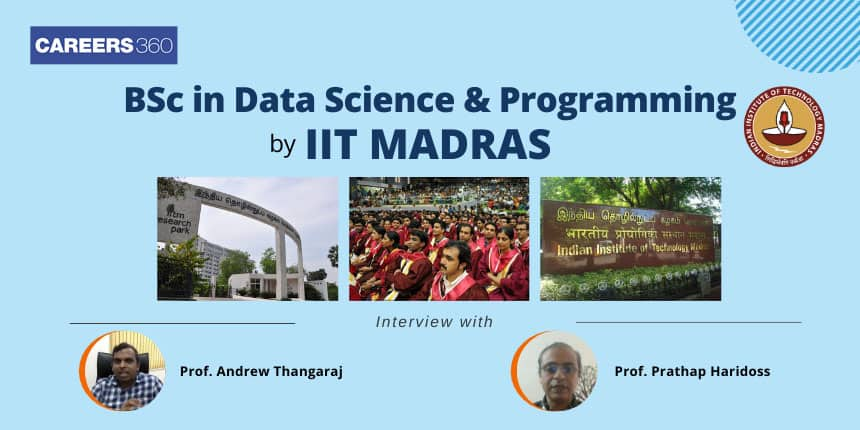 Watch the full interview

Fast facts
| | |
| --- | --- |
| Name of Program | B.Sc in Programming & Data Science |
| Conducting Body | |
| Official Website | onlinedegree.iitm.ac.in |
| Mode and language of instruction | Online in English |
| Levels | Three – Foundation, Diploma and Degree |
| Entry Eligibility | Qualifier Exam |
| Duration of degree | 3 years |
You may Also Like:
Careers360: Tell us about BSc Degree in Programming and Data Science offered by IIT Madras.
Prof. Andrew Thangaraj: This is an undergraduate degree program in the area of programming and data science. Anyone can apply for this program and learn about data science and programming, and become a successful programmer and data scientist. The entry process is completely open as the candidates are only required to have passed the 10th standard with mathematics, should have completed the 12th standard and should be at least in college or a bit older. After qualifying these processes, candidates will go through one month of course and online training with us and at the end of it, they write an exam. If candidates clear the exam with more than 50%, they will be admitted to the foundation course.
Prof. Prathap Haridoss: The kind of flexibility and thought-process is that candidates can do this basic degree at their own pace, from anywhere in the world. Doing this program from the best institute available in the country is something quite profound and quite different from what people are accustomed to. We are very delighted that we are in that position to offer this kind of facility to facilitate this program to all the students who are bright, intelligent, and hardworking.
Explore Data Science Courses & Certifications by Top Providers
Careers360: Why a program in Data Sciences?
Prof. Prathap Haridoss: Our purpose in starting a program like this is to reach out to the public with high-quality education options. In general, India has significant diversity in economic capability and people's background. But when it comes to delivering high-quality education, there is a very small number of high-quality institutes. This requires elimination of a lot of people to select a small number of people who can go to those institutes. But in the future, this education model has to be discarded so that anyone from anywhere in the country can get a degree from the top institutes in the nation. And this program is the first step in that direction.
Also read: Data Science course
Careers360: How many total seats are available in this program?
Prof. Prathap Haridoss: There is no upper limit to the number of learners who can join this program. At the same time, we do ensure the quality. We have a process and place which will scale up to meet the demand while still maintaining the quality of the instruction processes.
See Also:
Careers360: What went into deciding an online degree program in Data Sciences?
Prof. Andrew Thangaraj: There are two major things that we took into account. One is the job market. As per the US Bureau of Labour Statistics, there will be 11.6 million jobs in data science by 2026. The second object is the delivery of the course online in an interesting and complete way.
Also read: Top Data Science Questions for Beginners
Careers360: What is the mode of the examination process – online or offline?
Prof. Andrew Thangaraj: The instructions are online, but every exam is in-person. Students have to come to the centre for the exam, so we can verify what they are learning and certify them very clearly.
Careers360: Do you have enough centres for the students to access?
Prof. Andrew Thangaraj: Today, we have very efficient systems to administer exams as lakhs of students appear for the JEE exam. We even have centres in small towns.
Careers360: How is this program in alignment with NEP?
Prof. Prathap Haridoss: The new education policy envisions something which is nearly what we are doing. In fact, we probably predated a little bit in the sense that we were already working on this. The policy now came online that actually encourages the type of activities where it says multiple options should be available to students, with multiple entry and exit options. It also says students should be able to simultaneously do two degrees – one on campus and the other online. So, many of the key recommendations and suggestions the education policy provides are directly being addressed by this program.
Also read: How to Get a High Paying Job as Data Scientist
Careers360: What is the structure of this program? Please give details.
Prof. Andrew Thangaraj: The details are
Foundation +Diploma in Programming: The first year is called the foundation stage, where we teach basic computing and programming. Students learn about Python programming, statistics and mathematics along with English. Students will learn the basics of this program at the end of the first year.
Foundation +Diploma in Data Science: The second year is the main skill year or diploma year. There are two different diplomas that students can get into this year – Diploma in Programming and Diploma in Data Science.
B.Sc in Programming and Data Science : In the third year, students will learn a bunch of elective courses and can choose an area of specialisation and land a lucrative job.
Careers360: What is the process of admission?
Prof. Prathap Haridoss: The process of admission for this BSc degree program is open. This means that anyone who has completed class 12th can come and join this program and get to see the first month content of the program. Aspiring candidates do not require to give any separate entrance examination. They will get into this program directly, see the first month of content, submit assignments based on that content, and appear and qualify for the first monthly examination.
Also read: What is the Difference Between Data Science and Applied Data Science
Careers360: What is the maximum time limit to complete the degree?
Prof. Prathap Haridoss: Upper limit is 6 years but the expectations of the most students to complete this degree are about 3 years. But we permit them to take longer because they can even exit the program partway through carrying on with some professional activities they are involved in and come back again and continue their degree process.
Careers360: What kind of students pursue the course?
Prof. Andrew Thangaraj: Currently, among students we have, 20% are working professionals, and 80% are college students.
Careers360: How does IIT Madras keep the students engaged?
Prof. Andrew Thangaraj: Firstly, while we deliver content online, we just don't deliver and stop. We have weekly assignments that involve three different types of assignments that students have to work out every week and every subject. There are 30 questions that students have to work out. Secondly, we provide a huge number of live sessions. And finally, students have to come to a centre every month and write an exam.
Careers360: Does the IIT Madras offer scholarships?
Prof. Prathap Haridoss: We do have a regular fee structure and a 50% reduction for students who have certain restrictions on funding themselves. We also have a 75% reduction based on social factors and physical disability.
Prof. Andrew Thangaraj: If any student's family income is less than 1lakh, he can get a 75% discount.
Careers360: Do students passing out measure up to the IIT standards?
Prof. Prathap Haridoss: We are quite convinced that students who complete the program will be high-quality students. They will have a lot of professional confidence in their specialised area.
Careers360: What are the placement opportunities?
Prof. Andrew Thangaraj: IIT Madras is going to have a separate placement office dedicated to this program, so that every student can get better career opportunities upon the completion of this program. We are already in talks with companies to take students for internships and better job options.
Any doubt about our IIT Madras? Here are the most common questions and answers; You may also directly ask your question, here.
Explore Popular Platforms Certification Courses
Data Science Updates and Articles