Top 10 Accounting Interview Questions and Answers
Accounting is defined as the systematic and accurate documentation of a company's financial transactions. There are several styles, from small business accounting, public, forensic and leadership accounting, to corporate accounting. With the increasing role of accounting in businesses, the demand for accounting professionals has surged significantly. From pursuing the best accounting courses to preparing for accounting interview questions and answers, an aspiring candidate must be prepared for himself from all perspectives. There are numerous online courses and certifications you can enrol in to study accounting.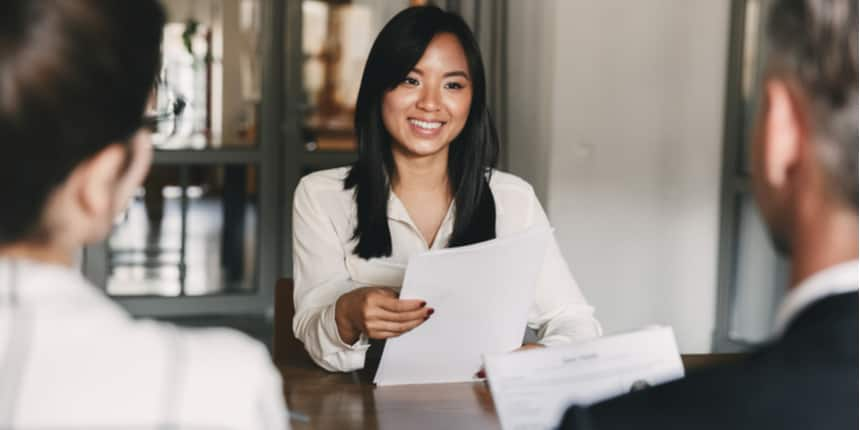 The field of accounting is very crucial as it plays a critical role in running a business, helping in monitoring revenue and expenditure, ensuring statutory compliance, and providing customers, administrators, and policymakers with quantitative financial information used to make business decisions. You can find various online degree courses to build a career in accounting.
Also read: How to Crack Chartered Accountancy (CA) Exam
Accounting careers can never go out of style as long as money and company exist. If you want a successful career after an Accounting certification course, here are the responsibilities of the work, the opportunities for advancement, and how to get into the profession. The average salary of an Accounting Officer in India is Rs 345,143 per annum. It will vary based on the qualifications and experience level.
Career in Accounting
Accounting is an on-demand profession with incredible wages and job opportunities. Analysis from the Bureau of Labor Statistics (BLS) predicts that the jobs of professional accountants will rise higher than the rest for all professions, at a rate of about 10% from 2016 to 2026. Robert Half's 2019 finance and accounting Compensation Guide reveals that accounting professionals with 1-3 years of experience will receive between $51,500 and $96,500 yearly while professionals with five or more years of experience will gain as much as $129,250 per year.
Also read: Career as Chartered Accountant
Professional Accounting Online Courses
| | | | |
| --- | --- | --- | --- |
| Course | Eligibility | Duration | Fees |
| Bachelor of Accounting & Finance (BAF) | 10 + 2 or equivalent | 3 years | Rs 5,000 to Rs 1.5 lakhs per annum |
| MBA in Accounting | 10+2+3 in any discipline | 2 years | Rs 5,000 to Rs 2.5 lakhs per annum |
| Diploma in Advanced Accounting | 10+2 with commerce subject | 4 years | Rs 5,000 to Rs 1 lakh per annum |
Also read: Top Accountancy Universities in India 2021
1. Bachelor of Accounting & Finance (BAF)
B.Com in Accounting and Finance (BAF) is a 3-year educational program that provides an in-depth awareness of accounting and financial subjects by various means, such as classroom instruction, workshops, projects, professional skills, industrial visits, conferences, expert talks, etc. This is one of the undergraduate level accounting courses that allow students to gain expertise in the fields of accounting, taxation, monitoring, risk management, financial accounting, taxation, managerial economics, corporate law, and business communications.
Many colleges across the country offer professional accounting courses. The main goal of the program is to improve self-employment and support businesses by supplying them with well-trained accounting and finance professionals.
Eligibility: Applicants must have passed 10 + 2 or equivalent from a recognized board in India.
Duration: 3 years
Fees: Rs 5,000 to Rs 1.5 lakhs per annum
2. MBA in Accounting
Master of Business Administration (MBA) in accounting is a 2-year postgraduate degree open to applicants who have earned a bachelor's degree in any field. The program trains students for a managerial position in any organization or business with a strong emphasis on finance. The MBA in Accounting also helps improve the management and problem-solving skills of candidates. The program also trains candidates to prepare for accounting interview questions and answers. Some of the main subjects addressed by this two-year MBA in the Accounting program are Management Accounting, Management Economics, Financial Management, Human Resources Management, and Analysis Methodology. Also, the program has a six-month cum internship training program that will be compulsory for all applicants. You can also pursue these accounting courses online.
Eligibility: Applicants must have obtained a bachelor's degree in any discipline. They should have scored at least 45 percent or above in bachelor's degree to be qualified for admission.
Duration: 2 years.
Fees: Rs 5,000 to Rs 2.5 lakhs per annum
3. Diploma in Advanced Accounting
There are many online diploma courses offered by top universities and institutions worldwide to pursue accounting. A Diploma in Advanced Accounting (DAA) is a 4-year diploma program where students will gain a thorough understanding of all the various fields of accounting and taxes. Also during course work, they will learn the fundamentals of accounting and related fields and eventually step into advanced and informative topics. A diploma in Advanced Accounting also helps students how to prepare and analyze financial information, intermediate accounting, management accounting course, and expenses receivable and accounts payable.
Eligibility: As such, there is no specific stream requirement for this program. But applicants who have completed 10+2 with Commerce may have an advantage over other students.
Duration: 4 years.
Fees: Rs 5,000 to Rs 1 lakh per annum
These accounting courses can help you to develop a career in the accounting sector. You can choose the best course that meets your desires by making an online course comparison. After completing these accounting courses, you can apply for any accounting job role. However, before applying for a job, you must consider accounting interview questions and answers that can help you get a lucrative job with a handsome salary.
Recruiters are likely to cover all the accountant job interview questions and answers that include a detailed understanding of accounting standards to react correctly. You can enrol in online courses & certifications from top providers to gain further knowledge and understanding about accounting interview questions and answers.
Top 10 Accounting Interview Questions and Answers
It is no wonder that being prepared beforehand for any job interview has a positive impact and more chances to get the job. The same goes for accounting, too. Thus, to help you with this, we have prepared a list of top accountant job interview questions and answers that will make you more aware of what types of questions are being asked and how you can deal with them.
1. Tell us about your background?
This is one of most asked or can say common, accounting interview questions. It might sound like a large or vague query, but the recruiters, with this question, want to know the scale of your accounting background and how you speak and feel about potential career paths. If you are applying for a tax position, what kind of returns did you do? What's the scale of your company and industry when you were auditing?
To answer this question, do not even say the tale of your whole life; quickly outline your profession and the job you have done at a professional rate. The recruiter is more likely to ask follow-up questions depending on what you share in your answer. Think about using stories about how you became involved in the profession and what led you to the positions you were pursuing. This is also a great opportunity to discuss your future aspirations and further express your interest in the business, whether there was something unique about the organization or the role that caught your attention. So, this is one of the most important questions to consider when you are preparing for accounting interview questions and answers.
Also read: 10 Reasons To Learn Public Accounting - Certified Public Accountant (CPA)
2. What kind of accounting software systems are you familiar with?
The interviewer can ask this question to see if you have experience with their accounting programs or you can learn new programs quickly. Instead of selecting only the program that you are most familiar with, pick a few to address. Include services that you have used most recently or those in which you have the most experience. In technical accounting interview questions, it may be asked about what you think is best and why. An excellent way to train yourself for this type of accounts payable interview questions and answers is to review the latest trends in the services that you have interacted with.
3. Why did you choose Accounting as your career?
When you prepare for accounting interview questions and answers, you should always be ready for this question. Employers will always want to know the reasons for choosing a profession in an interview. Well, if you don't seem to like your job or have any reason to be involved in it, they are going to wonder about your ability to stay motivated, work hard, work through tough days/weeks, etc. So be prepared to clarify how/ why you have chosen accounting as a profession, and maybe one or two things you enjoy about it.
Also read: How to become a CA In India?
4. Why are you applying for this position?
After employers question why you've chosen this profession, they want to know why you're applying to their particular profile. They want to see if you're targeting particular topics in your work search, and not just desperately applying them everywhere. Employers want someone who is the best fit for the profile, not just some job that's going to hire them.
If you don't consider this while preparing for accounting interview questions and answers, it could be a major reason why you don't find a job. If you may want any job you could get, employers will be concerned that you're going to take their job, but resign as soon as it reaches something better. They don't want to spend weeks teaching you only to have you quit in six months, so they are not going to employ you unless you can prove that you have done your homework and know why you are interested in their work and business.
Also read: Career as Accountant- Role, Education, Jobs & Salaries
5. How do you cope with stressful circumstances or uncomfortable interactions with others?
Accountants do not work in silos. They work with both internal and external customers to keep everything in order. There could be occasions when you find a customer discrepancy or when the reconciliation of the account is wrong and you have to confront your colleague with the mistake. Recruiters want to see that you have no problem coping with tough discussions and are successful at quickly solving problems when occur, particularly if you are within a tight timeframe. Be sure to avoid misappropriation of your business or coworkers, since this could be a bad reflection on you as a potential employee or coworker. You can be ready for this question by pursuing accounting online courses that teach every aspect of accountant job interview questions and answers alongside teaching accounting concepts.
Read more: CA vs. CFA - Which is best and why?
6. How are you planning and prioritizing your day?
The job of the accountant is guided by procedures, imminent deadlines, and a lot of cross-functional collaboration. The organization, time management, and healthy contact with your staff and clients are all really important to show here. According to Holt, accountants must clarify how they can keep track of their schedule and efficiently divide the time between accounting processes, client checks, and team checks. So, this is another question to be ready for when making a checklist of accounting interview questions and answers.
7. What's your biggest professional accomplishment to date?
Don't be shy. It is all right to brag and chat about something you are very proud of. Show a little excitement/emotion. Choose something from your professional background. And if you are searching for your first job without any experience, then pick anything from your academic career (like a presentation you have given, an accounting project you have done, an internship you have worked in, etc.). Explain what you have done and why you are so proud of it.
Bonus points if you can select an award relevant to the work you are going to do for them in this task! (For example, if you are going to be handling clients' accounting projects in this role, sharing something about client work in the past would go well as answering this question). So, this question also takes more importance and should be included in your list of accounts payable interview questions and answers.
Read more: Best Tips to get hired after completing CA
8. What do you need to better yourself as an accountant? When employees ask, "What areas need improvement?"
With this question, employers are looking for a frank, reflective response. But don't say anything important to your career. As an example, if you are a Team Accountant, you might say, "I haven't held a formal leadership role yet, but I'm working to develop my leadership skills." In addition, you can respond, "I want to be better at talking, heading projects and meetings, and delegating tasks." Then, end your response by showing that you are taking the initiative to strengthen this weakness.
When answering 'How are you planning to develop in this area? What the heck are you not doing to achieve this?' Show your initiative. An accounting certification course helps you develop a career in the accounting sector.
Also read: Finance And Accounting Certification Courses
9. How can you report the transaction?
A large part of your accountant's job interview will concentrate on technical and situational issues such as the one listed above. Even in your initial phone interview, you are likely to hear some specific technical questions to judge your skill as an accountant. A company doesn't want you to join five people on the web on a full day of interviews if you don't have the basic technical "chops" they need. So, this is also an important question that you need to consider when preparing yourself for accounting interview questions and answers.
Also read: ACCA, CMA, or CA: Which One Should You Choose?
10. Where do you ideally see yourself in the next 5 years?
Although this is not a hard question for many individuals. Despite this, you should be ready for this question and must be included in your accounting interview questions and answers list. There are a few things mandatory to include when answering this question. Also, it is understandable since you want to sound like you were thinking about this topic. Therefore, saying, "I don't know," is a bad answer. You need to give them a response that shows you have been thinking about this issue because that is going to make you seem more career-oriented and inspired. Next, you need to sound a little optimistic, but not too optimistic. Don't suggest, for example, that you'd be able to work in the same job for the next five years.
Also read: Accounting And Financial Analysis Certification Courses
Final Thoughts
Going through these accounting interview questions and answers would hopefully give you an idea of accounting interview questions to be asked while on an accounting interview. They will also help you refresh your accounting skills.
Explore Popular Accounting Online Courses
Frequently Asked Question (FAQs) - Top 10 Accounting Interview Questions and Answers
Question: What do I need to do to make sure I have this issue nailed down?
Answer:
It should be obvious from the above section that the interviewer wants to know how well you are suited to this role and business.
Question: Should I advance as an accountant without the classification of Certified Public Accountant (CPA) or Qualified Management Accountant (CMA)?
Answer:
A lot of accountants work without a CPA. However, all else being equal, employers appear to favor a CPA to a non-CPA applicant. Hudson Financial reports that CPAs have a 5% premium over non-CPA accountants. The Institute of Management Accountants survey reveals that the average salary for accountants with some kind of qualification was $114,980 compared to $95,823 for non-accredited accountants.
Question: How much can I get a salary after completing these accounting courses?
Answer:
In India, You can earn an average INR 1 LPA to 5 LPA.
Question: I just graduated in accounting with a BA. Should I be working for a private or public company?
Answer:
The response depends, in part, on where you want to work. If you are in a state that needs the public accounting expertise of its CPAs, you may want to gather the expertise now, because it may be difficult to transfer from private to public later. If you're in a state that doesn't need public accounting expertise, or you'll never, ever want CPA, then private accounting can be a great option. Other choices include government or non-profit work.
Question: What kind of work will I get after an accounting certification course with no experience?
Answer:
In public accounting, entry-level work requires the accountant or junior auditor. On the corporate side, you can start with monthly reports or internal audits, or work throughout the budget department to review forecasts or mergers and acquisitions6. How difficult is the CPA exam?
Very rough, very. So hard that less than half of those taking the examination in 2010 passed three of the four parts of the exam. For the regulation portion, the best passing rate was 50.66%. Passing rates may be much greater for recent graduates. Professional and undergraduate students at McCombs College of business at the University of Texas at Austin, for example, had a combined passing rate of 73% in 2009. Not to worry, though, there are a lot of study options available.
Question: How am I expected to make a mid-career shift to accounting?
Answer:
If you do have a bachelor's degree, you'd be looking for a postgraduate program in accounting (MAcc); otherwise, employees have a bachelor's degree in accounting.
Question: What will I do if I have 20 years of experience in accounting and no degree?
Answer:
It may be possible to work your way up from an entry-level clerk's job to an accounting post, it is incredibly hard to transfer to a new company without a degree.
Question: Will credit problems keep me from being hired in accounting?
Answer:
If you have poor credit, particularly bankruptcy, judgment, or foreclosure in your history, be prepared for a quick, contrite explanation. Then turn the topic back to the work and why you are the best choice. If your credit issues impede your work hunt, stick to smaller companies, which are sometimes less likely to pull your crème.
Question: What do I need to do to become a CPA?
Answer:
The response depends on where you choose to train, as each state sets its own rules for CPAs. Most of them require 150 hours of education and at least one year of accounting experience. They vary about whether your experience needs to be public accounting or obtained under the oversight of the CPA, and how long you have to work before you are qualified to be certified.
Accountancy Updates and Articles
10 Reasons to Learn Public Accountant - Know why you should pu...
25 Aug 2021
Questions related to Accountancy
Showing 135 out of 135 Questions