What Is Data Analytics? - Definition, Types, Scope, FAQs
Most of us have heard the term "data analytics" but don't really know what it is. Simply put, data analytics is the process of turning raw data into actionable insights. In other words, it's a way to make sense of all the numbers and figures that are swirling around in cyberspace. The goal is to find trends and patterns that can help you make better business decisions. And that's why data analytics is such an important tool for professionals and students alike – it allows us to see things we wouldn't be able to see otherwise. If you are looking to make a career in data analytics, there are many online courses and certifications that you can opt for. So whether you're a student looking to land your first job or a professional looking to stay ahead of the curve, read on to know what is data analytics! You won't regret it.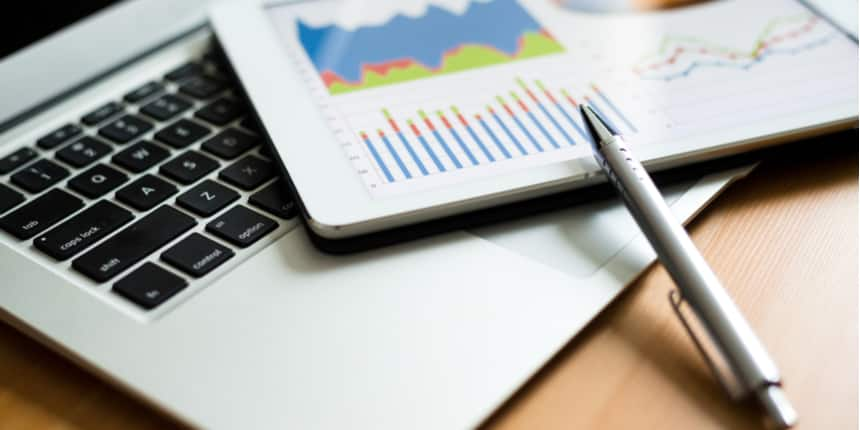 What is Data Analytics? (Data Analytics Definition)
In a nutshell, data analytics is the process of examining large sets of data to discover meaningful patterns and trends. Data analysts use their skills with tools such as statistical analysis software or spreadsheets, programming languages such as Python or SQL, data visualization software, and more to find these insights.
4 min read
Feb 28, 2022
Read More
Also Read: Data Analytics certification courses
What does a data analyst do?
They draw conclusions from big data and communicate their findings to others. Data analytics is a growing field, thanks to the ability of computers and internet-connected devices such as smartphones and tablets to gather increasingly large amounts of information -- called "big data." Many organizations are collecting more data than ever about their customers, operations, competitors, and markets.
Why data analytics is important?
Data analytics is important since it aids organisations in improving their results. Data analytics may also be used to assist a firm make smarter business decisions and assessing consumer patterns and satisfaction, which can lead to the development of innovative and solutions. Data analytics can be applied across various industries and disciplines, from healthcare and retail to transportation and public safety.
Types of data analytics
Fashion, food, criminal law, future technologies, corporates, the environment, and government sectors are all places where data analysts may be found. Data analysts have a variety of job titles, including:
Operations research analyst

Business intelligence analyst

Medical and health care analyst
Data analysts use
A core part of data analytics is predictive analytics, which uses statistical models and machine-learning techniques to forecast future events based on historical information. For example, a retailer might use the technology to predict what products customers will want or when they're most likely to make a purchase. Data analysts also use data visualization tools such as graphs and charts to help reveal insights from this data. In marketing, for instance, a data analyst might chart customer buying habits to help uncover the best time of year to offer discounts. Data analysts also use these tools as part of creating reports to share with management or clients.
Explore Popular Data Analytics Courses & Certifications by Top Providers
Scope of data analytics
The data field is growing much faster than the number of qualified people to fill it. As a result, salaries for those who can harness and communicate insights from big data are also on the rise. The demand for skilled data analytics professionals has grown by 28% since 2014, according to research from global information company Thomson Reuters. That matches the rate for other fields that require similar skill sets, such as cognitive systems engineering and artificial intelligence. Data analysts are crucial because many organizations lack the internal resources or technical expertise to make sense of their data on their own. These organizations need outside help to mine this valuable information.
Businesses can hire dedicated data analysts to work in-house or they can consult with experts when they need specific expertise. As a result, the profession is often divided into two categories: data scientists and business analysts. Data scientists are experts in statistics and predictive modeling who devise complex algorithms to uncover new insights from raw data. They're adept at communicating their findings in a way that non-experts can easily understand.
Business analysts usually have less training in statistics and data science but they're better at communicating findings to non-technical business leaders. Business analysts may work alone but they often work closely with others on their team, such as data scientists or business partners who understand the needs of individual business units and departments within an organization. This blend of skills will become more important as businesses demand that their data analytics teams work together to achieve better results.
Related Articles :
Top Trending Courses & Certifications:
Online Courses and Certifications in Data Analytics
Many employers expect new hires to have these soft skills so they look for candidates with a strong background in business, along with a data analytics certification. Data analytics certification courses are a way for professionals to show that they have the necessary skills and knowledge to perform as data analysts. Many large organizations will only hire employees with these certifications, according to Parthiban. The IIA offers two sets of professional credentials: one aimed at business professionals who want to demonstrate that they have the skills to interpret data and one aimed at data analytics professionals who want to show that they have the right mix of technical knowledge, business savvy and expertise in specific disciplines.
The institute's Certified Analytics Professional (CAP) credential is for business professionals who want to prove their expertise in using analytics, promoting collaboration across different departments and interpreting analytic results. To qualify, candidates must have a certain number of years of work experience in related fields or pass an exam that tests their knowledge of the information presented in the IIA's online analytics courses. CAPs are able to interpret data by understanding what it means for their organizations and how they can put it to use.
Related Articles :
Data analytics professionals who want to demonstrate their technical expertise can earn the Certified Analytics Associate (CAA) credential from the IIA. This credential requires a bachelor's degree in math or statistics, along with one of four possible certifications: ITIL Foundations, PMI-ACP, Six Sigma Green Belt or CompTIA Security+.
Those who have a valid report from another IIA credential can gain entry to the CAA program by taking a preparatory exam. Both the CAP and CAA credentials are good for three years. But those who want to remain certified must pay an annual maintenance fee of $100 for the CAP and $50 for the CAA. Data engineers handle data storage and retrieval. They make sure that all relevant data is stored in the right place so it can be accessed by other members of the analytics team. They also design databases to make it easier for users to query the data and extract the results they're looking for. Data analysts, meanwhile, work with large volumes of structured and unstructured data to identify trends and insights that can be put to use by companies' business units.
Explore Popular Platforms Certification Courses
Frequently Asked Question (FAQs) - What Is Data Analytics? - Definition, Types, Scope, FAQs
Question: What is the scope of data analytics?
Answer:
"Data analytics and information services will have the highest growth rate at 16 percent to 18 percent over the next five years," states McKinsey analysis centred on the healthcare business, "while core administrative services are unlikely to experience significant increase owing to automation," report further adds.
Question: What types of jobs may a data analyst undertake?
Answer:
These are the few job titles that a data analyst can perform.
Data Analyst

Business Intelligence Analyst

Data Engineer

Data Analytics Consultant

Marketing Analyst

Data Scientist

Quantitative Analyst

Operations Analyst
Question: Is data analysis a promising career path?
Answer:
Yes, data analytics is a lucrative profession. High demand for Data Analysts is matched by a rise in pay—even in junior jobs, many Data Analysts' incomes are comfortably above US$ 70,000, with senior and highly specialised roles usually exceeding US$ 100,000.
Question: What skills do you need to work as a data analyst?
Answer:
Following skills are required to excel in this field:
Programming language such as SQL (Structured Query Language)

R or Python–Statistical Programming

Machine Learning

Data Visualization

Microsoft Excel

Critical Thinking

Presentation Skills
Question: Who is eligible to work as a data analyst?
Answer:
While a bachelor's degree has been the most frequent entrance qualification, some employers prefer applicants who have a master's degree in data analytics or a related discipline. You can also go for online certification courses available on platforms like Coursera.
Data Analytics Updates and Articles