Which companies are now hiring civil engineers in India right now?
Civil engineers are responsible for planning, organizing and supervising the building and maintenance of infrastructures such as dams, bridges, sewerage systems and roads. They perform their duties in different locations and conditions. It is common for them to spend most of the time working outdoors at construction sites so that they can monitor operations or solve problems onsite rather than working in an office. They need a minimum of a bachelor's degree in civil engineering, in any one of its specialities, or can also pursue online courses and certifications in civil engineering technology. The average annual pay of a Civil Engineer in India is Rs 307,094.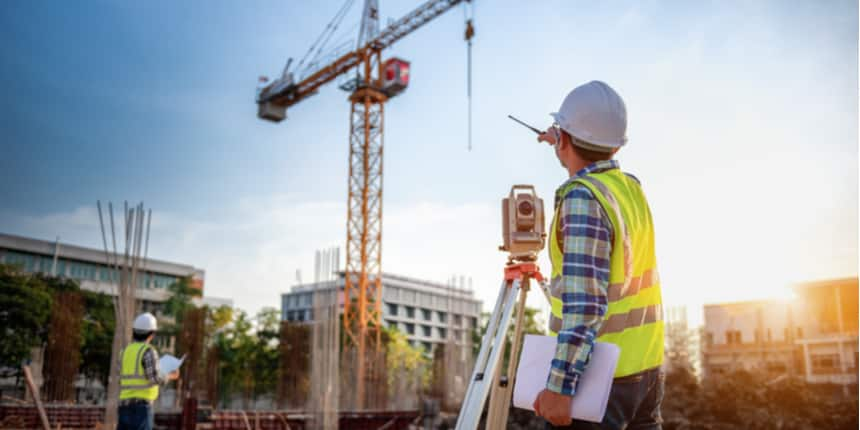 Civil Engineers jobs in India continue to grow in the coming years. As infrastructure needs maintenance, the job of a civil engineer will shift for providing necessary supervision to manage projects to rebuild, repair, and upgrade bridges, roads, levees, dams, airports, buildings, and structures of all types.
There are many civil engineers jobs in India and you can land a career as a good civil engineer by pursuing online degree courses or civil engineering certificate courses. There are several civil engineering online courses you can do in a specialization of your choice.
Responsibilities of Civil Engineers
After doing civil engineering online courses, you will be required to do the following duties:
Responsible for the long-term plans, analysis of survey-based reports, preparing maps and collecting data to design and plan the construction projects.
Prepare an ideal budget for the construction, ensure adherence to government norms, hazards and challenges in the immediate environment, planning and risk analysis for any project.
Compilation and submission of permit-related application letters to the state and local authorities to ensure the project complies with the government norms.
Testing the soil quality and determining if it is adequate for construction.
Civil engineering can be done at the bachelor's level such as a bachelor's degree in civil engineering in any specialization of your choice. You can study civil engineering technology also by enrolling on civil engineering online courses. There are several civil engineering certificate courses.
Also read: Earth Sciences for Civil Engineering Part- I & II by Indian Institute of Technology Kanpur via Swayam
Check the list of civil engineering courses given below:
Bachelor's degree in civil engineering
Master's degree in civil engineering
Graduate diploma in civil engineering
Undergraduate diploma in civil engineering
Certificate course in civil engineering
What are the essential Qualities for Civil Engineers?
Some of the crucial qualities you need to become a good civil engineer are:
Decision-making skills
Leadership skills
Math skills
Organizational skills
Problem-solving skills
Speaking skills
Writing skills
Top Companies Hiring Civil Engineers in India
The demand for civil engineers is on the rise and it will remain in demand. Let's have a look at some of the top companies hiring civil engineers in India.
Afcons Infrastructure Limited
This is one of the best companies hiring civil engineers in India. Afcons Infrastructure Limited is a construction engineering company and a part of the Shapoorji Pallonji Group, which is the third-largest infrastructure and construction company in India for quite a while now. The AFCONS brand is counted amongst the industry leaders and is present in multiple other countries globally.
Positions available in the company are:
To apply for these roles at the company, candidates must have completed civil engineers courses or online diploma courses from a well-known institute.
Also read: Introduction to Civil Engineering Profession by Indian Institute of Technology Madras via Swayam
Punj Lloyd
This is another one of the best companies hiring civil engineers in India. With a turnover of $651 million, Punj Lloyd has 24 international offices in the Middle East, Caspian Sea, Asia Pacific, Africa, South Asia, China, and Europe. The group provides EPC solutions in a wide range of businesses and has delivered pilot projects for local and international clients. Candidates must hold a degree or civil engineering certificate courses to get placed in Punj Lloyd civil department.
Newton Engineering & Chemicals Ltd
It has been consistently and successfully operating as a mid-size mechanical/ EPC contractor. The company has gained experience in tanks, pipes, and whole plant assembly, etc., for industries in the central sector such as petrochemicals, fertilizers, refineries, energy, construction, and pharmaceuticals. It now works on comprehensive turnkey projects that include instrumentation, insulation, winding and coating, cathodic protection, electrical and civil works, etc. The company prefers candidates from the top institute like IIT Madras, etc.
Consolidated Construction Consortium Ltd (CCCL)
Consolidated Construction Consortium Ltd is a construction engineering company in India providing turnkey construction services in the commercial, residential and industrial infrastructure sectors of the construction industry. The company also provides services that include building design, construction engineering procurement, and project management. CCCL has a large presence in India with offices in Chennai, Bangalore, Hyderabad, Delhi, Kolkata, Pune, and Thiruvananthapuram. Its specialist projects include prestressed prefabricated structures, precast and shell structures distinguished by their innovative and revolutionary application of technology and expertise. The company also gives options to the candidate for civil engineers training.
Also read: Numerical Methods In Civil Engineering by Indian Institute of Technology Bombay via Swayam
Akme Projects Ltd
The flagship company of Anil Nanda Group, Acme Projects Limited has commenced operations in January 2004 as a real estate developer. With successful projects in Bangalore and upcoming projects in NCR, Gurgaon, Ludhiana, Mohali, Goa, and Bangalore, Akme has truly established a presence across India. Behind Akme's growth, a model project management team comprises leading designers, renowned and legal contractors, and specialists in sales, marketing, and property management. Acme project designs have been enhanced with technical expertise from the German city of Rennet. Foreign direct investment and joint venture with a Swiss and German company strengthen the company's vision, leadership, and dedication to the Akme team. The company offers civil engineering jobs for freshers, however, the candidates must have a civil engineers degree from a top institute.
Anant Raj Industries Limited
This is one of the leading infrastructure development and construction companies in the Northern Capital Region (NCR). Its name has become synonymous with the highest levels of quality, excellence, and innovation in real estate development. The company manufactures polished, colorful, and decorative wall and floor tiles. The company's manufacturing facilities are located at Rewari in Haryana. Anant Raj Industries Limited is also building Special Economic Zones (SEZs), IT parks, hotels, shopping complexes, shopping malls, residential/ service divisions, and other infrastructure projects. Candidates who have a civil engineers degree can apply in this company.
BGR Energy Systems Ltd
BGR Energy Systems Limited is a holding company. The company is engaged in building and maintaining power stations. Its sectors include the capital goods sector, the construction sector, and EPC contracts. It operates through five business units: Energy Projects, which include turnkey EPCs from thermal/gas plants; Electrical projects, including works at the base of the pyramid for hydropower projects and energy marketing; Oil and gas equipment, including process equipment sets and systems; Environmental engineering, including air coolers and deaeration devices, including process chillers. The company's subsidiaries include Progen Systems and Technologies Limited, BGR Boilers Private Limited, BGR Turbines Company Private Limited, and Sravana Properties Limited. To apply to this company, a candidate must hold a civil engineering degree from a recognized institute.
Bridge & Roof Co. (India) Limited
Using the latest construction equipment and technologies, with a high degree of expertise and substantial in-house resources, Bridge & Roof Co. (India) Limited employs around 1,366 people on its permanent staff. While implementing specific projects, the company hires the services of qualified and skilled labour, depending on the nature and duration of the project. B&R's research for excellence and commitment to quality has earned a quality system standard, ISO 9001: 2008 for tank construction and ISO 9001: 2008 for the manufacture of rail cars, railroad sleepers, bed houses, and BRIDGES BAILEY TYPE UNITS in their Howrah workshop. B&R is a more diversified construction organization, ready to take on new challenges and recognized by their valued clients as a dynamic, professional, and leader in the services provided by B&R.
Coastal Projects Pvt Ltd (CPPL)
CPPL is a construction company in India that deals in design and development of infrastructural services, civil engineering expertise and also has an interest in the construction and real estate sector. This is amongst the top companies hiring civil engineers in India. The company's projects include the Lower Kalnai Hydroelectric Project (Thathri, Jammu, and Kashmir), the Rangit-II Hydroelectric Project (Sikkim), the Parbati-Stage-II Hydroelectric Project (Kullu, Himachal Pradesh), the Stage- Hydroelectric Project. IV (West Sikkim), Teesta Hydro Electric Project-Stage-III (Sikkim), Thottiyar Hydro Electric Project (Thiruvananthapuram, Kerala), Bangalore Metro Rail Project Phase-I (Bangalore, Karnataka), BMRCL-COASTAL-GYT (Bangalore, Karnataka ), Pula SubbaiahVeligonda Project-Tunnel-1 (Srisailam, Andhra Pradesh), Pula SubbaiahVeligonda Project-Tunnel-2 (Dornala- Srisailam, Andhra Pradesh), Sleemanabad Carrier Canal (Katni, Madhya Pradesh), AVR-HNSS Main Canal -Phase- II (Anantapur, Andhra Pradesh) and Garudeshwar Weir (Garudeshwar, Gujarat), among others. Students pursuing Bachelor's or Master's Degree in Civil Engineering or related fields can apply for civil engineers jobs in this company.
Also read: MS in Biomedical Engineering with a dual specialization in Digital Health Analytics by Case Western Reserve University, Cleveland, Insofe
DSC Limited
The DSC Group has provided excellence in the infrastructure field for more than seven decades. The company's mission is to create and enhance stakeholder value by providing high-quality, innovative, and value-added infrastructure projects. DSC Group has successfully implemented a large number of projects in all sectors, and many of them are under implementation. No matter how complex the project or how difficult the environment is, the group has consistently and efficiently delivered excellence. It has a clear business strategy focused on achieving diversified growth ambitions in the infrastructure field. Its current portfolio includes projects in sectors such as roads, highways, railways, pipelines, urban infrastructure, energy, and real estate. In order to deliver maximum value throughout the project life cycle, the group owns independent companies with specific core competencies and areas of operation. These include asset management, engineering construction, procurement services, hydropower, and international projects.
CQRA
This is a construction management services company engaged in providing a multitude of services in the construction, infrastructural planning and oil/gas sectors, which include consulting, geotechnical engineering, environmental testing, non-destructive testing, and more. This is one of the companies hiring civil engineers in India, and to apply for the jobs at the company, you must complete a master's degree in civil engineering.
East Coast Constructions and Industries Ltd
This is a public company incorporated on April 21, 1995. It is classified as a non-governmental corporation and registered with the Company Registration Office in Chennai. The company is involved in the wholesale trade by commission or contract (Including commission agents, commodity brokers, auctions, and all other wholesalers who trade on and on behalf of others. Independent auction activities were included in 74991). Candidates must have completed civil engineering certificate courses to apply in this company.
Top Trending Courses & Certifications:
Gammon India Ltd
This is the largest construction company in India. Its proven track record includes notable work they have done in the sectors such as civil engineering, designing and construction of buildings and real estate. The company has a history of building distinctive structures, some of which have become iconic. Gammon's association with building nuclear power projects dates back to 1959 when he completed a prestressed concrete ball (PSC) tank at India's first nuclear reactor plant at Trombay. Gammon's projects cover businesses and projects that include highways, utilities, environmental engineering, and marine structures. The company offers civil engineering jobs for freshers as students in the final year of civil engineering or pass out candidates can apply for civil engineering jobs in the company.
Gammon Infrastructure Projects Limited (GIPL)
This company is designed as a project development company, which invests in SPV for infrastructure projects. Currently, it deals with O&M contracts directly in the road sector. It operates as a general holding company for infrastructure and has interests in special purpose companies responsible for implementing specific projects that we carry out. Currently, there are four special purpose companies in operation, and these special purpose companies include their subsidiaries and companies formed with other partners where they do not hold a majority stake. To increase your chances of getting hired at GIPL, you must either pursue a bachelor's in civil engineering or a diploma in civil engineering.
It is always prescribed to do a civil engineers training after completing your course in this field. Doing a four-year bachelor's degree and then completing your masters in a particular specialization increases your chances of getting hired by a reputed company. You also must fulfil any of the following requisites to have more chances of getting hired for a big project.
Relevant work experience in civil engineering and photovoltaic engineering for 3 years
Fluent English skill
Have a professional degree in civil engineering
Have a certificate in civil engineering
Have a graduate diploma in civil engineering
You can find many online courses & certifications from top providers to learn and make a career in civil engineering. Many universities in India and abroad provide civil engineering online courses with certificates.
So, if you are willing to land a career in civil engineering and its associated fields, you must hold a degree, diploma or a relevant certificate in this field. You can even make an online course comparison to enrolling in the best courses to get hired at top companies in India.
Explore Popular Platforms Certification Courses
Frequently Asked Question (FAQs) - Which companies are now hiring civil engineers in India right now?
Question: Which are the best universities for civil engineering in India?
Question: Where can I go after completing my civil engineering courses?
Answer:
You can explore a variety of job opportunities in diverse sectors and businesses not only in India but also abroad.
Question: How much a civil engineer can earn annually?
Answer:
The average salary of a civil engineer in India is Rs 307,094 per annum, according to PayScale. The pay may increase based on the experience level.
Question: What are the best companies hiring civil engineers in India?
Answer:
There are many companies hiring civil engineers in India. Some of the top companies are Punj Lloyd, Newton Engineering & Chemicals Ltd, Akme Projects Ltd, and Anant Raj Industries Limited.
Questions related to Civil Engineering
Showing 5601 out of 5601 Questions