Online Courses After 10th
Online Courses after 10th - Internet access and rapid technological advancements have changed the concept of traditional education radically in recent years. If you have access to a computer, you can get a quality education whenever and wherever you want. Online education is a rational choice whether you are an adult or a teenager. There are numerous online courses offered by many institutes and online education platforms like Udemy, Coursera and other MOOCs. These online courses can be a useful learning and educational method for enhancing your skills in a specific subject or acquiring a new skill.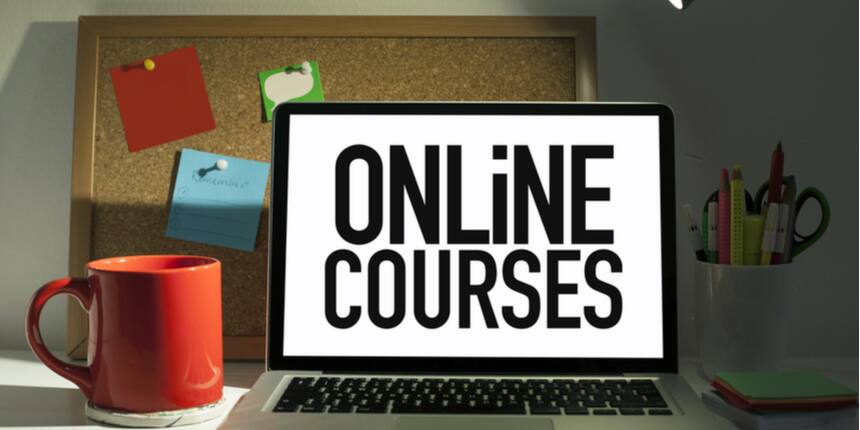 These are some of the best online courses after 10th which you may pursue.
Also read-
Best online courses after 10th
| | |
| --- | --- |
| Courses | Online education platforms |
| Social Media Marketing | Udemy, Coursera, Future Learn |
| Big Data Analytics | Upgrad, Edureka, Intellipat |
| Computer Programming/Coding | Whitehatjr, Vedantu, Codeshala |
| Foreign Languages | Babbel, Duolingo, LingQ |
| Fashion Designing | International Institute of Fashion Design, AAFT online, Sew-It Academy |
| Photography | The New York Institute of Photography, Skillshare, Shaw Academy |
| Creative Writing | Henry Harvin, British Council, IIm skills |
| Multimedia | Admec Multimedia, Arena Animation, Edx |
(Note- Data has been collated by Team Careers360)
Now that we have taken a brief look at the kind of after 10th online courses that are available, let us explore them a little in detail.
Social Media Marketing
Social Media Marketing is all about creating content to promote a company and its products on social media platforms such as Facebook, Instagram, and Twitter. With the constant growth of social media marketing, organizations, companies, small businesses, and sole proprietors require a profound understanding of how to market, grow and promote their brands. After finishing class 10 you can opt for the beginner's course which will give you an overview of Fundamentals of Digital Marketing, Marketing Strategy, Email Marketing, Facebook & Instagram Marketing, Social Media Marketing, Business Strategy, Internet Marketing, etc.
If you have strong communication and writing skills and are digitally savvy, this is one of the best online courses after 10th that you can pursue considering the future scope in this sector.
Platforms- Coursera, Udemy, Future Learn, Shaw Academy, and Edx, etc. Course duration can vary from a week up to three months.
5 min read
Mar 21, 2022
Read More
Also read-
Data Analytics is the process of analyzing huge amounts of data to derive conclusions based on information in them, mostly with the help of software.
Over the last few years, data analytics has become an increasingly valuable tool in business, as it enables more informed decisions based on research and scientific data. This course will give you an introduction to tools like Microsoft Excel, SQL, R and algorithms used to create Machine Learning, Data Analysis and presentation, Data Visualization, Problem-solving, etc.
After finishing class 10 you can opt for a beginner course in Data Analytics or Big data to get a basic understanding of this prominent career option. With the growing industry demand for Data Analysts, this is indeed one of the most popular after 10th online courses.
Platforms- Udemy, Coursera, Upgrad, Edureka, Intellipaat offer short term certificate courses. Coursera partners with IBM and PWC to offer courses in Big Data Analytics.
Also read- Best online Data Analytics courses
Computer Programming or Coding
We interact with computers every day through websites, apps, and other technologies which are programmed using computer codes, and the process of creating computer instructions with the help of programming languages is called computer programming.
Coding courses give you an understanding of augmented reality related projects, mobile app development, VR games, web development using HTML, CSS, etc. Some courses might also introduce computer languages like Python, Java, C, C++ and Programming fundamentals etc. If you possess strong logical skills and are good with computers you can enrol for an after 10th online course in programming.
Platforms- Whitehat Jr, Vedantu, Codeshala, Coursera, Udemy, etc. The programs can last between 3 months and 6 months.
Also read-
Globalization and the increase in international trade has led to the disappearance of borders today. Therefore, speaking a second language is no longer a plus, but a necessity. Language proficiency is becoming a very common requirement for many jobs these days. If you are a good learner and want to learn about different countries and their culture, starting to learn a new language is excellent brain training. The foreign language courses will introduce the history of that language, vocabulary, spelling and grammar, methodology of understanding and accent & diction of that language, etc.
Read more - Online Foreign Language Courses
Depending on what language interests you most, you can pursue after 10th online courses specific to that language.
Platforms- Babbel, FluentU, LingQ, Duolingo, and Mango languages offer short and long term courses.
Also read-
It is not necessary to obtain a traditional Fashion Designing degree these days, if you would want to pursue a career in fashion. If you are artistic, have a good sense of fashion, can draw and sketch well, and love colours, this course can be a stepping stone in the fashion industry. Many institutes offer online fashion design courses and cover topics like draping, pattern making, knits, basic clothing and manufacturing, dress design, etc. Most of the courses that are offered are skill-based, and you get to learn technical aspects involved in the design, develop your creativity and innovation. This can be one of the best online courses after 10th.
Platforms- Skills Share, Udemy, Coursera, etc.
Also read-
A series of photographs can tell a story, whether you're taking pictures for personal or business purposes, good photos are essential. If you have to share good photos of yourself and your friends on social media or if you are a travel blogger or running an online store, good photographs are the key to gain traction. There are many institutes that offer online photography courses. The beginner photography course will help you understand the fundamentals of camera, sensors and lenses, and best lighting techniques.This might be one of the best online courses after 10th to pursue for those looking at a career in Photography.
Many institutes offer Photography courses online these days like The School of Photography, The New York Institute of Photography, AAFT online etc.
Platforms- Skillshare, Shaw Academy, Udemy, Coursera, etc.
Also read-
The creative writing course empowers writers to put their imagination into words, if you can build stories with anything or everything in your head then this is one of the best online courses after 10th for you. This course will help you shape your thought process so that you can write articles and stories that are worth reading. This course is designed to develop your unique writing voice, drive out-of-the-box thinking, and enhance your artistic expression.
Platforms- Henry Harvin, IIM skills, Skillshare, Coursera, Udemy, British Council, etc. The course duration varies from 50 hours spread to 3 months.
Also read- Best online Creative Writing courses
Multimedia
The media industry has immensely benefited from the use of multimedia, the most efficient work system. This is a branch related to computers that combine texts, graphics, drawings, animations, sound and video. This course will make you proficient in software programs for creating digital art, movies and animation, video production and editing. This course also trains you in multimedia fields like web designing, animation, 2D and 3D graphics and visual effects. This can be an interesting after 10th online course to pursue if you are creative, want to learn about animation and graphics, and are interested in tools like Adobe Photoshop, Illustrator, Revit, and 3ds Max.
This course is offered by many institutes, such as Admec Multimedia, Arena Animation, and Vogue Institute of Technology.
Students also liked
Platforms- Coursera, Udemy, and Edx, etc.
Also read- Advanced Adobe Photoshop courses for Graphic Designers
The internet has facilitated the rapid transfer of information, resources, and services. Education and learning services are no exception to this rule. Until recently, if you wanted to learn a skill, you had to find an expert in the field to teach you, enroll in a college or university, or pick up a textbook. Today, you can learn online on a variety of platforms, making the process easier, more cost-effective, and more accessible.
Also read-
Author- The author of this article is Yashodhra Arora, who is a Counselling Psychologist, with extensive experience in Career Counselling for high school students.
Frequently Asked Question (FAQs) - Online Courses After 10th
Question: What are the benefits of online courses?
Answer:
There are multiple online courses that you can pursue after finding class 10 or 12th. The benefits of these courses are that they are cost-effective, you can pursue it at your own pace and have a very simple admission process.
Question: What online courses are best for a class 10 student?
Answer:
You should always choose a course based on your abilities and interest. With the growing demand for technology and computers, the courses that are best and can help you further in your future are Multimedia and Graphic design, Big Data Analytics, Coding, Social Media Marketing, etc.
Question: Can I study online after class 10?
Answer:
There are many job-oriented courses available online these days which gives you an insight into the changing trends of the world of work. You can enhance your existing skills or learn a new skill with these courses, but it is always beneficial to pursue your graduation alongside these online courses after class 10th.
Question: What are some online courses that I can pursue if I am creative?
Answer:
There are a plethora of short term courses available online for students who are creative and have an artistic bent of mind. Some of them are Creative Writing, Fashion Designing, Social Media Marketing, Photography, etc.
Question: What are some of the best online education platforms for pursuing online short term and long term courses?
Answer:
Many online education platforms offer short term and long term courses like Coursera, Udemy, Edx, Upgrad, etc.