Who is a Content Writer?
A word after a word after a word is power ~ Margaret Atwood
In career as content writer, individuals are professionals who intend to provide relevant and engaging content for products, websites, organizations. Every company from technology-based to design ones, from a publication to a medical one requires a professional who could write about the company's product and services in the most involving way. Such professionals are called content writers. Nowadays, when everything is going up on the digital ladder several companies and organizations require content writers to attract the attention of their audience through engaging writing. These websites can be blogs, social networks, e-commerce sites, aggregators, or college websites. Individuals in the content writing career path must possess the skills to understand the purpose of content in order to produce high-quality content. Students can pursue Journalism, Mass Communication to opt for a content writing career path. Here, in this article, we will discuss job opportunities for content writers, how to become a content writer, what kind of degree is required for content writing, job opportunities for content writers, the scope of content writing in India.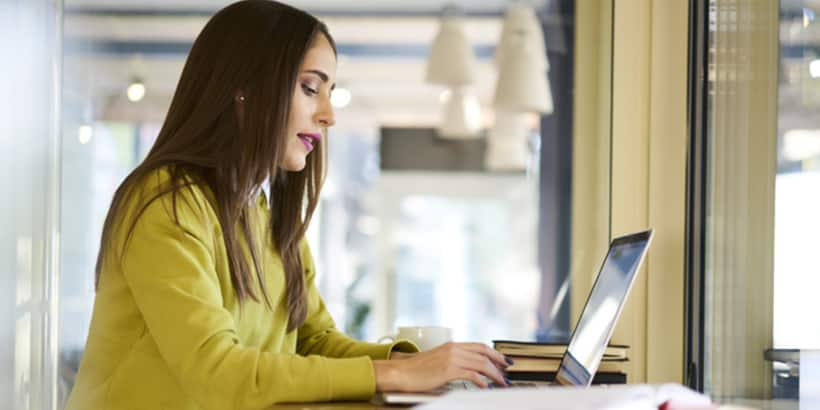 Content Writer in a Nutshell
The primary vision of content writing is to target the appropriate audience and sell the products or services. Content writing is meant to speak directly with a particular audience, such as customers, potential customers, investors, employees, or other stakeholders. The content produced must be well-written, researched, and creatively conceived. The main aim of professional content writers is to speak to their targeted audience and if it's not then it's not doing its job. There are numerous kinds of the content present on the website and each is different based on the service or the product it is used for.
Quick Facts for Content Writer
Industry

Media

Suitable for

Male, Female, Others

A candidate who wishes to make a career as content writer can do so irrespective of his or her gender. The field of content writing is not gender biased and all genders get an equal opportunity to pursue it. Content writing is a desk job where an individual is not required to put in any kind of physical labour. Therefore, one can pursue a career in content writing no matter which gender he belongs to.

Any special needs

Yes

Anyone with strong language and writing skills can make a career as a content writer. There are no limitations to choose content writing as a career. Content writing is a desk job that can be done remotely without any physical movement and external efforts. Hence, the job is a perfect fit for anyone who wants to be a writer.
What is the role of Content Writer?
Individuals in the content writing career path day to day job includes creating content for websites such as e-books, sales copy, podcasts, researching the topic for which they are required to write, content writers also use Web formatting tools such as HTML, CSS, JavaScript and content management tools which help them to create the content, managing and collecting the data before presenting it on screen, designing and formatting of the different domains present on a website. Content writing jobs involve developing and writing the content as per the business concept. Individuals who opt for a career as a content writer also work on research and generation of keywords to optimise the search results. The demand and number of jobs for content writers in India has grown rapidly over the years.
Research
Research skills involve the ability to find, discover, retrieve, arrange, analyze and use knowledge related to a specific subject or to introduce it. This requires tremendous quest, analysis and detailed evaluation, typically in response to a particular question or assumption about studies. Researching industry-related topics and facts and figures related to them as the content written on the Website must be legitimate and reliable.
Writing
Writing is an important professional skill. Writing is the primary basis upon which one would operate, learning, and intelligence will be measured in college, in the workplace and in the community. Writing equips us with the abilities to communicate and think. Writing fosters our power to reveal others as well as ourselves about and modify our concepts. Write a clear marketing copy, podcasts, articles, e-books to promote a particular product or service. Writing is the most important and essential quality of a content writer.
Planning
The capacity to think about something and handle strategies efficiently to accomplish particular strategic goals is recognized as one's planning skills, with the assistance of every resource which is available. Planning is essentially a route map that also directs the content writers about how to accomplish an assignment before they start it. Prepare and plan well-structured drafts using Content Management Systems.
Proofreading
Proofreaders do just what their job name implies, they read and understand and also check spelling, grammar, sentence structure, semantics, usage, accuracy, and brand voice. Proofreaders evaluate written material and markup, like promotional materials and internal memos and also other documents. Proofread and edit Blog Posts before publication.
Cordination
The system in which a manager combines their operations is considered coordination. Coordination is an orderly process of the team attempt to support individual actions in harmonious relationship towards its achievement of an organization for achieving goals and strategies. Coordinate with the marketing and design team to illustrate articles and promote content on social media.
Website management
Monitoring of the subject matter going to appear on a webpage. They manage the team of content creators and designate employees for different activities and assignments. Numerous content writers also keep a record of traffic information on a website and rankings on search engines. Update website content according to the evolution in facts and requirements and ensure all-round consistency.
Types of a Content Writer
When it comes to content writing jobs there are several opportunities available. There are exactly various job opportunities for content writers. In the career as a content writer, one can land up a good job provided an individual fulfils the requirements to become a content writer.
Some high salary jobs for content writers in India are mentioned below:
Technical/ Academic Writer: Technical or academic writer is involved in writing about content that requires direction, instruction as well as and explanation. This kind of writing is very different from creative writing or copywriting. An academic or technical writer is supposed to write about subjects that are more specific in nature and are linked to a particular discipline in the field of academics. These kinds of writers write for scholarly or textbook content.
Copywriter: The job of a copywriter is to write content for a commercial advertisement. A copywriter is responsible for writing texts on billboard commercials or websites, emails, advertisement catalogues, so on and so forth. A copywriter is a kind of content writer who writes content for the purpose of advertising or marketing. They are supposed to be creative people who can write content around different kinds of products and services which can, in turn, increase brand awareness. The aim of a copywriter is to write content that can persuade a customer to buy the products.
Editor: An editor is supposed to be someone who is a critical reader and can refine the text in front of him or her. An editor is a person who is responsible for checking every written material before it is published. They are responsible to take care of all kinds of grammatical errors, punctuations, spelling errors and factual errors and correcting them before the content is published. An editor is employed in several kinds of industries like newspaper houses, magazine companies, book publishers and several such areas.
SEO Writer: Seo writer is a kind of content writer who writes mainly for digital media. Their job is to plan, create as well as optimize the content they write in such a way that it has a higher ranking in the search engine. Their job is to make the web pages more attractive for the search engines so that the content ranks higher which can lead to the generation of more and more traffic on the website. They look for keywords that a person uses while looking for a certain kind of content and then they effectively use those keywords in their write-ups.
Senior Editor: A senior editor is considered to be the head of a publication management team. They have a team of writers and junior editors working under them. They are responsible for overseeing all the aspects of a publication body. They solve the writer's issues and check the content edited by the editors. A senior editor plans out what kind of content shall be written by the writers under his or her team. They specify the topics, word count, writing style, typically everything that is related to content writing.
What is the workplace/work environment of Content Writer like?
Content writing jobs are research-based jobs that can be easily carried out from the desk. Most parts of the content writing career can be covered from the desk itself. Although depending on the niche one is working on, one might be required to schedule interviews, and travel to certain places in order to collect facts and figures. Mostly, content writers work in corporate industries i.e. spending most of their time in the office over their desk.
Does Content Writer require travelling?
Not Likely
Generally, in the content writing career, one does not have to travel. Though a few times employees might be required to visit a particular place or talk to a particular group of people in order to know the pragmatic scenario depending on the domain of content writing. Travelling totally depends on the niche one is working on. For instance, content specialists working in a travelling domain will be required to travel intensely whereas one working on a normal niche might perform his/her role from the desk itself.
Employment Shifts
Full Time, Part Time, Hourly Basis, On Call, Work From Home
The work can be done remotely, though it depends on the requirements and specifications of the content writing jobs. Jobs for content writers in India have been classified into various categories and depending upon the category/domain one is working for, the requirements and specifications for content writers are decided. There are plenty of business models that hire for content writing jobs to work from home, whereas there are organisations that provide jobs on a full-time basis. Hence, the shift details are uncertain and vary according to the roles and responsibilities one is required to fulfill.
Employment Nature
Contractual, Permanent
Content writing industry holds jobs on both contractual and permanent basis. There are plenty of writers working as freelancers on a contractual basis and also there are full-time employees working for a particular organisation in the career as content writer.
Work Place
Home Office, Office
Depending on the nature of employment, a content writing jobs can either work from home (if working on part-time basis) or work from office(If hired as a full-time content writer).
Presence in Geographical Area
Urban, Semi-urban
Generally, in the career as a content writer, individuals work in corporate sectors which are located in tier-1 cities i.e. urban areas. However, there are plenty of content writers who work remotely and hence can be found in any city around the country. The major hub of content writing is situated in New Delhi, Bengaluru, Pune, and Mumbai. Most of the third-party companies, start-ups, advertising agencies, service providers, business models are situated in these cities and hence creating a plethora of jobs for content writers in India.
Time Pressure
Not Likely
Usually, in the career as a content writer, individuals are required to work 8-9 hours a day from 9 in the morning to 5 in the evening. However, there might be cases where they might be required to work past their normal shift due to the demand for work or clients. Occasionally, they are likely to face some time pressure depending on the workload in content writing jobs.
Overtime Details
Since it is a desk-based job, the workplace is mostly situated in corporate sectors in the career of a content writer. Individuals in the content writing career path are usually not required to work overtime. Although exceptions exist and they might be required to work overtime depending on the demand for their work.
Weekly Hours of Work
Min 45 Hours
Since it is a desk-based job, the workplace is mostly situated in corporate sectors in the content writing career. Jobs for content writers in India does not require to work for overtime. Although exceptions exist and they might be required to work overtime depending on the demand of their work.
How to become a Content Writer?
What are the skills and qualities required to become a/an Content Writer?
There are some requirements to become a content writer. One must possess some set of skills in order to make a content writing career path. Some of the skills are mentioned below:
Research skills: With the plethora of content available on the web, it's important to make sure that the content published on your website is reliable and legitimate. Any discrepancy in the facts, figures, or information provided on the website results in audience dissipation. The content writing career path not only aims to produce engaging content but also content that is authentic and reliable. In order to produce content that is definitive, researching is a mandatory habit that a content writer must exhibit. Proper research must be carried out before writing content for any discipline. Good research adds credibility, and most importantly, value.
Adaptability: As a content writer, one must be prolific and versatile towards the content one is producing. The more writing styles you can learn and the more quickly you adapt, the more valuable you'll be as a content writer. The final draft must be designed in such a manner that it compels and convinces the reader to take action. There is a different tone for every niche and every audience. For instance, the tone of technical content written in order to persuade the science people will be exceptionally different from the content written on a fashion niche.
Robust understanding of SEO: Even if you write great content, content that is engaging, adaptive, convincing, and reliable but if readers can't read it, it won't be effective. SEO (Search Engine Optimization) is a technique used by writers in order to rank their articles on the top while using SEO-friendly keywords and keeping up with google's latest search algorithm changes.
Communication skills: Writing is an area of communication, and hence there are no excuses for lacking communication skills. It's important to communicate with the customer when in a doubtful situation. Also, good communication skills help you with research. With good interviewing skills, one can get the right information from the experts since they are a great source of information.
Editing skills: "There is no great writing, only great rewriting." - Justice Louis Brandeis. To produce error-free content, one must possess strong editing skills. Editing is a skill that requires you to be patient, disciplined, and have a good eye for detail. The first draft of any write-up is hardly correct. Editing skills include checking grammar, spelling, and punctuation, eliminating of redundant points and overused words. Hence, one must be erudite in proofreading and editing.
Organizational skills: Delivering high-quality content while meeting the deadline can only be achieved if one knows the organization. Organizing your to-do list not only helps you in achieving the deadline but also provides the ability to stay focused. Prioritizing your work helps you to get done with your job promptly.
Language fluency: Lacking command over the language is non-negotiable as a content writer. One should display strong language skills such as command over spelling, grammar, and word usage. Reading a wide variety of articles and practising writing critically can improve writing skills.
Popular Online Arts And Crafts Courses and Certifications
Which certifications and internships can be helpful in becoming Content Writer?
We have mentioned below various certifications that content writers can opt to upgrade their skills.
Internship Availability
Yes
There are plenty of internships available in the field of Content Writing of both paid and unpaid types. The norms and requirements differ for each and every organization/industry. Content writer intern day to day job includes writing articles, e-books, podcasts, sales copy, researching the topic for which they are required to write, they also might be required to use Web formatting tools such as HTML, CSS, JavaScript and content management tools which can help them to create the content, managing and collecting the data before presenting it on screen, designing and formatting of the different domains present on a website. The cost of becoming a content writer is not much compared to other courses. Getting a bachelor's degree in English, Journalism, or Mass Communication does not assure a persistent future in content writing. One is required to work under experienced writers and editors before starting their professional career officially. In the career as a content writer, individuals are usually required to gain work experience through on-the-job training.
Also read - Career as linguist
Career Path Progression for Content Writer
There are several content writing jobs available for interested candidates. Content writing salary is not very high in the beginning but it increases as an when an individual's work experience increases.
Here are some of the available jobs for content writers in India:
Content writer intern: To start your career as a content writer, one is usually required to work as an intern under a senior editor or content writer. The content writer interns learn the basic technicalities and professional skills required to excel in this career. The roles and responsibilities of content writer intern includes developing content for different sets of clients, copy-editing of daily news and feature articles on different niche, profiling of different niche, coordinating with their seniors and representatives. Generally, content writers are paid little to no amount of money during their internship tenure. Although, there are few organizations that pay higher stipend than usual depending on the skills one possesses and the responsibility one handles.
Content writer/ Copy editor: Content Writers are freelance, contractual, or permanent employees working for a particular organization/ client/ business model. Their day-to-day work includes developing high-quality content for different clients or business models, editing and proofreading the content, planning and representing content on the required platform, managing the website, and training the interns working under them. Content writers are paid from average to high depending upon the organization they are working for. A copy editor is a person whose roles and responsibilities include verifying and correcting the articles/content written before its publishing on any platform.
Senior content writer/ Editor: Editors are in charge of the publishing team/ content team who decides what will be published in each section. Along with deciding and planning the whole content strategy, they also create content for different niches. Their day-to-day role includes planning the content strategy, assigning the work to the content writers, presentation of content on the platform, and managing the content present on the platform. The average pay of editors in India is around 4 lakhs per annum.
Senior Editor/ Content Manager: A senior editor/ content manager is an executive who manages and controls the work in a publishing capacity, they also control the lower-level editorial positions including writers, proofreaders, copy editors, and junior editors. Depending upon the industry, they might work directly with the publisher in making editorial decisions for publications including newspapers, magazines, books, trade publications, or websites. The average pay for Senior Editor/ Content managers is 8 lakh per annum.
What is the job outlook for Content Writer?
A content writing career path is highly competitive but people with appropriate skills and experience have made a fortune out of their profession. Content writing can be seen as an emerging industry growing each day. After the internet turned into a major medium of presenting information, every company or organization has associated themselves with content writing. It has become a major and foremost step for marketing and advertising. The demand for content writing jobs has grown rapidly over the years. Some of the popular domains where content writing jobs are abounding are Automobile, Education, Healthcare, Data Science and Finance. According to the latest study for digital marketing job trends in the world's leading nations conducted by SEMrush, the online visibility management, and content marketing SaaS platform showcased that amongst the most searched digital marketing jobs in different countries, India clearly showed a great share of 73.87 per cent for content writer jobs with a monthly/daily search volume of 26309. The study showed that the keywords - 'how to do content marketing', why content marketing is important', 'what is content marketing strategy' and other queries regarding content marketing and content writing ranked high in terms of search volume in comparison with other job opportunities for content writers.
Student Also Liked:
Frequently Asked Questions for Content Writer
Que. How do you become a Content Writer?
Ans.
Although there are no specific academic requirements in order to make a career as content writer, people with strong writing and language skills can be a perfect fit for the job.
Que. How much money do content writers make?
Ans.
An average salary of Rs. 3-4 lakhs per annum can be expected easily. Though money is a variable attribute in this industry and purely depends on the skills and abilities one possesses.
Que. What are the highest paying writing jobs?
Ans.
When it comes to content writing salary, top three jobs that pay the highest in the industry are technical writer, Editor, and Magazine writer.
Que. What are the best content writing courses?
Ans.
Some of the best content writing courses are:
B.A. (Bachelor of Arts) English
B.A. (Bachelor of Arts) Hindi
B.A. (Bachelor of Arts) Journalism
B.A. (Bachelor of Arts) Social Science
B.A. (Bachelor of Arts) Anthropology
Que. Which colleges are best for pursuing content writing courses?
Ans.
The best colleges for pursuing content writing courses are SRM Institute, Chennai, Jamia Millia Islamia, New Delhi, Christ University, Bangalore, Banaras Hindu University, Varanasi, Maharaja Sayajirao University of Baroda, Vadodara, Lovely Professional University, Phagwara.
You might also be interested in
The question have been saved in answer later, you can access it from your profile anytime.
Access now
Report Question
Select your reason of reporting