Who is a Photographer?
Photography is a way of feeling, of touching, of loving. What you have caught on film is captured forever. It remembers little things, long after you have forgotten everything ~ Aaron Siskind
Career as photography is quite an interesting choice, as there will always be something different. It is a growing field as people tend to hire a professional photographer for every small or large-scale event that takes place. Photographers take pictures with a camera to create memories and make special moments unforgettable. In career as photographer, individuals are hired to capture the moments of public and private events, such as press conferences or weddings, or may also work inside a studio, where people go to get their picture clicked. Students can pursue BVA (Bachelor of Visual Arts), B.Des (Bachelor of Design) Courses to opt for photography as a career in India. Individuals who opt for a career as a photographer choose to work on a freelance basis, although some of them may be employed by marketing or media departments. Individuals who are interested in pursuing this profession must do a photography course for better understanding of the technical aspects. Here, in this article, we will discuss how to become a photographer in India, alternative careers for photographers, career in photography salary in India, is photography a good career in India, photographer jobs.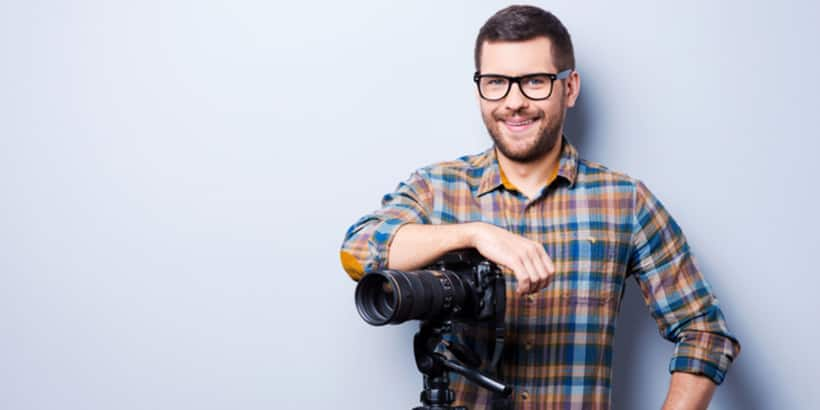 Photographer in a Nutshell
The career as a photographer is considered both a science and an art, an artistic means of expression in which the camera replaces the pen. Photography is divided into many streams each generating numerous career opportunities in photography. With the boom in advertising, media and the fashion industry, photography has emerged as a lucrative and thrilling career option to many Indian youths.
Quick Facts for Photographer
Industry

Entertainment, Media

Average Salary in India

₹45000

Suitable for

Male, Female

The career as photographer is a male-dominated career; however, the profession suits both men and women candidates.

Any special needs

No

The career as photographer does not suit candidates with special needs as the job requires candidates to be able to pay attention to detail and some careers in photography require candidates to travel from one place to the other and work locations may be harsh.
Table of Contents for Photographer
What is the role of Photographer?
In a career as photographer, individuals take pictures to create memories and make special moments unforgettable. They photograph people, landscapes, merchandise, and other subjects, using digital as well as film cameras and equipment. They also use traditional and digital cameras, along with equipment, such as tripods, filters, and flash attachments. They determine desired images and picture composition, selecting and adjusting subjects, equipment, and lighting to achieve desired effects. Photography as a career in India adjust apertures, shutter speeds, and camera focus according to a combination of factors, such as lighting, field depth, subject motion, film type and film speed. Individuals who opt for a career as a photographer create artificial light, using flashes and reflectors and also transfer photographs to computers for editing, archiving and electronic transmission.
Marketing
Marketing includes the planning of a market place product. Advertising lets a consumer or marketplace recognize your services and products. Advertising represents the greatest marketing method. Advertising creates brand strategies gathered data and analysis to better convey the brand. Photographers need to advertise to market their photographs.
Equipment use
The camera in its simplest form is a light-tight container that carries a lens, a shutter, a diaphragm, a frame that keeps the film in the appropriate image plane, and a viewfinder that enables the camera to be focused to the target position. Photographers must always be prepared to use all of these technologies and instruments which can be used for photography.
Use of software
Software for image processing is used to modify or improve digital photos. This software category includes a wide range of applications to reformatting a simple image and applying different effects to standard industry programmes which are used by skilled photographers. They will usually use program sketch, draw, or paint to create new pictures.
Editing
Image retouching is the method by which an image is altered to enable it for the final exhibition. Usually, photo retouching conducts activities that need smaller surface changes to a picture. Retouching is typically done after globalized modifications which are the refining of an image. Photo editing allows us to reproduce, publish, and distribute all printed images. To be much more accurate we say editing actually took place by sorting photos and videos.
Research
Research and exploration are key components of the practice of the photographer; together, they form an integral part of the photographic project making process. Photographers may do their analysis in several various ways, but ultimately a base of photographic work is formed by experience acquired by discovering the medium which is researching photographic background and hypotheses, witnessing the environment.
Making contacts
The value of Interaction in photography is quite well understood because a photographer does not only appeal to the masses but it also allows everyone to react to almost the same thing. However, through the images, they interact with the world. Each picture narrates the different story therein.
Types of a Photographer
When it comes to photography fields or photographer career types, there are several career opportunities available. Mentioned below are several types of photography:
Fashion Photographer: Fashion photographers not only work to capture the photos at that moment of the shoot, but they also do a lot of preparation work. They are always looking for good sites for their shoots, or the right props to use in the setting that they rely on. They need to mix things up depending on the nature of the photoshoot and are therefore responsible for the full set-up and the takedown of the shoot itself. They work to ensure that the lighting is just right and that all of the elements are well prepared ahead of time.
Wildlife Photographer: Wildlife photographers click and produce images of animals or plants in their natural environments. Wildlife photographers also understand the importance of designing and displaying the images to best convey the message of their photographs. They may use digital techniques to enhance their images in print, and they may also work on printing the images on the type of surface that best allows the images captured to appear lifelike and natural. Depending on the type and stock of film used, photographers can develop their own prints or outsource development to a separate company
Aerial Photographer: Aerial photographers take pictures of physical features, buildings, and many more from aircraft for news, scientific research, town planning, rural development, cartographic, economic and military purposes. They use various types of photographic and sensory equipment to produce black and white, infra-red, colour and three-dimensional aerial photographs and images for different purposes. They work in aircraft with specialized photographic equipment. They also helped during times of natural disaster and war, aerial photographs of places, buildings, landscapes and terrain that cannot be reached with ease on the ground are commonly used to help governments strategise military tactics.
Also read - Career as a cinematographer
What is the workplace/work environment of Photographer like?
In career as photographer, individuals work in a variety of settings which include both indoor and outdoor. The work environment for photographers can change depending on the specialisation that they opt for. Portrait photographers may work in studios, but they also often travel to take photographs at a client's location, such as a school, a company office, or a private home. News and commercial photographers may travel locally or internationally, work in uncomfortable or even dangerous surroundings and must be available to work on short notice. Most photographers stand or walk for long periods while carrying heavy equipment.
Does Photographer require travelling?
Likely
Travelling in a career as a photographer totally depends on the specialisations that students opt for. Mostly all the photographers require travel in order to click pictures at a client's location, such as a school, a company office, or a private home. Photographers working in laboratories or offices are least likely to travel however other photographers are required to travel on a regular basis.
Employment Shifts
Full Time, Part Time, Hourly Basis, On Call, Work From Home
In the career as photographer, individuals work in laboratories or offices work a regular shift of nine to five on weekdays. Apart from these photographers mostly all the photographers work more than their normal hours. The shift timings does not exist for other photographers working in different specialisations apart from photographers working in laboratories or offices.
Employment Nature
Contractual, Permanent
The nature of employment in the career as photographer, include both permanent and contractual hiring of photographers. Photographers are hired on a permanent and contractual basis depending on the requirement of the companies. Most firms hire individuals on a permanent basis to get more efficient at their jobs through familiarity with the processes.
Work Place
Home Office, On-Field, Office
Various photographers work in different settings, some work in laboratories and offices whereas others work in harsh conditions. The workplace of different photographers depends on the specialisations that they opt for. Most photographers do not have a specific duration of work hours on a daily or weekly basis as they require to travel a lot. Individuals who opt for a career as a photographer working in wildlife, sports, aerial, and much more work overtime on a regular basis so that they can complete their desired target at the earliest.
Presence in Geographical Area
Rural, Semi-urban, Urban
The top colleges for photography are mostly situated in urban areas or cities. Cities such as Mumbai, Kolkata, Hyderabad, Chennai, Kanpur, Delhi and many more can be considered as educational and job hubs for photographers as they provide both education and job opportunities for photographers. Photographers can be seen in all urban, semi-urban, and rural areas to perform their tasks as demanded by their job roles.
Time Pressure
Not Likely
The career as photographer is more of a creative profession. Individuals who opt for a career as a photographer working permanently hardly face any time pressure. However, one who works as a freelancer for big organisations is more likely to face time pressure. Also, in situations such as reaching deadlines or project completion, photographers might be required to handle time pressure and work for long hours to manage their work.
Overtime Details
Photography is a profession that requires a lot of creativity which sometimes works as a hindrance in accomplishing the projects. Working overtime is quite normal in the career as photographer. In a career as photographer, individuals are generally required to work more than their scheduled time.
How to become a Photographer?
What are the skills and qualities required to become a/an Photographer?
There are several types of career opportunities in photography in India. But, to be able to grab an opportunity one must possess some skills in the careers in photography.
Creativity: Individuals who opt for a career as a photographer are born creative, however, this is a skill that to a great extent can be learned and constantly improved. There are several ways by which one can inculcate this ability. Few of them are to follow the works of successful photographers and attend workshops and shoots. Visual photography is an enhancement of creative activity to digital photography. The aim is to encourage innovative thinking and promote creativity with fresh concepts that go beyond a simple picture.
Composition: Composition is the artistic dimension in the career as a photographer that helps in understanding how and what is required in an image to look beautiful. The aspect of composition is simply the photographer's taste and creativity. Candidates have to learn how to think deliberately and intelligently about what looks good in a frame and why. There are certain universal principles that candidates should learn, rather than reinventing them through trial and error methods.
Business sense: Not all photographers work independently, Working as a freelancer or selling prints requires photographers to have their own business manager. In the career as a photographer, one must handle everything from shooting to marketing their product. So photographers must have business skills to survive in this field. Business sense is recognizing how a business earns a profit and accomplishes its objectives and outcomes.
Technical skills: To be a successful photographer these days, photographers need to know the latest technologies. This includes improvement in both hardware and software. Hardware, in this case, refers to cameras, lenses, tripods, lights, and all the other physical equipment a photographer might use. Softwares are the applications used by photographers to edit an image. Some of the equipment is extremely complicated to use until and unless a photographer master it.
Attention to detail: To be successful in the career as photographer, one needs to deliver pure perfection, meaning that everything before, during and after the shot has to be flawless. An eye to detail helps photographers to ensure that all elements within the photo such as the lighting, the composition, the subject, and everything else are in proper proportion to convey the right vision.
Patience: Patience is a key component of workplace success. You have to confront those circumstances many times that take time and patience. This is a field where things just won't go photographers' way at times, for example, the lighting won't cooperate, models or clients will be exceptionally difficult, or when their camera just won't give them the desired results. In career as photographer, individuals must have the patience to handle any situation with ease and help them to grow in this field. It is just to focus on getting the job done and not surrender, as well as be serious.
Which certifications and internships can be helpful in becoming Photographer?
We have provided below major certifications courses for photography. Aspiring individuals can opt for these courses to upgrade their photography skills.
Internship Availability
Yes
Internships are a great way to make use of the knowledge that you gained in the classroom to experience the real world. especially in the careers in photography. Internship helps students to gain experience in the field, it not only provides students with an edge over other students when applying for jobs, but it also prepares them for what to expect in their field and increases confidence in their work. Internships can provide students with the soft skills needed in the workplace and in leadership positions. Internships help students learn all about workplace culture, employee relations, and leadership structure, which help them on board in their first professional job with more ease than if they haven't had professional experience. Internships provide opportunities for receiving feedback from someone who works in your desired field on a daily basis. Internships for photographers are easily available in India and abroad as well. Careers in photography totally depends on the students where they want to complete their internships. The duration of internships may vary from organisation to organisation so students can choose the organisation accordingly.
Career Path Progression for Photographer
Some of the popular career opportunities in photography are mentioned below:
Photography Assistant: A photographer can begin his or her career by either joining a photograph firm or approaching a professional photographer to work as an assistant photographer. The job of an assistant photographer is to plan, set up, and complete the photo sessions with the photographer either at the studio or an outside shoot location. They also help customers, they are involved in configuring as well as operating the photo equipment. They also assist the photographer in giving creative and technical advice.
Camera Operator: Photographers gain experience using still cameras to capture images. So this skill helps a photographer to become a camera operator for video events such as television shows, movies, or televised sports. They may work in a broadcast studio, as a cinematographer on a movie set or as a videographer at an event, like a wedding. They use hi-tech cameras and use different types of camera lenses or filters to achieve the desired effects. Camera operators work closely with directors to ensure that their videos meet the needs of the production. Some camera operators edit their work using computer programs.
Photographer: After gaining experience of several months under professional photographers, one could go on and find a job for himself or herself in a company as a photographer. An individual can work as a portrait photographer, commercial or industrial photographer, aerial photographer, news photographer or even work as a freelance photographer. Jobs for photographers are available in almost every kind of industry.
Director of Photography: The Director of photography is also known as a cinematographer. He or she is the main person who handles the camera and the light crew while shooting a film or any commercial video. The Director of photography should be good at handling people. They typically have to manage photographers, designers and others who contribute to the finished product. They are responsible for making artistic as well as technical decisions that are related to the images.
Photographer Jobs and Salaries
Camera Operator
Monthly Salaries
Average Salary

45000

Starting Salary

25000

Junior Level Salary

25000

Senior Level Salary

80000
Job Description
The roles and responsibilities of a camera operator includes providing support for quality control, processing, assembly, playout, and distribution activities for pre-programmed and live content, playing a key role in the technical workflows to support distribution across linear, Video on Demand (VOD), and Over the Top (OTT) delivery, working in both multicast and live sports environments, supporting Business Continuity and Disaster Recovery teams, partnering with Live Media and other Media Operations teams and steps in to help in other areas as needed
Salary Description
For an entry-level camera operator with less than 1 years of experience, the average total compensation is somewhere around Rs.25,000 per month which includes bonus, tips, and overtime pay. The mid-level salary for camera operators is Rs. 35,000 per month. The top-level salary is somewhere between Rs. 70,000 to 80,000 per month.
What is the job outlook for Photographer?
The job growth in the case of career opportunities in photography is considered comparatively higher than the other kinds of specialized photographers. But, it is considered to be a very competitive branch of photography since there are several renowned professionals already out there. Photographers in the media line face a very stagnant growth but the job is comparatively more secure. They do not depend on clients or fashion shows in order to find work. News is everywhere therefore, they are supposed to work all the time.
With the boom in advertising, media and the fashion industry, photography has emerged as a lucrative and thrilling career option to many Indian youths. A few years ago people regarded photography as a hobby profession only, but now it has emerged in a different way. In this modern era, photography as a career in India is emerging rapidly as it is a popular career choice among all age groups. Photography is both a science and an art; an artistic means of expression in which the camera replaces the pen. Since India is now developing in all fields including photography so there are a good number of options available in the field of photography. Students after completing the courses in photography can also become freelance photographers or individual photographers.
Frequently Asked Questions for Photographer
Que. What do photographers do?
Ans.
Individuals who opt for a career as a photographer are artists with the camera, using a blend of technical skills and an artistic eye to take pictures of people, places, landscapes, food. Photographers can work as fine artists, wedding and event photographers, or sell their photos to commercial clients.
Que. Is photography a career?
Ans.
Photography careers are critical to a wide range of industries, and they often require knowledge of modern imaging technology as well as traditional photographic equipment. With the boom in advertising, media and the fashion industry, photography has emerged as a lucrative and thrilling career option to many of Indian youths.
Que. What skills does a photographer need?
Ans.
Below mentioned are a few key skills for photographers;
Creativity
Technical photography skills
Patience and concentration
Attention to detail
Strong networking skills
Team working skills
Que. Where would a photographer work?
Ans.
Working conditions for photographers vary depending on the specialisations. They may work indoors or outdoors depending on their specialisation. Portrait photographers may work in studios, but they also travel to take photographs at a client's location, such as a school or a home.
Que. What are the top photography colleges in India?
Ans.
Some of the top photography colleges in India are:
You might also be interested in
The question have been saved in answer later, you can access it from your profile anytime.
Access now
Report Question
Select your reason of reporting