Part Time Jobs After 12th
Part- time jobs after 12th - A lot of students these days wish to meet their own personal expenses, rather than depending on guardians. Many students might also want to start working soon in order to support their families. For such students, who wish to start earning their own money at the earliest, pursuing part time jobs after 12th is a good idea. These part time jobs after 12th often create a sense of responsibility as well independence among students.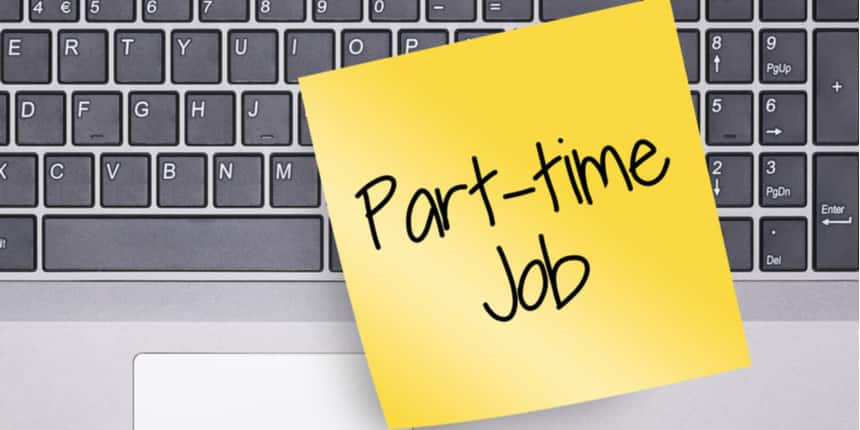 The desire to be financially self-sufficient is a powerful one. Part-time work might provide you with a steady source of income as you continue to pursue your academic goals. In addition, part time jobs after 12th might also help you decide if you want to pursue a full-time career in the same area. It will also help you to build your resume at an early stage. You can choose from a variety of online part-time jobs without investment. This article will help you to understand some of the part time jobs after 12th that will help you start earning.
Part-time jobs after 12th
| | |
| --- | --- |
| JOB TITLE | SALARY (approx.) |
| Home Tutor/ Personal Tutor | Rs. 1.2 – 5 lpa |
| Call Centre Representative | Rs. 1.1 – 3.1 lpa |
| | Rs. 1-2 lpa |
| Digital Marketing | Rs. 1.1 – 2.0 lpa |
| | Rs.1 - 3 lpa |
(Note- Data has been collated by Team Careers360)
After having a brief idea about the part time jobs after 12th, let us explore them a little in detail.
Home Tutor/ Personal Tutor
As the name implies, a Home Tutor is an instructor who teaches in the convenience of your own home. Home tutors or personal tutors are typically employed to teach what is already being taught in schools, but requires further effort and focus. Home tutors also assist in finishing homework, projects and rigorous assessments, they assist pupils develop their learning and deductive capabilities.
Home tutoring can be a great online job for 12th pass students without investment. Personal tutors are needed by many websites that help students comprehend a certain topic or subject in order to save time on travel. Online platforms like Chegg, Vedantu, Wonk, Skooli, etc., are examples of some platforms that employ people who want to teach. Home Tutoring is indeed one of the good part time jobs after 12th.
Income: Rs: 1.2 – 5.0 lpa (approx)
Also read- Career as a Teacher
Call Centre Representative
Call centres are an important part of the customer service experience, sales, and research. Call Centre Representatives are in charge of answering customer calls and assisting them in any way they can. Email, live chat, and the postal service are the most common ways agents contact customers. In addition to tracking pending cases, fixing disputes, and working closely on complaints and grievances, they are also responsible for offering assistance with financial transactions and notifying clients and consumers about new products and services. Becoming a call centre representative is one of the most popular choices of students looking for part time jobs after 12th.
In order to become a call centre agent, an individual may need to have a certain set of skills that will enable them to function smoothly:-
The majority of call centre positions do not require any formal education but a high school may be required to start working as a call centre agent. Companies like Amazon, Concentrix, NGO's, various universities, etc are examples of organisations that hire call centre representatives.
Income: Rs. 1.1 Lakhs – 3.1 lpa (approx)
Blogging
In the last few years, blogging and social media have exploded in popularity. Never in a million years did anyone imagine that internet media will replace traditional media. And hence, blogging has established its significance, and has moved on to become a popular way to work from home for 12 pass students. On online platforms, Bloggers are people who share their knowledge and skills with others. In addition to expressing oneself and sharing knowledge online, blogging also allows one to earn money and build a professional network.
Bloggers are usually those people who are enthusiastic about sharing their ideas with the rest of the world. As a Blogger, you should ideally have the ability to create original content, and should hone your editing and SEO skills.
There is no limit to what you can write about on a blog. Blogging is open to all age groups, nationalities, and genders. It is a great online job for 12th pass students without investment.
Income: Rs. 1-2 lpa (approx)
Also read- Free online courses on Blogging for beginners
Digital Marketing
Digital Marketing is the concept of promoting products or brands via digital devices or on the internet, and is one of the popular part time jobs after 12th among students. Working as a Digital Marketer, an individual uses various multi-channel and multi-technology approaches to enable a company to assess campaigns, content and strategy in real time, to determine what is working and what is not. There are various branches of digital marketing, such as SEO, Social Media Marketing, and so on. One may work for sometime in the field and eventually choose to specialise in whichever branch interests them the most. After Covid restrictions have come into place, Digital Marketing has become a great option to work from home for 12 pass students.
Income: Rs. 1.1 – 2.0 lpa (approx)
Also read-
Content Writing
A Content Writer is someone who develops relevant and entertaining written content for an individual or organisation. Some examples of such content include writing for an organization/individual's websites, blogs, research papers, social media platforms, etc. As an intern or with a portfolio of work, it is possible to break into the sector without a degree, which makes it one of the good online jobs for 12th pass students without investment. Content Writers must be proficient in a range of writing and publishing products, such as Microsoft Office, G Suite, and WordPress, in order to be successful in this position.
More and more businesses are turning to freelance and independent writers for their content writing needs. On the internet, individuals can find a variety of jobs and projects that they can work on part-time while pursuing their higher education. For students having a good hold over language, content writing can make for one of the better part time jobs after 12th.
Income: Rs.1 - 3 lpa (approx)
Also read- Skills to make a career as a Content Writer
Some of the other part time jobs after 12th which students may consider are:-
Part time jobs after 12th can be highly beneficial and fruitful. As we grow older, we know that it's good to be on our own, feel independent, and also makes our guardians feel good about having raised responsible children. It's a good idea to search and try to find online jobs for 12th pass students without investment that will not only add to the resume, but also offer a sense of accomplishment and pride. As a teenager, gaining work experience prepares for the future and makes one more confident. All the best!
Also read-
Author- The author of this article is Nikita Kukkar, who is a Counselling Psychologist, with extensive experience in Career Counselling of high school students.
List of Courses After 12th
Frequently Asked Question (FAQs) - Part Time Jobs After 12th
Question: What skills do I need to work in a call centre?
Answer:
The typical skills that any person would need are: patience, communication, technical proficiency, flexibility and problem solving skills.
Question: Can I get a job in digital marketing after 12th?
Answer:
Yes. A candidate with knowledge about the internet, business, flair for writing, marketing, etc can do a part time / full time job after class 12.
Question: What is the role of a Content writer?
Answer:
Writing clear, original, and beautiful material falls under the purview of a content writer. Proofreading and using SEO tools are also essential parts of the job.
Question: Are Digital Marketers well paid?
Answer:
In this age of technology almost everything has gone digital. And hence all the businesses, organizations and their products, etc require to be on the Internet. To get them online and spread among the population, digital marketing plays the role. So as the demand for digital marketing increases, they are paid well. The starting salary can be Rs. 10,000 per much to Rs. 1 lakh per a month upon gaining experience.
Question: What type of blogs can I start with?
Answer:
You can start your blog on your interest in an area, such as food, fashion, technology, teaching, DIY, lifestyle, etc.
Part Time Jobs After 12th