Who is a Blogger?
Don't focus on having a great blog. Focus on producing a blog that's great for your readers ~ Brian Clark
A blogger is an individual who contributes to an online weblog or platform. The content on their websites or blogs is developed, edited, uploaded, and distributed by bloggers. Google bloggers share their knowledge and expertise on an online portal. They educate their audiences on everything individuals know about a specific skill, artistic work, or practice. Individuals in blogger careers, create content, services and products to serve their target audience. There are probably millions of blog posts available on the internet, and bloggers have the potential to relate with millions of people every day. Students can pursue Journalism to opt for a career in blogging in India. Here, in this article, we will discuss the details about a blogging career, such as whether is blogging a good career in India, How to become a blogger, whether can blogging be a career and how to start a blog.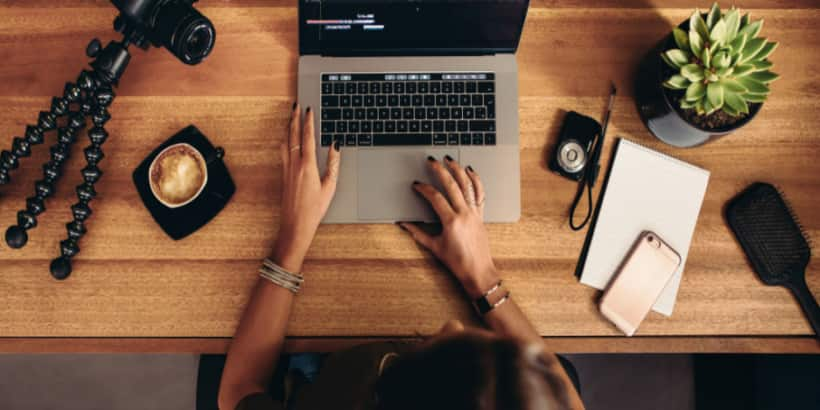 Blogger in a Nutshell
Blogs were originally known as "weblogs". Individuals in blogging careers have been used to help individuals write about their daily activities. Their daily tasks became content on their mini-sites, in which they would document their viewpoints, articles, photographs, and video clips. Most of these mini-sites have been tracked down, and the hobby of blogging has indeed been conceived. Individuals who opt for a career as a blogger keep up with all of the modifications on every social media platform, and keep updating their articles with all their media and key reference materials.
Quick Facts for Blogger
Industry

Entertainment, Media

Suitable for

Male, Female

Individuals can take up a career as bloggers, it is not gender-specific. Males, women, and others can choose a career as Bloggers. In India, a male and female blogger enjoys equal benefits because gender is insignificant in this career.

Any special needs

Yes

Everyone, including those with physical disabilities, is appropriate for individuals who opt for a career as Bloggers. The career as Bloggers is well suited to everyone, even those with special needs. They should have the desire to show the world that in all conditions, they can accomplish their goals.
Table of Contents for Blogger
What is the role of Blogger?
In career as blogger, individuals generate new, original material just a few times a week using pictures that really enhance their content. Google bloggers research other blog posts with relevant titles and good reference information and maintain a presence on social media, such as Twitter, Facebook, Instagram and Pinterest. Google blogger share their material on the internet, create links, manage comments, and spam, and respond properly to every comment. Individuals in blogging careers also develop and maintain brand promotions, information about the companies and advertising campaigns for their company across a wide variety of social media platforms.
Also read: Journalism
Create and run promotional strategies
An important aspect of becoming a blogger is the creation and implementation of promotional strategies for a brand or a company by understanding valuable insight like paid advertising, organic traffic and influencer management. By understanding this information and insight, bloggers can create and run the most proper approaches.
Target Audience
In their career as a blogger, individuals work hand-in-hand with the creative and marketing teams to decide how their services and products will meet the needs of their target audiences. Bloggers write and prepare content on the basis of a marketing strategy that is relevant to the needs of the target audience. Selecting the best target audience is important because it helps the bloggers to focus on the content properly.
Build a story and be authentic
Highlighting the series of stories in a unique and special manner will make things more interesting and powerful for the audience. Using different emotions in different stories will make the page exciting, as there will be something for each and everyone to like and share.
Being consistent
Being consistent with uploading innovative blogs and meaningful posts will generate a recollective value for the target audience. Followers should be able to rely on the blogger to deliver quality and real worth content on a consistent basis, or else they will eventually stop following the site.
Types of a Blogger
Here, in this section, we will discuss various blogging jobs in the blogging career.
Social media manager: Social media managers help to build or improve the traffic of a brand or a company's website, raise brand awareness, develop and implement marketing and brand strategy. Social media managers are also key to the importance of social communication. Social media managers are usually the first point of contact between the client and the company for any kind of feedback or complaint. They also support and encourage promotional activities. This is done by monitoring paid and organic traffic, and sometimes by promoting organic traffic.
Content Writer: Content Writers are specialists who aim to provide interactive and engaging content for product lines, online sites and organisations. Content writing jobs involve the development and writing of content in accordance with the business concept. In their careers as content writers, people also operate on studies and the generation of keywords to maximise search results. The primary vision of content creation is to identify the appropriate audience and to sell products and services.
Copywriter: Copy Writers are responsible for writing content for business purposes. Copy Writers consult the customer and understand the brief. A career as a copywriter has a lot more to offer to worthy candidates. Several new advertising media are therefore opening up, making it a financially rewarding career decision. Copy Writers create articles in brochures, advertisements, blogs, emails, commercials, magazines and much more.
Fashion Blogger: A fashion blogger decides the frequency of posting and what kind of content has to be posted. If working independently, fashion bloggers can be termed as chief editors of their own blogging platform. Fashion bloggers use multiple social media platforms to recommend or share ideas related to fashion.
What is the workplace/work environment of Blogger like?
The appeal of blogging is that anyone can do it from anywhere. Blogging can be done from your residence, from a cafe, or from the beach. Anybody who wants to share their words with the globe could do so with a few clicks of the mouse and a keyboard. Whether individuals who opt for a career as Bloggers have a message they would like to convey, a professional service they are looking to sell, or a simple desire to have their words published for others to read, blogs can achieve these objectives simply and conveniently.
Does Blogger require travelling?
Likely
A blogging career often involves them travelling to meet clients or to take part in activities at different locations. In some cases, bloggers are often required to travel outside the station to attend an event or to meet with clients. Sometimes google bloggers travel to meet clients or to attend events all over the nation.
Employment Shifts
Full Time, Part Time
Individuals who opt for a career as a blogger are expected to work regular hours in a blogging career, but long hours of work and overtime are also quite frequent in this job role.
Employment Nature
Contractual, Permanent
In most cases, the nature of employment is permanent, but bloggers work as independent workers or as a freelancer, but those who are just starting to work in some companies often prefer to hire google bloggers on a contractual basis.
Work Place
Home Office, Office
As far as the workplace is concerned, bloggers work in office settings. Individuals in blogging career often have regular working hours and usually work 40 hours a week. These working hours may increase and bloggers often work overtime when a project is nearing completion or when a project is ongoing.
Presence in Geographical Area
Semi-urban, Urban
Often, most digital media agencies or social media firms are located in urban settings, as most of the companies requiring the services of digital firms are themselves located in urban or metro cities. This makes it easier to interact with the client, and vice versa. In addition, an institution in the country providing courses and certification courses are also present in metro cities.
Time Pressure
Likely
A career in blogging in India needs to work under a lot of time pressure. Jobs are filled with tight schedules, networking events, and product launches. Bloggers are therefore required to manage all of these things along with meeting their task deadlines.
Overtime Details
Generally, in their careers as bloggers, they work nine hours a day. However, depending on the time limits and the current situation, individuals who opt for a career as a Blogger may be required to work overtime. During busy periods of time and urgency, they are required to work a few extra hours.
Weekly Hours of Work
Min 45 Hours
A career in blogging in India requires that they work in an office environment. Individuals in a blogging career often have regular working hours and usually work 45 hours a week. These working hours may increase and google bloggers often work overtime when a project is nearing completion or when a project is currently ongoing.
How to become a Blogger?
Steps to become a Blogger
What are the skills and qualities required to become a/an Blogger?
When it comes to how to become a Blogger in India, the first thing that they should know is the skills required in a blogging career. Here we have mentioned some of the requirements to opt for a career in blogging in India.
Marketing skills: Being a blogger means having a good understanding of branding and marketing. Marketing experience and understanding can take the Blogger a long way in the profession. Blogger acts as a channel to engage with audiences and understand their needs and wishes, and also to convey the message of the company or the brand.
Social media skills: A person earning a salary through social media should have exceptional social media skills. The individual should have a good knowledge of and use all social media channels. Managing one's own blogs and social media channels will help develop these skills.
Business sense: The job of a blogger involves the evaluation of sites where people share their experiences and opinions. A number of useful comments come to these sites, it is Blogger's duty to keep a close eye on these queries and to find the answers in order to bring the views closer.
Communication skills: Individuals in a blogging career should be able to interact effectively with a team made up of several other executives or staff members during advertising, promotions and marketing. In particular, they should be able to interact with the client in order to understand and understand their needs.
Creativity: In career as blogger, individuals should be able to produce unique and innovative concepts in their career as a blogger. Advertising creativity satisfies the psychological, advertising and corporate demands of clients. Creativity involves a significant recognition of how a product satisfies the customer's requirements. It could be as essential as casting out the ideal performer of a brand. Creative thinking is by far the most essential factor when it comes to a career as a blogger.
Popular Online Arts And Crafts Courses and Certifications
Which certifications and internships can be helpful in becoming Blogger?
We have mentioned below various certifications that Bloggers can opt to upgrade their skills.
Internship Availability
Yes
Internships are seen as the perfect way to gain exposure in a career as a Blogger. Internships are used to provide a candidate with real-life experience. Internships often give the prospective applicant the blogger career opportunities to incorporate the theoretical concepts that they have developed in order to put them into practical use during their college days. Interns in blogging are responsible for providing videography, content writing, copywriting and advertising and assistance.
Also read: Career as Journalist
What is the job outlook for Blogger?
Digital evolution has opened up new possibilities for those who choose to write. The days are long gone when a writer was anticipated to be a columnist or a writer of books. Digital evolution has resulted in new job profiles such as bloggers, content writers, and creative writers. Individuals prefer a blogging career because of money and access to brand names. A new survey demonstrates that 1.7 million people earning more money is the primary reason why they always prefer a career in blogging in India. Blogger career opportunities are increasing rapidly.
Students also liked
Frequently Asked Questions for Blogger
Que. What exactly do bloggers do?
Ans.
A blogger's main objective is to generate content in the form of editorials. Blog content is just how you add significance to your audience, educate them about what your business is all about, and ultimately build trust with them before you can expect them to spend any money.
Que. Is blogging a career?
Ans.
Career in blogging in India might be a hobby, a strategy for building your brand that can assist you to get a job done. But this could be a job as well.
Que. How does a blog work?
Ans.
Blogs consist of a set of posts by one or even more bloggers. Posts are shown in chronological order, with one of the most recent posts at the top of the highest page. Blog posts can focus on a particular subject or require a broad variety of themes and concepts.
Que. Is blogging easy?
Ans.
Just remember, it is indeed actually simple to begin a blog. Thousands of new blog posts are beginning nearly every day. Everyone can create a blog in five minutes, and very few people would make blog posts that make a difference.
Que. What is a blog and its types?
Ans.
There are several various varieties of blog posts, not only in terms of content type, as well as in terms of how content is delivered or written. A personal blog is an on-line diary or commentary published by an individual rather than a company or an organization.
You might also be interested in
Questions related to Blogger
Showing 39 out of 39 Questions
The question have been saved in answer later, you can access it from your profile anytime.
Access now
Report Question
Select your reason of reporting