Scrum Master Roles and Responsibilities: Everything You Need to Know
Agile approaches are gaining acceptance in businesses across the board. More flexible development methodologies, such as Scrum, have allowed organizations to bring products to market faster than ever before, which is essential in today's hyper-competitive environment. To put it another way, greater process flexibility is now necessary to get high-quality products to market rapidly enough to stay ahead of increasing competition. Companies need a process specialist at the helm to truly adopt agile Scrum processes and produce the deliverables the business expects.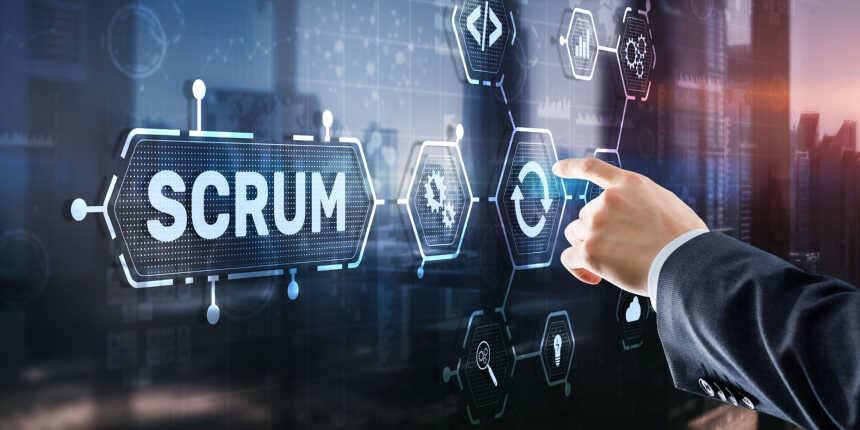 Learning the fundamentals of scrum
Scrum methodology is simple: the product owner submits a request, and the development team (headed by a Scrum Master) breaks it down into smaller chunks, often known as "sprints." Sprints are fast-paced iterative and collaborative development and testing techniques that, in theory, result in a more efficient product lifecycle. Companies may generate a viable output in two to four weeks if they use agile Scrum processes properly. By integrating project activities with business objectives, the Scrum Master is at the core of it all.
4 min read
Mar 05, 2022
Read More
Streamed Webinar
01 Apr'22 05:00 PM to 01 Apr'22 06:00 PM IST
What is a Scrum Master?
A Scrum Master has a very small scope but a huge influence across any firm. A Scrum Master, on the other hand, works behind the scenes and is not involved in product development or strategy. As project managers, they serve as a link between product/line-of-business owners and development teams. Scrum Masters must combine soft skills with the latest tools and approaches because agile processes are fully dependent on people and teamwork. After all, software projects have numerous moving components, and while heads-down in code, individual programmers can easily lose sight of the bigger picture. A Scrum Master, on the other hand, keeps a broad perspective, assisting teams in understanding organizational and technical interdependence while avoiding bottlenecks. This fosters an accountability culture and allows teams to fulfill crucial deadlines.
Now that you have a good understanding of what a scrum master is, it's time to learn about the roles and responsibilities of a scrum master.
Scrum Master Responsibilities
Project management/best practices should be implemented
The Scrum Master is in charge of forming and onboarding project teams, as well as integrating them into the business, and giving a clear product vision. The Scrum Master also helps external groups and the project team communicate and exchange information. They also keep track of project progress, provide timely feedback, and promote an agile learning culture.
Streamed Webinar
03 Apr'22 12:00 PM to 03 Apr'22 01:00 PM IST
8 min read
Mar 05, 2022
Read More
2. Keep all parties informed and on track
Daily team meetings are held by the Scrum Master to gather updates on the project's progress, discuss possible impediments, and ensure that the project stays on schedule. They also have monthly meetings with product stakeholders to provide updates on how the project is proceeding (or not). Finally, a Scrum Master's role is to ensure that the team meets deadlines and achieves the desired result.
3. Practices of Agile Engineering are introduced
Scrum Masters support the use of continuous integration (CI) and automation to increase efficiency. CI systems allow developers to often integrate portions of code into a central repository, from which automated builds and tests are executed in iterations. The risk, time, and effort associated with traditional development approaches are reduced with this repeatable methodology. If a bug is discovered in one build, it can be swiftly rectified in the next. Another agile technique advocated by Scrum Masters is "pair programming," which involves two developers working together in real-time at the same workstation. These methods, taken combined, minimize development time while also improving the product's architecture and quality.
Student Also Liked:
Scrum Master Roles
The function of the scrum master is to assist product owners in the following areas:
Find ways to handle the product backlog more effectively.

Assist the project team in communicating the owner's desire list.

Organize and improve the product backlog.

As needed, organize scrum events.

Organization
The following are some of the aspects of the scrum master's role in the organization:
Scrum adoption is led and coached.

Prepare for scrum deployment.

Make adjustments and take efforts to boost the team's productivity.

Collaborate with other scrum masters to increase the efficiency of the methodology.
As we've learned about the tasks and responsibilities of a scrum master, you should also be aware of the top traits required to be a good scrum master.
Top Qualities of a Successful Scrum Master
A Scrum Master coordinates the efforts of several teams working on a project to meet defined deadlines and deliverables. They must be able to motivate numerous groups and stakeholders at the organizational level to maximize the potential of everyone involved. The Scrum Master, as a team leader, must bridge the gap between the project's concept and the actions required to execute it. The Scrum Master must have excellent organizational and leadership abilities.
The Scrum Master is the liaison between the product owner and the project teams. The Scrum Master develops the team while the product owner leads the overarching initiative. Successful products that meet the organization's requirements are the result of effective collaboration between the Scrum Master and the product owner. A skilled Scrum Master will be able to come up with new approaches to improve organization, collaboration, and productivity to provide the product that the business line owner asked for.
The Scrum Master is a team member and facilitator, not a manager. They should be good listeners who are aware of the issues that the project team is encountering at all times. The Scrum Master should also be vigilant, paying close attention to the team's daily operations to obtain a clear understanding of each member's role and contribution during sprint sessions.
In addition to resolving difficulties when they emerge, the Scrum Master should also take proactive measures to avoid possible problems. This necessitates a broad understanding of the product and process. The team can avoid barriers thanks to the Scrum Master's experience. Scrum Master should be familiar with a variety of work formats and agile approaches, including XP, Lean, and Kanban.
Also Read Top Providers Offering Scrum Certification Courses
Conclusion
Scrum Masters are highly specialized in many areas, but they have a broad reach throughout any modern firm. Above all, they are in charge of adopting and applying agile practices to boost team productivity, efficiency, and the quality of the deliverables they are tasked with producing. A scrum master has a significant role and duties, and if you want to advance your career in this industry, you should consider acquiring an Agile Scrum Master (ASM) certification. You will be introduced to the ideas and best practices of Agile and Scrum during your course, and you will obtain the necessary skills in Agile and Scrum to pass the official industry exam.