Who is a Web Developer?
Web Developer, also known as a Programmer, creates and develops websites. The updation and development of websites require you to have excellent command over the programming languages and coding. Programming Languages like HTML, CSS and Javascript are used to create websites and web applications. Apart from development of websites, a web developer monitors website traffic and troubleshoots website problems when required. They collaborate with the web designer and maintain the website's performance and upgradation.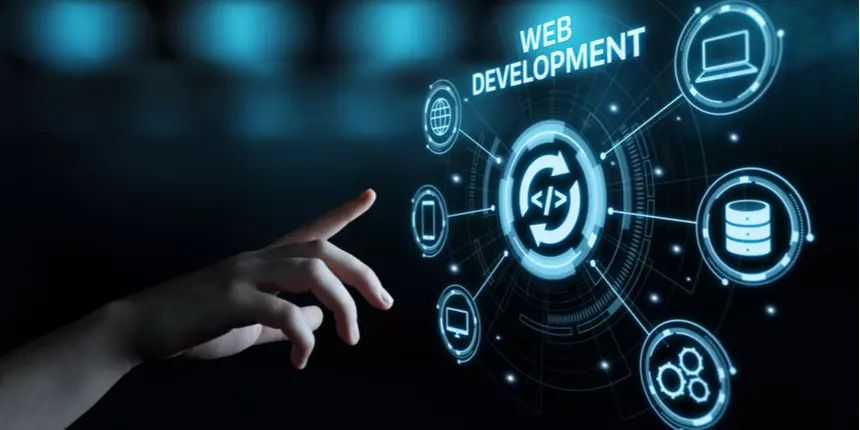 Web Developer Salary in India [For Freshers & Experienced]
Also Read: Introduction to Web Development
Skills Required to Become a Web Developer
Excellent Technical Skills
HTML and CSS knowledge are important skills needed to become a Web Developer.
Problem- Solving and Logical Methodology
To become a web developer, one needs to have a problem - solving approach. Analyse the problem and interpret the results. Following a logical methodology also demands you to be solution oriented.
Strong Numeracy Skills
Numeracy skills involve figuring out the problems, understanding the issue faced, patterns and coming out with a solution required for the work performance.
Good Communication Skills
Good communication skills help you to work in a uniteful way in a team. Not only in a team, good communication skills are required even when you work as an individual. You can solve your problems quickly and in a better way using good communication skills.
Also Read: Programming Foundations with JavaScript, HTML and CSS
Job Functions of a Web Developer
Coding Languages
A Web Developer is required to know coding languages such as HTML, CSS, JavaScript, PHP and web designing relevant work.
Problem Solving and Searching
A Web Developer has to be good in problem solving and search for a solution- oriented approach. A Web Developer has to solve website problems and looks out for other ways in time.
Maintain and update websites
A Web Developer has to monitor website pace in work and has to keep a continuous update and maintenance.
Teamwork
Working in a team is considered to be an important factor of work. Collaboration with departments, clients and team mates deliver a better outcome and range of work.
Also Read: Web Development Certification Courses
How to become a Web Developer
Step 1: Complete 10 +2
Description: Complete your 10 +2 with science stream (physics, chemistry, mathematics) and computer science as your compulsory subjects for taking a web development profession course. You need to score a minimum of 60% aggregate marks in your 10 +2 for admission in a good college for web development program.
Step 2: Entrance Examination
Description: After finishing your 10 +2, search for colleges offering programs of web development and apply for appearing in the entrance exams. Listing below a few entrance exams and their details with links provided. Go through the information and detail in the links below.
Major undergraduate Web Developer entrance examinations
Step 3: Bachelor
Description: Finish your Bachelor degree of Engineering with computer science or information technology. Here are the detailed links that you can refer to for choosing your bachelor's degree course in Engineering.
Under Graduate courses for becoming web developer
Check the undergraduate courses below in the table for the career path of web developers. The courses are provided with the links and information in detail:
Step 4: Post Bachelor
Description: After getting done with your bachelor's degree completely, you can apply for your master's specialisations for becoming a web developer professional. Here are a few details that you can go through for your masters specialisation and their course structure.
Post Graduate degree for becoming web developer:
| | |
| --- | --- |
| | MCA (Masters of Computer Applications) |
| | M. Tech in Computer Science and Information Technology |
Job Market Scenario
In recent ten years, the career of web developer has been estimated to grow over further 13%, which is calculated faster than other careers. New openings are seen with better prospects in growth and salary structure.
Also Read: Introduction to Blockchain Technologies
Jobs
List and details of job titles under Web Developer (Description of job title)
Website Developer: A website developer has to work on both back- end and front- end development. He or she is expected to have good command over the programming skills like HTML5, CSS3, JavaScript, Ajax, XML, JSON, Bootstrap, PHP, and MYSSQL. The work role involves designing, developing, testing and monitoring over the web development process.
Salary Description: The average salary for a website developer is around Rs. 25,670 per month. The entry level salary for a website developer is around Rs. 15,000 per month. However, the salary range varies from company to company.
(source: glassdoor)
Service Developer: A Service Developer designs, analyses, develops and implements programs in other programming languages and develops visual communications for public services, mobile communications and other facilities.
Interaction Developer: An Interaction Developer is responsible for creating positive customer experience with specific applications, which in turn helps the users turn into customers.
Also Read: Free web development courses
Web Developer Salary in India in 2022 [For Freshers & Experienced]
For Freshers, the starting salary for web developers is around Rs. 1,20,000 per annum i.e. 10,000 per month. In the web developer profession, salary base depends on the skills possessed and experience gained. With addition of skills and work handles/ work experience, the salary apprehension increases.
The average salary for mid- level experienced web developer is around Rs. 3,00,000 per annum i.e. Rs. 25,000 per month. For experienced web developers, the average salary estimate is around Rs. 8,00,000 per annum i.e. 66,666 per month. The career of web development is rapidly increasing and becoming one of the popular jobs in India.
(Source: Ambitionbox.com)
Conclusion: The article 'Web Developer Salary in India in 2022 [For Freshers & Experienced]', describes the career of a Web Developer with the skills required for the profession of a web developer and job functions of a web developer. The article details a step- by- step guide for becoming a web developer with undergraduate and post- graduate courses provided by the links (links detailing all required information for career development). Further, an article mentions the job market scenario for the profession of a web developer. Then comes, different job under web developer and its salary structure. The article explains the structure of web developer salary in India with an average web developer salary in India per annum. The structure for web developer salary per month is not fixed. Why? It depends on company to company, its location, employer, skills and experience.