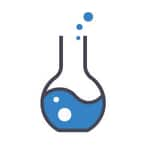 Chemistry
Degrees offered: B.A., B.A.(Hons), B.Ed., B.Sc B.Ed, B.Sc M.Sc, B.Sc., B.Sc.(Hons)
Q&A : 9.8 K Question
What is Chemistry
Chemistry is a branch of science that is the study of matters and what it consists of, its properties, changes, and chemical reactions between substances. It is often referred to as a central part of science as it studies a whole range of science subjects with the application of physics and mathematics, earth and environment, biology, and medicine.


The study of chemistry provides insight and understanding to those who study it, on a variety of biological and physical phenomena, with the knowledge of natural and chemical processes. An individual with a degree in chemistry can become a chemical engineer, researcher, biotechnologist, and much more.


Chemistry studies all kinds of essential core subjects in science and students are involved in conducting lab research and tests, which makes learning more effective and exciting. In India, the Indian Institute of Technology (IITs) is one of the prestigious universities to pursue chemistry among many universities.
Eligibility Criteria (UG & PG) of Chemistry
Certain eligibility criteria are necessary to get admissions to certain universities, particularly for B.Sc. and M.Sc. degree.

For undergraduate degree
A minimum aggregate mark of 50% to 60% in class 12.

Candidates must have previously studied science during their 10+2.

Entrance exams or merit-based entry as per the guidelines of the university/institution.

For Postgraduate degree
The minimum eligibility criteria for a postgraduate degree requires a minimum aggregate mark of 50%to 60% depending on the institution.

Candidates must have completed their Bachelor's degree in science stream.

Entrance exam scores as per the need of the university applied to.
Entrance Exams for Chemistry
Entrance exams are conducted by universities for the admission process to BSc and MSc degree courses. Some universities also proceed with admissions based on the merit list.
IIT JAM - IIT JAM is an entrance exam conducted by IITs of different states on a rotational basis on behalf of the Ministry of Human Resources Development (MHRD). It is a national level entrance examination to screen candidates for admissions to various M.Sc. degree courses at IITs. It is conducted once every year, and the admission is based on the scores obtained at the entrance exam.
NEST- NEST conducted by National Institute of Science Education and Research (NISER), Bhubaneshwar and the University of Mumbai annually. By qualifying this, candidates become eligible for admissions to M.Sc. and P.hD. degree courses in science.
GITAM GAT- It is an entrance exam conducted by GITAM Institute of Science every year for admissions to all M.Sc. courses in the institute.
Scope of Chemistry in India and Abroad
The scope of chemistry studies is immense in India and abroad as well. It provides a wide range of job opportunities in the field of research, chemical engineering, biology and all science-related aspects of work. They usually work in laboratories to study and analyse various chemical reactions, their properties and the changes in reactions over time.


Candidates can pursue further studies in diploma, certificate courses in undergraduate and postgraduate as well as PhD courses in chemistry, in India and abroad as per the choice of the individual.
Course Fees Chemistry
Minimum Fees
Maximum Fees
Private
Government
Private
Government
UG

775

B.Sc. in Chemistry at Holy Cross College, Kanyakumari

396

B.Sc.(Hons) in Chemistry at Rairangpur College, Mayurbhanj

10.30 Lakhs

B.Sc.(Hons) in Chemistry at KREA University, Sri City

13.26 Lakhs

BS MS in Chemistry at Indian Institute of Technology Kharagpur

PG

1.24 K

M.Sc. in Chemistry at Queen Mary's College, Chennai

607

B.Sc. in Chemistry at JN College, Nehra

10.28 Lakhs

M.Sc. in Chemistry at BITS Pilani- Hyderabad Campus, Hyderabad

3.35 Lakhs

M.Sc. in Chemistry at Sardar Patel University, Mandi

DOCTORAL

3.07 K

Ph.D in Chemistry at Bharatiya Vidya Bhavans Hazarimal Somani College of Arts and Science and Jayaramdas Patel College of Commerce and Management Studies, Chowpatty

2.48 K

Ph.D in Chemistry at Chikkanna Government Arts College, Tirupur

12.00 Lakhs

Ph.D in Chemistry at Dr APJ Abdul Kalam University, Indore

6.54 Lakhs

Ph.D in Chemistry at Indian Institute of Science Education and Research Pune

DIPLOMA

6.50 K

Diploma in Chemistry at Vel's Institute of Science Technology and Advanced Studies, Chennai

600

M.Sc. in Chemistry at Government Arts College for Women, Sivaganga

1.52 Lakhs

M.Sc. in Chemistry at Royal Global University, Guwahati

3.63 Lakhs

M.Sc. in Chemistry at Indian Institute of Technology Indian School of Mines Dhanbad
Course Subjects
Chemistry offers a wide range of core topics and subjects. Let's take a look at some of the main subjects in chemistry courses.
Fundamentals of chemistry

Physical chemistry

Inorganic chemistry

Analytical chemistry

Medicinal chemistry

Advanced inorganic chemistry

Advanced organic chemistry

Advanced polymer science and technology

Environmental chemistry and applied analysis

Water chemistry and treatment technology
Careers in Chemistry
Chemistry offers a range of career scope and opportunities to its aspirants in a variety of science-related work in many prestigious companies of private and government sectors. Some chemists are also employed in governmental sectors dealing with crime and investigation and the medical field of jobs.


One can even work abroad in labs with environmental quality control related and as a researcher and assistant professor or chemist analyst in a wide range of fields. An individual with a Ph.D. in chemistry can work towards discovering new chemicals and study different types of reactions and properties and conduct research on them.
Upcoming trends
There are constant changes and updates in the field of chemistry with the ever changing world we live in, accompanied by discoveries and topics every year through research. Many new trends and topics are expected in the course of study for the future. Research and experimental lab studies are taking place and conducted from time to time to acquire new information on the subject related topic.


Electrochemical methods will be introduced, and some basics related to this topic are already studied in chemistry subjects today, for effective understanding of chemicals compositions and their properties with a certain method that comes with it. Environmental and biomedical monitoring, along with solutions to contemporary challenges in clinical diagnosis, will be a part of upcoming topics and trends in chemistry course of study.
Job Profiles and Top Recruiters
Various job roles and profiles are available for individuals with a degree in chemistry.
| | |
| --- | --- |
| Job Profile | Description |
| Lab Scientist | Examining and analysing body fluids, blood, tissues, and cells. Establish quality assured programs to monitor and ensure the accuracy of test results. |
| Research Chemist | Responsible for undertaking the designing and analysing the information gathered from experiments, laboratory-based investigations, and trials. |
| | Conducts qualitative and quantitative on chemical substances to produce new products or knowledge and ensure quality control. |
| Analyst | Analyse data and test results from the lab to check the accuracy and quality of the products or information, by determining and testing raw materials if they are good enough. |
| Assistant Professor | Teach, guide, and supervise graduate students, participating in meetings, and giving academic support to professors and other faculty members. |
| | Perform analytical and scientific techniques, conduct laboratory field experiments to identify toxins such as chemicals, biological substances, and radiation. |
| | Analyse and identify crimes and deaths with lab experiments and prepare legal statements as per the results and present them in court. |
Top Recruiters in Chemistry
ONGC

BARC

Geoscience

Sun Pharmaceuticals

Institutions

Hospitals

National Lab Institutions
Also Read: Chemistry Certification Courses
Average Salary
The salary for an M.Sc degree in chemistry is higher than a B.Sc degree in chemistry due to the higher degree preference from prestigious companies and institutions. The salary also depends on the skills, experience, and knowledge of the individual.
| | |
| --- | --- |
| Job Role | Income per annum |
| Research Chemist | Rs. 6 to 12 lakhs p.a. (Approx.) |
| Analyst | Rs. 5 to 9 lakhs p.a. (Approx.) |
| Chemist | Rs. 6 to 11 lakhs p.a. (Approx.) |
| Forensic scientist | Rs. 6 to 10 lakhs p.a. (Approx.) |
| Toxicologist | Rs. 5 to 11 lakhs p.a. (Approx.) |
| Quality control chemist | Rs. 6 to 13 lakhs p.a. (Approx.) |
Required Skillset for Chemistry
An in-depth skill in the science stream of subjects is the basic skill and knowledge required for individuals pursuing a degree in chemistry. Apart from this, skills in complex problem solving, communication and analytical thinking are important for this course.


Being organised and time management, research skills, maintaining and monitoring records and data is learnt over time by students. Individuals must also have knowledge in IT and technology to carry out various tech-related operations in chemistry.
Course Curriculum for Chemistry
The study of chemistry focuses on chemical processes and compositions, for an in-depth understanding of how they change and act in certain situations and the materials in the structure. The curriculum offers the fundamental knowledge and skills in major fields of chemistry, covering the general areas of organic and physical chemistry, along with many more specialised courses of analytical, biophysical chemistry, nuclear and chemical biology.


The course aims at delivering knowledge of chemistry and science of all aspects to its students. It expects students to learn at the best of the level the concepts, natural occurrence of things, reactions, different types of chemicals in nature, and much more.
Students also liked
Popular Chemistry Entrance Exams in India
Popular Chemistry Colleges in India VIEW ALL
Frequently Asked Questions (FAQs)
Question: What is the best college to pursue chemistry in India?
Answer :
There are many good universities with chemistry courses in India. However, IITs is considered a prestigious institution to study chemistry, along with the future career opportunities provided by many prestigious companies of government and private sector in campus recruitment.
Question: How will chemistry help us in the future?
Answer :
With research continuously undertaken by chemistry experts, discoveries are made every year which will benefit us in our future and solve many future problems including sustainable energy and food production along with a sustainable environment through quality control research.
Question: What are the top 5 career options for chemistry?
Answer :
Geochemist, forensic scientist, pharmacologist, toxicologist, and research scientist are the top 5 career options for individuals with a degree in chemistry.
Question: Which job in the field of chemistry pays the most?
Answer :
A job role of chemistry gets good pay in any varied field of work. However, a pharmacologist, environmentalist, toxicologist, material scientist and research scientist, and doctors get paid with an annual income ranging from Rs. 8 to 20 lakhs p.a. (Approx.) based on their expertise, which is higher than the other job roles in chemistry.
Question: What kind of jobs can one get with a bachelor's degree in chemistry?
Answer :
One can work as an analyst, accountant, banker, environmental or forensic scientist, food technologist, biotechnologists, medical chemist, and much more.
Questions related to Chemistry
Showing 9552 out of 9552 Questions
Courses Similar to Chemistry
Interested in Chemistry? Find information around eligibility, career scope, jobs , colleges and exams and much more for free.