Top 10 Benefits of Holding a Certification in Business Intelligence
Think of a practise that combines data mining, business analytics, data visualization, data tools, and infrastructure to promote businesses in making decisions that are data-driven. This amalgamation of practices to create an organizational system that propagates calculated growth is called 'Business Intelligence' or BI. To be more precise and in tune with the modern definition, we can say that the fundamentals of business intelligence is the in-depth view of your business's data and then using that data to initiate change, ramp up efficiency, and adapt to market shifts.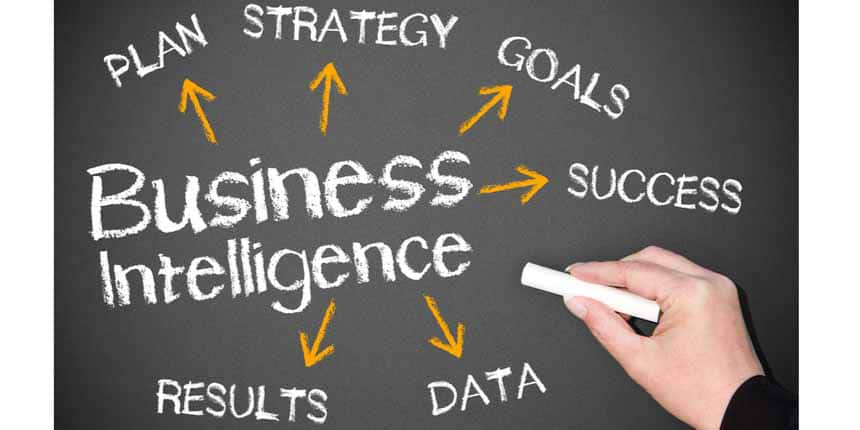 The importance of this practice has to be emphasized enough as today the impact of data is unprecedented in our daily lives. This makes it even more important for organizations to drive their business decisions in marketing, sales, finance, and other segments on the basis of the strategies built around accumulated and restructured data. And this new age industry demands professionals with comprehensive skills and business intelligence certifications, like BI developers, and BI architects.
According to study of the US markets by Mckinsey Global, the demand for business intelligence experts, professionals and the candidates with certification in Business Intelligence will increase by 1.5 million individuals. This figure could be taken as a cue for the demand in all the progressive economies of Europe and Asia. Therefore, Careers360 brings you some of the top certification in Business Intelligence available online.
Also Read - PGP - Business Analytics & Business Intelligence by University of Texas, Austin via McCombs School of Business, University of Texas
Top 10 benefits of holding a business intelligence certification
More businesses moving towards the new age analytics - No business in the world would like to lose money due to a lapse in anticipating the market and poor data management. But, this has been the case with businesses across the world as they lose billions of dollars due to this problem. In the US alone, businesses tend to lose around $600 billion due to poor data quality and old style analytics. This is the reason that organizations across the world have realized the necessity of BI experts and are leaving heavily investing in the talent and tools resources. A proven skill set will definitely catapult you into a new and exciting avenue of opportunities.
Huge potential and booming space - A report by Zion research stated that the global business intelligence market will reach $26.50 billions in 2021. This figure cements the fact that there is going to be no shortage of opportunities in this field. This area of business is witnessing some of the most impactful innovations through technology and that further creates the need for experts to successfully harness that innovation. A reputed certification in one of these technologies will upgrade your growth chances in this space.
Also Read - Certified Business Intelligence Professional by Vskills
Your value in the job market will increase by leaps and bounds - On the basis of the above statement, it is safe to say that a renowned business intelligence certification or a comprehensive course will make you a hot pick for positions that require skills to manipulate data to drive decisions for growth.
Can choose from a variety of job profiles - A BI course will allow you to academically develop skills that you will use in real time situations and data sets. From data architecture, dashboards, visualization, modelling, etc. to higher roles in administration, a BI expert has the option of scaling their career in a variety of niches that the field has to offer.
High chances of working with a big organization - Skill acquired through business intelligence courses enables you to deal with huge data sets and this is skill that is highly sought after by giant corporations in recent times. Modern businesses thrive on data management and you BI certification makes sure that you land a chance to work in esteemed corporations.
Lot of scope for specialization - There are several big tools and practices that dominate the market in the BI industry. This market segmentation amongst tools, techniques, and technology provides a professional with a lot of opportunity to specialize in tools like SAP, Oracle, Tableau, etc. and increase the chance of employment or promotion.
Lucrative pay scale - In India, the starting average salary of a business intelligence analyst is INR 600,000 per annum . This figure goes up as the designations change and experience increases. An average BI manager earns INR 1500000 annum. As compared to other professions and purchasing power these figures are quite impressive and make a strong case for certified BI professionals.
Opportunity to make direct and real time impact - The models, strategies, and reports created by BI professionals drive decisions in modern business organizations. Sales, finance, and even product development is based on these data reports which makes this profession of high impact and one where you can directly contribute to business growth with your competence.
Also Read - Certificate Programme in Business Analytics & Business Intelligence (CPBABI) by IIM Ranchi
Allows you to switch careers - A business intelligence and analytics course has helped many professionals to start a new career or execute a career switch. This is possible because the skills required to become a BI expert can be learnt at any point of your already existing academic or professional career.
Makes you a versatile professional - Getting certified in a business intelligence skill can complement your qualification quite well. As this stream is amalgamation of stats, maths, and technology it easily combines with your previous educational and professional background.
Top Business Intelligence Certification Courses
Below are few certification in Business Intelligence through several domains of BI that one can pursue to advance their career as a BI professional:
SAP Certified Application Associate - Business Intelligence With SAP BW 7.4 & SAP BI 7.1
This SAP certification in Business Intelligence is amongst the most reputed in the industry. This certification in Business Intelligence trains you in business warehousing and business intelligence using SAP tools. This certification in Business Intelligence promotes hands-on experience along with going through the course material to make the best out of the experience learning. Anybody with an experience of 1 year in SAP partner companies can apply for the course.
Cost - $550 (INR 40000 approx)
Data Warehousing For Business Intelligence
This certification in Business Intelligence is provided by The University Of Colorado and teaches you to harness business data to make data warehouses. This certification in Business Intelligence will teach you the data architectural skills that are needed to structure data models. Such certification in Business Intelligence course will also give you practical knowledge in SQL coding and a thorough understanding of data warehouse design and data manipulation. You will learn to create data dashboards and visual analytics of huge data sets using industry leading tools like Microstrategy, and OLAP. The certification in Business Intelligence will end with a project that will give you hands-on experience of working as a data architect.
Platform - Coursera
Duration - 7 months (4 hours a week)
Cost - INR 3589 PER Month
Excel to MySQL: Analytic Techniques for Business
This certification in Business Intelligence is provided by The Duke University and it is about everything that a business intelligence and analytics course needs to have and it does not require you to have any prior experience. Understanding data analysis and visualization through a variety of industry leading tools and softwares like Excel, Tableau, MySQL, is the core of this program and will teach you data visualization, communication, modelling, and structuring in a way that will set your BI career miles ahead irrespective of the niche you choose to specialize in. These Business Intelligence certificate courses feature live feedback from industry experts and includes projects for hands-on experience.
Platform - Coursera
Duration - 7 months (4 hours/ week)
Cost - INR 3589
Also Read - Microsoft Business Intelligence (MSBI) Certification Training by Intellipat
IBM Certified Designer
These business intelligence courses are amongst the best business intelligence analyst courses. Such business intelligence courses will teach you to build advanced models, reports, and dashboards. By these Business Intelligence certificate courses, you will learn to understand and manage one of the leading industry tools of IBM. These business intelligence courses will require you to have basic knowledge of databases, SQL, and Javascript to represent data in a visual form.
Platform - IBM
Cost - $100 to $200 (INR 7200 TO 14400)
Business Analytics Specialization
This is a business analytics intelligence online course offered by The Wharton School is the perfect learning experience as you get to acquire knowledge from an expert faculty. Such business intelligence courses will teach you all the necessary aspects of business intelligence such as how to solve problems with data driven decisions, learning tools to understand consumer behaviour, modelling supply and demand, and using data for performance evaluation. These online Business Intelligence courses will take you through all the aspects of business such as marketing, sales, finance, etc and how to impact it with data science and practices. The end of the program will feature a real time project with a data set and will require you to build strategies with its use. The course is beginner friendly and has helped 46 percent of its students to start a new career after completing it.
Platform - Coursera
Duration - 6 months (3 hours/ week)
Cost - INR 5786 per month
Oracle Business Intelligence Training and Certification
This specialist course under Oracle business intelligence training is focused on providing robust training at the intermediate level. These Business Intelligence certification courses will provide you with skills to model, report, analyze, and forecast data and use it in an appropriate manner to drive value to the organization. Oracle provides more specialized training in various online Business Intelligence courses which can be pursued on the basis of your background and job responsibilities.
Platform - Oracle
Cost - $245 (INR 18000 approx)
Also Read - Business Intelligence Concepts, Tools, and Applications by University of Colorado via Coursera
The above mentioned Business Intelligence certification courses and online Business Intelligence courses are some of the best that you'll come across while looking to upskill your CV for a career in business intelligence. But, a question might be lingering in your head about the real potential of a career in BI and the benefits of doing a certification in the same.
Getting certified in business intelligence and subset skills like data warehousing is definitely a smart career choice that one can make. A business intelligence certification is laden with a plethora of benefits and holds a promise of gradual growth and upskilling opportunities.
Also read -
Frequently Asked Question (FAQs) - Top 10 Benefits of Holding a Certification in Business Intelligence
Question: Does every certification come with equal opportunities?
Answer:
There are a range of certifications based on tools and specific skill sets that one can do according to their choice. All the courses mentioned in the articles are highly beneficial and carry a lot of opportunities for you.
Question: Are all the mentioned courses online?
Answer:
The comprehensive courses are completely online, whereas the tools based certifications might require you to give an offline exam. Still, their learning process can be done online.
Question: Which is the best business intelligence certification?
Answer:
No particular certification can be classified as a single best in this case. Each certification has its own demand in the market and provides ample opportunities to the certified professionals.
Question: Is financial aid available for these courses and certifications?
Answer:
The comprehensive online courses do have an option for financial aid and can be availed if your application is approved. While your organizational certification,may or may not have such an option. Though, you can still look for a sponsor, for eg. your current employer who might benefit from your new skillset.
Question: What kind of job can I expect after becoming a BI expert?
Answer:
While being an expert is a long term prospect but a career in business intelligence can provide you with a lot of options in terms of job profile. You can work as a BI analyst, consultant, developer, data architect and even become a data scientist if you have a technical background.
Question: How much can I expect to earn as a BI professional?
Answer:
As we said, business intelligence is an umbrella term for a variety of job profiles, salaries of these professionals differ in a certain range. But, you can expect to earn a starting salary of INR 5-6 lac as a data analyst in India. Salaries in other domains are either the same or more in the starting phase of a career.
Question: Can I start my own firm after doing a BI certification?
Answer:
You can work as a consultant, as many of these certifications provide you with a skillset that can be offered as a service to many modern day businesses.
Question: What kind of companies will hire me?
Answer:
Today, all sorts of businesses are in a need of data strategists, architects, etc. to drive data based decisions. You can work in a range of businesses, like technology, finance, e commerce, etc., based on the nature of your certification.
Question: Will I get a raise or a promotion after getting certified in BI domains?
Answer:
A raise, promotion, or a better shift in career is something that a renowned and reputed certification will get you if your skills are good enough to bring real time value to your potential employer.
Question: Can I pursue these certifications or courses while working?
Answer:
Yes, you can pursue them while working. In fact, many certifying organizations might require you to have a prior work experience to qualify for the course.
Business Analytics Updates and Articles
Business Analytics and Intelligence is a basic requirement for...
23 Aug 2021
In this article, the Careers360 Team has compiled a list of on...
14 Jun 2021
Questions related to Business Analytics
Showing 154 out of 154 Questions