20+ Job Opportunities After Pursuing a Bachelors in Film & Television Production
India's TV & entertainment industry has been existing for over 40 years and in recent times, has become a part of some of the fastest-growing industries in the country, with the entire media and show business representing above 1% of the country's gross domestic product. On the surface, the TV, Film, and OTT industries are calculated to own a gross output of Rs. 101,359 crores and to employ over 7.4 lakhs (741k) individuals. India incorporates a vivacious TV and screenland and is the largest producer of films and therefore the fourth-largest theatrical box workplace market within the world and has nearly thirty active content OTT platforms (as against communication OTT platforms). This means that there has been a rise in job opportunities after pursuing a bachelor's in film, and television production.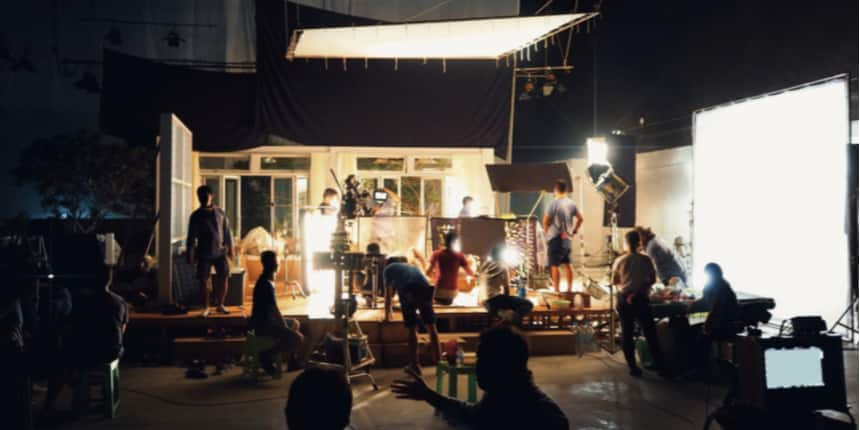 Also read: Film Television Digital Video Production Certificate Courses
The show business in India has registered explosive growth within the last 20 years creating it one of all the fastest-growing industries in India. In the 1990s there was only one state-owned channel, DOORDARSHAN but today there are approximately 400 active channels. And these active channels present significant job opportunities after pursuing a bachelors in film & television production, to individuals.
Television is one of the foremost mass media of India and has thousands of programs in all the states of India. These days India boasts of being the second-largest market for TV across the globe. The small screen has made a lot of celebrities' careers and some have even gone on to attain national fame. The TV soaps in particular are very popular among housewives as well as working women. Today, television is owned by more than half of the Indian households. This creates a good market for people interested in the television industry which leads to many job opportunities after pursuing a bachelors in film & television production, for people interested in this field.
Films are the foremost vital sort of amusement in India. The movie industry in India is among the biggest within the world in terms of films made in numerous languages that embody films in Hindi, Kannada, Bengali, Tamil, Marathi, Telugu, Punjabi, and Malayalam. Roughly twenty-three million Indians visit the theatre to see a movie each day. The task of promoting and popularising the cinema lies in the hands of the Film Federation of India, which is the apex body of the movie industry. In keeping with unofficial estimates in Jan 2001, the Indian movie industry has an annual turnover of Rs. Sixty billion and employs over half a dozen million individuals, most of whom are contract employees as opposed to regular staff. This statistic is a testament to the fact that there are a lot of job opportunities after pursuing a bachelors in film & television production, in this industry.
Popular sectors include the media, creative, cultural, and heritage industries as well as ancient destinations within the film and broadcasting industries, graduates may have an interest in different media sectors like business and analysis. With such an oversized film and TV business, and a growing range of cinemas and cinema goers, film creation is exciting as well as a money making field.
Employers in this field include
• cinema
• large broadcasters
• independent production homes
• newspapers and film magazines
• market analysis corporations.
• advertising, PR, and promoting corporations
• cultural and heritage organizations concerned in curating, film preservation, and archiving
• multimedia authoring and digital style corporations
• organizations concerned within the competition and cultural event management
Film studies degrees mix both technical and theoretical knowledge in some cases and focus a lot on the speculation of film and filmmaking in others. Work experience helps in deciding as to which direction one needs to take after the degree. A degree in film studies provides you with a mixture of theoretical and technical skills that you will apply to a variety of jobs within the inventive industries. Thus it can be said that there are a lot of job opportunities after pursuing a bachelors in film & television production.
Students also liked
Here we are presenting you with a list of 20 job opportunities after pursuing a bachelors in film & television production, that you can take up.
1. Cinematographer
A person who operates the camera and is responsible for the photography and camera work is known as a cinematographer . The cameraman works with the Director to realize the general visual aesthetic of medium production. Studio Cinematographers earn anywhere from Rs. 2 lakhs to Rs. 7 lakhs a week. This makes it one of the most lucrative job opportunities after pursuing a bachelors in film & television production.
What a camera operator earns can rely on his or her level of expertise.
Freelance Cinematographers performing on associate indie or inexpensive shows can earn but less those operating frequently for a precise production company.
Pursuing a course in cinematography will have you gain specialization in the field and help you earn more.
Also Read- Photography And Video Certification Courses
2. Assistant Director
The role of assistant director on a movie includes following daily progress against the picture taking production schedule, composition provision, making ready daily decision sheets, checking cast and crew, and maintaining order on the set. The assistant to the director manages all of the administrators in development and pre-production. Whereas on set he is usually concerned with personal management and other inventive aspects of the production method. AD can earn an amount between 30000 Rs. to 50000 Rs. depending on his level of expertise. This is another one of the job opportunities after pursuing a bachelors in film & television production.
3. Screenwriter
Another one of the job opportunities after pursuing a bachelors in film & television production is Screenwriting. It is a combination of the art and craft of writing scripts for mass media like feature films, and TV productions. It's typically a contract profession. Screenwriters are held accountable for researching the story, developing the narrative, writing the script, screenplay, and dialogues, and delivering it, within the needed format, to development executives. Screenwriters, therefore, have a nice influence over the artistic direction and emotional impact of the script and, arguably, of the finished film. You can take up this role after having done a Film & Television Production course.
4. Technical Director
TD could be a combination of an associate creator and a coder, answerable for a lot of technical aspects of film production, like programming shaders, developing character rigs and animation setups, and playing complicated simulation tasks. It's the TD's job to confirm all positions are manned and facilities are tried and prepared for the live broadcast and recording session. They also deal with providing digital effects and transitions, switching of the video sources, inserting pre-recorded graphics and material along with titles, as instructed by the director. To gain specialization, it is suggested to take up B.Sc in filmmaking. It would help you enhance your skills and make you better off. This is another one of the interesting job opportunities after pursuing a bachelors in film & television production. A Film & Television Production course will help you prepare for this job.
5. Casting Director
Casting directors seek out talent for roles in film, television, theatre, and industrial work. Their job is to negotiate contracts, manage the casting budget, and coordinate and hold auditions. There is no one path to changing into a casting director. Some begin with a degree in film or theatre. Having completed a film production course from a renowned film and television institute is of great help. A Film & Television Production certification course can help you in paving the way for a career as a Casting director. This is one of the best job opportunities after pursuing a bachelors in film & television production that you can get.
6. Broadcast Presenter
A broadcast presenter is the face or voice of programs broadcast via television, radio, and the internet. His job is to present the information in an entertaining way that is attractive and accessible to the audience he is catering to. He performs tasks like introducing or hosting a program or creating links between items, interviewing guests, or interacting with the audience. The exact nature of the job may vary according to a program's subject matter. The average salary that a broadcast presenter can expect may vary between Rs. 30 lakhs to Rs. 70 lakhs. A Film & Television Production certification course will hold you in good stead for a role as Broadcast Presenter. This is another one of the new and exciting job opportunities after pursuing a bachelors in film & television production.
7. Location Manager
The location manager is also a member of the film crew responsible for finding and securing locations to be used, obtaining all hearth, police, and various governmental permits, and coordinating the supply for the assembly to finish its work. They're conjointly the general public face of the assembly, and accountable for addressing problems that arise because of the production's impact on the community. The average salary that is offered to this profile is approximately 8 lakhs per year.
8. Programme Research
Media researchers support television, radio, and documentary producers by finding out details of show contributors, locations, background information, and then provide briefs for the producer from which they can make the show. They use a variety of techniques to find out information, including interviewing people and using social media, and need excellent organizational and communication skills to do these jobs. A person in this capacity can make up to an amount of Rs. 25 lakhs per annum. Taking up a bachelor's course like B.A. in filmmaking is always advised by professionals.
9. TV Camera Operator
A TV camera operator uses camera equipment to record footage for television programs, made-for-TV movies, and documentaries, news shows, sporting events, or television advertisements. They are the professionals that use numerous tools to optimize the image for the viewer. When working on a TV episode, movie, or advertisement, they follow the instructions of the director to ensure that the footage adheres to their creative vision for the scene. At constant time, several television operators supervise assistants who look after the equipment, keep cameras focused, and check out all different angles for capturing a perfect shot. The average annual salary expected for these workers is 35 lakhs Rs.
Also read- Top Film, Television, Digital Video Production Universities in India 2021
10. TV/ Film/ Video Producer
This is a convenient job option after pursuing a Bachelors in Film & Television Production. A television producer is a person who oversees all aspects of video production on a television program Some producers take additional of an associate role, therein they conceive new programs and pitch them to the industrial networks, however upon acceptance, they concentrate on business matters, TV producers are seasoned within the tv and movie industry and most of the time to be a producer you'll have to be compelled to complete formal coaching at a movie. Having a course in promoting, finances, business and communications also will facilitate. Tv Producer average salary ranges from 20 lakhs to 1 million.
11. TV Production Coordinator
The Production Coordinator ensures that the production follows the planned schedule and budget and that cast members are made aware of call times. To achieve success as a Production organizer you want to be able to multitask and work fraught. A good Production organizer communicates well with all crew and forged members to confirm that the assembly runs swimmingly. At the start of pre-production, the assembly organizer ought to establish the workplace the order provides, and confirm that everything required for the assembly is out there. The average salary for a Production Coordinator is ₹ 15,691 per month, it may also vary with the level of expertise and experience. Taking up some online film making courses to gain the skill set required for the profile will help you gain specialization. This is another exciting job option after pursuing a Bachelors in Film & Television Production.
Also read: Online Film Making Courses & Certifications
12. Runner
A film production Runner is the most junior job role on a film set. It is likely when you start in the film industry that this will be your first job. They copy the decision sheets, sides, scripts, health and safety notices, and different work and sport distributing it to the crew.
They take lunch and breakfast orders for the assembly workplace, and run to the post
workplace or different suppliers. The average salary for a Production Runner is ₹ 13,161 per month.
13. Advertisement Art Director
Advertising art director is a career that seamlessly blends leadership with a passion for creativity. They're to blame for turning visions into campaigns and ideas into fruition. As an advertising stage director, you'll have to: work on the campaign from the start, managing details concerning the shopper, product, audience, and needed advertising message work closely with the employee to come up with artistic ideas and ideas to satisfy the client's transient. An Art Director typically makes between ₹416k - ₹2m.
Popular Certification Specializations
14. Archivist
Archivists are also known as moving image archivists reflecting the variety of information that they are responsible for preserving. Film archivists are chargeable for cataloging, preserving, and organizing a set of films and also the record related to them. Because the majority of documents and films included in a collection are old and often in poor condition, a film archivist is responsible for preserving and making digital copies of the items. A person on this profile can make up to an amount of Rs. 6 to Rs. 8 lakhs per annum.
15. Community Art Worker
Community arts workers help local communities plan and take part in activities like drama, dance, painting, and photography. Community arts staff square measure accountable for encouraging people and families in troubled communities to appreciate their potential and improve their lives by obtaining concerned incomes and schemes that revolve around totally different types of cultural activities, as well as art, photography, film, music, dance, drama, and alternative humanistic discipline. The average annual pay for a Community Arts Worker is Rs. 30 lakhs a year which makes it another high paying job opportunities after pursuing a bachelors in film & television production that you can aim for.
16. Event Manager
Jobs in film and TV production also require a lot of hard work. Event management involves overseeing all logistics leading up to and during an event, whether a conference, wedding or any organized gathering. Event managers execute event plans by managing employees, finances, seller relationships, and more. Event managers additionally supervise the services of all outside vendors and professionals, as well as event planners. Interaction with individuals at all levels of an organization is part of the job, so being comfortable, personable and a strong communicator will go a long way in developing those relationships. The average salary offered to the people in this job ranges from Rs. 8 lakhs to 10 lakhs. Pursuing a course like B.Sc in film making or some online course related to the profile is always suggested.
17. Marketing Executive
Marketing executives are involved in developing marketing campaigns to promote a service, product, event, or campaign. The role of a promoting executive loosely includes designing, organizing events, support, advertising, promotion, and analysis. The focus may be on mercantilism, a product, a service, or raising awareness of a problem that affects the general public. The average salary offered to executives of marketing ranges between 5 lakhs to 7 lakhs.
18. PR Officer
Jobs in film and TV production can also be related to other fields. Public Relations facilitate bringing the spotlight to the films. They assist in producing the anticipation and excitement which attracts the audience to the closest theatres. cost-effectiveness, image building skills, and crisis management skills, of promotional material, play an enormous advantage within the industry. A Public Relations (PR) Officer typically makes between ₹177k - ₹797k. This is one of the high paying job opportunities after pursuing a bachelors in film & television production.
Also Read- Advertising Management And Public Relations Certification Courses
19. VFX Artist
Becoming a VFX artist is another one of the creative job opportunities after pursuing a bachelors in film & television production. VFX artists use packages to make animations and tricks. They generally work on movies, tv shows, or video games. This position is sometimes offered regularly, however, part-time positions are accessible. The visual effects sector is young however growing. With Netflix, Amazon, et al making new content, the demand for visual effects in media is increasing. The earning potential for a VFX creative person is varied, work ranges from unpaid internships to six-figure salaries. Beginning salaries are typically around Rs. 15 lakhs each year, with earning potential will increase with expertise. Having completed a diploma or degree course will make you better off. It is advised to take up some filmmaking online courses to gain specialization and get the required skill set.
Also Read- Vfx Film Making By Arena Animation
20. Talent Agent
A talent agent could be a one who finds jobs for actors, authors, broadcast journalists, film administrators, musicians, models, skilled athletes, screenwriters, writers, and different professionals in varied diversion or broadcast businesses. This is one of the most important and popular job opportunities after pursuing a bachelors in film & television production.
They work on behalf of their purchasers to push and represent their interests, and can usually handle the bulk of all interactions between their shopper and therefore the leader. A Talent Acquisition Manager typically makes between ₹361k - ₹2m per year.
Conclusion
Developing a portfolio is crucial to pursue a career in film. Making the best use of opportunities throughout the degree course to showcase the work, at festivals and competitions, attending guest lectures and events from individuals within the business. If you do a good course then you will have plenty of job opportunities after pursuing a bachelors in film & television production. Careers within the film industry compete to survive and you need to be determined and brave enough to face the challenges that come across your way. Work expertise and networking shall open doors to the proper opportunities. One should begin creating contacts early to possess the simplest probability of success. So if you are disciplined and determined, worry not, for you will get plenty of job opportunities after pursuing a bachelors in film & television production.
Explore Popular Platforms Certification Courses
Frequently Asked Question (FAQs) - 20+ Job Opportunities After Pursuing a Bachelors in Film & Television Production
Question: How do talent agents get paid?
Answer:
Talent agents earn a percentage of what their clients are paid for their bookings. Once the client receives payment for the work, the talent agent gets an average of 10 percent of the pay, but the talent agent cut can sometimes be as much as 20 percent.
Question: Is Event Planning a good career?
Answer:
They need wonderful visual skills and eye-hand coordination. The ability to concentrate on detail is additionally essential. Camera operators collaborate with producers and administrators, creating very good listening and speaking skills a necessity. Event designing is one in every of few professions that provides an amazing quantity of chance to interrupt into the profession comparatively simply
Question: What skills do you need to be a camera operator?
Answer:
Camera operators must be creative. They need excellent visual skills and eye-hand coordination. The ability to pay attention to detail is also essential. Camera operators collaborate with producers and directors, making superb listening and speaking skills a necessity.
Question: What is the difference between a director and a technical director?
Answer:
The Technical Director provides technical direction on business selections and within the execution of specific comes. Technical administrators of theatre firms are usually employed to fill the role of Technical Director for productions also, however these are 2 separate jobs.
Question: Is Screenwriter a good career?
Answer:
No. Screenwriting is one of the most difficult careers in the world. If you can choose, choose something else. If you love it, and can't do anything else, if you have no choice but to become a screenwriter, only then should you go into screenwriting.
Question: What is cinematic videography?
Answer:
Cinematic videography is that inventive approach of motion-picture photography and documenting your moment whereas telling the story to its viewers. It involves sport fishing, lighting, positioning, and transformation piece of writing since these technicalities facilitate in narrating the instant to you
Question: What is the difference between cinematography and videography?
Answer:
While picture taking is a lot of concerning the art and science of constructing a show, videography is primarily concerning recording an occasion. The previous is a lot of inventive and tangled with the art of storytelling; the latter is concerning capturing and recording the proceedings with material constraints and restricted resources.
Question: What does cinematography include?
Answer:
Cinematography includes all on-screen visual parts, together with lighting, framing, composition, camera motion, camera angles, film choice, and lens selections, depth of field, zoom, focus, color, exposure, and filtration.
Question: Do you need a degree to work in TV?
Answer:
No, but it helps a lot. There are numerous successful people in the TV industry without a degree but having one adds to your value, gives you training, and helps you gain some expertise.
Question: Who is a VFX artist?
Answer:
VFX artists produce exposure to real, digitally-generated representational processes. The role needs the seamless integration of those effects into live-action in feature films, TV, and, more and more, online and console recreation. VFX artists use the newest technology to supply computer-generated creatures, crowds, and stunt doubles.
Question: Is VFX a good career?
Answer:
VFX being a replacement and a booming career, heap of young inventive minds are becoming interested in it whereby they will pursue a superb career and, they will live their passion.
Questions related to Film Technology
Showing 1 out of 1 Questions
16 Views
Bsc Film technology available?
Hi,
As per your mentioned query yes, there is a course available of BSc film technology.
There are certain eligibility criteria for most of the courses, and for Film studies, it is similar to others. The film technology has the following eligibility criteria:
The student must complete his/her 10+2

For an undergraduate course, one will need to have 45% of the aggregate requirement

It is similar for both the undergraduate and postgraduate courses.

Interested students can have any 12 majors in subjects of their choice.
Entrance Exams for Film Technology Course
Most institutes dealing with filmmaking and technology, require their own entrance exams to be written. Listed below are some of the popular entrance exams written for Film Technology course –


FTII JET – This is a Joint Entrance Test held by the Film and Television Institution of India and SRFTI. After clearing this test, a round of interviews is held, after which admissions are finalized.
Top colleges for BSc film technology
1. Savitri Bai Phule Pune University
2. IAAN school of mass communication, New Delhi
3. Mahatma Jyoti Rao Phoole university, Jaipur
4. Chhatrapati Shivaji Maharaj University, Navi Mumbai
5. SRMU Lucknow
6. SRM institute of science and technology, Ramapuram campus
7. St Soldier management and technical institute, Jalandhar
8. Annapurna college of film and media, Hyderabad
9. AJK mass communication research centre, New Delhi
10. RISU Jaipur