10 Free Online Management Courses with Certification
In India, online business management courses are becoming popular as they add worth to an adept's skills. The best online management courses are helpful in creating a manager who is well versed in the fundamentals of general principles of management and has earned a specialisation in one of the fields of management. Top online management courses with certificates are one of those rare courses which prepare its students for the world and provide organisations with an experienced workforce. Also, there are many free online management courses with certificates in India that provide the facility of campus placement to students.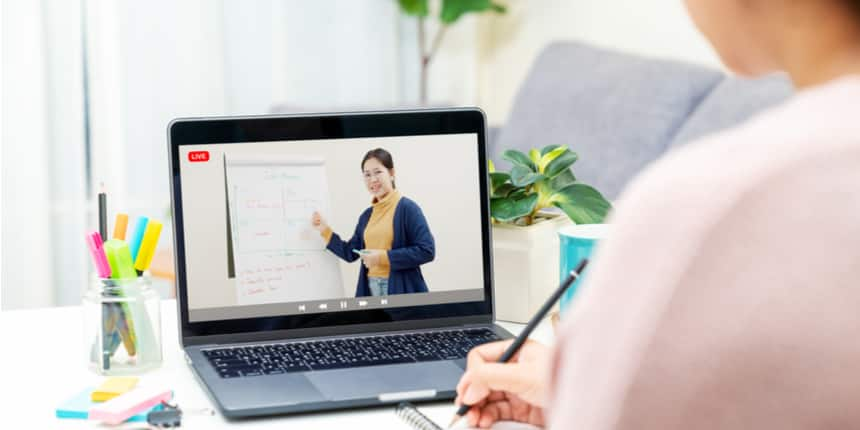 There are various online platforms that provide both free online management courses with certificates like edX, Coursera, NPTEL, Udemy, Skillshare, LinkedIn learning, etc. With the help of this article, Careers360 Team has tried to list the top online management courses with certificates that one can opt for.
10 Top Online Management Courses With Certificates
1. Executive Certificate Program In General Management- Online management courses are offered by IIM Raipur on Talentedge with the idea to develop the basic understanding of new developments in the business world like Big Data, Artificial Intelligence (AI), etc. It is a 12-month long online management certificate course and can be pursued by candidates who have completed their graduation or hold a diploma in a particular field of study.
Also read - General Management
2. Management foundation course on LinkedIn Learning- Kevin Eikenberry, who is in the top 100 leadership and management experts globally, is the trainer for this online management certificate course. The curriculum has been built for the students to experience challenges of the real business world and is taught how to manage them.
3. Strategy: Essentials for Management, Consulting and Startup Success- It has Brightest.io CEO Chris Bolman as the trainer who has a unique way of training by incorporating game theories and military management systems in business. This is one of the best management courses for those looking to ramp up their strategic thinking skills, alongside providing the action-oriented framework, allowing aspirants to create their unique strategies. This online management certificate course has 27 episodes and is for 1 hour 59 minutes in total. Be it, someone who has a bachelor's in business management or a person with no prior business management experience, this course is ideal for both.
Also read - Human Resource Management
4. The Complete Management Skills Certification course on Udemy- It is an intermediate-level course taught by Davis Jones, who is the chief learning officer for Eazl and an industry-leading expert of management. This online management certificate course is provided. It has a total duration of 6 hours and is packed with resources such as assignments, 8 articles alongside 61 downloadable resource files to aid your learning.
5. Conflict Resolution Skills on Coursera- To learn better managerial skills, this top online management course with a certificate is an amazing option for the intermediate level. Being one of the best online management courses, it teaches you to manage conflicts within your organization in a better manner and even harness team culture to achieve business goals.
Also read - Marketing Management
6. Conflict Management Specialization on Coursera- A course that bundles another curriculum as well as the previous course together to provide comprehensive conflict management tactics, conflict scenarios, team management, and handling of intellectual conflicts between employees of an organization. In total, it's a package that gives you three courses in a single one and takes 4 months to complete.
7. The Art & Science of Product Management- This is one of the most comprehensive product Management courses on Coursera. Product management and project management are two very popular specialisations. Coursera provides a slew of free online management courses with certificates in India from companies like Amazon Web Services (AWS), which is what makes it one of the tbest e-learning platforms.
Also read - Operations Management
8. Online Management Courses From IIM Bangalore On edX- Many management courses from IIM Bangalore are available on this platform. Some of the top online management courses with certificates available on this platform are- Strategic Management, corporate finance, and Business Management to name a few. Usually, the courses are five to six weeks and are free. If anyone wants a verified certificate then a small sum of money has to be paid.
9. MS in Management, Gies College of Business, University of Illinois- It's an online management certificate course that serves as a great way of boosting the management skills that add to a person's understanding of business operations, accounts, finance, etc. It is a twelve-month course for eleven thousand US dollars that would get you a master's in management with its very accessible online Global classroom environment which consists of live sessions, weekly modules, and team projects. This online management certificate course is like a pearl in the sea of top online management courses with certificates.
10. Harvard Business School Online- This online management course provides the students with the right tools to survive in the business world. It makes them equipped with skills for strategy making, decision making, implementation of strategies, organizational leadership, risk management, etc. Along with this, It gives a better understanding of budget, finance, and how to lead and manage organisations of any size and sector. It is an eight-week-long course for one thousand and six hundred US dollars. Core management quintessential would be taught in thirty-five to forty-five hours, the course can be completed within one's own time frame while meeting the structured time limits.
Also read
Frequently Asked Question (FAQs) - 10 Free Online Management Courses with Certification
Question: Are online courses on various management tactics/principles really valuable?
Answer:
There are a wide range of kinds of executives' aptitudes, including individuals/staff the board, venture the board, item the board, and so forth. Online courses are helpful to get familiar with the fundamentals and value the measure of foundation required in every one of these regions. There are additionally those "tips and strategies" that you can learn online all together not to rehash an already solved problem (like for instance the significant standard of applauding a staff part in broad daylight yet to scrutinize in private, or different numerical models to dissect a venture). In any case, when such fundamental level administration abilities are aced, you'd at present need genuine experience to execute what you have realized and gain trust in fathoming issues that exist out in the field yet not in books or online assets.
Question: How valuable are online management-related courses contrasted with offline ones?
Answer:
With almost 3,000,000 understudies right now trying out completely online business and management-related courses and 6,000,000 taking, at any rate, one online course as a component of their degree program, online instruction has unmistakably gotten one of the most famous advanced education options.
Question: Where would I be able to take online administration courses for nothing other than Coursera or edX?
Answer:
Presently-a-days it's not hard to get online administration courses anywhere on the planet. In the event that you are entranced by UK degrees, you can undoubtedly select UK online colleges that give online administration courses at a moderate cost. The courses are convenient and one can without much of a stretch access and whenever required download them anyplace as indicated by their accommodation.
Question: Which are the universities in the US offering courses on business management?
Answer:
Some of the popular universities in the US offering online business management certifications include -
University of Virginia

Rutgers University

University of California, Irvine

University of Illinois
Question: How good is Harvard Business School Online?
Answer:
Yes, it is one of the most sought-after business management courses online, with a slew of learners taking up the courses it offers via the online mode. Further, most of the certifications are based on real-world business scenarios that make you industry ready. Further, you can actually go ahead and participate in a large peer group to get your doubts and questions addressed.
Question: Why should I pursue a business management degree online?
Answer:
An online management degree is helpful as it allows you access to some of the best course materials and intellectual insights globally, along with saving not just your time, but also additional costs such as travel and accommodation among others.
Question: Why should you pursue a project management online course?
Answer:
Pursuing an online project management course is quite beneficial for you since, according to a 2017 study, over the next 10 years or so, the demand for project management professionals (PMPs) is going to increase to nearly 88 million professionals being required by companies.
Question: Do these courses provide any financial aid?
Answer:
While some courses are a little more costly, most of them are either priced economically or provide some sort of financial aid. Be assured, your investment in these courses can bring you a lot of experience and job growth.
Question: Which Indian universities offer online management courses?
Answer:
JSS Academy of Higher Education and Research

Amity University

Bharati Vidyapeeth
Question: What job profiles can I have after completing these online courses?
Answer:
Some of the job profiles one can have after completing these courses are -
Entrepreneur

Risk Management Professional

Product Manager

Project Management Professional

Strategic Advisor

HR manager
General Management Updates and Articles
Questions related to General Management
Showing 69 out of 69 Questions