10 Skill That SEO Specialists Must Have
Search Engine Optimization states the process of enhancing and improving the quality, quantity of website traffic to a particular page or websites from search engines. It is more of an organic process which targets unpaid traffics rather than a direct one.
There are various paid SEO certification courses available on platforms like Udemy, Coursera such as Complete SEO Training + SEO for WordPress websites, SEO Training: Get Traffic To Your Website among others to enhance one's SEO specialist skills. Enrolling yourself in the best SEO certification courses and Online SEO courses (Free and Paid) is the first step to making a good career in digital marketing and to upgrade your SEO specialist skills. The SEO training courses by Moz are no doubt one of the best amongst all of the aforementioned ones to enhance SEO specialist skills since they have a lot of industry experience and research behind their material that is updated on a daily basis.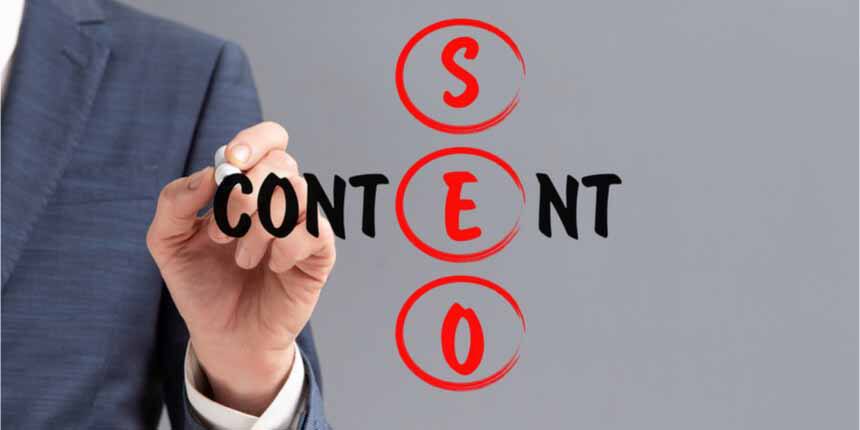 Also read -
An SEO expert or professional needs to have a well-rounded perspective, knowledge and an unparalleled SEO specialist skills to get an understanding about marketing at deep level web analytics, web design, content and ensure relevancy, growing site traffic and improving the respective website ranking on major search engines such as Google, Bing etc.
The average SEO salary package after completing SEO certificate courses and gaining the SEO specialist skills may range from INR 1.8 lakhs to INR 4 lakhs per annum for freshers whereas it goes up to INR 30 lakhs per annum for experienced candidates.
Here are the top 10 SEO specialist skills required by any SEO professional for achieving the best results and unprecedented success in their field.
Critical Thinking
To have a critical thinking or mind is a much required skills for SEO specialist as there is no formula to learn how to handle SEO but it is your critical mind which will make you and your website stand apart by understanding unique problems from multiple angles, find creative solutions towards them, and be imperative as an SEO expert. The skills for a SEO specialist include being able to find out potential issues and also to dig into competitors research to know what is working for your website and what is not.
Udemy, Coursera has some online SEO courses to develop critical thinking in oneself such as "Mindware: Critical Thinking for the Information Age'', "Critical Thinker Academy: Learn to Think as a Philosopher" at Rs.420 where one can learn about fundamental concepts, importance, role of critical thinking and gain skills for SEO specialist. It's a 19 hour on-demand video with 20 articles, download resources, full time access with certificate of completion. There are many available online on the mentioned websites which helps you masters SEO skills along with SEO certification.
Also read - SEO Certification Course Training Online by Digital Vidya
Research Minded
It's an incredibly important aspect towards an SEO campaign because as an SEO expert you should know how to research well with comfort and confidence. An SEO expert needs to thoroughly do a lot of research but be very assured about how to not copy them because every website has different requirements which may or not work for another. The keyword ideas should be chosen by relevance which organically helps your websites come through.
LinkedIn provides online SEO courses starting with 1month of free trial. The course comprises SEO search factors as to how people search and how it leads to apt and accurate content. It also covers web marketing strategy. It is taught by industry experts or you can even purchase the course individually starting at Rs. 1400.
Also read: Career as SEO Analyst

Analysis
SEO's backbone are analytics which helps SEO expert's measure success which is a regular part of their day. To not have strong analysis skills, an SEO professional will fail to monitor their success as well as failures.
Coursera provides a free Complete SEO course i.e. "Search Engine Optimization Specialization which will take you through the very basic first steps to understand how Google search and other search engine algorithms work. The 100% online course contains 5 different courses and sets a flexible schedule for it, you will receive a SEO Certification which will take approximately 5months to complete. Upon completing the course, you can start a new career as an SEO expert or you can get a pay increase or promotion after adding this to your CV.
Also read - Certified Search Engine Optimization Professional by Vskills
Decision Making
The most crucial element in an SEO expert should be decision making. As an SEO expert, you cannot wait to discuss every step or changes required to be made but have an art of active decision making. With the knowledge about Google's process which keeps changing and modifying, SEO experts should demonstrate strong quality of decision making.
Flexibility
If a specific strategy does not work according to a SEO professional should be flexible enough to switch strategies at any given moment without disturbing the momentum of work. Having flexibility and the appetite for experimentation is the bread and butter of any good digital marketer and SEO expert these days.
Explore Digital Marketing Courses & Certifications by Top Providers
Learning to Write Content
Remember SEO is a content driven strategy, your writing skills should be on point. To actually weave keywords appropriately without making it seem forced is a tricky task. As transparent as it is, the same as a reader sees through your blog so does Google. If your writing is not upto the mark it can actually hinder your SEO progress.
A SEO specialist should have expertise in writing blogs, creating titles, etc. to attract an audience and an idea about driving traffic through high-quality link building.
HubSpot provides the best SEO online course which has different modules to study thoroughly followed by an assessment resulting in a HubSpot Certificate. There are 51minutes long Certification Courses available with lessons involving 8videos about Content Writing Strategy individually. It is taken or conducted by professionals of the desired field.
Also read - Certificate Program in Search Engine Optimization by Manipal Prolearn
Web Design and Development
It's important for a professional to know about Web Designs and Meta Tags.
The purpose of Metal Tags is to be well aware about how to handle and manage users, Resource Description, Preservation and Retention etc. While designing a site for SEO purposes, you have to always keep the entire strategy.
SEO in today's era is important, you cannot control what Google does and how it performs but spending some time on improving and creating the right tags and code for your site will automatically increase traffic to your site and provide higher search ranking.
Google Digital Garage certification provides an online course comprising 4 modules on how to effectively select keywords, SEO strategy, consumer psychology, search behaviour and also how to conduct analysis in order to improve website search optimization. The course can be completed just in 3hours. The course is free of cost for beginners and provides you with Certification at the end of the course which will boost your LinkedIn profile or your CV.
Also read: Online Web Designing Courses & Certifications
Knowledge of How The Internet Works
The knowledge of knowing everything from HTTP status codes, IP addresses to knowing the way a server can communicate with a web browser makes an SEO Expert professional in his/her work.
To get a grasp about these things, Codecademy provides many beginner-friendly SEO diploma courses of 9 hours for learning Javascript, CSS and HTML which allows you to learn elements and structure of HTML which acts as a building block of websites.
A solid background in HTML or in short, a basic knowledge about structuring web pages using HTML actually helps in working as SEO professionals.
The course from Codecademy can even land you jobs in Google, Facebook etc.
Read more: 15 Digital Marketing Courses To Opt For
Technical And Programming Skills
Programming knowledge will hand you some really worthy and high paid jobs. With a little bit of technical and programming language conversations about page rendering, lazy loading, microdata tagging etc. it becomes easier to conversate with developers in a productive way by giving them insights rather than just demands.
Udemy provides many SEO diploma courses, like SEO for starters which will help you learn how to rank your website on Search Engine, how it works etc. through a 1hour video comprising 4articles available life-time with sets of assignment. You will receive Certification after completing the course. Its costs can vary from time to time, starting from Rs. 450.
Also read: 19+ Courses on Google Tag Manager For Digital Marketers
Microsoft Excel Skills
To know the basic Excel Skills is very important in the process of becoming SEO professionals. It helps in solving and arranging everyday problems from measuring algorithm changes to quickly collecting keywords from search consoles by brand product groups, Excel helps in all.
Also read
Conclusion
After reading about SEO, its importance in today's era, opportunities, career objectives related to it, we come to a conclusion that SEO is one of the most finest and the trickiest jobs you will find for yourself. With pay cheques making all the workload valid, SEO professionals are required to keep learning new skills to enhance their growth opportunities to stay relevant in the business.
It is one of the most cost-effective marketing strategies because it only searches what customers want and need exactly. To invest in SEO is a work of wisdom which will benefit you lifetime.
SEO brings in more traffic to your website which automatically increases your visitors and customers.
The above skills may sound tricky, but with the courses mentioned in the article one can become an SEO professional successfully. Your mind, critical thinking, adjustment, social nature, coding skills, writing skills will lead you towards your goal. It's not a rocket science, but with dedication SEO professionals can lead the correct direction and take their websites to the desired level.
To become an SEO specialist, one needs to start from scratch where you can learn about the SEO Basics, work around with WordPress and take online or offline training courses, apart from watching and implementing online videos to get in-depth knowledge. Furthermore, with a website of your own, you can learn Google Analytics and coding, go through SEO everyday and understand how it works, choose the most appropriate and used keywords of relevance, go through Google Quality Rater Online etc. With constant thrive and commitment you can surely become a leading SEO Professional.
Explore Popular Platforms Certification Courses
Frequently Asked Question (FAQs) - 10 Skill That SEO Specialists Must Have
Question: How to get SEO Certification?
Answer:
SEO Certification is provided to individuals who complete a full SEO course offline(classroom based) or online successfully.
Question: What is an SEO course?
Answer:
training course is a basic SEO course which helps you in learning about Search Engine Optimization, how it works also it's techniques useful for entrepreneurship, managers of marketing or just for basic understanding of the tool.
Question: Is SEO a good career option?
Answer:
Yes it is. In an era of technological development knowledge in SEO can land you into highly paid jobs. It requires the fittest professional to survive in the evolving field.it is. In an era of technological development knowledge in SEO can land you into highly paid jobs. It requires the fittest professional to survive in the evolving field.
Question: How is SEO changing?
Answer:
With the shift towards Mobile searches from desktop, mobile search ranking factor has been taken forward by Google. It's very important to assure that you have no mobile search issues on your website.
Question: What is keyword research?
Answer:
Keyword research is an important element in SEO. You should know what keywords are people using to find a thing and accordingly you should make yours relevant so that your website comes in suggestions when searching about the respective thing. You should use keywords wisely for that.
Question: In what terms is Search Engine Optimization important to a business?
Answer:
For any business, it's important for people to know about it, SEO helps your website become visible, when that happens, more traffic is surfaced which brings in opportunities and customers.
Question: Why is there so much craze about SEO till date?
Answer:
Because of the ever evolving field, SEO remains in trend and is hyped till now. With Google changing and advancing with its searches, SEO's importance keeps increasing and so does the SEO career opportunities.
Question: What is SEO for Beginners?
Answer:
SEO for Beginners is like an introduction to SEO's Basics. You should learn what customers need or want, how it works and how to properly utilise your website and searches by promoting it.
Question: What are the possible career options after doing SEO courses?
Answer:
Search Engine Marketer, Business Marketing Consultant, SEO specialists, Entrepreneur, Marketing Analyst with paychecks of more than 30-40lakhs per annum.
Digital Marketing Updates and Articles