Top 10 Careers Options After Completing MBA Finance Course
The present phase of globalisation, has given rise to a financial ecosystem that is a hot-bed for firms being set up, where financial dealings are done on a large scale. Most of these firms require professionals who are experts in finance and know their way around it. Not only this, but the finance industry has also grown exponentially over the years, leading to a demand for finance professionals. MBA in finance can be a great choice if you are planning to work in the finance industry. You can find various career options after completing MBA finance course. Pursuing online courses and certifications to study finance and accounting is an added advantage. Finance and Accounting are crucial aspects of any, organization. Finance involves administering, controlling, and reviewing the investment and money resources in any business or corporation.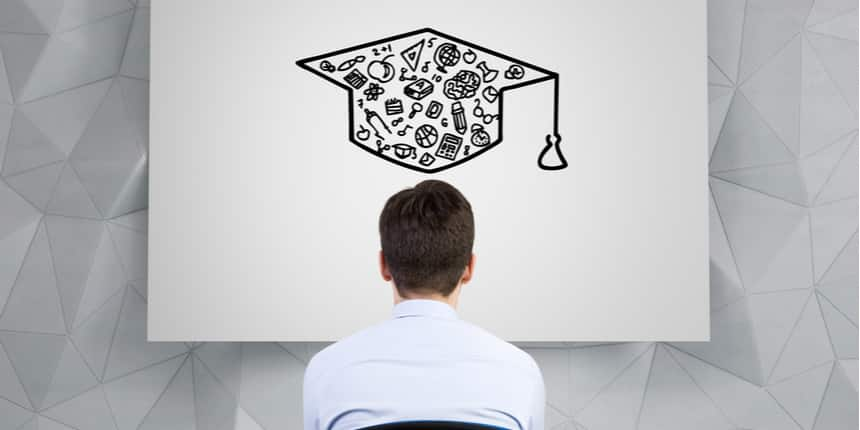 MBA in finance course details.
Master of Business Administration in this field is a two-year postgraduate degree programme. One can opt for specializations such as finance, marketing, HR, and Operation Management. There are several colleges that provide MBA in Finance specialisation. MBA in Finance is quite popular among MBA students as it helps them to hone their financial skills, understand various business concepts, and gain knowledge about the country's economy. There are also several opportunities across various sectors. Some of the reasons to pursue MBA Finance are given below:
1. Finance is almost everywhere - No matter which sector you are in, every corporation requires a flow of cash to perform regular activities like payment of salaries, distributing dividends, reinvesting, and many other things. By pursuing online degree courses and choosing an MBA specialization, one has the liberty to work with any organization's finance department.
2. Finance is considered as one of the highest-paid sectors in the country - An MBA degree offers you a handsome salary. A good finance manager can earn an average salary of Rs 992,118 per year. The salary also depends upon the work experience, qualification, recruiters, and the geographic location of the company or the organization. An experienced and skilled candidate can easily earn attractive packages.
Best Colleges for MBA in Finance
Major Subjects of MBA In Finance
The list of the subjects taught in MBA in Financial Markets depends from institution to institution. Look at some fundamental subjects that are offered by most of the institutions:
| | |
| --- | --- |
| Cost Accounting | Financial Planning and Control |
| Investment Analysis and Portfolio Management | Banking and Insurance |
| Micro and Macro Economics | Fixed Income Securities |
| Advanced Accounting | Marketing and Strategy |
| Financial Statement Analysis | Corporate Finance |
Over the years, there has been a great upheaval in the financial sector, which has resulted in grave financial losses for countries as well as companies. All countries seek skilled financial experts who can deal with financial crises in the future. This rising demand has led to an MBA in finance as one of the most sought-after programmes across the globe.
Also read: Finance vs. Marketing - Which is the Best Specialization in MBA
Top 10 Career Options After Completing MBA Finance Course
Candidates can pursue various online courses & certifications from top providers to make a career in the finance field. Here we have compiled a list of top career options after MBA finance course.
1. Investment Banker
This is one of the top career options after completing MBA finance course. Jobs in investment banking have high demands, and candidates with an MBA in investment banking are preferred. An investment banker is a professional who works for any financial institution, and he has a primary role in raising capital for corporations, governments, and any other entities. The responsibilities of an investment banker may also include connecting investors to different fund-needing organizations. The field of investment banking is quite popular as it has high salary prospects. Investment bankers have excellent number-crunching abilities, along with possessing strong verbal and written communication skills.
Also read: How to start a career in Investment Banking
2. Private Equity
This is another one of the best career options after completing MBA finance course. In this domain, there are vast job opportunities. There are many top companies that recruit MBA in finance graduates for job different roles in the field of private equity. Some of the companies are Fullerton, Fidelity Investments, Axis Securities, JP Morgan Chase, Kotak Wealth Management, Bajaj Finserv, ICICI Prudential Asset Management, and Indiabulls Housing Finance, among others.
3. Financial Analyst
This is amongst the top career options after MBA finance course as analysts are the heart of almost every corporation in the finance department. Financial Analysts are skilled analysts dealing with financial matters. The primary responsibilities of a financial analyst include Collecting operational data, Establishment of standard costs for different products and services, Providing cost analysis with a detailed suggestion of policies analyzing trends, monitoring financial status, and informing managers of variations, and Developing automated accounting practices. The average salary of a Financial Analyst in India is Rs 414,854 p.a.
4. Financial Manager
Financial Managers are individuals who manage a team comprising financial analysts. This is one of the excellent career options after completing MBA finance course. Their roles and responsibilities include educating team members on best practices, the establishment of overall focus within the finance team to relate financial actions to business goals. They also oversee the flow of cash as well as the financial instrument of the organization, Preparing regulatory and legally mandated reports, Liaising between the upper management and financial team members, and more.
Top Trending Courses & Certifications:
5. Chief Financial Officer
This is the highest position in the financial departments. Chief Financial Officer is one of the top career options after completing MBA finance course as a CFO directly communicates with C-level executives and the CEO and board of directors. CFOs make the final decisions on financial policies and their implementation. Their roles and responsibilities include coordinating the development and delivery of financial projections, working towards securing funds at critical growth points and establishing strategic direction and guidelines for the corporations based on their finances. They also take care of the establishment of indicators and some tracking methods for production, quality, productivity, and customer services from a finance perspective, and help in maximizing returns on investment funds. The average salary of a Chief Financial Officer in India is Rs 3, 422,320 p.a.
6. Accounting Manager
People with good experience in finance are preferred for this role. This is another one of the excellent career options after completing MBA finance course. Accounting Managers need to be well versed in a broader organizational perspective to help the organization inform accounting decisions. They help in bridging the high-level organizational goals with directives in an accounting department. Their roles and responsibilities include monitoring the daily activities of the accounting department, helping the candidates in preparing proper routing and large financial documents and statements, and connecting the overall goals of the organization to the departmental tasks within accounting. They also ensure confidentiality and maintenance of protocol in terms of the sensitive financial pieces of information and maintaining educational protocols for the members of the department. The average salary of an Accounting Manager is Rs 689,037 p.a.
7. Corporate Controller
This is amongst the sought-after career options after completing MBA finance course in India. This is not a straight-up finance-centred role. Corporate Controllers perform hybrid roles like overseeing the financial and the accounting functions of any corporation. They also perform tasks like invoicing, accounts payable, budgeting, and payroll processing. Their other roles and responsibilities include developing, managing, and executing the accounting functions of any organization, crafting and conforming to the financial reporting protocols and preparing reports for the SEC (Security and Exchange Commission). A Corporate Controller can earn an average salary of Rs 1,198,309 per year.
8. Management Consultant
This is one of the great career options after completing MBA finance course for students in India. Management Consultants either work for third-party consulting firms or form their own businesses. They offer services like providing data-driven guidance on how someone can run an organization efficiently. They play crucial consulting roles in firms that are planning to restructure or rebuild themselves. Their main roles and responsibilities are conducting researches and data gathering for the organization of their client, running workshops and formulating focus groups to implement changes and testing hypotheses to know what is right and what is not suitable for the client. Management Consultants also lead the team of analysts that help in analyzing the findings and liaise with relevant stakeholders. The average salary of a Management Consultant is Rs 1175,141 per year.
9. Credit Manager
Credit Managers are the people who look after credit management and make decisions regarding credit limits within an organization. This is another one of the top career options after completing MBA finance course. The responsibilities of a credit manager include Granting credits, Setting the terms on which the credit is given Recovering the credit when it is due, Building credit score models and determining the rate of interest, and assisting organizations in minimizing bad debts and increasing the revenues from the loans. The average salary of a Credit Manager in India is Rs 592,694 p.a.
10. Hedge Fund Manager
This is one of the best career options after completing MBA finance course. Hedge Fund Managers are generally finance experts. They focus on managing the collective investments on behalf of the investors. The candidates seeking this job after MBA must have excellent skills in financial analysis and management. The responsibilities of Hedge Fund Managers include researching different trends of the market, analyzing other investment options and select the best areas of investment for the client, developing investment portfolios, and buying and selling assets to maximize financial gains. Hedge Fund Managers are recruited in investment banks, investment consultancies, insurance companies, and asset management companies. The average salary of a Hedge Fund Manager in India is Rs 1,500,000 per annum.
Also read: Funding your MBA: Know all about MBA Education Loan options
Conclusion
The demand for MBA in financial markets has risen in recent years. The reasons include the growing career opportunities in this field. If you are good at Maths and statistics and are interested in the field of finance, then a degree of MBA in finance or online diploma courses in this field can be an excellent choice for you. You can choose from an array of career options after completing MBA finance course. You would be able to find a lot of support materials for MBA finance courses to work towards improving your knowledge. You can also choose the best finance courses by making an online course comparison.
Explore Popular Platforms Certification Courses
Frequently Asked Question (FAQs) - Top 10 Careers Options After Completing MBA Finance Course
Question: What is the duration of Masters in Business Administration in Finance?
Answer:
The duration of an MBA in finance is 2-years. It is divided into four semesters, which mostly includes an internship in the first year.
Question: Can a science graduate pursue an MBA finance course?
Answer:
Yes. People from any stream can pursue an MBA in finance. Accounts and economics are not mandatory subjects in your class 12th or graduation if you plan to pursue this degree.
Question: Is an MBA in finance a challenging course in comparison to other masters' degrees?
Answer:
Studying an MBA in finance is as challenging as learning any other MBA program. But the fact that specialization in finance requires extra focus on Maths and statistics is why some people feel a stricter degree.
Question: What are the top career opportunities after pursuing MBA in finance?
Answer:
An MBA in finance offers a variety of career opportunities to the candidates. These include Financial Managers, Business analysts, credit managers, hedge fund managers, chief financial officers, financial analysts, etc.
Question: Which MBA specialization has more job opportunities in the future?
Answer:
Although all kinds of MBA specialization give you a good career scope, the leading and the highest paying MBA specializations degrees include Finance, Entrepreneurship, Marketing, Operations, International Business, Luxury Management, among others. Depending on one's skill and interest, one can opt for any of these specializations and make a promising career after MBA.
Question: What are the topics covered in MBA Finance courses?
Answer:
The fundamentals subjects covered in MBA in finance courses include micro and macroeconomics basics in specific business administrations, accounting, financial analysis, investment analysis, portfolio management, etc.
Question: Which course is better: masters in finance or an MBA in finance?
Answer:
An MBA course is right because it offers a more flexible course curriculum. But students who are seeking a career specifically in finance can opt for master's in finance. It is no right or wrong; it all depends on the need and requirements of the individual.
Question: What is the fundamental difference between MBA and PGDMA/PGDM programs?
Answer:
Both of these courses are postgraduate degrees in the field of management. However, an MBA is mostly a degree program offered by universities, while PGDBA is a postgraduate diploma provided by B schools/institutes.
Finance Updates and Articles