"Is Science worthwhile for me?"; "Will I be studying all the time?"; "Will I be able to do it?"; "Will I have to give up on my social life after choosing science?"; "Do I have to enrol myself in the coaching classes from the beginning of class 11?"
As Science stream students contemplate their options and ponder about their future, they may ask themselves such questions.
Science is one of the oldest and most diverse academic disciplines. In addition, it is a fundamental part of the term STEM, which stands for Science, Technology, Engineering, and Mathematics. Students may find the Sciences to be challenging, but it pays to persist, because a large percentage of university programs and careers revolve around scientific skills. Science is a popular career choice, also because of the plethora of options it offers. Since it is a complex and challenging field, excellent critical thinking and reasoning skills are required. Because Science encompasses numerous fields of study, its importance is respected by education leaders in all fields.
Why Should You Study Science?
Studying Science helps us better understand our world. Our knowledge of the universe stems from scientific research and experimentation, from the general makeup of large celestial objects, down to the composition of an atom.
Science is designed to stimulate our curiosity about why things happen the way they do, as well as develop analytical and problem-solving skills.
Science has played a huge role in human development throughout history. Students of Science have made a significant contribution to shaping our modern world, from understanding gravity to developing cutting-edge technology.
The advancement of Science is essential to our future, as the world is constantly changing and evolving. Innovations have made our lives better, for example, the Internet, which has transformed the way we live by allowing us to access any information at any time.
It enables students to switch to other streams (Humanities or Commerce) later in their careers.
4 Main Branches Of Science
Physical Sciences/Natural Sciences | Physical sciences study the processes and concepts of the non-living physical world. Also known as natural sciences, these are amongst the more important areas of science that study inanimate natural objects, and use empirical evidence to understand and explain the physical world. Some major subjects include Physics, Chemistry, Statistics, Mathematics, etc.
Earth Sciences | Earth Science examines the earth's structure, processes, properties, and four and a half billion years of biotic evolution. The structural, stratigraphic, and chemical composition of the earth's crust help us locate resources that sustain and advance our quality of life. Some main subjects include Astronomy, Geology, Meteorology, Oceanography, etc.
Life Sciences/ Medical Sciences | Life Science is the study of living organisms, including humans, animals, microbes, fungi, and plants, and includes subjects like Biology, Genetics, Molecular Biology, Botany, Zoology, etc. The medical sciences attempt to understand how the human body works, with the study of subjects like physiology, pathology, etc.
Applied Sciences/ Technology | Applied Science refers to the use of scientific processes and knowledge to achieve a practical or useful outcome. It encompasses a broad range of applied science fields, such as engineering and medicine (e.g. Biomedical Engineering). This subject focuses on creating and applying ideas in the real world. The study of Maths and Science enables engineers to do things that improve our quality of life.
Now, here are some of the best career options after 12th Science in the table given below.
Best Career Options After 12th Science
Physical Sciences/

Natural Sciences

Earth Sciences

Life Sciences/

Medical Sciences

Applied Technology/

Technology

Physics
Mechanics
Electromagnetics
Thermodynamics
Kinetics
Chemistry
Inorganic Chemistry
Analytical Chemistry

Astronomy
Meteorology
Geology
Oceanography
Glaciology
Climatology
Structural Geology

Anatomy
Botany
Biology
Zoology
Neurobiology
Marine Biology
Paleontology
Genetics
Cell Biology

Engineering
Data Analysis
Machine Learning
Biomedical Engineering
(Note- Data has been collated by Team Careers360)
In the above table, you can see a brief overview of career options. Now, let's discuss the best career options after 12th Science in some detail.
Artificial Intelligence And Machine Learning
Artificial Intelligence (AI) and Machine Learning (ML) are buzzwords that are flying around today in the computer-run world. So, what exactly do they mean? AI and ML deal with creating smart machines and systems that are capable of thinking and processing data as humans do. For instance, machine learning is used by voice recognition systems like Siri and Alexa, to properly understand human speech and provide intelligent responses.
Whether you use Google Search, Netflix, or Uber, every application you come across uses artificial intelligence and machine learning to make itself faster, more effective, and more personalized. Over 3 million jobs are expected to be created by AI in the coming few years. Therefore, this is one of the fast-emerging fields in the domain of science and technology, and one of the most promising PCM career options.
| | |
| --- | --- |
| Courses of study | B.Tech in Computer Engineering + M.TEch/Master's in Machine Learning/AI, or equivalent |
| Career options | Machine Learning Researcher, AI Engineer, Data Mining Analyst, Business Intelligence Developer, etc. |
| Premier Institutes | IIT - Hyderabad/ Madras/ Roorkee (and various other locations), IISc - Bangalore, SRM Institute of Science & Technology - Chennai, etc. |
| Average starting salary | Rs. 5-6 lakh per annum |
| Top recruiters | Amazon AWS, Databricks, IBM, Prolifics, etc. |


Food And Agricultural Science
Food is a primary element of life on earth, and this is especially true for an economy based primarily on agriculture, such as India. About 18% of India's national GDP is derived from agriculture, which plays an important role in the national economy. Therefore, anyone looking to make a career in agriculture truly has an array of opportunities available to them.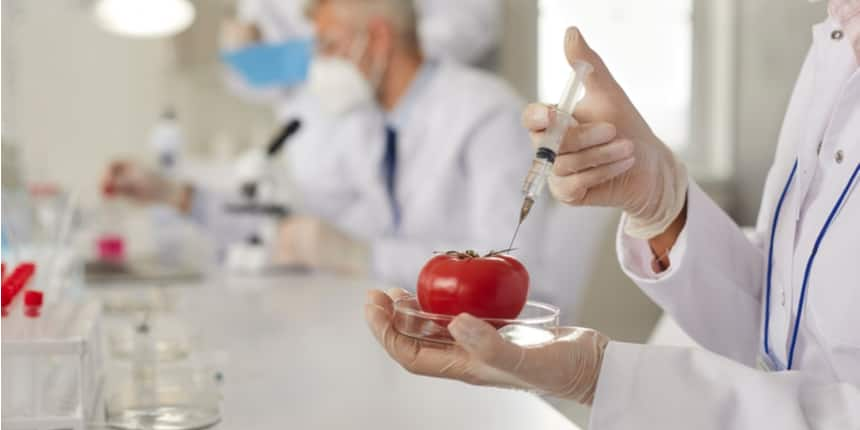 Food And Agricultural Sciences Are Crucial For The Sustenance Of The Growing Population
Food and agriculture jobs, often contrary to popular belief, are highly technological areas, with cutting-edge research and constant innovation, providing multiple PCB career options to students who are interested in the field. People involved in this field do extensive research, to improve both the quality and quantity of crops, dairy products, agriculture products, and food patterns. It, therefore, involves a strong dedication to the study of soil and crop production, preservation techniques, and experimenting with food production.
In this fast-growing domain, you can build your career in areas such as agricultural biotechnology, horticulture, dairy technology, agronomy, food technology, pisciculture, etc.
Courses of study

BSc + MSc in Agriculture, Agronomy, Horticulture, or,

BTech + MTech in Agricultural Engineering, or equivalent.

Career options

Agricultural Scientist, Horticulturist, Food Scientist, Aquaculturist, and so on.

Top colleges

Punjab Agricultural University - Ludhiana, Sam Higginbottom University of Agriculture, Technology and Sciences - Prayagraj, Banaras Hindu University - Varanasi, etc.

Average starting salary

Rs. 3-4 lakh per annum

Top recruiters

NABARD, National Seeds Corporation, Food Corporation of India (FCI), National Dairy Development Board, etc.


Environmental Science And Sustainable Development
If you live in a big city or follow the news, you probably have heard about the smog cover in Delhi, especially in winters, which has often led to the declaration of a "public health emergency." The World Health Organization claims that there are 2.5 million deaths from pollution in India every year. Like global warming, environmental issues, and the depletion of natural resources make headlines daily, it would not be an exaggeration to claim that failure to take corrective action to save the environment could lead to grave consequences soon.
Environmental Sustainability Science is a discipline that integrates and quantifies the study of environmental systems. For students who feel an innate sense of responsibility towards the environment, and wish to tangibly contribute to saving it, environmental science could be one of the best career options after 12th Science. Researchers in this field study environmental issues to develop ways to prevent damage to the environment, and manage development in a way that does not compromise future generations' ability to meet their needs. Professionals who can develop strategies to protect natural resources and the environment are in great demand.
| | |
| --- | --- |
| Courses of study | BSc + MSc Environmental Science or BTech Environmental Engineering, or equivalent. |
| Career options | Environmental Engineer, Conversation Hydrologist, Air Pollution Analyst, Natural Resource Manager, and so on. |
| Top colleges | Bharathiar University - Coimbatore, University of Mysore - Mysore, University of Delhi - Delhi, Forest Research Institute - Dehradun, etc. |
| Average starting salary | Rs. 2.5-3.5 lakh per annum |
| Top recruiters | AECOM, Kalpan Hydro Company, Goodrich Corporation, etc. |


Astronomy And Astrophysics
Here's one for those who love astronomy, stargazing, and, The Big Bang Theory!
The study of astronomy involves a combination of physics, chemistry, and mathematics. One of its offshoots is astrophysics, which deals with the study of the chemical, physical, and dynamic properties of celestial objects. It also examines phenomena above and below the atmosphere. As you study the properties and nature of astronomical objects, you will use the laws of Physics and Chemistry, and rely on these main branches of science. Additionally, there is cosmology, which investigates the origin and evolution of the universe.
| | |
| --- | --- |
| Courses of study | BSc + MSc Astrophysics/Physics + PhD, or equivalent. |
| Career options | Astronomer, Cosmologist, Astrophysicist, Scientist, and so on. |
| Top colleges | Raman Research Institute - Bangalore, IISc - Bangalore, Indian Institute of Space Science and Technology (IIST), Thiruvananthapuram, The Indian Institute of Astrophysics (IIAP) - Bangalore, etc. |
| Average starting salary | Rs. 8-9 lakh per annum |
| Top recruiters | Bhabha Atomic Research Center (BARC), Indian Space Research Organization (ISRO), National Centre for Radio Astrophysics (NCRA), Technology Information Forecasting & Assessment Control (TIFAC), etc. |


Bioengineering And Biomedical Engineering
This is an innovative career choice in the age of science and technology. This domain combines engineering skills with healthcare experience. Biomedical engineers, for example, provide solutions to various health conditions by utilising new technologies. Such areas of science cover a wide range of options, including bio-instrumentation, biomaterials, biomechanics, etc. One of the newest engineering disciplines, bioengineering applies engineering principles and tools to solve problems in biology, medicine, healthcare, and related fields. The real-world application of bioengineering can be seen in artificial organs, computer simulations, tissue engineering, medical imaging (such as MRIs and CAT scans), engineered microbes, biomaterials, and even wearable technology (such as fitness trackers).
| | |
| --- | --- |
| Courses of study | BTech + MTech in Biomedical Engineering or MBBS + MS or BSc (Biomechanics and Bioinstrumentation), or equivalent. |
| Career options | Instrument Engineer, Biomedical Engineer, Researcher, Installation Engineer, and so on. |
| Top colleges | IIT Madras, IIT Chennai, Manipal Institute of Technology - Manipal, VIT - Vellore, etc. |
| Average starting salary | Rs. 6-7 lakh per annum |
| Top recruiters | Siemens Healthcare, Johnson and Johnson, GE Healthcare, Olympus Medical, etc. |


Blockchain Development
The blockchain is an offshoot of data science, in which data is organized into blocks. Data blocks are then encrypted and linked using cryptography. Known for producing cryptocurrencies and other important statistical documents, this technology is very complex and modern. The development of blockchain technology requires a deep understanding of complex computer software, mathematics, statistics, and algorithms. It is, undoubtedly, one of the promising PCM career options out there.
| | |
| --- | --- |
| Courses of study | BTech Computer Engineering + Specialized course in Blockchain Development, or equivalent. |
| Career options | Blockchain Software Developer, Blockchain Solution Architect, Ripple Developers, Smart Contract Developer, and so on. |
| Top colleges | IIT - Kanpur, UPES - Dehradun, Srinivas University - Mangalore, etc. |
| Average starting salary | Rs. 5-6 lakh per annum |
| Top recruiters | Siemens Healthcare, Johnson and Johnson, GE Healthcare, Olympus Medical, etc. |
We live in a world of disruption. With every passing day, month, and year, we see new developments and transformations. This transformation is paving the way for several new career opportunities, especially for science stream students, that didn't even exist a few years ago. You can take advantage of the changing trends and build a career in any of these new fields!
Yashodhra Arora is a Counselling Psychologist. She holds more than 10 years of hands-on experience in HR, and behavioural and career counselling of high school students, in India and the USA.