Data Scientist Salary in India - Average Salary Packages, Skills, Types
In modern times, the solution to each and every business problem can be found by assessing data. Businesses are eager to capture the data to derive insights with the help of technological advancements. Data Accessibility can increase the profitability of an organization with the required support to make crucial business decisions. Companies are offering increased Data Scientist salary in India. Individuals who have the right skills for the role can acquire positions as Data Analysts, Scientists, and Engineers.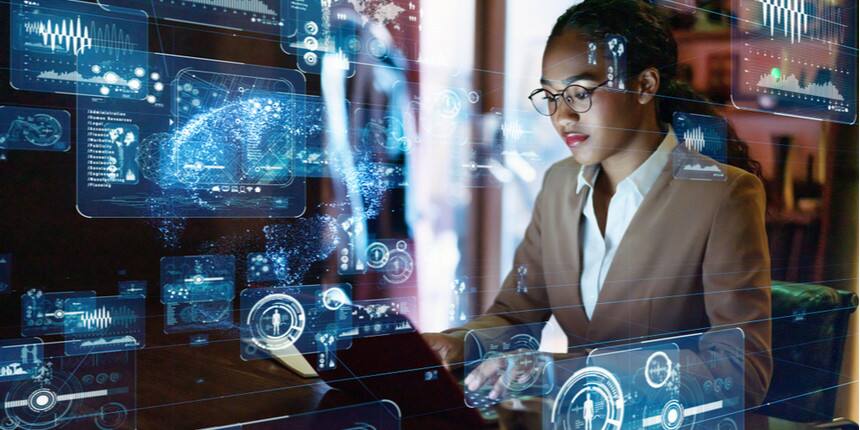 India is the second highest country to recruit in the field of data analytics and data science. First is the United States. Whether it is the e-commerce industry or start-ups, the demand for data experts is quite competitive.
If you are willing to keep yourself updated with the latest technology and advancements in the industry, then you are supposed to grow onward and upward in your career as a Data Scientist. The Data Scientist salary in India is directly or indirectly dependent upon how upskilled and updated he or she is. Let's discuss who is a Data Scientist, what does a Data Scientist do and what is the Data Scientist salary India.
Who is a Data Scientist?
A Data Scientist is a data expert. He or she is a professional equipped with skills required for complex problem-solving. Data Scientists identify a wide array of issues that are required to be addressed. They are highly skilled and serve in both industries IT and business.
Data Scientist is a professional who gathers and analyses large sets of data both structured and unstructured. His or her role involves combining mathematics, statistics, and computer science. Data Scientists analyze processes and model data to interpret results into actionable plans for companies and organizations. He or she must be skilled in technology and social science in order to find trends and manage data. A Data Scientist utilizes industry knowledge, skepticism of existing assumptions, and contextual understandings to determine solutions to business challenges. The job role of a Data Scientist can be defined as making sense of messy and unstructured data from sources such as social media feeds, emails, and smart devices that don't fit into a database.
Data Scientists must be able to communicate complex business ideas and make data-driven organizational decisions. Besides having analytical skills, they must be effective communicators, leaders, and team members. Senior Data Scientists and Data Managers are provided with the responsibilities of cleaning, processing, and storing data. They work cross-functionally with other teams such as marketing, operations, and customer service.
Data Scientists can also be referred to as Computer Scientists, part Mathematicians, and part Trend Analysers. The Data Scientist salary is one of the highest salaries among tech careers in India.
Also Read: B.Tech. in Data Science
Popular Online IT Courses and Certifications
Skills of Data Scientist
If you want to become a Data Scientist, then you must acquire the required skill sets. We have provided here details of Data Scientist skills. These skills are crucial to remaining efficient and competent in a fast-paced world.
Communication Skills: Candidates must possess good communication skills to pursue a full-time career as Data Scientist. Data Scientists are required to communicate with stakeholders. They are required to understand the business requirements and communicate key data insights.
Storytelling Skills: Storytelling skills are crucial for oral communication, writing, and data visualization. Good storytelling skills can be considered as the analytical solutions for communication in clear, concise, and to the point.
Machine Learning: Machine Learning can be defined as the study of computer algorithms that can be improved automatically with experience and data usage. Data Scientists proficient at machine learning always stand out. It provides support to analyze large chunks of data by utilizing machine learning and data-driven models.
Data Visualisation: The role of a Data Scientist involves data visualization for the graphical representation of data. He or she is required to use visual elements such as charts, maps, graphics, infographics, and others. It is quite adequate for technical analysis and visual storytelling. A Data Scientist visualizes data using various tools such as ggplot, d3.js, and Tableau.
Business Strategy: Data Scientists must be capable of understanding the business problems and conducting analyses from the standpoint of strong problem statements. It provides support to Data Scientists to build their own infrastructure for slicing and dicing data.
Also read: Career as Database Architect
Data Science Salary
Data Scientist average salary in India varies depending on the roles and responsibilities of candidates. We have provided here details of the Data Science average salary in India.
Data Scientist Salary
The salary of a Data Scientist varies depending on various factors including skills, expertise, size, and structure of employing organization. The average salary of Data Scientist in India is Rs. 860454 per annum.
Data Scientist Annual Salary
| | |
| --- | --- |
| Experience | Annual Salary |
| 0 - 1 years | Rs. 572762 |
| 1 - 4 years | Rs. 800750 |
| 5 - 9 years | Rs. 1420229 |
| 10 - 19 years | Rs. 1847542 |
| 20 or more years | Rs. 1200000 |
The entry-level average Data Scientist salary in India is Rs. 800750 per annum.

The mid-level average salary of Data Scientist in India is Rs. 1420229 per annum.

The senior-level Data Scientist salary in India is Rs. 1847542 per annum.
Data Scientist salary in India per month may not be equivalent to the annual CTC. The salary breaks up may also vary from organization to organization depending on the services provided by the employer to the employee.
Data Scientists employed at Gurugram, Haryana get a 19 per cent higher salary than the national average. While Data Scientists employed in Bengaluru, Karnataka get a 16.6 per cent higher salary and those employed in New Delhi get a 2.5 per cent higher salary than the national average.
Top Data Scientist Recruiters and Average Salary
| | |
| --- | --- |
| Top Recruiters | Average Salary |
| Mu Sigma | Rs 650000 |
| Accenture | Rs 1311504 |
| Tata Consultancy Services Limited | Rs 890567 |
| Amazon Inc | Rs 1322574 |
| Ericsson | Rs 1500000 |
| EY (Ernst and Young) | Rs 1000000 |
| Fractal Analytics | Rs 1160779 |
| IBM India Private Limited | Rs 915628 |
| HCL Technologies Limited | Rs 1200000 |
| Deloitte | Rs 700000 |
| Capgemini | Rs 850000 |
| Walmart | Rs 2560213 |
(Source: payscale.com)
Types of Data Science jobs
Data Scientist: A Data Scientist applies data mining techniques. He or she performs statistical analysis and builds high-quality prediction systems integrated with products. A Data Scientist must possess expertise in mathematics, statistics, and machine learning. He or she is responsible for identifying the patterns in the data and utilizing them to build and improve the prediction systems.
Data Engineer: Data Engineers work with a variety of settings. They are mainly responsible for collecting, managing, and converting raw data into useful information. This information is utilized by data scientists and business analysts. The primary goal of a Data Engineer is to make the data accessible for organizations to evaluate and optimize their performance.
Data Engineer Salary
The salary of a Data Engineer varies depending on candidates' skills, prior experience, and employment organization. The average Data Engineer salary in India is Rs. 800,000 per annum.
(Source: Glassdoor)
Data Analyst: A Data Analyst's work involves collecting, cleaning, and interpreting data sets. He or she converts that statistical data into useful information that can be utilized by businesses and organizations for critical decision-making. Data Analysts can work in a variety of industries such as business, finance, medicine, criminal justice, science, and government.
Data Analyst Salary
The Data Analyst salary varies depending on the candidate's skills, expertise, experience, and geographical location of the employing organization. The average Data Analyst salary in India is Rs. 456759 per annum. An early career Data Analyst earns an average salary of Rs. 444300 and a senior-level experienced average Data Analyst salary is Rs.976955 per annum in India.
(Source: payscale.com)
Student Also Liked:
Conclusion
Data Scientist is one of the most sought-after careers. Companies seek to hire Data Scientists in India to face business challenges. A Data Scientist role involves gathering and analyzing structured and unstructured data from various sources such as emails, social media, and other smart devices and finding trends in them to make future prediction systems to help organizations with effective business decisions.